Dance:
Creating at the Baryshnikov Arts Center
By DAWN LILLE
ART TIMES Jan/ Feb 2011
IN SEPTEMBER I was privileged to attend a showing by two choreographers at the Baryshnikov Arts Center (BAC) who were part of the 2010 Residency Program. Raewyn Hill and Stefanie Batten Bland had each spent several weeks in the center's studios developing new dance works.
When BAC opened in 2005 at 450 West 47th Street in the old Hell's Kitchen neighborhood, Mikhail Baryshnikov wished to provide opportunities for and give support to artists from all disciplines and countries – dancers, actors, musicians, visual and media artists. The pre-opening announcement stressed that it would be both a laboratory and a performance space where experiments, often interdisciplinary, could take place and success was not necessarily a criterion. Its studios and performance spaces are also venues through which audiences for contemporary works can be developed at little or no cost.
In addition to various fellowship and residency programs, the center commissions new work, has created a dance company, presented a series of free chamber music concerts (the Movado Hour), offered a series of film screenings with discussions (BAC Flicks), given jazz concerts with live broadcast, held visual art exhibitions, hosted international arts festivals and offered free workshops to practicing professional artists.
It is not surprising that, given his own history, Mikhail Baryshnikov would create such an environment. Trained in classical ballet in Riga, Latvia, and St. Petersburg, Russia, he was a member of the Kirov Company and joined American Ballet Theatre after his defection to America in 1974. Later he spent a year with the New York City Ballet, dancing the works of George Balanchine under the direction of that master. As a performer he was a chameleon. He could go from a strictly classical role such as Albrecht in Giselle, to a more dramatic one like the lead in Balanchine's Prodigal Son, to the smooth jazz inflected Sinatra Suite of Twyla Tharp, to a work by Paul Taylor.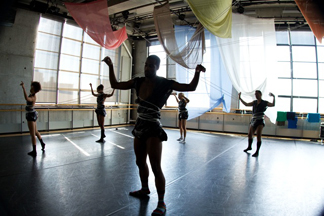 In 1990 he formed the White Oak Dance Project with the modern choreographer Mark Morris in order to perform both new and existing choreography. He and the company, which was made up of dancers from various styles and techniques, performed over fifty newly commissioned works and revived many dance classics. The latter were mostly modern, including some that went back to the Judson Dance Theatre of the 60's. He has also performed to acclaim as an actor in several off Broadway productions, in films and on television and is an excellent photographer.
Artists participating in the Residency Program at BAC are given the space and the resources to develop projects or collaborations that are both new and independent. They are invited to spend from two to eight weeks at the center and given the freedom to pursue their own creative investigations, with administrative and technical support available if needed. Part of what is offered is an opportunity to show or test these works-in-progress through informal studios showings. On one hand, these "sharings" allow an audience to view a work in its raw or growing stage and on the other the artists may wish to invite art presenters or others in the dance field.
The 2009 residencies include choreographers relatively known (Annie-B Parson and Paul Lazar of Big Dance Theater and Azure Barton) and unknown (Pontus Lidberg) as well as theater director Maureen Towey, playwright Sheila Callaghan and Stephen Earnhart who developed an interdisciplinary theater production that merged live performance, music, dance/movement and Bunraku puppetry, along with video, anime and holographic technology.
The 2010 residency list includes Diane Madden and Iver Findlay (dance and visual art), the Builders Association (theater), The Knights (music) and Dance Conduction Continuum plus Burnt Sugar Arkestra (dance and music), among others.
Raewyn Hill, a New Zealander, is a choreographer who now works in Australia where she has her own company, Dancenorth. Her five dancers came with her to the residency at BAC. They showed an excerpt from Black Crows, a work-in-progress in which she attempts to explore what kind of community is created when strangers meet, the psychological effects of war and the later integration of soldiers into their home community. She spoke briefly about a book that deals with why some survive disasters and others do not, in a cycle of denial, deliberation and decision. Together the company researched the topic and viewed films of war. To an electronic score by the Spanish composer Micka Luna, the rehearsal-clad performers moved with strong, sweeping body gestures, stressing the importance of the torso, which always carried with it the active arms. The implication was that of a sense of strength plus the intense involvement of the entire body. Ms. Hill is also setting a work at Juilliard that will be shown in early December.
Stefanie Batten Bland, born in New York, raised in Los Angeles and now transplanted to Paris, from which she frequently returns, is a young choreographer and performer. She is interested in what she terms "human emotional relationships" and how notions of community are reflected physically. Her company, stefanie batten bland/sbb birdlegs, presented a full scale showing of Terra Firma, with music by John Adams. For this piece, based on different cultures that migrate to the United States, Andrew Lyght created a space divided by billowing swaths of gauzy material suspended from the ceiling and raised and lowered by ropes that the dancers manipulated. The graphic memory of this work is of constant movement between the swirling set, the ropes and the dancers (clothed in draped black garbage bags) 'midst the changing light design of Lacee Goodman.
BAC's continuing desire to encourage multi-disciplinary performance and to present international talent that might not have an opportunity to be seen in this country has been helped by the opening last February of the newly renovated Jerome Robbins Theater, a 299 seat space within the building. There is much new, young work yet to be created in this supporting community. It is perhaps not coincidental that both choreographers discussed here are concerned with exploring still other communities – and the planet certainly needs more welcoming ones!