Dance:
Armenia – Presented in Multi-Media and Many Moods
By Francine L. Trevens
ART TIMES Online December 2010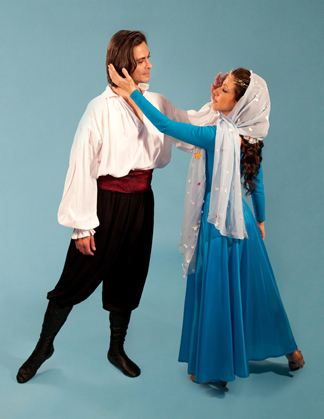 Carlos Fittante and Sira Melikian in a scene from Passage Through Light and Shows, The Children of Ararat.
When I was in my late teens, I had a friend whose family were Armenians. I thought myself fairly stupid never to have heard of the country. She told me harrowing stories of the awful history of that poor little nation.
Years later, I learned many people never heard of Armenia, had no idea where on the map it was situated and few knew of their desperate history.
So when I was invited to attend "Passage through Light and Shadows, The Children of Ararat" I was most interested. The news release said there would be poetry and dance-drama. That made it even more compelling.
Though billed as a dance-drama it is far more than that and far more distinctive and memorable than the wild, noisy, flamboyant acrobatics so much dance today. Don't get me wrong, those dances are exciting and vibrant and delightful in their own way. But this program was one of gentility and a quiet grandeur currently missing from much of our lives and stages. One felt as if transported not only to another place, but another time as well.
Thirteen people performed in this multi-media production. The spoken portions were clear and crisp and cultured. The projected slides and film clips were less clear and crisp but very compelling.
Most extraordinary to me, was the silence of the dancers. Whether they wore little slipper wisps of shoes or fancy heeled pumps, you did not hear them move. You did not hear them slip onto the stage in the dark or dance about it in the dramatic lighting. Even several women who were a bit hefty danced with an agile, delicate grace in silence. It almost gave one a sense of unreality – of spirits moving through mist.
One of the things that often bothers me in dance is the clump of a footfall or the boom when a dancer lands after a wild leap. None of that here. Although we were in the third row with no one in our direct line of vision, we saw everything but heard nothing that detracted from the beauty of the movements and the dances themselves. Impressive.
The program was in eight parts, moving from the present to various historic moments in the rich past of Armenia. It covered pagan times, legends, fables, historic truths such as the ruthless slaughter of the Armenians by the Turks.
It clutched at your heart as this small troop moved about the virtually bare stage and moved you to other times and deeper feelings.

Anahid Sofian of the Anahid Sofian Studio & Company at West 15th St. wrote the script, choreographed the piece and is artistic director of the company, which performed it. She also performed in many of the scenes. A small woman of huge talents, she herself was as captivating as was the entire production.
It always thrills me when audience members get so caught up in a show that they become one with it. In this case, for the upbeat ending, a round dance reminiscent of a hora, many audience members went on stage to join the dancing and others kept time with the music from their seats.
They deserved an ovation. They deserved a vastly larger audience. They deserved deep gratitude for presenting so much so well in so short a time.
Guest choreographer Gagik Karapetuan choreographed the Pagan Scene and the exuberant encore, which was not only danced with great gusto but was the first piece to be gaily and brightly costumed in earlier native attire.
In one piece, votive style candles were placed all around the dark stage, and then removed after the scene concluded. The movements of the dancers as they aligned their candles and removed them were again silent, sinuous and compelling. A sense of spirits of the past moving about on today's stage was strong.
A romantic interlude was a paean to love presented with tender passion and longing as the woman with wild blowing hair awaited her lover's arrival, reveled in their brief time together, and then forlornly watched his departure.
The fable of the black dog is recited and danced with direct simplicity and grace, as was the entire event.
Lighting played a major part in this production, and the cast, which was small and constantly challenged to change costumes and moods, managed to fill a large stage upstairs at St. Clements Church and keep the various scenes and costume changes moving with elegance and charm. This emotional and educational experience is one to be treasured and remarked upon for years to come.
I urge anyone who loves dance, who enjoys poetry, who hungers for beauty, to try to see this production whenever or wherever it is presented.
http://stagesandpages-francine.blogspot.com/
Francine Trevens email: SHELLEYFT@aol.com