It's holiday season and you want to know what looks like fun to do with family and friends. You check the internet, the newspaper, TV and radio. You read an item in the newspaper about a new ballet being presented in your area. Or you hear a radio talk show host interviewing a choreographer whose work you admire, and realize this choreographer is coming to your town. Or you go to a theatrical event and find a flier in the program about an upcoming dance recital at the local college. Or you go on line to see what dance events are listed there.
How do these bits of information get to be where they are, who sees to it, and how do they do it?
I queried two publicity agents to get the inside dope. One works for Vassar, and one is a freelance promotional person. I also received some information from a very helpful gentleman in Australia who provided me with data about dance companies there. I want to share their responses with you, because all three take delight in their work and have a passion for it.
Modestly, Emily Darrow, now Media Relations Associate at Vassar, claims her first stint as a publicist was working on events that "really promoted themselves as there was such a hunger to see live dance in the Hudson Valley area. Companies such as May O' Donnell, Pilobolus, Paul Taylor and Alvin Ailey filled the very drafty and/or steamy barn-like theatre at the Woodstock Playhouse in the early eighties."
Having been a New York City Theatrical Press Representative, I know how untrue it is that an event promotes itself. No one would have known those dancers were coming to Woodstock had not Emily notified the media who then notified the public.
Dance promotion, as all press representation work, has changed dramatically in the last 20 years since Emily started. The internet has grown from a comfy commodity to a necessary adjunct of any campaign. Michelle Brandon Tabnick of Michelle Tabnick Communications came to Manhattan after college and was hired as the promotion assistant at the New York City Opera. Asked how she felt promotion had changed, Michelle said, "As print media budgets decrease, we must rely heavily on nontraditional media sources for feature, review and listing coverage. Folks use the internet daily to make their entertainment choices."
Emily adds, "Staffing at many of the traditional news outlets has shrunk in the last five years.
The other change is the expansion on online media with web news sites and blogs.
There are new outlets we all should be aware of."
She compliments traditional arts journalists for doing a fabulous job covering the many venues and performances, despite the reduction in the number of journalists.
Nevertheless, logic tells us with fewer writers on staff and less print pages, it is harder to get any specific event covered.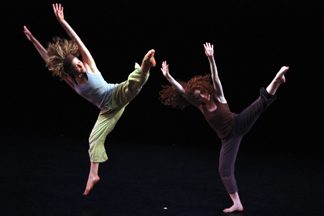 Vassar Repertory Dance Theatre: Takehiro Ueyama's "Shabon."
Dancers Leah Wilks & Rebecca Ain. Photo: Noah Fowler/VRDT
"The key thing for the publicist to realize is that each program is unique. Successful promotion isn't just about writing a nice news release and sending it out. You have to be responsive to the needs of writers and editors receiving it. Personal contact, knowledge and understanding of the media's needs are keys to continuing dialogue between the publicist and the media. A basic guideline is to understand your artists' goals, be able to appropriately assess the right media outlets to pitch and to have a feel for your audience," opines Emily.
"Similarities exist," acknowledges Michelle about promoting a dance event, an opera or a stage play, "But you approach different contacts at the publication." She finds it particularly invigorating working in "A medium that usually does not include the spoken word, allowing for broad interpretations by audiences and critics."
Michelle also finds, "The conversations and the creativity that takes place between choreographer and company as a new work is created are fascinating."
It is this enthusiasm she conveys when she preents an event to the media.
She is after both reviews, profiles and interviews and breaks down their use since "profiles, if properly placed before the event, can have an impact on advance ticket sales, while reviews drive or harm sales after the event is in progress." There's always a big push for coverage just before the holidays, since so many events are designed to take advantage of the holiday season.
But both Michelle and Emily were working in November on events for next year.
Because, just as with writers and editors, publicists must be a few months ahead of the event to get the desired coverage out on time. Rather like showing summer swim wear in late winter.
Michelle was working on a collaboration between Parsons Dance and vocalists from the East Village Opera Company (EVOC) scheduled for the Joyce Theatre January 6 – 18, 2009. The work was still in creative process and was yet untitled when this article went to press. David Parsons, Tyley Ross and Ann Marie Milazzo (lead female vocalist) were creating a storyline that connects EVOC's signature operatic arias with David Parsons' original choreography.
"I look forward to seeing this world premiere. Watching the collaborative process and the piece take shape over the past few months has been an exciting experience and I can't wait to see the final piece!" Michelle enthused.
Emily was equally delighted with her upcoming project, "I've always loved the chance to see what goes on before the curtains are raised and the lights lowered. This winter, during Vassar's annual Modfest festival, there will be that chance for the student members of the Vassar Repertory Dance Theater. They'll rehearse two new works set to Steve Reich works — with this world-acclaimed contemporary composer actually there during the rehearsal. And although the rehearsal will not be open to the general public, the performance later on will be. Think of it, students having the chance to hear the interchange between choreographer and composer and bring that with them for the future. What a gift!
Modfest performs Jan 22 - Feb 13. It features The Clearing, with choreography set to Steve Reich's It's Gonna Rain by Kathy Wildberger, member of the Vassar College Departments of Dance and of Drama. Also featured will be Takehiro Ueyama's production of Shabon, set to Reich's You Are Where Your Thoughts Are, restaged by Jill Echo, répétiteur and member of the Vassar College Department of Dance. It will be staged at Frances Daly Fergusson Dance Theater, Kenyon Hall. Vassar Repertory Dance Theatre, a student dance company in residence at Vassar College, will perform.
The other enthusiastic liaison with the public that it has been my pleasure to work with is Lee Christofis, Curator of Dance, National Library of Australia. A former dancer himself, "far too long ago to recall," he says.
Australia Dancing was set up to create the portal which drew together all the dance collection items and resources, and provided the basis for further growth and expansion. He is the second person in this post, his predecessor having moved on in 2006 to the Jerome Robbins dance part of the New York Public Library.
Lee's specialty had been ballet, the Ballets Russes, and chronicling through reviews, radio and print features, the development of contemporary dance over the past 20 years. Prior to that he did national radio work on the arts, taught arts criticism at the university level, ran 3 post-grad university arts management programs and did settlement work with immigrant and refugee communities.
This gentleman, even at the risk of being late for his own major birthday celebration, was tirelessly answering my questions about dance in Australia, sending me mini novels of information. Such dedication is rare in these days of do less and try to get more.
He was even kind in his reaction to all my questions, "Answering is a good way for me to remind myself why I love my work and why I do it when lying on a beach reading good books is always a more tempting option."
We know the best creative artists are passionate about their dancing, composing, painting, photography, etc. But it is truly inspiring to find the people who support that work as dedicated and devoted as the dancers themselves.