Because Dancing was for Girls
Boy Dancer Quit at 10, then returned at 15 for the same reasons
By FRANCINE L. TREVENS
ART TIMES online April 2010
This dance teacher, performer, innovative promoter and dance enthusiast, quit studying dance─ballet, jazz, gymnastics and tap─at his aunt's studio in Colorado when he was ten because he thought "dancing was for girls." Then at 15, he returned because he realized dancing was for girls and that's where all the cute girls were!
"So I started swing dancing. When I began swing dancing at fifteen, I weighed 220 pounds. After about a year of dancing I dropped down to 155 pounds and have stayed there since. I fell in love with dance and went almost every night. I would take classes with all of the pros who would fly into Colorado to do workshops.
"At the age of eighteen I started doing ballet again and Argentine tango. I was really inspired by my tango teacher Daniel Trenner, one of the best teachers I ever had. He traveled the world teaching dance and performing. I thought that sounded like an amazing life."
Now, it's a big part of the busy life of Brian Lucky Skillen.
"When I travel I usually am booked on big dance weekends by Lindy hop, blues or modern jive organizations. Most of them have heard about me from their students taking my classes at other events and wanting me to come to their countries to teach."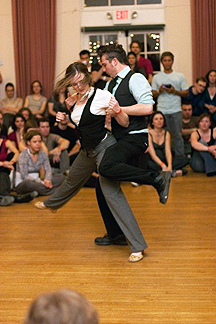 Lessa Lamb and Lucky Skillen, dancers at PPortland fusion exchange. Photo by Jeffrey Lim
Lucky began teaching dance when he was in his late teens. By twenty two, he started a dance night called "Lucky's Lindy and blues." He gave into his dream and started traveling internationally to teach. His first gig was in Taiwan.
He moved to New York City when he was twenty-two, teaching at You Should Be Dancing on 8th Ave and 31st.Street, while training with Frankie Manning, the very famous Lindy hopper from the Savoy and the first guy to ever do an air step. At the same time, Lucky, was training at Broadway Dance Center and Steps in other dance disciplines.
"At the age of 26 I decided to start traveling-teaching full time putting me on the road about 9 months out of the year. The three months I return to NYC I teach in the public schools with the dancing classrooms program. With this program we go into the schools and teach kids how to ballroom dance. It is so rewarding to give back to the community in this way," Lucky explained. This is what he continues to do, but with a lot more activity thrown in.

He also performs with several different partners as he travels the world teaching. He is preparing a movie on the history of social dance, and came up with the idea of doing "flip books" of various dances to show how they are done.

Flip books are just what they sound like, you hold the book in one hand at the binding, and with the other quickly flip through the pages and it appears the people are actually dancing and you can see the moves. They were popular in the days before moving pictures, and for several years thereafter. Lucky showed me a sample and I believe he can do well with the idea. It offers a bit of whimsy and a lot of charm.

"I have finished all of my interviews for the movie…about ten people ranging from dance historians to people who were the biggest dancers at the time of the creation of some of the dances. My best interview was from Frankie Manning, who was 94 years old. He had been featured in many movies with white Lindy hoppers. "
Living up to his Lucky nickname, he interviewed Manning mere months before the nonagenarian passed on. Lucky is researching at the Lincoln Center for Performing Arts Library when he is at home, and reading several books on dance. "I just finished the rough edit of the intro," he happily proclaims about the film. ."I also produced my first dance instructional DVD which can be found for sale on my website."

This is an energetic, eager and endlessly busy entrepreneur dancer. I asked him how he would describe himself and his career. He replied, "Had you asked me five years ago I would have said dancer/performer. As I have gotten older with a few injuries here and there. I have switched more from using my body to using my mind to share dance with people. So now I would describe myself more as an entrepreneur/producer. I love to create and make things happen.
"I feel like a modern day renaissance man. I just keep coming up with ideas that are too good to waste. Sometimes I wish there were 10 of me to work on all the projects. When I am on the road it is sometimes hard to focus and finish up projects but over time I have become increasingly good at setting up priorities and following through on check lists.
"Being on the road also opens up a lot of opportunities that wouldn't have existed otherwise, such as interviewing people in many different locations. It also opens up many new markets to me that I wouldn't have had access to if I was stationary. I also feel that all of my travels have given me a larger world view. I have had the privilege of seeing many places and experiencing many different people from the rich and famous to the destitute and have learned a great deal from both.
"In Five years I see myself running a very successful production company that produces dance related movies and T.V. shows and events for the whole family. My overall life goal has always been to bring joy into people's lives and dance has been an amazing vehicle to do just that."

Since Lucky puts his energy and heart into his dreams, no doubt we'll be hearing good things from this young man in the future. He is not afraid to admit mistakes and to move on as inspiration and opportunities arise, two essentials to success. Not even our great recession is stopping that kind of creativity and dedication,.