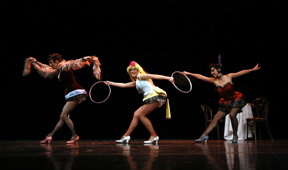 Company of dancers in "Signatures 08 - A Celebration of Legends & Visionaries"; Antony Tudor & Jose Limon Choreography; New York Theatre Ballet's 29th Season; Diana Byrer, Artistic Director & Christina Paolucci, Associate Director; performance photographed: Saturday, Feb. 9, 2008; 7:30 PM at Florence Gould Hall;
Photograph: © 2007 Richard Termine

A Small Chamber Ballet: A Large Presence

By Dawn Lille


ART TIMES

April 2009

When she founded The New York Theatre Ballet in 1978 Diana Byer's original purpose was to help a group of dancers and choreographers, all of whom studied with the same teacher, put together a performance. She started teaching at the same time because that teacher, Margaret Craske, asked Byer to teach some Cecchetti adagios to a group of students. Thus began Ballet School NY, the training ground for potential company dancers. Thirty years later it is possible to follow the trajectory and different mutations of what became a dream and then a dream realized.

Byer is from Trenton, New Jersey, where she studied with Francis Kiernan. She came to New York to take class when she was sixteen and then attended Juilliard for a while, where she studied with Alfredo Corvino and Antony Tudor. But her philosophy toward sharing the art of dance was shaped by the Cecchetti trained and certified Craske, who ended her own pedagogical career teaching at Byer's studio when she was in her nineties.

Enrico Cecchetti, an Italian, was ballet master for the Diaghilev Ballets Russes and later opened a school in London. His teacher had been a student of Carlo Blasis, the early 19th century codifier of ballet technique. Cecchetti devised an expansive range of exercises, one for each day of the week, thereby ensuring that all of the basic classical technique is covered. He also created a set of complicated adagios, or slow movements, pirouette exercises and allegro or fast combinations. Precision, line, musicality, virtuosity and strength are the hallmarks of his method, but expression is included. Byer includes all of this in her approach to teaching dance as a total art form.

What started as a request from Ms. Craske soon became one class a day for professional dancers, many of whom were from the modern dance companies of Jose Limon and Merce Cunningham, that she taught in her own loft. When she lost that space and was able to move to what is still her studio at 30 East 31st Street, she had added a children's class. Later Craske joined the faculty, taught the advanced adult and beginning children's classes and was involved in coaching the company. Byer taught the other levels and directed the company. Sallie Wilson, a former American Ballet Theatre dancer, also began teaching and coaching.

The aim of Ballet School NY is to produce professional performers, and all classes are taught with that in mind. All the students may not become dancers, but there is a dress code, an attendance code, a behavior code and a support system that extends from student to student and from teacher to student. Any student may enter Pre Ballet 1 and 2, but an audition is required for Pre Ballet 3 and for new students entering at other levels. The summer program includes theater dance, tap, modern and music. Pupils have an opportunity to watch rehearsals and performances, to assist backstage and to appear in an informal series of in-house performances of works-in-progress, called Dance on a Shoestring.

The company is a chamber ensemble with ten full-time and four part- time dancers. They perform all over the United States and abroad, able to travel to venues where larger companies cannot fit or are not affordable—art centers, colleges, community settings. They bring small ballets created by leading choreographers of the past, such as Frederick Ashton, George Balanchine, Michel Fokine, Jose Limon and Antony Tudor, as well as emerging contemporary choreographers. Byer seeks out ballets that suit the company's size and style, which is more about dance as a universal communicative art form than pyrotechnics.
Judgment of Paris is a Tudor ballet in the company repertoire that Byer staged for an American Ballet Theatre Gala at the Met last May. A satire on the Greek myth of three goddesses competing for the golden apple that Paris awards to the most beautiful, this version takes place in a sleazy Paris bar, where Juno, Minerva and Venus are three aging prostitutes competing for the lone customer. When he passes out they join forces to rob him. Biting in its humor and scrupulous in its characterizations, the success of this work entails devotion to detail, which Byer puts into her stagings, her teaching and the management of her school and company.

She is constantly searching for old and new ballets. Each year they perform an "emerging choreographer's" work after it has been allowed to develop in a nurturing studio atmosphere. A few years ago she was able to obtain Ashton's Cabriole Suite and among their Tudor ballets is Lilac Garden. On April 17, 18, 24 and 25, at Florence Gould Hall in Manhattan, they will perform a play about Agnes De Mille, the creator of ballets such as Rodeo and Fall River, as well as the Broadway shows Oklahoma, Bloomer Girl and Carousel. With a script by Anderson Ferrell. the work will include dancers, singers, actor and four hands on one piano. They will take it on tour as part of their Signature series.

One aspect of New York Theatre's Ballet's repertory that has thrilled young children and their parents is the presentation of one hour versions of such classics as Sleeping Beauty and Cinderella, in what they term the Once Upon a Ballet series. Additionally, they have offered Alice in Wonderland, Nutcracker and Mother Goose, all choreographed by Keith Michael, who came through the school and the company. These ballets are meticulously put together, with costumes and sets geared to gratify young and old. The technique in these performances by young professionals is at the highest level, flowing, musical and using every bit of space on the small Gould stage.

As a dancer, Byer was a soloist with Les Grands Ballets Canadiens, Manhattan Festival Ballet and New York City Opera. She may still be seen in company roles such as Carabosse, the "bad" fairy in Sleeping Beauty, one of the "ladies" in De Mille's Three Virgins and a Devil and one of the "goddesses" in Judgment. For her, the purpose of dance training is to produce a thinking, self aware performer, comfortable on stage and with no mannerisms, who is able to maintain strict discipline at all times. But she also stresses that dance is an art form, not an athletic contest, and must be infused with a sense of community and generosity.

It is this philosophy that led to the founding of Project LIFT, a community outreach program that tries to create a hopeful future for shelter and at risk children. Twenty years ago Byer taught a five-day holiday Workshop for children at the Vineyard Theater, supported by the Department of Cultural Affairs. Here participants received two hot meals in between their dance classes, were taught reading skills and vocabulary and were given dozens of books to take home. She made the decision to keep these efforts going all year long on a scholarship basis and went into the shelters to audition children.

The goal of LIFT (which refers doubly to the desired attitude of the ballet body and the hoped for change in spirit) is to teach children learning skills and a sense of taking responsibility for themselves. It is hoped that these basic survival skills will help them break the cycle they are in and get them through school and into jobs.

The roughly thirty children taken each year get free lessons, transportation, dance clothing and shoes, mentoring, medical attention if necessary and tutoring in school subjects. They must maintain a B average and adhere to the discipline of proper dress (forget your headband and you cannot take class) and punctuality (it is often up to the child to get the mother out on time). In class everyone is equal. About half the LIFT students remain after a year and about a quarter are there for four or five years. The program has won many plaudits ranging from the White House to the National Arts Club.

Success stories include a young man now with the Estonian National Ballet, a young woman who has been awarded a scholarship at SUNY New Paltz to study international business, an eleven year old boy who has toured with the company and choreographed a piece for the Shoestring series and a twelve year old girl who is in Lincoln Center's South Pacific.
Mothers are a part of this endeavor, too. At one time Byer was able to hire a social worker to deal with parenting skills and job searches. The current drop in support funds has forced her to eliminate this. She also finds that, with fewer employees in the shelters, she is not allowed in. So, via another agency, the children come to her studio to audition. In spite of the current economy, Diana Byer is determined to keep the art of dance pure, active, growing and reaching out as a positive force capable of initiating change.