Caps off to Dance Captains

By FRANCINE L. TREVENS


ART TIMES

April 2008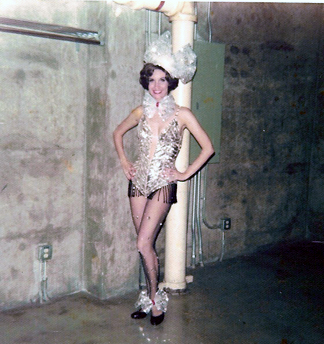 Ms Butleroff backstage in "Mack and Mabel" the show in which she served as dance captain. Photo by fellow dancer
In musical theatre, individuals, often strangers to each other and the choreographer, are chosen for particular parts or numbers. They do not normally work or train together as do members of a dance company. How and who manages to keep them at their performance level, in place on stage, and ready to go even on the road? It's the dance captain, a seldom noted but vital person for keeping a show's dance numbers fresh and consistent. Let's toast them now.
Musical shows have choreographers who set the dance steps and select who will dance what.

This is true on and off-Broadway and carries through on the road. But choreographers move on after the show opens. So who is there to teach steps to replacements?

Who is there to do brush-up rehearsals?

Who is there to keep the understudies on their toes?

Yes, the dance captain.
Being the swing dancer seems the best and most logical route to becoming a dance captain in a musical show. And for many, becoming a dance captain is a logical step in moving on to become a choreographer. It certainly proved so for Helen Butleroff, who started dancing at two and a half and hasn't stopped since.
But what is a swing — certainly not the thing Robert Louis Stevenson enjoyed riding "up in the air so high."
A swing dancer is one who covers all the roles of his or her gender, so if anyone is ill he or she can fill in.

Since swings have to learn all the parts they "cover" and know where they should be on stage in any number, depending on who they will be covering, it makes sense that this person should be chosen to be dance captain, the person who keeps the choreographer's vision and staging alive and fresh.

It doesn't always work out this way.

But often it seems to.
It was the route taken by two of the dancers I interviewed about being dance captains, Helen Butleroff and John J. MacInnis For the third, Helen Caronna, she was understudy to the leads in each of the shows in which she later became dance captain.
John served as dance captain for the Broadway productions of "Kiss Me Kate" and "Thoroughly Modern Millie."

He began as the swing in both shows. He felt that was tougher than being dance captain, since he had to learn "all of the choreography as a swing."
"Being a dance captain is very time consuming, you must be present at all understudy rehearsals along with putting new people into the show and performing in the show each night I loved being dance captain, since you know everything about the show. One of the perks is, if another theater wants to do the show you could set it." (i.e., recreate the original choreography for the new theatre.)
Helen Butleroff, who was dance captain for "Mack and Mabel" on Broadway, starring Robert Preston, adds, "The dance captain decides when brush ups are needed and runs all cast brush up rehearsals for dance parts of the show, as well as once a week dance/movement part of understudy rehearsals.
Keeping good notes was one characteristic that was deemed essential for a dance captain, along with leadership abilities to allow you to take over when needed. It goes without saying of course, that you need to be a very good dancer and dance teacher as well. Helen Caronna added: "you need all forms of dance background necessary for the production, good memory and rapport with cast." Helen Butleroff augmented that with "leadership abilities that allow you to take over when needed."
John stressed communication skills were important to a dance captain, and remarked, "People hate hearing they did wrong.

Dealing with personalities makes it really tough."
Helen Caronna, who described being a dance captain as: "An interesting challenge and very rewarding personally and career wise," was "thrilled and delighted" the first time she was asked to be dance captain. She served in this capacity on Broadway and the road for "Du Barry was a Lady." Imagine being seventeen years old, understudying the lead in this Broadways show, and becoming dance captain. Who wouldn't be thrilled and delighted—unless they were scared out of their wits by the responsibility, which Helen was not! Her second stint as dance captain she was again understudy to the lead, Vera-Ellen, in "By Jupiter" on Broadway. She was happy to repeat the "delightful experience of being dance captain." By then, she was a veteran 20 year old.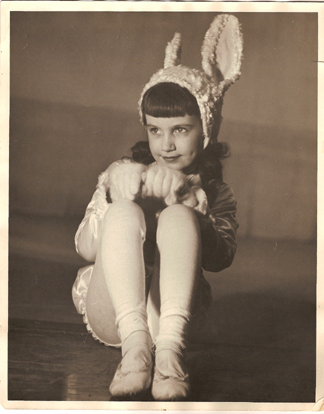 Helen Butleroff early in her dancing career – as bunny on TV's The Children's Hour photo by Ben Slalom
Neither Helen – Butleroff or Caronna — felt it altered her relationship with the other dancers in the show.

John noted, "I think its' always a difficult job when you have to tell someone that they might not be doing their job correctly.

It helps if you treat everyone with respect, don't talk down to anyone and treat people as you would want to be treated."
John also gave a bit of advice, "Remember, the one you are giving notes to could be your dance captain in the next show."
All agreed that replacing dancers during the performance on short notice was one of the more difficult aspects of the job. John felt another negative was the time commitment, "You must be present at all understudy rehearsals, along with putting new people in, and performing in the show each night. It's also a lot of material to learn." For Butleroff, in "Mack and Mabel": "You are on a pre Broadway tour, the choreography changes every day till you open in NYC, well, imagine changing 34 actors, each in around 6-7 numbers, every day. A lot of consuming work" Also on the down side, Butleroff said, "It lacks creativity." For Caronna, "having to replace more than one dancer in different positions and numbers in the show at one time." But all loved it and gladly repeated the job.
Asked if they agreed that being a dance captain was to a choreographer what being a stage manager is to a director, Caronna said," Yes, in different ways dealing with the cast."

Butleroff said, "Yes, a stage manger does the blocking parts of rehearsals once the show opens and the dance captain does the dance parts – whether it be cast replacement, brush-ups or understudy rehearsals, MacInnis said, "I think it's a great analogy.

I think the dance captain has a tougher job; I'm sure stage mangers might disagree.

The dance captain is responsible for all of the choreography in the show, chorus and principals, sometime stage mangers will have the dance captain set the crowd scenes as well.

A lot of the time when setting the show the choreographer might even help the director with the crowd scenes, so the stage manager will have the dance captain set that as well.
John felt honored to be asked to be dance captain in both shows in which he served in that capacity. Helen Caronna had been thrilled and inspired. It was a bit more for Helen Butleroff.
"Truly you can count on your hand the moments you will remember always. When Gower Champion brought me in his office while the show was playing DC, and asked me to be dance captain, well, I was 26 years old and flying! It was such a great feeling. I always wanted to be a choreographer, and knew this could give me an entrée into that field. I ran down the backstage halls and called my Mom."
Any mom would have been pleased for her child. But Helen's mom had extra reasons to be proud, "I've always been proud of Helen, since she danced in 'Children's Hour' as a little girl, was selected at seventeen to be a June Taylor Dancer.

Then, in her first Broadway show, to have Gower Champion, whom I knew, pick her out to be dance captain, made me feel very, very good."
After all, here was her daughter following in Mom's very own steps – for Butleroff's Mom is Helen Caronna! While any mother would be thrilled to have her daughter succeed, how much more exciting to have your daughter succeed in the same profession you loved and lived, as well.