Art Review: @Large: Ai Weiwei on Alcatraz
(All photographs by Norman Kolpas©)
By Norman Kolpas
ART TIMES April 2015 online
"For artists and intellectuals today, what is most needed is to be clear about social responsibility, because that's what most people automatically give up. Just to protect yourself as an individual is very political. You don't have to march on Tiananmen, but you have to be clear-minded, to find your own way of expression." —Ai Weiwei
Those words by artist, photographer, architect, designer, and political dissident Ai Weiwei, spoken in 2003 to Chinese art specialist Chin-Chin Yap in Conversations, seem powerfully prophetic twelve years later. Ever since, Ai (his family name) has paid a tremendous personal price for repeatedly being clear-minded and finding his own way of expression about causes in which he believes.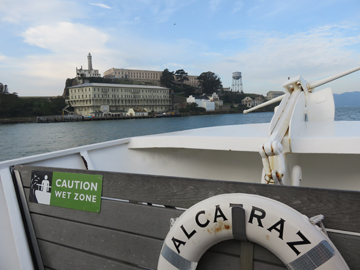 Approaching Alcatraz from the Ferry
An avid blogger since 2005, Ai repeatedly criticized Chinese social policies until the government shut down that channel of communication for him in 2009. In September of that year, while on a trip to Germany, he underwent successful emergency brain surgery for a cerebral hemorrhage believed to have been caused by a beating he suffered a month earlier at the hands of Chinese police in unofficial punishment for a "Citizens' Investigation" he launched into the deaths of more than 5,000 children who died as a direct result of shoddy school construction in the May 12, 2008 8.0-magnitude earthquake that leveled Sichuan province. Ai's efforts had brought unwanted attention on the authorities just three months before the grandiose Beijing Olympics, for which he had collaborated with famed Swiss architects Herzog & de Meuron on the design of the event's signature National Stadium, also known descriptively as the Bird's Nest.
Ai's misfortunes only continued to compound. In late 2010, the new Shanghai architecture studio he had designed and built for himself at the encouragement of a high-ranking official was suddenly declared unauthorized and was summarily demolished by the government. The following spring, while boarding a flight to Hong Kong at Beijing Airport, he was arrested on trumped-up financial charges and jailed for almost three months, and then placed under house arrest at his Beijing home. Since mid-2012, though free move within China, though under heavy surveillance, he has been denied a passport to travel abroad. Meanwhile, the government-controlled press continues to smear his name, not only continuing to harp on the financial lies but also variously labeling him "bigamist" and "pornographer."
All the while, Ai has gone on creating. Though the artist remains restricted within his own country, his elegant, eloquent, often witty sculptures, constructions, installations, videos, photographs, and other pieces have been exhibited in museums, galleries, and public venues around the world. More often than not, they hybridize traditional Chinese crafts and art forms with modern media and aesthetics, while continuing, sometimes slyly, sometimes directly, in the artist's own words, "to be clear about social responsibility."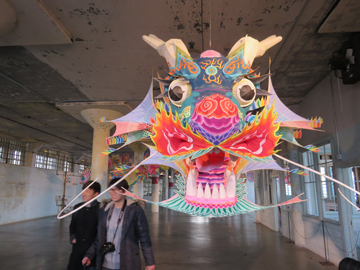 With Wind
That sad chronicle merits detailing as context for one of the most significant accomplishments to date by an artist who now, at the age of 57, has undeniably achieved and irrefutably merits major international status. @Large: Ai Weiwei on Alcatraz is an event made possible through the collaborative efforts of San Francisco's FOR-SITE Foundation, a nonprofit dedicated to fostering innovative interactions between art and public settings; and the National Park Service and Golden Gate Conservancy, which since 1973 have jointly administered and operated as a tourist attraction the notorious former maximum-security federal prison on an island in the middle of San Francisco Bay. And that's not to mention the almost one hundred volunteers involved in assembling the large-scale exhibition in lieu of the artist himself, who conceived and designed it all from his studio in China and supervised efforts via meetings in Beijing, emails, and even Skype conferences.
Opened to the public since September 27 of last year, and continuing through April 26, this site-specific art installation stunningly synthesizes the history and inherent meaning of seven different venues on Alcatraz with issues of free speech and human rights at the very center of Ai Weiwei's work. Even on the frigid, drizzling January day I visited the exhibition—reached only via a book-in-advance quarter-hour ferry ride across the Bay's choppy waters run from Pier 33 by Alcatraz Cruises—Ai's arrestingly beautiful creations shone a blazing-hot light on acts of cruelty that can all too often be carried out by governments the world over in the name of the common good.
Indeed, Alcatraz itself—though best known as the place where high-profile criminals like Al Capone, Mickey Cohen, Whitey Bulger, Machine Gun Kelly, and Robert "The Birdman" Stroud were held—also knew its share of political prisoners. From 1894 to 1895, for example, 19 Hopi Indians were jailed there for resisting the U.S. government's forced Americanization of their tribe's children through federal boarding schools that would all but obliterate their native culture. More recently, from 1951 to 1963, Morton Sobell spent part of the 17 years and 9 months he served in prison for what many believed to be his unjust persecution and conviction as part of a Communist spy ring that also included Julius and Ethel Rosenberg.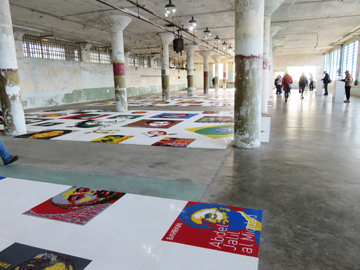 Trace
Such are the chords Ai repeatedly strikes as visitors are led programmatically from one work to the next—whether on docent-led or self-guided tours. (I recommend booking the Early Bird ticket, with a first-of-the-morning 8:45 am departure from Pier 33, which provides access to the installations at their least crowded.) It's worth visiting them in order, as their impact builds each on the next, culminating in three final pieces of subtle yet heartbreaking impact.
The first of Ai's artworks, though, is so downright dazzlingly colorful and pleasing that it may at first seem anything but subtle. A walk traversing almost the entire length of the island from the ferry landing brings visitors to the New Industries Building, a two-story structure completed in 1941 as the prison's laundry and a factory where inmates variously made clothing, shoes, gloves, brushes, and furniture for use by the U.S. government. Entering its upper floor, you come face to face with an enormous Chinese dragon kite, suspended on wires from the high, paint-dappled concrete ceiling and snaking the length of the vast, warehouse-like room. Entitled With Wind, this exquisite construction of paper, silk, and bamboo may seem at first simply a brilliant exemplar of a classical Chinese art form—that is, until closer inspection reveals inscriptions on various panels of the kite, offering quotes on the topics of human rights and freedom of speech. One example, cited to Nelson Mandela: "Our march to freedom is irreversible." And suddenly, the dragon's meaning becomes clear: It represents the human spirit itself, here confined in a space that literally keeps it from soaring to the sky.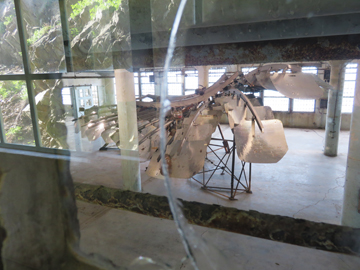 Refraction
Beyond the kite, more colors draw the eye to another factory room of equal expanse. Here, however, the bright hues spread across the floor, almost as if artisans had laid out arrays of quilts. In fact, Trace, as the work is entitled, turns out to be fields of white that surround large-scale portraits of more than 170 political prisoners from around the world, most still in jail at the time the exhibit went up, all composed from tiny LEGO bricks. The humble, childlike medium and the overwhelming array of faces, their names incorporated into each composition, drive home the dichotomy between society at large and the distinct individuals who make them up and too often get lost or forgotten. The artwork helps visitors remember these captives of conscience with podiums stationed at regular intervals around the room, each containing dossiers on the individuals nearest in view.
One more work lurks on the lower floor of the New Industries Building, and it's deliberately hard to view. In a low-ceilinged space that can be seen only through the cracked windows of a narrow gun gallery from which guards stood armed watch over prisoners at work, Refraction is a gigantic bird's wing, weighing more than five tons, here trapped in a low-ceilinged space with no chance of escape, let alone flight. The title refers to the fact that this wing's feathers, attached to a steel frame, are in fact large reflective metal panels that were originally used in Tibet to make solar cookers—a government-sanctioned way of preparing meals in a region whose people, now under Chinese rule, suffer from deprivation and oppression.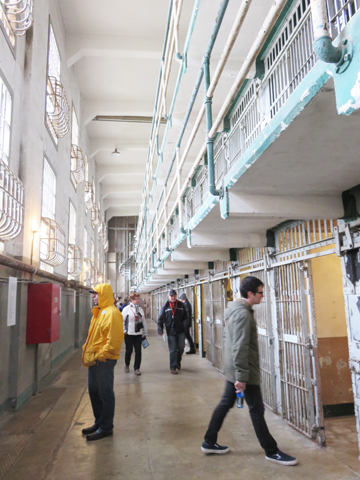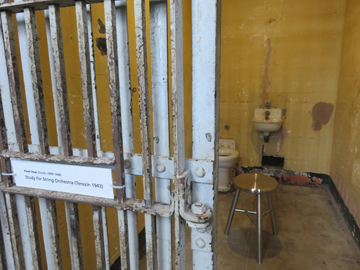 Stay Tuned
The powerful metaphor's impact lingers as visitors stroll back partway along the path they had come, and then uphill to the imposing main Alcatraz Cellhouse building, originally completed in 1912 and showing every bit of more than a century of decay in its peeling paint, crumbling walls, and rusting bars. Most are drawn first to its A Block, where Ai Weiwei has turned 12 cells, each barely large enough for a single bed, a stool, a sink, and a toilet, into an installation entitled Stay Tuned. In each of these claustrophobic, oppressive spaces, Ai has installed a single brushed-aluminum stool and hidden speakers, enabling visitors to enter, sit, and listen to the words, poetry, or music of political prisoners whose names and biographical information are posted on the outer bars and on the wall opposite.
The work becomes a meditation on the innate silence of imprisonment, and on the ability of the human heart, mind, and spirit to transcend even the bleakest of surroundings and the harshest of punishments. Consider a few examples of the variety of people featured, their voices and sounds creating a buoyant cacophony in this stark setting: Pussy Riot, the Russian punk-rock band, imprisoned in 2012 for "hooliganism" after singing songs protesting the Russian Orthodox Church's support of Vladimir Putin, with their song "Virgin Mary, Put Putin Away (Punk Prayer)"; Persian poet and journalist Ahmad Shamlu, jailed in 1954 for opposing the Shah's oppression, reciting his poem, "In This Dead-End Street"; Martin Luther King, jailed on several occasions for his civil rights protests, delivering his April 4, 1967 speech opposing the Vietnam War; and the heart-tugging classical sounds of "Study for String Orchestra" by Jewish Czech composer Pavel Haas, composed by him in 1943 in the Terezin (Theresienstadt) concentration camp, a year before he was killed at Auschwitz.
That sobering sense of so many voices stilled grows stronger upstairs in the prison's Hospital Wing and Psychiatric Observation Rooms, areas heretofore not opened to tourists. In a series of hospital rooms, Ai Weiwei presents Blossom, a work inspired in part by the fact that his own father, the acclaimed poet Ai Qing, was in 1957 exiled with his family, as were many intellectuals, to farmlands and forced to clean communal toilets after having been encouraged to express himself freely in 1956 under Mao's campaign to "let a hundred flowers bloom." Here, the son achieves some symbolic closure for his father by filling the wards' sinks, tubs, and toilets with hundreds upon hundreds of tiny, delicate-looking white porcelain flowers—themselves representing lives literally flushed away by oppression.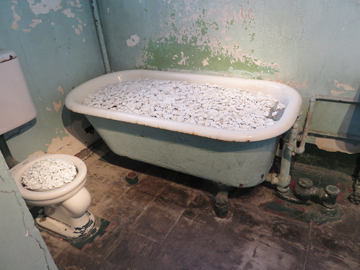 Blossom
A more pointed message comes through in the psych ward's sound installation Illumination. Visitors enter each of two individual-prisoner rooms, where floor, walls, and ceiling are all tiled to facilitate hosing down, and food was delivered through a narrow slot in the fortified wall. In one, the hard ceramic surfaces echo with the chants of Tibetan monks who since the late-16th century have served the Dalai Lama, now in exile under Chinese rule; the other reverberates with the ceremonial songs of the same Hopi tribe whose elders were imprisoned in Alcatraz 120 years ago for opposing the U.S. government.
After such a visceral experience, any feeling visitor to @Large: Ai Weiwei on Alcatraz may be left with a sense of helplessness, as if there is nothing any ordinary individual can do in a world where human beings can be subjected to such suppression. Fortunately, Ai has come up with a deft final piece for this seminal exhibition.
In the prison's former dining hall, where for many years inmates were required to eat in silence and under the surveillance of armed guards, Yours Truly presents a series of picnic-style tables on which ballpoint pens are available. Close by stand wooden racks displaying postcards printed with beautiful color photographs of birds and flowers from around that world. On the reverse, the postcards are preaddressed to those still incarcerated among the very prisoners whose portraits were first encountered in Trace back in the New Industries Building, and binders containing brief dossiers on them can also be found on the tables. Signs encourage visitors to write messages of encouragement and hope to those prisoners, letting them know that they aren't forgotten, and the event organizers promise to affix postage and mail them. Echoing his own words from 12 years ago, Ai has provided a way for each visitor to the show "to find your own way of expression."
It's a touching finale to a major work of art that brilliantly manages to engage both aesthetic and intellectual sensibilities, to stimulate simultaneously the mind and the heart. With more than a million visitors making the journey to Alcatraz each year, and the event itself leading to ferries being completely booked up weeks in advance, that probably means that well more than 600,000 people will have been exposed to Ai Weiwei's work during the seven-month run. How encouraging to think that art could have the power, even if only subtly, to spur positive social and political change.
@Large: Ai Weiwei on Alcatraz (thru Apr 26): Alcatraz Island, San Francisco, CA, under the auspices of the FOR-SITE Foundation, 415-362-9330, for-site.org.
Norman Kolpas is a Los Angeles-based writer on art, architecture, travel, dining, and other lifestyle topics. HIs work has appeared in publications including Southwest Art, Mountain Living, Sunset, The Times of London, and the Los Angeles Times. Norman also teaches nonfiction writing in The Writers' Program at UCLA Extension.