Art Critique: Kari Feuer: Guest artist @ The Betsy Jacaruso Studio & Gallery
By Raymond J. Steiner
ART TIMES online August 2015
ON VIEW THROUGH August 2015, Kari Feuer is exhibiting a little more than a dozen of her oil landscapes at Betsy Jacaruso's airy, tastefully appointed gallery/studio, sharing space with many of Betsy's own lovely watercolors along with several of the works of Betsy's students and friends of the Cross River Artists — the whole offering a heady, soul-enriching visual jaunt through the Hudson River Valley's many, many beautiful surroundings of nature. Surely, the Hudson River School of Art, founded by the landscapist Thomas Cole back in the mid-1800s, will continue to inspire our present-day artists for as long as the "Valley" continues to offer its overflowing treasure trove of natural beauty.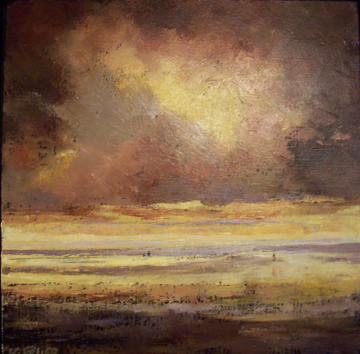 Kari Feuer's work has long attracted my attention when- and wherever I came across it in various galleries throughout the area, her eye-appealing landscapes an immediate magnet for my eyes. She invariably "holds her own" in group shows and I found it noteworthy that even alongside the delicately beautiful watercolors of her host, Betsy Jacaruso, Feuer gallantly rallies an audience as was evident in the many who showed up at her reception. An amateur landscapist myself, I was especially intrigued to learn at our meeting during her opening reception on July 18 that she, like I, uses a palette knife rather than a brush to capture her vibrating renditions of nature and its differing moods.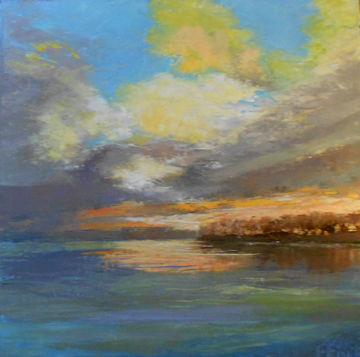 To re-create those "moods" in oil on a 2-dimensional surface is, as I know, no easy task. 'Nature' is notoriously elusive — some would (and do) call it all a trick of the eye, Maya — a 3-dimensional spatial illusion, very nearly impossible to re-create in the two dimensions of a flat canvas. But, as Betsy Jacaruso notes in her press release about the show, "[Feuer's] landscapes are less about tangible things [and] more about the ineffable scents, sounds, and light" of nature and I suspect (since it is so with my own work) that she uses the palette knife because it allows one to be more spontaneous, more suggestive than imitative (representational). The "fussiness" preferred by many landscape artists (and their viewers) has eventually led us to the less painterly and more trompe-l'oeil 'trickery' of photographic "Magic Realism" — which for the early French Impressionists would probably be abhorrent since their primary reason for 'heading for the hills' was to avoid the "licked' canvases of indoor (or studio) landscape artists which to them offered more finesse than 'realism'. The 'lesson' was certainly not lost on American artists who had the good fortune of studying abroad.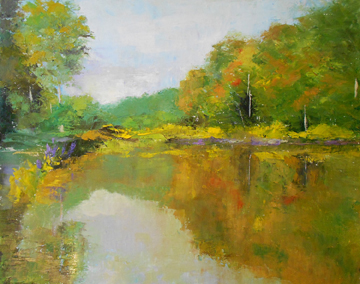 The Woodstock landscapist Birge Harrison urged his students to only paint landscapes outdoors so that they may feel and hear and smell nature as well as see it; another landscapist, William Merritt Chase, founder of the 1st plein-air school in America, is claimed to have said that every overly 'fussy' artist who doesn't know when to put the brush down needs someone standing behind him/her with a 2-by-4 to let them know when to stop). From my limited experience as an autodidact, the brush urges me to be too fussy, too definitive, and I "read" the same 'free-wheeling' technique of suggestion rather than of definitiveness in Feuer's work. Considerer her painting "Sun in the Clouds", a mystically imposing sky-scape, which envelops one in a warm mist of spirituality, embracing the viewer all the more tightly because of its illusiveness; or "Still Pond" which also manages to suggest a spiritual sense of Nature; and, again, "Hudson Sky" almost 'roughly' sketched in to reveal its ever-changeability. Again for me, these paintings "invite one in" rather than just "showing" them what the artist "sees". A bit more vivid, more 'there', are "Pond and Trees" and "September Stream", which in spite of their almost blinding splashes of blue, yet loudly declare their inherent, intangible 'untouchability'. I preferred her smaller works rather than, say, "View of the Valley" (24x30), if only because of the heavier 'compact-impact' they convey (e.g. the 6"x6" "weekly series" of Mon thru Fri) as opposed to the 'openness' of the more spacious "View".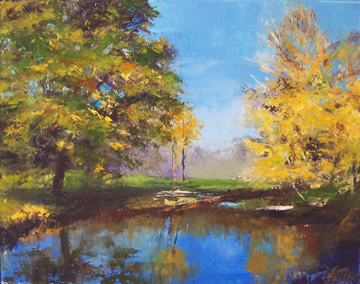 This is not an exhibition (or gallery) that you ought to leave off your visiting 'to-do' list; it is a rare opportunity to celebrate beauty and revel in the sharing. I do not think you will be disappointed if you drop in, meet Betsy Jacaruso, and enjoy her welcoming warmth and taste in art.
(Betsy Jacaruso Studio & Gallery, Rhinebeck Courtyard, 43 E. Market St., Suite 2, Rhinebeck, NY (845) 516-4435).