Art Essay: Terry Frost: The Sun and Moon
By Ina Cole
ART TIMES Winter 2014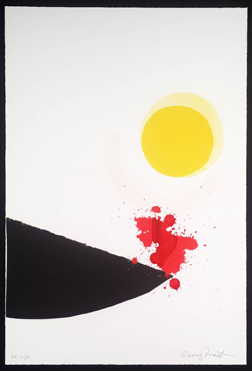 The painting career of Terry Frost (1915-2003) started somewhat later than many artists of his generation. In a way, it was only the disasters of the Second World War and the consequent breakdown of class barriers that led him to become an artist at all. He began to paint whilst a prisoner of war, where he found the first in a series of in-roads into the British art world through the painter Adrian Heath who he met at Stalag 383. Frost's tormented wartime experience ejected him from his class and background, and the front-line action he encountered and four years of incarceration in German prison camps made him realise that life was too precious to waste. He first moved to Cornwall in 1946, living there intermittently until eventually settling in the small fishing port of Newlyn in the 1970s. Frost found a house in an elevated position, which offered panoramic vistas that inspired some of his most important works. As he explained, 'I like the sun, I'm always looking at it. I live where I can see it rise in the mornings and set in the evenings. And I can see the moon out over the water…Sometimes I see a black moon, that's marvellous, and a blue moon is wonderful' (Terry Frost, 2000).
On recalling the spirit of the aftermath of the war Frost said, 'All that energy for goodness was released, energy to try to do something and so the whole system that had been a closed shop before the war was opened up to people for writing, painting and acting who never thought they could take part in it...There was no materialistic greed at that time, people just wanted to do things for real reasons' (St Ives 1939-64, 1985). At this time Frost's colours brightened, his paint thickened, and his forms evolved into endless variations of abstracted boat and harbour shapes, the most famous of which resulted in the series Walk Along the Quay, developed in the early 1950s. This series refers to a habitual early morning stroll along the quay in St Ives, which Frost often described in connection with his work of that time. Viewing the shapes of the boats from looking down as opposed to straight on, the wash of the incoming tide seemed to create an illusion of complex patterns and reflections, with the boats rocking in the water and the verticals of the masts crossing over in repetition. The resulting paintings were a moment's response to the movement of man-made objects in nature, where Frost removed himself from the familiarity of the object itself to focus on an abstract vision based entirely on motion and shape.
The 1950s were an intensely productive period for the development of Frost's work. He established a modernist repertoire of recurring geometric shapes: circles, semi-circles, chevrons and wedges, which were juxtaposed and interchanged with remarkable zest, and epitomised by titles such as Moon Quay 1950; Blue Moon 1952; and Yellow Triptych 1957-9. The reduction of landscape elements into geometric forms and colour accentuated the shallowness of the picture space, and the symbols Frost used were strengthened by their brilliant hues, repetition and equilibrium, revealing a confident and innovative manner of painting. The 1950s marked a particularly affirmative period for St Ives artists; there was a feeling of internationalism as the town was actively sought by art world trailblazers from around the world. Eminent visitors flooded the meandering streets of this idyllic retreat, many from the US, including painters Mark Rothko, John Hultberg and Helen Frankenthaler; critics Clement Greenberg and Hilton Kramer; and art dealer Martha Jackson.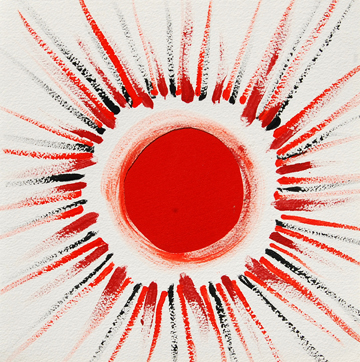 When the exhibition Modern Art in the United States came to the Tate in 1956 opinion amongst the British art world was simultaneously divided by feelings of acceptance and denial, yet Frost was undoubtedly drawn to the work of Robert Motherwell and Bradley Walker Tomlin. In 1960 Frost was given his first one-man show in New York by the gallerist Bertha Schaefer. Here he visited the studios of Barnett Newman and Robert Motherwell, while Clement Greenberg introduced him to a younger generation of artists including Kenneth Nolan and Jules Olitski. Reflecting on his time in America Frost said, 'They all came to my exhibition, de Kooning, Rothko, Kline, Newman, Motherwell…They were all painters struggling to get somewhere like I was' (Terry Frost, 2000). This cross-fertilisation of ideas between the St Ives and New York painters is well documented yet Frost's work, although insatiably experimental, remained true to innate rhythms found closer to home. His paintings typified a kind of immersion into a new world of imagery, which was inspired by but did not depict the idea of place. Indeed, at this time St Ives gained a distinct reputation for 'otherness', inspiring the development of a style of painting that offered radical new ways of linking man with the landscape.
Frost often emphasised intuition before calculation in relation to his work, 'Seeing is a matter of looking and feeling, for things do not look exactly like you think they do. To look with preconceived notions of visual experience is to destroy the possibility of creating again that experience in paint. If you know before you look, then you cannot see for looking' (Painting the Warmth of the Sun, 1995). Frost developed a visual vocabulary that remained constant through time. He discovered the impact of harmony, contrast and dissonance relatively early on, and his experiments with colour and form to an established format sustained him throughout his life. The energising forces of the wash of the tide, the fullness of the moon, and the warmth of the sun provided Frost with a multifarious subject that could be applied to many themes he explored during his long and prolific career. This is clearly apparent in Harvest Moons 1962; Yellow, Moonship 1974; Sun-up, Cyprus Series 1986; Blue for Newlyn 1989; and Lament for Lorca 1989. In particular paintings such as Sunblast 1998, with its radiating lines exploding from a sphere, retains a sense of compositional control which reveals that the techniques learnt during the 1950s were still proving useful four decades later.
Frost achieved widespread acclaim, not only in Britain and the US, but also throughout Europe. Wherever he travelled, San José, Cyprus, Ontario, or the Arizona Desert, his ability to immerse himself in his immediate environment, then transfer that experience to the picture space, formed the core of his practise. Frost became increasingly taken with the idea of natural forms as emblems of abstract forces, with the sun and the moon effectively becoming his 'two gods'. One can understand why, as circular and spiral forms pre-dominated his work during the 1990s, often in combinations of red, black and white. They can be seen as symbols of eternity, as Frost successfully established a career on his belief in the universality of responses, not only to colour and form, but also the sun and the moon. As he best explained, 'Twilight...quiet of sound except the wind and sea shore swish, my surprise at suddenly seeing a blood red circle about to descend into the full-bellied sea. I turned to tell my companion and my speech was trapped by a black silhouette of a hill behind which was creeping up, the biggest circle of nearest orange. Wow. Trapped again between two gods. It's for me a moment of fear, of excitement, of breath-stopping awe...that contact with forever, being part of everything and being nothing' (Terry Frost, 2000).
2015 is the centenary of Terry Frost's birth and UK exhibitions include: Terry Frost: Eleven Poems by Federico Garcia Lorca, Pallant House Gallery, Chichester (to 15 February 2015); Taking Flight: St Ives in the 1950s, Abbot Hall Gallery, Cumbria (26 June to 3 October 2015); Terry Frost: Paintings and Prints 1948-2003, Belgrave St Ives (10 to 31 October 2015); Terry Frost, Tate St Ives (10 October 2015 to 10 January 2016). His work is also held in the following US collections: Yale Centre for British Art, New Haven, CT; Brooklyn Museum, New York; and Albright-Knox Art Gallery, New York.