Art Essay: Theresa Bernstein, a Docent's Perspective
By Benedict Duffy ©2015
ART TIMES Spring 2015
For eight months I worked with art historian Gail Levin to launch the retrospective "Theresa Bernstein: A Century in Art." The exhibition opened in two galleries of the City University of New York during the fall of 2013 before going on tour for just over a year. Having helped to copyedit a book of the same title that serves as the exhibition's catalogue and having given weekly docent tours of the New York installation, I would like to qualify myself as a respondent to Ken Johnson's New York Times review.
Shrugging off a negative review would have been unchallenging if it were not for a particular detail that irked me into action. He reviewed Flags of the Allies, a painting that was not included in the traveling show he saw at the Woodmere Art Museum. This error signaled to me Mr. Johnson's inattention to the paintings. And so, I was entertained by his decisiveness in pronouncing Theresa Bernstein undeserving of "promotion to the higher ranks of 20th century American painters." I will not weigh in on the matter because, well, you can decide that for yourself.
I hope to demonstrate here the rewards for studying Theresa Bernstein's artwork by sharing what I learned after long exposure. Bernstein did not initially appeal to me. I found it helpful to recognize that her paintings love life before logic. They are unusual and wise, devotional and ordinary. They have a patience that allows you to have a relationship with them on your own terms, but if you give Bernstein an inch she will take a mile. Bernstein's body of work is a visual diary of constant and major transformations throughout the 20th century, and her own apprehension of her beingness in that turmoil.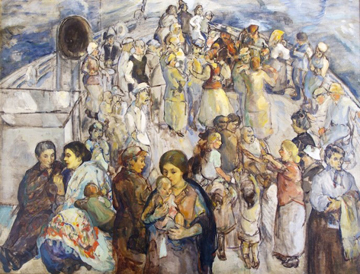 The two men in Cribbage Players are staged around a circular card table, empty but for the necessities of their game. An empty chair sits askew at the far edge with an abandoned hand of cards in front of it, as if Bernstein herself got up for a moment to paint this canvas between turns. I begin with Cribbage Players because it neatly summarizes an important tension of Bernstein's worldview. There is an immediately recognizable intimacy in the picture: it registers as more of a still life of two old card players rather than a double portrait, doesn't it? The quietness of this moment asks the viewer to look without requiring much in return. But as you study their game, the players become visually lost in a profound sense of stuff. Of all the business of the background, only a handful of items are recognizable. A sturdy black stove planted between them and a lantern on the floor under the man on the left compliment the warm palette and hint at the cold weather they withstand. A saw faces the man on the right as he contemplates his next move, a shortcut to the idea that his adversary has put him 'on a razor's edge.' Beyond these items, the image rides on the painterly uncertainties of chameleonic blending of these men with their cluttered context. They obey and resist the mayhem of brushstrokes that brought them to life, and insist on their humanity in a context that is broadly recognizable and yet indeterminate. Socially, politically, and domestically, life at beginning of the 20 th century was becoming unfixed. What you are looking at is dialectic between peaceful figures and their precarious context, a recurring theme for Bernstein. She always flirts with abstraction but never commits to it entirely, because in her eyes, life underlies abstraction.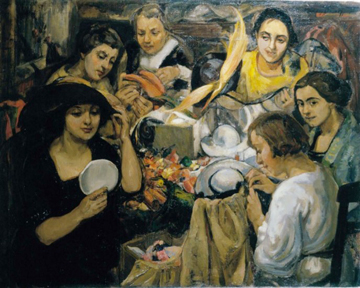 This tension between the public and private, old and the new, is a constant in her work; Bernstein was a modern woman. Sometimes she starts with the human and builds outwards to define the world in relation to it; at other times she flips the equation, starting with the external and solving for the internal. If Cribbage Players leads us from the two men outward, The Immigrants brings us from external excitement to a single woman and her baby. Bernstein grew up as an American child of Polish immigrants. Her parents' experience, and that of millions like them, is re-imagined here. However, it is Bernstein's practice to disguise how personal many of her paintings are. The woman holding the baby at the forefront of the scene has a space cleared around her head, which organizes her shipmates in a convenient and messy circle around her. I've come to see them as standing in for the panorama of human experience that waits for and will define this woman and her infant. Maybe the thought of meeting a young handsome man has crossed her mind, like the one hovering so close over her right shoulder. Or perhaps she daydreams of a happy family and has envisioned some context in which children clamor for this-and-thats at her skirt, as seen over her left shoulder. Like a female Atlas, the world rests on her shoulders. Charging into (or maybe emerging from) the white and blue unknown, themes of vulnerability, hope, change and challenge are consolidated on this canvas in an attitude that makes exciting the novel variables of this woman's future. Out of the frying pan and into the fire. Bring it on.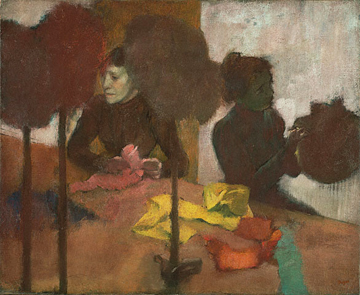 Marriage and motherhood are at the heart of The Milliners. Painted in 1919, the same year as her marriage to artist William Meyerowitz, this painting reads as Bernstein's inscription of new people into her family. This is the complete set of "the girls," as Bernstein might have seen it. Here we have Bernstein's private world, a band of faces she loved dignifying a feminine profession that Degas seemed to condescend to in his painting with the same title. With the nationalization of women's suffrage only a year later, of course Bernstein would have produced a scene loaded with female camaraderie and self-respect. Bernstein's mother, the woman on the upper left with graying hair, consults Theresa's mother-in-law, whose hands hide the gossamer threads she manipulates, head bowed as if in prayer. Flanking the mothers are two of Bernstein's sisters-in-law, Bessie and Sophie, who was a milliner herself. One wears black and admires her hat in a mirror, and the other in bright yellow is amused by her sister's vanity. To the left of the sister in yellow is a flame-like flurry of open yellow brush strokes: the feathers on the black hat she holds. They taper to a point and meet a thin black line – presumably a ribbon or a piece of string – and make an angle that serves to accentuate the guide the gaze of the smirking sister. Bernstein's third sister-in-law Minna, dressed in white on the lower right, is all fingers and face and responds to those of her mother's at the other end of the canvas. These parallel characters show the past, present and future in the craft of hat-making; Minna and her mother might be representing two stages of the same tradition. So cleanly, Bernstein matter-of-factly elevates a predominantly female occupation by inflecting her picture with an affectionate sense of propriety. And finally we come to finally Katie on the far right the Bernstein family's housekeeper and Theresa's confidante on the right, who befriends you in a glance and invites you to settle in the open place at the nearest edge of the table.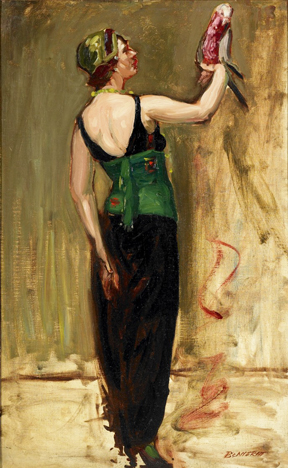 There is a green spot directly in the center of the canvas. Once you see it you won't stop seeing it. It is the painting's nucleus, its anchor, the pin of a pinwheel. It is justified by a similarly painted smattering of warm colors on its left, cushioned by a pairing of white hats on its right, and has the backdrop of a box full of the un-mysterious stuff from which hats are made. It is a dizzying dot. Focusing on it activates the composite brushstrokes swimming around the portraits, allowing them spin into action. Keys like this, secrets of the canvas, are typical of Bernstein's paintings. For example, the two red strokes directly beneath the parrot in Woman With a Parrot are like the legend of a map, telling you how to read the painting. Cribbage Players, The Immigrants, and The Milliners, all have central circles used to distribute the figures around the canvases. This is Bernstein swinging for the fences; those canvases with circular compositions are the big statements. A circle is a familiar metaphor: it represents wholeness, unity, strength, perfection, and so on. Using the portraits to carry this compositional strategy was her honoring the completeness and security she came into with her new family. The celestial arrangement of the faces orbiting around the green dot achieves equilibrium between them. They celebrate her relationships to her family as artist and wife. The Milliners, in particular, is an elaborate expression of gratefulness.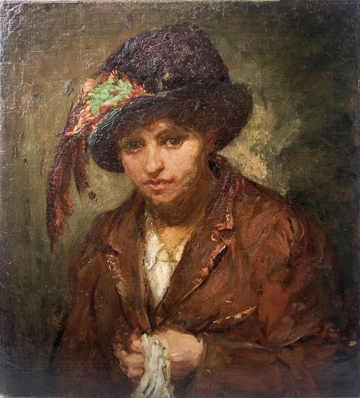 Katie's portrait from 1917 makes me melt. In pivoting from a group portrait to this solo portrait shows the range of perspective Bernstein offered in illustrating the fluid roles of women at this moment in time. Bernstein would have taken issue with Katie being remembered primarily as her housekeeper; she was the kind of painter who would find a place for Katie in the family portrait. Her role within the family hovered somewhere between sister and employee. What mattered to Bernstein – what she sought out in subjects for painting – was quality of character. Rather than glamorizing the high social or political status of sitters and patrons as painters have done historically, Bernstein gave status to her sitters because she painted people she loved, and shows us why. You can tell that Bernstein memorized her posture. A dark space appears behind her neck as Katie pinches the lapels of her scruffy coat, and the haloed brim of her hat is propped at an easy angle to allow for the feathers to quietly waterfall from it. The floppy feathers point to a pliant personality. This is the portrait of a sweetheart, tucked into earthy tones and a baggy coat. Katie doesn't want to interrupt your stroll through the gallery space, but she does.
After allowing Bernstein's paintings to sink into my psyche, writing this essay felt as though they were speaking through me rather than my own organization of thoughts on them. Her paintings do not often stop your in your tracks, though if you stop for a moment they will hold you. Her style is elusive throughout the century she spent painting. She was not quite a social realist, she was painting too long before Feminist Art in the 70s to be plausibly traced as an antecedent to that movement, and neither was she an Ashcan nor Abstract Expressionist painter. Theresa Bernstein's prolific artistic impulse was unique. It approximated an arrangement of thoughts, styles and sensibilities at a quality that blended the tender quotidian with ambitious cultural observations.