Art Review: The International Print Fair 2016
by Alexandra Hanson-Harding
arttimes online November 18 2016
Imagine a great museum popping up, displaying wondrous treasures, and four days later, disappearing. From November 3 to November 6, The 21st International Print Fair did just that. The New York Armory at 67th Street in Manhattan was packed with fine print dealers displaying some of the greatest treasures of the printmaking world. In a city crowded with a million possible things to do, it can be hard to take in all of them. But I, for one, am going to be putting the International Print Fair on my list of "Must Do" annual events and if you live near or visit New York when it next occurs, you should check it out as well.
The International Print Fair, or more properly, "The International Art Fair for Prints and Editions" (http://ifpda.org/content/print-fair) an exhibition of works on paper by many of the world's greatest artists, is curated and displayed for sale by vendors from around the world. It is a chance to get up close to gorgeous artworks—including woodcuts, aquatints, lithographs, engravings, etchings and more—that range in price from a few hundred dollars to $160,000. Just wandering around, I passed by historical treasures such as original copies of William Blake's Songs of Innocence and Experience, works by Durer, and Cranach the Elder and other Old Masters. There were also works by Picasso, Monet, and searingly emotional portraits by Edvard Munch. The mocking pop art of Andy Warhol, pieces by Brian Eno, and the fascinatingly textured abstractions of African-American master print artist Leonardo Drew were also among the works shown.
Here are a few highlights from the fair:
Several booths sold Japanese woodcuts by the 19th century master of the Ukiyo-e "pictures of the floating world" School, Utagawa Hiroshige. This school of art showed lovely, exotic and haunting scenes of beautiful women, theater, flowers—lovely and ephemeral things that haunt the Japanese esthetic spirit. These prints are amazing for their detail, but also for their incredible use of color and pattern. The subtle shadings of blues are so iridescent that I, a printing novice, cannot even fathom how they are done.
Another pleasure was discovering the kinetic, expressive artists of the Grosvener School, such as Sybil Andrews and Claude Flight. These artists worked in London in the 1930s, using linocuts brilliantly to express movement and pattern which gave their pieces of everyday scenes (kids running, a motorcar driving, people at a coffee bar) a fierce futuristic energy reminiscent both of jazz and machines.
Karl Schrag was a German-American artist who made a series of painfully beautiful and heartfelt prints depicting the horrors of World War II in Germany, the homeland he had left behind. His work had recently been acquired by the Susan Teller Gallery. http://susantellergallery.com.
In fact, noticing what individual collectors chose to collect and talking to gallery owners was one of the great pleasures of being at the fair. After all, these people have dedicated themselves to spending their lives with these artworks. These people are often passionate artists of observation in their own right. I mention the Susan Teller Gallery because I particularly enjoyed their collection. It specializes in American works from the 1920s through the 1950s. In addition to Karl Schrag, her gallery sells works by the brilliant African-American artist and national treasure Elizabeth Catlett, whose powerful woodcuts not only show a confident eye but convey a fierce cry for fairness as she fought against racial and class injustice throughout her life. In addition, the gallery had many artists whose works just hit me in the gut, some of whom I'd never heard of before including Betty Waldo Parish, Victor deWilde, and Ansei Yashima.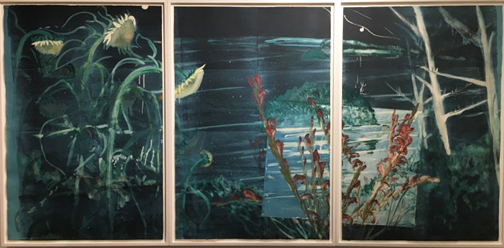 Michael Mazur's large-scale, dreamlike work. Represented by the Mary Ryan Gallery. Photo: Dorothy Cochran
At one booth I admired the cover of a large flat box, an artwork on which a large circle of gold leaf glistened subtly. The Dublin dealer showed me how sheets of gold leaf were carefully hand applied onto the paper's surface. He showed me the tiny cracks where each sheet was laid side by side within the circle. Seeing my fascination, he opened up the box, and revealed that inside, there were 100 separate, large pages. Each page was different, but each, at least the ones I saw, contained a large, hand-applied gold leaf circle. With reverent hands, he took out some of the sheets, pointing out details, such as embossing, for me to enjoy. I am ashamed to say that I was so stunned by his kindness and the beauty of the work that I forgot both his name and the piece.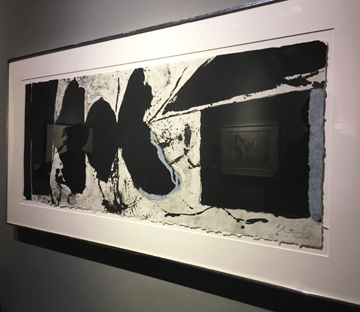 I obviously did not have 20 billion dollars to buy this book. He did not have to open up the box and show this fragile masterpiece to me. But he could just tell I adored it and he did, too. Afterwards, I told him, "Thank you, I will never forget this experience." And I will not. It's stabbing me in the heart that I can't remember his name. I certainly remember him. Sometimes, it feels as if two people just breathe together, seeing something beautiful. That's all and that's everything.
Of course, it would not be an art show without a bit of entertaining nonsense about which to grumble in a misanthropic fashion. There was an artwork that consisted of a high-heeled shoe on a stand. Maybe I missed something. And there was a Damien Hirst painting of dots. Once you've seen your 20th Damien Hirst dot painting …
The Print Fair is worth seeing because it brings together works that are rarely seen, because these pieces are for sale, and won't necessarily end up in museums, but in hands of private collectors. This is your chance to see them. And they are all printworks of one genre, which helps to focus the mind and help you to see a new side of many prominent artists. But even more importantly, there is something profound about experiencing both the individual lines of the artists up close and about being so very close to the paper itself. It feels different and more real to see the actual paper with the actual indentations that was once handled by a real artist.
| | |
| --- | --- |
| | |
As a student of printmaking, I was absolutely astonished by the incredible range of possibilities that different artists brought to paper. Printmaking is difficult, technical, and expensive. There are any number of ways it can go wrong and very few it can go right. Every time a piece of paper is run through a press, the ink can be too thick or too thin, leaving the paper blotchy or empty. It is so hard for it to come out right. So each print is a miracle. Seeing how many of these incredibly delicate miracles still exist today is a breathtaking delight.
For more information: http://ifpda.org/content/