Arshile Gorky's Water of the Flowery Mill
By Ina Cole
ART TIMES November 2016
Water of the Flowery Mill (1944) is one of a series of landscape-inspired works Arshile Gorky produced during the last few years of his life. The painting's subject is an old mill and bridge on the Housatonic River in Connecticut, near the artist's hometown of Sherman, but it also reveals the artist's nostalgia for Armenia; a place from which he and his family had fled the Turkish campaign of genocide against the minority Armenians in 1920.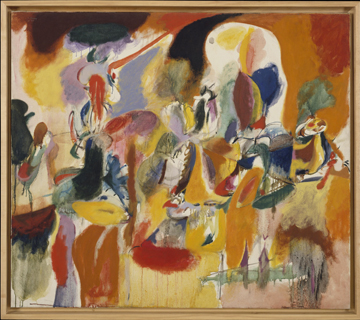 Gorky's fluid, biomorphic abstraction renders landscape into flat, overlapping fields of color and forestalls the gestural brushwork of Abstract Expressionism in the 1950s. Water of the Flowery Mill is a significant work from the artist's mature style, utilizing a refined palette, finely-tuned brushwork and an underlying complexity of composition. Although the painting portrays a specific setting, its most notable feature is a sense of buoyancy fused with an undercurrent of scarred melancholy. It is as much a landscape of the mind as of location, and in this way can be seen to fuse Surrealist automatism with the underlying precepts of Abstract Expressionism.
In the early-1940s Gorky diluted his paints with turpentine to produce flowing, watery areas of color. His sheer enjoyment at the physical sensation of paint on canvas is tangible: Water of the Flowery Mill is saturated with torrid colors that merge, swell and are then left to drip. A sequence of ambiguous forms melt on an indeterminate ground to emit a soft spectral glow, while dark recesses act as passages into nebulous space and serve to accentuate the painting's amber hues. Water of the Flowery Mill appears to have transcended its subject matter to become an atmospheric entity, veiled and mysterious, with a life independent from its maker.
At this time Gorky had told his sister he was frequently haunted by "loving memories of our garden in Armenia's Khorkom". The painting, which is constructed from separate clusters of activity that together make up its whole, can therefore be seen to unite the artist's past with his present. Myth serves as a stimulus, but only in so far as it acknowledges Gorky's interest in the folk culture of his native Armenia. Above all, Water of the Flowery Mill reflects a distinct yearning for the artist's homeland, made even more poignant by the fact that Gorky took his own life four years after the painting's completion.
Water of the Flowery Mill is in the collection of the Metropolitan Museum of Art, New York. It has been loaned to the Royal Academy of Arts, London for the exhibition 'Abstract Expressionism' to 2 January 2017, which tours to Guggenheim Museum Bilbao from 3 February to 4 June 2017. Hauser & Wirth has recently announced its worldwide representation of the Arshile Gorky Estate, and will present exhibitions of Gorky's work in its New York and Los Angeles galleries in 2017.