Art Essay: A few Days In Cordoba: Mauricio Lasansky and Stefan Zweig
By Nina Barragan
ART TIMES February 2014 online
My father died last April and the doors to memory did not open as easily as they had with my mother's passing. I'd stood at his bed for a long time, and for a long time after I remained trapped in the moment of departure. Death brought its eternal stillness: sunken eyes, the once ample nose reduced to a patrician leanness, translucent skin, his mouth and signature mustache, fixed lines of resolution. The uncertainty and fear that ran alongside him for weeks finally dropped away, allowing his 97-year journey to end peacefully, at last. I did not expect to mourn — we were relieved for him when it was over — yet spring came, then summer, both accompanied by a continuing sense of loss. In August, my lingering sadness still with me, I turned, once again, to the Austrian writer, Stefan Zweig.
Zweig? I know it was the memory of a newspaper photo from Cordoba, Argentina, 1940, a black and white reminder of a chance encounter, a pixilated cue that my father then, was not the father I knew. Needing to retrieve my Dad from that time before me, Zweig seemed a good starting point. His link to my father, a few significant days in Cordoba, was happenstance, as mine might have been, were it not for the blood flowing through our veins, as the saying goes, our genetic code. The oak of my childhood backyard has remained a symbol of our bond: a massive tree we both whittled down over the years — never so much as to compromise its strength, but enough to set us free. That tidy carving, the sweeping away of wood chips, kept us civil and safe with each other. Two adults leading adult lives, pursuing dreams, the father and daughter thing pushed far back so emotions would not confuse the situation. Our relationship was ship-shape, a whistle-clean understanding.
I was a woman, his eldest daughter. When I married at the age of twenty, he relinquished his claim, gave me up. The resulting chasm was a bitter reality for me, and I like to think for him as well. While I learned to close my eyes with every leap of faith across that gorge, he surely must have maneuvered his impetuosity until it gave him a sense of correctness. How could such a powerful, certain personality — dedicated artist, bold printmaker, respected teacher — create such pain? Quite unconsciously, I still believe. Perhaps it was the fear of losing his blond, light-eyed wonder, born to his ancestral yoke of hovering silence, dark countenances, piercing black eyes. Maybe panic pushed him to withdraw with such finality, triggering a survivor's instinct to transform the unspeakable into an opportunity for endurance. In his mind we were not ordinary, he and I, never. We could transcend emotion. After all, he was an artist; I was an artist's daughter. Did he gather strength from thinking we had no need for the ordinary love of father and daughter? We would forge a new path into the dense growth of our complicated futures. My father was terrified of sentimentality, and sometimes, even sentiment.
So yes, I mourned.
But why Stefan Zweig?
While I was growing up, my Dad shared his past with me. He kept his present and future for his sons, my brothers. I cannot speak for my sister, younger than me by five years, though I know her relationship with our father was altogether different from mine. She alone may have been privy to all — past, present, future. It seems odd now that I never questioned any of this, but my interest in history possibly explains my contentment. I could listen for hours. Articulate, witty, my father spoke easily about growing up in Buenos Aires, his family, my mother's, the depression's hardships, the good times. The remarkable era shaped their early years, art and literature nurtured them. Stories abounded — from the anarchist cobbler who stored art books under his bench (drawing in the neighborhood's young artists with images from the Italian Renaissance), to the journalist Alberto Gerchunoff with his tales of Jewish gauchos.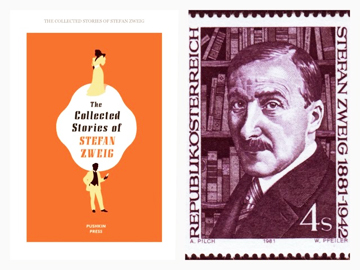 My father was 26 and Zweig 59 when they met — two dynamic personalities, one at the beginning, the other at the end. They were both Jews 'by accident of birth', as Zweig said, and they could not have been more disparate — different generations, different backgrounds, different educations, yet so alike. Their similarities superseded circumstance and convention to speak of energy, passion, dedication to work. Needing to be alone for their labor, they assiduously avoided idle social life, though Zweig could be most gracious. My father had no patience or time for social niceties. He saw himself as a maverick, and he was, but his wonderful sense of humor kept him within reach. Stefan Zweig enjoyed tremendous literary success as one of the most translated, popular writers in Europe during the twenties and thirties. An intellectual devoted to his research, a gifted biographer whose powerful, psychological insight illuminated his people, real and fictional, a passionate traveler, a man of refinement, appreciation, voracious collector of drawings, musical scores, manuscripts. In the end, Stefan Zweig was a tragic figure who so felt the weight of the world, he could not rise above the passivity of his personal depression. By 1914, the year my father was born, Zweig had already published poetry, fiction, plays, biographical and critical works, traveled through Europe, to India, and made the acquaintance of his first wife, the translator, Friderike Von Winternitz. In the early twenties, they settled in the Capuchin Mountains above Salzburg. There he wrote peacefully for nearly twenty years, until the day in 1934 when the Nazi police came to search his house for non-existent weapons. Profoundly threatened — Zweig had refused to take up arms during the first World War and remained a pacifist all his life — he promptly left his home and soon after, his country, never to return. The year before, the Nazis had banned and burned his books. He emigrated to England in 1934.
The autumn of 1939 was a beginning for my father. For Zweig, the end would soon be in sight. As Nazi Germany invaded Poland, England and France declared war. Stefan Zweig and his second wife, Lotte, fled England for the safety of American shores, eventually making their way to Petropolis, Brazil. Newly married, my father accepted the directorship at the School of Manual Skills and Arts in the city of Cordoba, Argentina. During the four years prior to this appointment — in the town of Villa Maria, also in the province of Cordoba — he taught and directed at the Free School of Fine Arts, which functioned under the auspices of a small, liberal arts college. Times were hard with the Great Depression still an active memory and another war looming over Europe. Though there was never enough money for salaries or supplies, the School of Manual Skills and Arts managed to recruit exceptional teachers from the local artisan and intellectual communities. It provided a much-needed environment for learning and the sharing of educational experimentation. Despite the shortages, Cordoba was an idyllic time for my mother and father, very much in love and the happy parents of their first child, my older brother.
Zweig was born into the Golden Age of the Austro-Hungarian Empire. Just as his Vienna had been a center of European intellectual and musical creativity — from Mozart and Beethoven to Freud and the countless in between — Cordoba, capital of the province, would become a golden place for my father. As one of oldest Jesuit universities in Latin America, home of the famous 1918 'Reforma Universitaria', the tradition of learning was well established. The reform was the result of student demands for a more varied curriculum, open competition for department heads, and a general liberalization and expansion of the academic system. Deodoro Roca, a young law student and one of the leaders of the revolt, was the author of the movement's Liminar Manifesto. At the age of 28, he quietly withdrew to a family cottage in the mountain village of Ongamira to write the declaration. Others like Roca, young doctors and lawyers, philosophers, men of letters, the intelligentsia of their generation, propelled the movement forward. The quest for political and intellectual freedoms quickly spread from Cordoba to Mexico, inspiring pivotal change throughout universities in Latin America.
My father knew Cordoba's history as a city steeped in the tradition of progressive learning. Like many of his generation, he knew of Deodoro Roca, the great humanitarian lawyer. More than two decades after the 1918 revolt, my father and Deodoro would become close friends. From the twenties on, Roca was instrumental in continuing Cordoba's tradition of liberal, anti-fascist activity by creating a gathering place for the leading minds of the time. It came to be known as Deodoro's Sotano, (Deodoro's Basement). It was in fact, the basement of his home at 544 Rivera Indarte, a fine limestone building with a grand façade, long windows facing the street. Between 1939 until his death in 1942, Deodoro took my father under his wing, extending frequent invitations to his gatherings. Politicians, writers, philosophers and physicians passed through, including Luis Jorge Borges, the Spanish poet, Rafael Alberti, Ortega y Gasset, the American, Waldo Frank, Stefan Zweig, and Gregorio Bermann, the prominent Argentine psychiatrist, committed proponent of Freudian psychoanalysis. Bermann introduced a willing nation to Freud. Years earlier, he had learned German to interview the famous doctor in Vienna. The Spanish translation of Zweig's, Mental Healers, 1932, with essays on Freud, Franz Anton Mesmer and Mary Baker Eddy, secured Freud's reputation in Argentina. Lectures, readings and discussions took place in that Sotano; my father — young, impressionable, one of the new kids on the block — felt privileged to be included. On one particular occasion, he found himself in the presence of four Latin American presidents.
I don't know if women traditionally appeared at these gatherings, either as speakers or listeners, but I've not found a single woman's name associated with the Sotano. I assume it was, somehow, something of a men's club. Zweig's wife, Lotte, had remained in Buenos Aires during the Cordoba tour. If she had been with him, would she have attended his talk at the Sotano, or waited at the hotel? Had he still been married to his first wife, Friderike, a more forthright woman, I have the feeling she would have been there at his side, without question. Possibly, it was simply a difference of personalities. This brings me to my mother. I never heard her speak of those gatherings. She was a shy, unassuming young woman; perhaps she felt it was not her place to be there. Or, maybe she wanted to go, but could not because of her young child. Or, she was ill, which at some point between my brother's birth and mine, she was; bleeding and losing weight for months, she could not regain her strength. Though her doctor declared her anemic, he was unable to find cause. Finally, in desperation, my father turned to their physician friend, Gregorio Bermann, the psychiatrist. After an examination followed by the necessary dilation and curettage, Dr. Bermann declared my parents most fortunate in narrowly averting a hysterectomy, so advanced was the decomposition of an unexpelled miscarriage that had eluded my mother's regular physician.
I've always found this anecdote incredibly poignant. I never heard my father say a positive word about psychiatry or psychoanalysis. Not a 'believer', his tendency was to dismiss the whole field, and though Stefan Zweig as well was never convinced of the benefits of psychoanalysis, both these men were admirers of Freud's life-long work. I never knew if my father's unwillingness was disinterest, genuine disbelief, or something more ominous. When I told him I was taking psychology my first year of University and reading Ernest Jones' biography, he became embarrassed, as though I was entering worlds he had chosen to avoid.
It's an intriguing thought that a prominent Freudian psychoanalyst was responsible for saving my existence. Had that hysterectomy been performed, my story would not have happened, nor the stories of my younger siblings.
Work and family kept my father well occupied but he always made time for his own studio. Just as he was present for talks in the Sotano, there were the occasional evenings in Cordoba's cafés for both my parents. Over the years, those cafés had become important gathering places for artists and writers, as well as the politically inclined, attracting Argentines and Americans, the Spanish, French and English. It was here that my father met and befriended the British poet, Hugo Manning. A correspondent for the English Herald of Buenos Aires, as well as other periodicals, he'd travelled from Buenos Aires to Cordoba, attracted by the city's reputed ambiance of artistic and intellectual creative energy.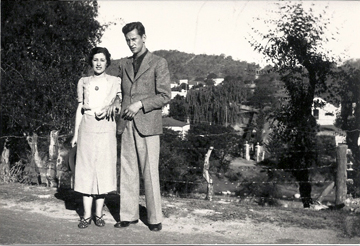 Though Manning was actively involved in Cordoba's art scene, attending concerts, art exhibitions and theater, directing plays, writing critical reviews, he soon tired of the city's excitement. Cordoba could not provide him with the peace he craved for his own poetry. By then, my parents had moved to a small town in the nearby Sierras of Cordoba, also eager to escape the hubbub. In the months prior to my birth, they invited Manning to stay with them. During his visit, Manning worked at a small desk in a corner of my father's large, drafty studio. One winter evening, both hard at work in the cold space, my father was shocked to see Hugo drenched in perspiration from his intense concentration. 'It was as though Manning was a laborer with a jackhammer, instead of a poet with pen.' The incident left a striking impression and in the decades that followed, I heard the story whenever Manning's name surfaced. Years later when my husband and I were in London, we visited the poet at his Hampstead flat. Ringing the doorbell, we waited politely at the screen door. As Hugo approached, his large, brooding eyes and bushy dark eyebrows lifted in sudden astonishment. 'You're the image of your mother!' he declared. He took us to his favorite Greek restaurant for dinner, a neighborhood establishment serving English food. Over dessert, custard with a floating biscuit, he reminisced happily about the wonderful years in Cordoba, recalling the evening my very pregnant mother slipped and fell, laughing uncontrollably as the platter and gnocchi slid across the dining room floor.
Stefan Zweig's 1940 lecture tour of Argentina took him to Buenos Aires, Rosario, then Cordoba, where he remained from Nov. 4 th to the 11th, then back to Buenos Aries on the 12 th, for yet another lecture. I don't know what Zweig spoke about during those evenings at 544 Rivera Indarte, but his day schedules included a lecture to an enraptured audience at the University of Cordoba, the Jockey Club, and days before, a moving condemnation of Nazi Germany to an audience of Buenos Aires Jews. Zweig had always thrived on the fast pace of his lecture tours; he needed to stay busy. Cordoba was no exception. Announcing his desire to meet the composer, Manuel de Falla, (self-exiled from Spain after Franco's 1939 victory), an impromptu excursion was arranged. The entourage of dignitaries accompanied Zweig to de Falla's Alta Gracia home in the beautiful Sierras, but the elderly composer had gone to see the doctor that afternoon, so the visit did not take place.
Though it was a solemn time in Zweig's life, he was cheered by the enormous success of his Argentine tour. Hundreds turned out to hear him everywhere he spoke. It was his second time in Argentina and he lectured in Spanish. He'd learned the language for his first tour in 1936 when he'd traveled from England as a guest of the Pen Organization.
During those five days in Cordoba, my father met Zweig. I imagine the encounter. My father read Zweig's biographies and was in awe of his intellectual prowess, the scope of his knowledge. He was aware of his remarkable acquisitions of manuscripts, prints, drawings. Having great respect for Zweig, he might have wanted to talk to him about art, even invite him to his studio to see his work, but the severity of Zweig's agitation would have prevented that. My father would not have missed Zweig's preoccupation with the global pattern of emerging totalitarianism, the disappearing world of yesterday, his world. He would not have missed that depression was, by then, Zweig's constant companion.
Did the meeting leave an impact on Zweig? Was it painful to meet a passionate, young printmaker because it reminded him of his own beloved collections left behind? If Zweig was able to get out of himself long enough to notice what was hanging on the walls of Deodoro Roca's house, he would have seen some of my father's early work: the linotypes, woodcuts, zinc relief-etchings, his populist themes of laborers, their families, hunger and despair. Zweig acquired his prized Rembrandt drawings shortly before leaving England, but surely he was familiar with the master's etchings long before. Did he know enough about printmaking to recognize innovative directions in my father's early work?
Lotte wrote letters back to her family in England with her impressions of the country during their busy tour, reporting they would soon return to Brazil, and that her asthma had gotten considerably worse. Back in Petropolis, Zweig's torment continued, the depression worsened. He was preoccupied, unable to work, claiming he didn't have the books he needed for his research. Lotte presented him with a complete set of Balzac's works for his 60th birthday, but his unfinished Balzac manuscript had remained at their home in Bath when they'd hurriedly left England. In an attempt to pull Zweig out of his state, Lotte wrote her sister-in law in England asking her to retrieve his unfinished manuscript, to send it on. Even Zweig's ex-wife, Friderike, with whom he corresponded regularly, jumped to the rescue, as she had so often before. When he wrote her about his interest in doing a piece on Montaigne, complaining that things might improve if only he had a serious project to work on, Friderike immediately sent him a Montaigne biography as well as several critical works. Nothing seemed to help: Zweig remained anxious, depressed.
Decades later when I was visiting Argentina, a small trunk containing my parents' early papers awaited my arrival in the guest bedroom. I kept it under the bed, pulling it out every morning while my uncle's household slept. Books, letters written from New York after my parents left Argentina, catalogues, announcements of exhibitions, magazine articles, photographs. I even found my father's so called, 'mountain lion-hunting-knife', from their time in Cordoba. When my uncle drove me to the airport for my flight back to the States, he told me he'd miss the early morning sound of rustling paper coming from my room.
Why Zweig? — that yellowing slip of newspaper, November 1940. They stood in a row, a beautiful park-like setting stretching into the distance. Was the magnificent tree behind them an Ombú? I tried hard to see past the men, eager to identify the bulbous, protruding roots. They were all there. Zweig, Roca, the psychiatrist, Bermann, the Spanish poet, Rafael Alberti, and others I didn't know, as well as officials from the University of Cordoba. My dad was blinking in the sunlight, lanky in his dress pants, shirt and tie, not his usual uniform. I'd always known my independent father as a steadfast non-joiner, yet here he was, startling me with his relaxed pose, clearly comfortable, enjoying the camaraderie of the group. He looked so young, Zweig so distant.
Paths crossed in Cordoba. Zweig knew Freud, and my father, Gregorio Bermann. Hugo Manning knew Anna Freud, Luis Jorje Borges and Rafael Alberti. The list goes on. It's hard to ignore this inclination for connections. Regardless of nationality, domicile or discipline, circles overlapped, melded, far-apart worlds came together to produce the unthreatened exchange of ideas and obsessions. Artists, writers, politicians, philosophers, physicians and lawyers, a convergence in motion, from coffee shops to political gatherings, lectures hall, art exhibitions, theater. For those who could afford it, the popular mountain retreats, the spas. Written communication was constant. Letters mailed, answers waited for. Stationery and insignias were often meticulously designed, the color of ink chosen with care — all astonishing in our digital age.
On Feb. 22, 1942, Stefan and Lotte Zweig committed suicide in Petropolis, Brazil. News came swiftly back to Cordoba, to the University and the Jockey Club, to 544 Rivera Indarte.
Last August after my father's death, I re-read Zweig, hoping to return to those few days in Cordoba. I did, and I crossed paths with my young father along the way.
Nina Barragan, daughter of the Argentine-American printmaker, Mauricio Lasansky, 1914-2012, and Emilia Barragan Lasansky, 1917-2009, was born in Cordoba, Argentina. Married to painter, Alan Weinstein, she currently lives and writes fiction in Iowa City, Iowa.