Art Essay: Walkway over the Hudson: A Dialogic Work of Art
By Christina Lilian Turczyn
ART TIMES December 22, 2016
Art is transformative. Art is transformed. Art allows opportunities for interaction
Art recovers lost history. Art embraces change. Art is at times a seed for change.
Art is the root. Art is the tree.
Art speaks. Art grows.Art absorbs.
Art testifies. Art plays. Art is a story. Art is a question.
Art is a spine. Art leads one of out the self. Art leads one back. Art is snow, listening to sounds.
Art is an ecosystem, a breathing sea.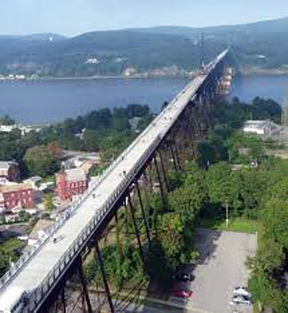 Bridges have a way of capturing the imagination. Perhaps that is why they are so often featured in popular lore. Gloria Anzaldua's groundbreaking anthology, This Bridge Called My Back: Writings by Radical Women of Color, comes to mind, as does Ai Wei Wei's Bridge Without a Name. When I first hiked "the bridge," Walkway over the Hudson that spans the Hudson River between Highland and Poughkeepsie in NY, I felt as though I were in a short story by Borges, well above wave clouds, following a road where images echoed one another. Currents spoke to sky. Skateboards near the Mid-Hudson Children's Museum repeated the motion of waves. Rectangles and treetops were scattered beneath my feet in free form, as though caught up by a strong wind.
Whether making visitors feel as though they have a fresh perspective on a well-worn path or an unexpected direction, bridges are at once planned and serendipitous. Are they conversations made visible? Are they proposals? Are they the blown glass of atmosphere, lending form to space? In addition to being the longest pedestrian footbridge in the world, spanning 1.28 miles, the Walkway is, I believe, a work of art. If one could momentarily set aside the bridge's long history, which included the landmark status of being the longest rail bridge in the world at the time that it was built, the term "Great Connector" still applies. In a country not torn, but divided by a lack of dialogue, the bridge offers a point of connection, a place where individuals can walk, run, or really talk.
| | | |
| --- | --- | --- |
| | | |
When walking a bridge, I think that I exist in a dreamtime in which altitude splices conventional measure. Far below, a waterfall reminds me of a jazz riff. I hear bicycles whirring past me. I read about people who were just married, or recently passed away. (Bridges can join, and bridges can kill). I think about soldiers who left their homes on trains, this way. I decipher messages painted on rock. I can look through binoculars if I choose, or watch landscapes that I recognize blur in the distance, become small with memory. I can sit on a bench to catch my breath, or I can stretch. And when I think I have reached the other side, a red, vintage car reminds me that I am hungry, have just started my return.
What is it about this particular footbridge, now the longest in the world that makes the walk exciting? The structure is solid, yet thousands of pedestrians alter its surface. Like any language, the bridge—the work of art—stays alive because of both history and change. All art is dialogue—irreducibly so. Whether a text is a dialogue between past and present, or a dialogue of self with self, art cannot be silent. Even the silent statue that gives words to an atrocity—a lost history, a family separated by war, or grief—cannot be silent. Perhaps bridges begin with longing—a wish for a beloved, a wish to go beyond the borders of one's body, that first step towards healing. Imagine a conversation between rivals. Recollection of domestic violence left behind. Imagine refugees finding one another, by chance.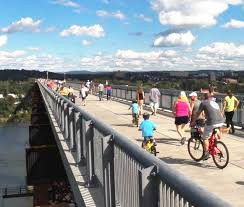 The current structure had a fire in its past. Art speaks to survival, as does what was once the Poughkeepsie-Highland Railroad Bridge. The current form suggests rethinking, while spare, geometric spaces lend themselves to daily interpretations. Not unlike a story told by diverse members of a family, the bridge suggests that there is no single perspective. The beams supporting the Walkway appear to turn, according to the viewer's stance. Many tourists admire the 360-degree views, which Walkway over the Hudson State Historic Park administrators term "360 Degrees of Discovery." Looking over the railing, I am reminded of the compass engraved onto Olana's piazza, opening up to all directions and excluding none. Tim Lake, an employee for the New York State Department of Environmental Conservation, interviewed for the abovementioned site, adds that it is even possible that flocks of birds use the bridge lights to navigate their direction in cold weather.
Events that take place on the bridge add to its multidimensional life. As part of the Hudson River Valley Institute, scholars at Marist College undertook a collection of oral histories of narratives told by people to whom the bridge had an historical or personal significance. This is an extensive, interpretive body of work. I consider my family members, who were refugees, and think about how history is written without a monolithic story. How autobiography takes stone or steel and sculpts them, in the same way that strong voice breaks glass. The Walkway offers the kind of communal expression that Chinua Achebe describes in "The Writer and His Community."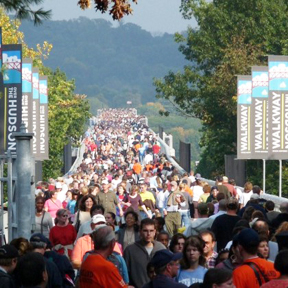 Rather than separating himself from the needs of those around him, the Igbo artist hides his identity so that a community can emerge. In like manner, Walkway over the Hudson is a work in progress, interactive. I think of millions of conversations, daily, forming a ripple effect, a wave. "Narrative is radical, creating us the very moment it was created," Toni Morrison states, in her "Nobel Lecture." A concept becomes flight.
The park is open and accessible. It is free. I am not a person who can climb a mountain, yet am given the rare chance to see what Frederic Church saw when he created "Above the Clouds at Sunrise." Or not. I can meditate, or meet someone. In their innovative book, Imagination First, Unlocking the Power of Possibility, Tim Liu and Scott Noppe-Brandon develop a theory of imaginative education through their observation: "The utility of imagination is measured by whether the ecosystem as a whole is richer in possibility, and whether the society we feed with our imagination enables all participants in the market or the community to participate to their fullest potential". Indeed. This is the conceptual possibility of the Walkway—lanterns have been released from the arch. The site is so much more than the sum of past events.
Bridges are stories, as well as transitions. Walkway over the Hudson is a conceptual, interactive, connective, and transformative work of art. Inevitably bridges wear down, like grammatical constructions, making way for interstices—those pinpoints of quiet—in which new questions are imagined—new forms of art that are larger than themselves, their languages, their banks.
Christina Lilian Turczyn, a visual artist and writer, lives in Bergen County, NJ