Travel and Culture: Fredericksburg, Texas:
Hill Country's new American Art Destination
By Cornelia Seckel
ART TIMES Winter 2014
I was asked if I'd like to join a press group to explore Fredericksburg, a small town in Texas with wineries, galleries and historic sites. It had been a while since I did any traveling so I accepted the invite and I am surely glad I did. The staff at Geiger & Associates has always been excellent. One of their many clients has been the Convention and Visitors Bureau (CVB) (visitfredericksburgtx.com) and for many years they've been bringing journalists to this town with the expectation that there would be "stories" out in the world and the tourism traffic would increase. Well it certainly has. In the town of 11,000 individuals the visitors spend $89 million dollars each year and stay at any one of 1,500+ B&B's, Guest Houses, Inns, Cabins, Hotels, Resorts and Cottages. These Guest Houses, while I can't say are unique (but may be to Fredericksburg), are the featured "hotel room". Most are small cottages with a refrigerator and microwave, some with a more elaborate kitchen, many with luxurious bathrooms and bathtubs, room beautifully decorated and very comfortable. Some are modeled on the Sunday Houses — the small 2 story houses that farmers built in town for a place to stay after church.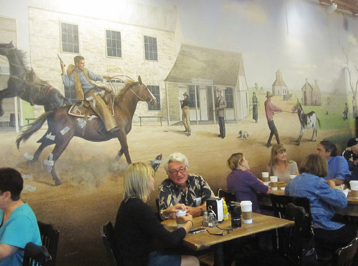 I arrived on a Monday having flown from Albany to Chicago and then on to San Antonio where several of us were greeted and driven the 1.5 hours north to Fredericksburg and our individual accommodations. Dinner was at the Navajo Grill where Ernest A. Loeffler, Jr., President and CEO, of the Convention and Visitors Bureau welcomed us and gave us an overview of the town and its history. Representatives from the Hilmy Winery provided the wines that paired with the 4 "tasting" courses offered by the Navajo Grill (a-family run business). As each course came to the table the chef spoke about the food and the Winery reps did the same for the wines. This was generally the case in all of the restaurants that hosted us. Both the Chefs and Vintners are dedicated to their craft. With most of the restaurants I found a strong focus on "farm to table".
The first known residents of Gillespie County (where Fredericksburg is) were the Tonkawa Indians. By the nineteenth century, Comanches and Kiowas had also moved into the area now known as the center of the Hill Country, the region including all or part of twenty-five counties near the geographical center of Texas. The Spanish arrived in 1519 and then other Europeans in 1846 when John O. Meusebach led a group of 120 Germans sponsored by the Adelsverein, a Society for the Protection of German Immigrants in Texas, to Texas. The Society was founded in April, 1842, by twenty-one German noblemen at Biebrich on the Rhine, near Mainz, and the focus was to establish a new Germany on Texas soil by means of an organized mass emigration. This group transported thousands of Germans to Texas between 1844 and 1847 with more than 7,000 Germans reaching the new land. The German settlers that came with Meusebach were solid middle-class peasants. They were land-owning families, artisans, and, in a few cases, university-educated professional people and intellectuals, not poverty stricken or oppressed, and could afford the substantial cost of migration. The majority were farmers with some experience in trade. They were ambitious farmers and artisans who believed their futures were curtailed by the social and economic system at home. Each settler received one town lot and ten acres of farmland nearby. Religion and education were important to these settlers and after their homes, churches and schools were built soon after their arrival. Germans learned about Texas as a result of Karl Anton Postl's novel/ travlog The Cabin Book, written in 1941, that was a best seller in Europe. He described Texas as "a boundless field of green". So, today many in Fredericksburg give credit to an art form – literature — as being instrumental in the founding of the town. Today I can see the lingering effect of the German settlement in the names of stores, festivals, and surnames. The town was named for Prince Friedrich Wilhelm Ludwig of Prussia. Several years after, Meusebach came with intellectuals, artists and writers; other professional artists arrived, many painting and sketching while earning a living in other ways. This legacy from artists gives a visual record of the development of this part of the Texas Hill Country and is beautifully documented in Fredericksburg, Texas: 150 Years of Paintings and Drawings by Jack Maguire is an excellent visual history of this community published in 1996 on the occasion of the 150th Anniversary of the founding.
| | | |
| --- | --- | --- |
| | | |
Day 1 began when we were picked up at 7:30 am and brought to Java Ranch Expresso Bar and Café, clearly the coffee stop for people who work in town. A group went to the George H. W. Bush Gallery and The Center for Pacific War Studies and theNational Museum of the Pacific War. This museum is the only institution in the US dedicated exclusively to telling the story of the Pacific Theater in WW II (pacificwarmuseum.org). I was told it was a moving and enlightening experience. The other morning's choice was to go the Lyndon B. Johnson National Historical Park (nps.gov/lyjo) and to visit the "Texas White House". What an experience to walk thru Lyndon B. Johnson's family home, through the kitchen, the living room, LBJ's Bedroom, his closet and bathroom, Lady Bird's bedroom and closet, to be 4 feet away from the bed Johnson died in— he was just 64 years old. This is a very comfortable and cozy home and other than the "rogue's gallery" with heads of state and other very well known people and the extraordinary art work it could be the home of any financially comfortable family. Of course the kitchen had a restaurant oven and large refrigerator for entertaining. LBJ is buried in the family plot, as is Lady Bird whose name was Claudia, something very few of us remembered. The original home, built in 1894 of native limestone for German immigrants was where the Johnson family had Christmas and other family celebrations and entertained neighbors and friends. LBJ purchased the home/ ranch from his aunt in 1951 and Lady Bird lived here until her death in 2007. On her Tombstone is engraved "a gentle heroine of nature and mankind". The Johnson's had decided to give the house and about 1/3 of the total acreage (the rest going to daughters Luci & Lynda) to the state of Texas as a National Historic Park to preserve their time in history. They had a large movie screen and Johnson would invite his neighbors to come and watch 1st run movies with him. They held a BBQ each year and this tradition has continued. Johnson's accomplishments with education, job core, the nations interstate, civil rights, public broadcasting, Medicare, Medicaid, environmental protection and world events were immense. It is said that Lady Bird had a great influence on LBJ regarding the Park Bills and other legislations.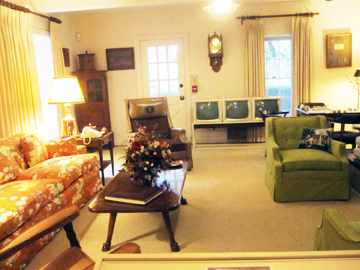 Russ Whitlock , Superintendent of the Lyndon B. Johnson National Historical Park, was our tour guide and what great stories he had to tell. There were 120,000 visitors last year and every once in a while visitors are treated to a house tour by Luci Johnson during which she will speak so familiarly about furnishings and objects adding a great flavor to the tour. There is a car collection of the Lincolns both he and LadyBird drove and a Model T given to LBJ by Henry Ford. JetStar, Air Force "one-half," is "parked" just outside the back door. The front yard of the house was the meeting place for heads of state and visitors who all sat in lawn chairs typical of the 1960's. Added to the house was an office where LBJ spent ¼ of his presidency working from the Texas White House. He could do that given new technology — a Tel-Star satellite phone. To begin with, there were 76 phone lines and 3 full-time operators to handle the many calls he made. He was never more than a minute away from a phone. Numerous heads of state and cabinet members came to the ranch to meet with LBJ and there were planes flying in and out daily. LBJ referred to the ranch as "our hearts home". It has been said that, "he was formed by the land where he lived and was comforted."
The afternoon was spent visiting wineries, enjoying tastings and learning about wines and what grapes will grow in Texas. According to the Texas Wine and Growers Association, Texas was the site of the first vineyard established in North America by Franciscan priests around 1662. As European settlers followed the development of mission outposts, they brought more grapevine cuttings, developing the industry through the 1800s. Texas is now the country's fifth largest wine producer, having over 270 wineries (42 wineries around Fredericksburg). Consumption of Beer in Texas is still #1 with Wine slowly gaining. We started out at the Becker Vineyards, one of the earliest vineyards in the Hill Country of Texas, and after the tour of the processing enjoyed a Library tasting. We had the same wine of 3 successive years paired with the scrumptious-tasting luncheon they served. On our tour we tried same wines in different Oak barrels (American & French), wines in steel tanks, wines from light, medium and heavily charred barrels. I had no idea there was so much to know.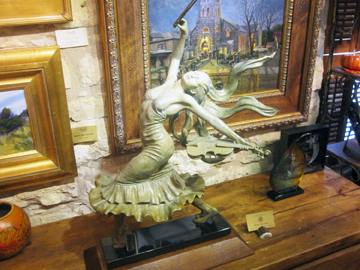 We continued on to the Grape Creek Vineyard, reminiscent of a Tuscan villa (they also have a B&B), and primarily a "Wine Club Winery" and supplier to fine restaurants. From there we went to Pedernales Cellars, specializing in Spanish and Rhone-style wines; they offered us their Tempranillo and Voignier wines. Wine Road 290 (13 Wineries along this route) has tourist traffic of wine tasters that has, they say, surpassed Napa Valley. At the wineries you can taste, tour and take part in a multitude of events. Take a look at wineroad290.com for a list of the wineries, their events, hours and specialties. Our dinners were often paired with wines from these wineries. I particularly liked the tasting menu where we had a chance to sample what the restaurants are best known for and the best wines for those entrees.
Day 2 was spent visiting galleries, artists' studios, learning about peaches, chocolate and Fredericksburg.
Fredericksburg is being, and rightfully so, touted as an American art destination. There are currently 15 galleries in town (many shops and restaurants are also showing work that is for sale) and we visited many of them. We also had an opportunity to speak with artists represented by those galleries and to visit several studios. The Agave Gallery also houses the studio of sculptor John Bennett whose figures are just exquisite showing fine detail and movement. This small gallery is filled, salon style, with the work of 20 painters, sculptors and fine craft artisans. All the artists are from Texas but not necessarily doing "Texas themes". The Gallery began as John's studio and then evolved into a gallery where he showed work of other artists he has a personal relationship with. There was work for every size pocketbook with prices ranging from $100 to many thousands of dollars.
We visited the studio of Nancy Bush who, along with her husband Bill Bush operates the Fredericksburg Artists School. They offer seminars and workshops where the focus is to learn to be a professional artist. Their artist/ instructors (who are all making a living from their art, not from teaching) come from across the country. Nancy's landscapes are stunning, radiating light depth and a soft and impressionist feeling.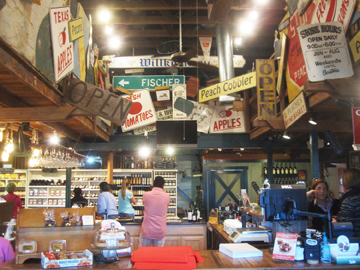 After a fine lunch at the Farm Haus Bistro we went to Das Peach Haus, home to Fischer and Wieser Specialty Foods where we tasted sauces, jams, and spreads. It was a great surprise to me that peaches were grown and did so well in the Hill Country of Texas. Apparently in 1921, Benjamin Lester Enderle and his wife began growing peach trees to pay off their land and house. The climate and soil were well suited for peach production. The area's altitude (1,700 feet above sea level) and diurnal temperature variation is excellent for the production of Fredericksburg peaches. Soon the Enderles encouraged others to grow peaches by conducting seminars. In 1928, Joseph and Estella Wieser bought 60 acres of land on the southern edge of Fredericksburg, Texas, and planted a peach orchard. In 1969, their son Mark founded Fischer & Wieser's Das Peach Haus® as a roadside fruit stand. Years later they became the #1 gourmet food company in Texas when Case Fischer joined Mark and they began making all sorts of sauces, salsas, appetizers, pasta sauces and jellies. I tasted a good number of them and brought quit a few home.
| | | |
| --- | --- | --- |
| | | |
And on to Chocolát where we had an excellent chocolate education and tasting courtesy of Lecia C. Duke, founder and President of Quintessential Chocolates (est. 1984). We learned about the growing, harvesting and making of chocolate. Lecia has perfected the slugs that are filled with spirits, and dipped in deep dark chocolate. My mouth is still watering from the tastes.
And then, a tasting dinner at Bejas Grill & Cantina trying out their new menu with a great variety of burgers.
Is it a surprise I came back with several extra pounds?
Day 3: artists and galleries and a wonderful farewell dinner.
The Fredericksburg Art Gallery has excellent art by 42 well-known and emerging artists from Texas and beyond. Many of the artists who live in town came to the breakfast to "visit and greet". In 1986 Donna Strickland opened the gallery along with her husband Jim. Donna has been in the art gallery business since 1976 and in Fredericksburg she specializes in representational wildlife, western, still life, portraiture, and landscape in various mediums and styles.
We visited the studio of Phil Bob Borman, painter of gorgeous skies and landscapes. New to art, Phil was a cowboy years ago and now is a minister, teacher, sculptor and painter. He has always played the harmonica, banjo and guitar and treated us to a tune on his harmonica. He delighted us with his stories but more importantly impressed us with his artwork.
George & Kay Northup Studios was equally delightful. George is a fine award winning figurative sculptor and Kay an excellent award-winning painter. Kay spoke about her palette changing since moving from Jackson Hole, Wyoming to Fredericksburg.
Lunch at Vaudeville and a visit to their gallery where Art Curator Mary Parker introduced us to visual artist Rodolfo Choperena who puts his images on fabric, plastic and metal. This very large space lent itself to abstract work, not something we were seeing much of in other galleries.
The rest of the afternoon we visited RS Hanna Gallery, Good Art Company and Artisans before a reception atInsight Gallery. So much art and they all seem to be doing well. Insight Gallery is owned by Meredith and David Plesko, art collectors, and (like so many business owners in Fredericksburg) followed their dream to have a gallery. They have 60 artists with one-third from Texas. The Fredericksburg Art Guild is an artist run/ owned organization with 26 members and 9 associate members. The artists have a wide range of styles in different mediums.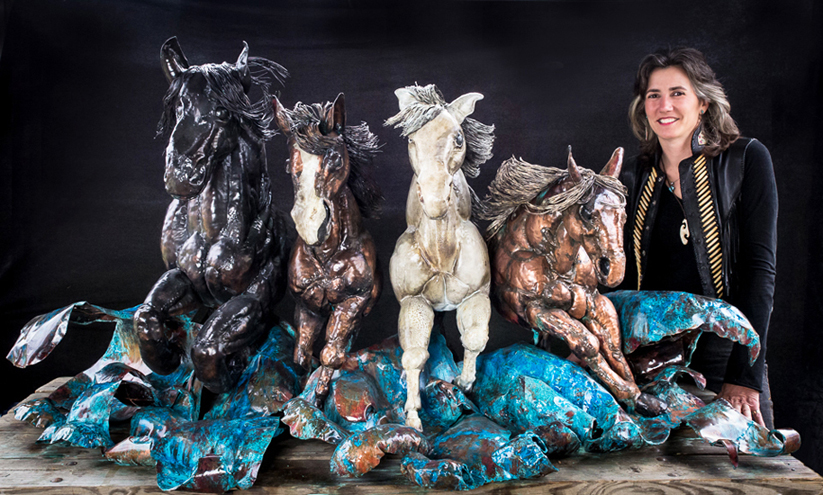 So many galleries with very fine artists' work, many representing mostly Texas Artists and some galleries with nationally known artists. Generally the work I saw was representational oils and figurative sculpture with much of the work a "cowboy" theme. There is always work that is outstanding and other work I could pass by in the studios and galleries I visited —for the most part the work I saw was excellent and what was most unique was " The Horses", a 70"H x 30"W x 36"D copper sculpture by Stevie Jo Lake currently at the RS Hanna Gallery.
You can see a listing of all the galleries at: visitfredericksburgtx.com/attractions-categories/arts/ as well as specific websites for information on any of these wineries, restaurants, lodging and galleries can be found on the CVB site visitfredericksburgtx.com
Early in the morning of Day 4 as I was brought to the airport to head on home I left with the overall feeling that this is truly an excellent destination for people who enjoy art, wine, the outdoors, unique accommodations, beautiful landscape and delightful people who are following their dreams.
Additional things I learned:
LBJ played a lot of Dominoes.
Ladybird was really focused on beautification of body mind and soul, not just wildflowers.
There are numerous festivals, art events, 1st Friday Art Walk, and the draw of winery tour tastings makes this a very popular tourist destination with over a million visitors last year.
Streets are very wide so that an ox cart can make a u-turn.
So many gallery owners, lodging owners and restaurateurs are in their 40's having left work, often as architects, computer scientists, engineers, to relocate and followed their dream.
An artist wanting to visit and study can do that with several different teachers and schools including The Fredericksburg Art Academy, Yellow Door Studio and The Fredericksburg Artists School.
Die Künstler von Fredericksburg is group of local artists with over 100 members who bring in speakers/artists who give educational programs during their monthly meeting
People choose for the lifestyle: 1.5 hours from San Antonio and Austin for shopping, sports, University.
Economy depends on Tourism, agriculture and medicine
Tourists coming mostly from Texas then internationally: Germany, Great Britain, Canada and China.