Travel and Culture: Country Music and much more..

By Cornelia Seckel
ART TIMES Summer 2015
Part 1
I'm not a country music person, but I am now after spending 5 days in Nashville, where country music is part of the air one breathes. Visiting the Musicians Hall of Fame gave me a deeper appreciation for the musicians behind the performer: the composer, lyricist, sound engineer. I was with a press tour visiting the middle part of Tennessee to explore "The Soundtrack of America". Each day was packed with places to see, music to hear, BBQ to eat, museums and historic sites to visit, moonshine to taste. The region has numerous professional opera, symphony, dance and theater companies, The Nashville Film Festival, Tennessee Craft Fairs, and then there is the music.
Everywhere we went there was music. Along Broadway in Nashville Honky Tonks lined up on both sides of the street. Music began around noon and went on into the night. Most places (bars and some restaurants) schedule musicians in advance. Even the airport had live musicians playing from early morning. Everyone I spoke to was a musician.
There were numerous places, people and things I learned about during my time in Nashville and going to the Grand Ole Opry, meeting Joanne Cash Yates, visiting the Musicians Hall of Fame and the Country Music Hall of Fame & Museum and learning about the Americana Music Triangle were truly highlights. There is no way for me to recount all of my time so this is Part 1. Also online you can see videos from much of my time in Nashville. sites
Clarksville is a city about 45 miles NE of Nashville and we had a chance to visit the Customs House Museum and Cultural Center (customhousemuseum.org), one of the largest general history museums in the state. Part of the museum collection is in what had been the Customs House and exhibits were tucked into odd sized rooms including the vault. Creatively displayed was the history of Clarksville (settled in 1780). Particularly of interest was a display about Brenda Runyon who opened the First Woman's Bank in 1919. This bank was the first bank in the US to be staffed and managed entirely by women. There seemed to be a hundred Church Spires gracing the skyline. When I asked I was told that there were all sorts of Christian churches and "Had I heard of the Bible Belt? This is the buckle."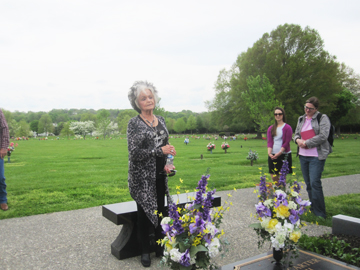 Joanne Cash Yates , sister of Johnny Cash and musician with 30 albums, several # 1 songs and the subject of a documentary (joannecash.com) met our group at Hendersonville Memory Gardens where Johnny Cash and June Carter are buried, as are numerous other musicians. Joanne spoke with us about Johnny, his deep commitment to Jesus, his music, some of the misbeliefs about him and the movie about him and why he wore black which, she said, he told her that it was because in the 50's when many singers were wearing glitz he said he wasn't fancy and black was basic. She sang several songs encouraging us to sing along as she sang Amazing Grace. Joanne was gracious and appreciative of the journalists "after all, writers are what made Johnny famous" she said. When asked if she had met Elvis she said, "Oh yes he was extremely pretty, he had the prettiest eyes you ever saw." As for other musicians living in the area she said that they are one big family getting together informally when they can to play together. Joanne Cash Yates and her husband Harry have been married for 43 years and he is the founder and pastor of the Nashville Cowboy Church, "a unique ministry that combines spirit-filled gospel singing and straight-forward evangelical preaching, particularly reaching out to tourists and music business personalities". This ministry reaches out to approximately 250 million people every week via radio, video-streaming, and short wave radio. Joanne, a strong Christian, is very much part of the ministry of their Church. I found Harry to be a delight and while having lunch with them I enjoyed seeing them with one another. They each support each other's work and clearly are presidents of each other's fan club!
Our first full day ended at the Long Hollow Jamboree & Restaurant where we enjoyed BBQ (one meat + 3 sides) and the excellent music of Blue Creek, a 6-piece traditional country band; many are also studio musicans. There is dancing in this alcohol and smoke free restaurant and I was happy to get up and join the line dancing. The patrons, primarily seniors, were all decked out in country wear, hats, cowboy boots tassels and glitter and I must say they were very tolerant of my stumblings on the dance floor.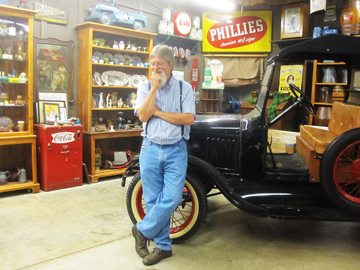 Did you ever wonder about all the "stuff" decorating the Cracker Barrel (crackerbarrel.com) restaurants that seem to be everywhere? We were met at one of the Cracker Barrel stores in Lebanon, by Larry Singleton and shown the Décor Warehouse, the source of all those decorations. In 1969, founder Dan Evins who was in the gasoline business, realized that he could sell more gas if he also met the needs of people traveling on the highways. He felt there should be a good place for breakfast for travelers and home style cooking, much of it made from scratch. After enjoying a meal, diners might pick up some snacks or gifts and fill the tank with gas before heading to their destination. He wanted the restaurant to be homey and reminiscent of America's country heritage so he asked his friends who had an antique shop to decorate the 1st Cracker Barrel Old Country Store. Today, Larry Singleton whose parents decorated that first store, is in charge of acquiring the thousands of antiques that decorate each of the over 650 stores. The warehouse is amazing with 90,000 items all cleaned and ready to ship as needed and join the 700,000 other original items already in stores.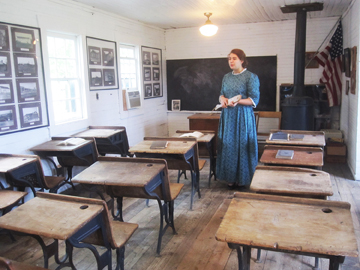 Fiddler's Grove Historic Village in Lebanon has over 50 historic buildings including a blacksmith shop, depot, school, printing office, jail, law office, drug store, and more from the early 1900's. What I found unique to this restored village was the FAM Tour. Student actors are placed in the different buildings and welcome visitors as the reverend in the church, housewife in a home etc. creating the illusion of having stepped back into time. Located on the grounds of the James E. Ward Agricultural Center in Lebanon, Tennessee, the mission of Fiddlers Grove is to preserve the history of the citizens of Wilson County by interpretation, exhibitions, education, publications, and hands on experiences. I particularly liked the blacksmith shop where the blacksmith gave me a button-hole punch that he made which I had to mail home (thankfully that service was available at the airport!) given that it could have been a weapon and not allowed in my carry on luggage. These buildings and grounds are available to rent for weddings or other events. (Fiddlersgrove.org)
I got to visit The Country Music Hall of Fame and Museum (countrymusichalloffame.org) and was quite blown away with their $100-million expansion that doubled its size to 350,000 square feet of state-of-the-art galleries, archival storage, education classrooms, retail stores, and special event space where they have concerts in the new CMA Theater, film screenings, workshops, panel discussions, instrument demos and much more. The new Taylor Swift Education Center introduces children to the world of music.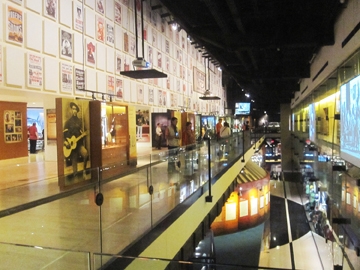 One could spend weeks going through their website and viewing the videos to be found in the "Step Inside The Country Music Hall Of Fame And Museum" section featuring concerts, previews of exhibits, tours of Studio B where Elvis recorded over 250 songs and much more and months going through the museum. I particularly enjoyed the museums permanent exhibit that tells the story of country music from its early roots in the nineteenth century through life today. As I began walking along this vast gallery I saw films showing the evolution of country music with the earliest dating from the 1920's with John Scruggs playing his banjo in the front yard with chickens wandering in and out of the clip and young people dancing to the music. There was so much to see and explore including artifacts, photographs, original recordings, archival video, newly produced films, touch screen interactive media, and informative text panels. I was immersed in the history and sounds of country music, its meanings, and the lives and voices of its honored personalities. I understand that only 2% of the artifacts are on display with 2 million in the collection.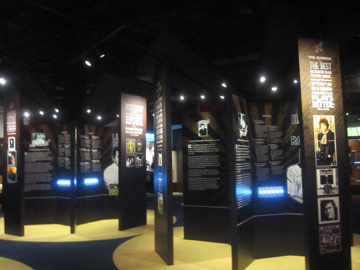 The Dylan, Cash and the Nashville Cats is one of the current exhibit at the Museum. The exhibition is about the 60's and 70's and what happened when the world discovered these Nashville studio Musicians. When The Freewheelin' Bob Dylan was released in 1963, the album captivated Cash and he wrote to Dylan. The two eventually met at the 1964 Newport Folk Fest where they both appeared on the bill. The two spent the evening picking in Baez's hotel room with June Carter Cash, Joan Baez, Jack Elliot, and others. In a legendary moment, Cash pulled Dylan aside and handed him his Martin as a gift, a traditional gesture of honor among country musicians. In 1966 Dylan went to Nashville to record several songs. Other musicians including the Byrds, Leonard Cohen, Paul McCartney, Neil Young, George Harrison Joan Baez, Simon and Garfunkel, Roy Orbison, Perry Como, Carol Channing, the Nitty Gritty Dirt Band, Elvis Presley, Linda Ronstadt, Gordon Lightfoot, Ian & Sylvia and The Monkees among many others chose to record there primarily because of the Nashville Cats— studio musicians that had great skill, creativity and virtuosity.
The exhibit includes the history of Dylan going to Nashville. In 1965, Dylan was in New York working with producer Bob Johnston, a former Nashville resident. Johnston often hired multi-instrumentalist Charlie McCoy to lead sessions in Nashville. At Johnston's invitation, McCoy visited one of Dylan's New York sessions and was asked to play guitar on "Desolation Row." McCoy impressed Dylan with his musicianship, and Johnston urged Dylan to record in Nashville, where there were many other skilled musicians. The exhibition continues with biographical information about Dylan and Cash and how The Johnny Cash Show, shot at Nashville's Ryman Auditorium, became an outlet for country artists and for folk, pop and rock musicians trying to reach new audiences. Dylan and Joni Mitchell were guests on the first show, and Ronstadt, Young, Lightfoot and Eric Clapton's Derek & the Dominos as did many others appear on subsequent shows.
The exhibit has thousands of artifacts including instruments, vintage clips from The Johnny Cash Show, costumes, and music. The centerpiece of the exhibit is a series of 16 listening booths, each devoted to a Nashville Cat of the era. Each booth provides biographical information, archival photos and audio samples of the musicians' signature licks on both rock and country recordings from the late 1960s and early '70s. The exhibit will run through December 31, 2016.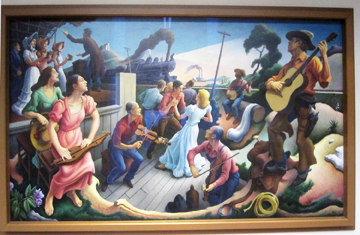 And then there is the Hall of Fame with a Thomas Hart Benton mural depicting The Sources of Country Music a 6' x 10' mural that he completed just before his death in 1975. I just learned that Benton flirted with a career as a harmonica virtuoso. In 1941 he cut a three-record album, released by Decca, titled Saturday Night at Tom Benton's. In it he played tunes on his harmonica, backed by an orchestra of professional musicians. Many of his early paintings were inspired by folk songs. Because of his musical interests, Tom Benton did not need much persuading when first approached by the Country Music Foundation. While he and Tex Ritter sipped Jack Daniel's together, Tom said, "The sources of country music-that's it." He then elaborated: "No one should be recognizable. It should show the roots of the music-the sources-before there were records and stars." Surrounding the mural in this Hall of Fame Rotunda are the many plaques of the inducted Hall of Fame members. The newest members are Jim Ed Brown and the Browns, the late Grady Martin and the Oak Ridge Boys.
Since the renovations at the museum, the Hatch Show Printing Studio has been housed at the Country Music Hall of Fame and Museum and became part of the foundation that includes the museum and hall of fame. Hatch is one of the oldest letterpress poster print shops and has been printing continuously for the past 136 years. Their motto is preservation thru production. They primarily print concert posters — about 600 a year and do some printing and design for other projects. As a publisher I was particularly interested in seeing their vintage presses and type. They offer internships and tours and workshops are available. (hatchshowprint.com)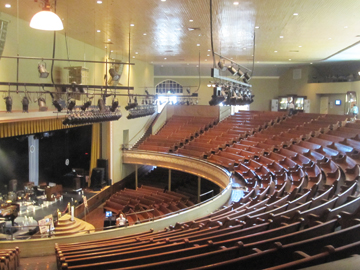 Ryman Auditorium (ryman.com) was a must for our exploring of Nashville. It is called the "Mother Church of Country Music" and is a National Historic Landmark known for its exceptional acoustics and rich history. In 1892 the Union Gospel Tabernacle was completed and in 1901 the Ryman Stage constructed for the NY Metropolitan Opera Company's touring company. It was Lula Clay Naff that truly was the power that made the Ryman the success it became. In 1904 she took charge of booking speaking engagements, concerts etc and in1920, she was hired to manage the auditorium and did so until she retired in 1955. Under her guidance, the Ryman regularly hosted legendary entertainers of stage and screen. She also opened the doors for boxing matches, livestock auctions and political debates. Tough, determined, shrewd, and capable, by booking the best events available, she kept the building thriving for more than fifty years. Over the next many years Helen Keller, President Teddy Roosevelt, Houdini, Enrico Caruso, Charlie Chaplin, Helen Hayes, Marian Anderson, Katherine Hepburn, Bob Hope, Doris Day, Mae West, Elvis , all the finest country singers of our time and many more have given performances, given concerts, and lectures on that stage. Ricky Skaggs was one of the youngest performing at age 7. This is a cherished venue for today's musicians and entertainers. The day we were visiting Diana Krall was giving a concert and the Ryman schedule (current and past) reads as a who's who of entertainers. Prairie Home Companion recently broadcasted a show from The Ryman. It was in 1943 that the Grand Ole Opry moved into the Ryman having grown from the WSM Barn Dance in a new fifth-floor radio studio of the National Life & Accident Insurance Company in downtown Nashville on November 28, 1925. This is the show that made country music famous, and it's the most famous show in country music. Up until 1974 the Grand Ole Opry was at the Ryman and then moved to their new building in Opryland returning each year between November & January and in 2010 held performances at the Ryman when the schedule permitted while their building was repaired after the Flood. The house seats over 2300 people and the several renovations have not changed the seats that are pews reminiscent of the Ryman's origins. Although I've been in many historic places I must say that I could feel the history of country music as I wandered along the gallery viewing wonderful photographs of performers, many long gone. Mrs. Naff got the Ryman to a great start and another other woman is credited with revitalizing the Ryman. In the early 90's Emmylou Harris was looking for a new direction in her music. She formed the "Nash Ramblers," and launched this the new direction at the Ryman. Starting on May 1, 1991, Harris began a series of shows at the mother church that stretched into 1992. It was like a shot in the arm for the Ryman revitalization. For almost 20 years, except for a few instances where it was opened for movies shoots, etc., its legendary acoustics had gone virtually unused, and now the home of country music was alive with sound again. Emmylou's series of concerts are given universal credit for spurning the reopening of the Ryman in 1994. The website is extensive and includes a time line starting in 1892 with the idea and building of the auditorium. Tours are available and if you're in Nashville make sure it's on your list as well as seeing a show.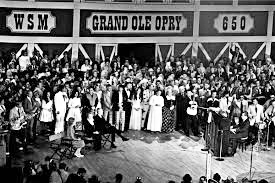 What's to say about the Grand Ole Opry, the show that made Country music famous? Much of the history was recounted as I wrote about the Ryman. 13 million visitors a year go to the Grand Ole Opry, the longest running radio show celebrating 90 years of broadcasting. Founded as a one-hour radio "barn dance" on WSM it is currently owned and operated by Ryman Hospitality Properties, Inc., dedicated to honoring country music and its history, the Opry showcases a mix of legends and contemporary chart-toppers performing country, bluegrass, folk, gospel, and comedic performances and skits. I was just thrilled to be there and to get a back stage tour (available to the public). We saw the green room, the area where "acts" warm up before going onstage. A memorable experience and one I won't forget. (opry.com) and listen to a live stream at wsmonline.com.
Take a look online for videos and additional pictures from this memorable trip. The Fall issue of ART TIMES I'll be writing more about my trip including: more about the Grand Ole Opry, the Music American Triangle (a project/ website that brings you to hundreds of music venues between Nashville, Memphis and New Orleans: the people, the history and places) (americanamusictriangle.com); The Musicians Hall of Fame & Museum (musicianshalloffame.com)honors all musicians regardless of genre or instrument; Historic sites, The art scene and visits to galleries, an art school, and artists.