Travel and Culture: Nashville: Country Music and Much More— Part 2
By Cornelia Seckel
ART TIMES Fall 2015
In the Summer issue I wrote about my trip to Nashville and had so much to report that here is Part 2. You can still read Part 1 online at arttimesjournal.com where I wrote about the Honky Tonks; meeting Joanne Cash Yates (sister of Johnny Cash); the Cracker Barrel stores and their history; The Country Music Hall of Fame and theDylan, Cash and the Nashville Cats exhibit; Ryman Auditorium, the mother Church of Country Music; and the Grand Ole Opry.
Take a look online for this report as well as videos and additional pictures from this memorable trip.
The tradition of live music on the radio continued from the Ryman and the Grand Ole Opry with other radio venues including:
Dunbar Cave State Park is located 60 minutes northwest of Nashville and about one and a half miles northeast of downtown Clarksville in Montgomery County. Dunbar Cave (always at 58˙), and over eight miles in length, is one of the largest caves in Montgomery County and, excavations revealed, has been occupied by man for thousands of years. In the roomy mouth of the cave, square dances, radio shows and big band era concerts were once held. After the Civil War, the first resort was built in the area surrounding Dunbar Cave. By the 1930s, the cave became a hotspot for local bands and other entertainment. In 1948, country music legend Roy Acuff bought the property and staged his Saturday Night Radio Dance Broadcast from the site. The cave's popularity declined in the 1950s when indoor air-conditioning became common in households.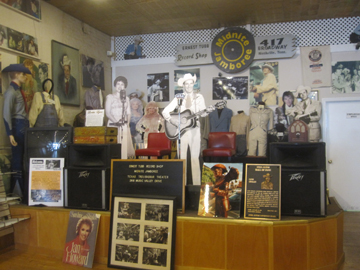 Ernest Tubb Record Shop (etrecordshop.com) -Founded by the Grand Ole Opry star Ernest Tubb in partnership with his tax accountant Charles Mosley, the store was primarily envisioned as a service for fans. In his travels around the country, Tubb was constantly approached by fans that were having trouble finding their favorite records. Tubb opened the shop as a mail-order business in early 1947, with its first retail location, at 720 Commerce St., opening on May 3 of that same year.
From the beginning, Tubb was buying airtime on the Opry to promote the mail-order business, and this eventually evolved into the Midnight Jamboree radio program. Archived shows can be heard at etrecordshop.com. The main shop moved in 1951 to its current location to allow more room for the live in-store broadcasts on Saturday nights. There are hundreds of music products including: Books, CDs, DVDs, Photos, Songbooks, Souvenirs, and vinyl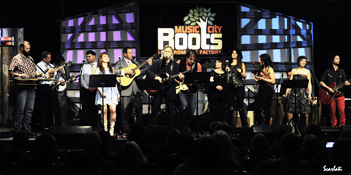 Music City Roots -Nashville's acclaimed roots and Americana variety show, broadcast live Wednesday nights at 7 (central time) at The Factory in Franklin, TN and you can hear it online at musiccityroots.com. Live From The Factory showcases Nashville's music scene, from country and Americana to more progressive interpreters of tradition — a "roots and branches" format that brings together fans of different tastes and generations.
Each broadcast features 4-5 artists in 20-minute segments and short interviews. There is a nightly Jam where all musical guests join in for a grand finale. The Factory at Franklin is a complex of 11 depression-era buildings that was renovated by Calvin Lehew as a dining, retail, entertainment and educational center. Factoryatfranklin.com
It seems to be a growing trend for well-known musicians to have their own museums:
George Jones Museum (georgejonesmuseum.com) just opened in April after we visited and we had quite a hard-hat tour. Nancy Jones, George's last wife, undertook building this museum to honor George and preserve his music and have a place where fans could see pictures of him as a child, learn what influenced him and see a vast accumulation of his things. There is a restaurant, event space, a gift shop as well as exhibition space with George Jones memorabilia including his tractor and a truck.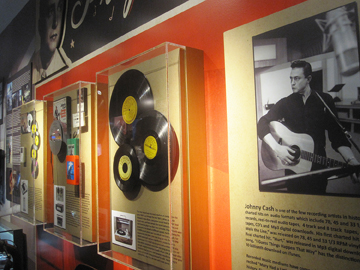 Johnny Cash Museum (www.johnnycashmuseum.com) features interactive exhibits, costumes, guitars, albums and even a serving set. Telling the story of Johnny Cash is an extensive walk through memory lane from his childhood through his final years. Bill Miller brought his collection of Cash memorabilia and created this museum where so many aspects (humanitarian, author, artist) of Cash are revealed. Cash's daughter Cindy said " Whatever anybody needs to know about my dad that they don't know already is in that museum."
Bluebird Café (bluebirdcafe.com) is a venue for songwriters to perform original music in an intimate setting. Amy Kurland opened the café in a strip mall several miles from downtown Nashville in 1983 as a restaurant and on second thought a music venue. 70,000 people visit every year. More musicians one could name had their start at the Café. The typical nightly performance consists of four songwriters seated in the center of the room, taking turns playing their songs and accompanying each other both instrumentally and with harmony vocals. Monday night is an open Mic. I was excited to go and we really didn't know who would be performing. Anyone could come in and play. Unfortunately it was not a night for songwriters and the music was not to my liking. I am not sorry I went, the experience was excellent and I surely heard some good music at other venues. In 2008 owner and founder Amy Kurland transfers ownership to the Nashville Songwriters Association International.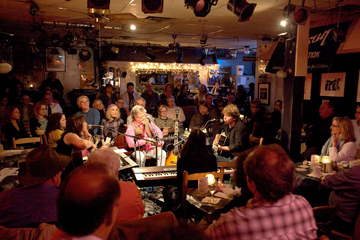 There are numerous historic sites and I only visited two although others went to Fort Defiance; Rose Mont, a Greek Revival plantation; The Hermitage, home of Andrew Jackson; and theBelle Meade Plantation an 1853 Greek Revival mansion and stud farm. I visited Wynnewood (historicwynnewood.org) in Castalian Springs, thought to be largest 19th century log structure ever built in Tennessee. Built in 1828, Wynnewood served as a stagecoach inn and later as a mineral springs resort. Much of the furnishings were authentic as Wynne family members lived there from 1834-1973.
Then we were off to Cragfont (historiccragfont.org), also in Castalian Springs, and referred to as one of the finest homes on the Tennessee frontier typifying the grandeur and style of the late Georgian period. Completed in 1802 byGeneral James Winchester this stately mansion was home to the first ballroom in Tennessee and was frequently visited by Andrew Jackson and Sam Houston. We saw rooms filled with many original items. Our excellent guide had terrific stories about the house and inhabitants and also told us that this was the site of much of the filming of Roots. Both sites are open early spring till early December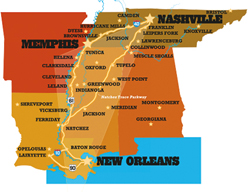 We learned about the Americana Music Triangle (americanamusictriangle.com) from Aubrey Preston during a breakfast meeting at Puckett's Grocery in Leiper's Fork that has live music and an award-winning restaurant. This project, which has already launched is brilliant. The triangle includes Nashville, New Orleans and Memphis. As a person whose work is networking and connecting I found this concept very exciting. Perhaps other areas in the country will launch sites specific to their focus areas. Their website americanamusictriangle.com has listings of towns along the route with links to discover the history of the area, the current music events, places to stay, places to eat and more. The triangle includes locations in the South that contributed to the birth of the musical genres, from Clarksdale, Mississippi, the home of blues masters Muddy Waters and John Lee Hooker, to Muscle Shoals, Alabama, site of the famed music studio where Aretha Franklin, the Rolling Stones and many others recorded songs. This stretch of 1500 miles of highway is being called the "Gold Record Road". Tourism and civic leaders in each location are encouraged to direct tourists to other spots on the trail, even if they are in another state. This sets the project apart from government-run initiatives that won't promote tourism experiences outside their purview. What a great idea, I'm ready to take a road trip!!
| | |
| --- | --- |
| | |
Musicians Hall of Fame & Museum , founded by Joe Chambers, a musician, songwriter, entrepreneur and internationally known preservationist of musical history, honors all musicians regardless of genre or instrument. The Museum's holdings date as far back as the beginning of recorded music and the exhibits are divided into cities (Detroit, Nashville, Muscle Shoals, LA, Memphis and N.Y) that have a history of recorded music. The Musicians Hall of Fame honorees are nominated each year by the American Federation of Musicians and by other music industry professionals. The museum is honoring the musicians that make the "talent" great. I was very pleased to have Joe as my personal guide as I explored the museum with the many instruments and memorabilia of musicians and studio technicians. He is so excited about the Museum and committed to honoring musicians. One of the really cool things in the museum is a truck that was a sound studio. To get the museum started Joe bankrolled it with what he called "mailbox money" royalties for the numerous songs he wrote early on. Joe felt that there should be a hall of fame for musicians, and so he created it. What was exciting to learn, and recently released to the public, was that the Grammy museum will be opening a gallery at the Museum. Through educational interactive stations, the Grammy Gallery will explore the creative process of making music in a hands-on, immersive environment — from songwriting and producing to engineering, mixing, singing, and rapping. The gallery will explore the role of the DJ and the history of the Grammy Awards — the pre-eminent peer-recognized award for musical excellence. In addition, the Gallery will include an exhibit about the history of the Grammy Awards. More about the museum at musicianshalloffame.com
So of course amongst all this music I did get to several galleries, met artists and visited an art school.
The Omore College of Design, in Franklin, was founded by Mrs. Eloise Pitts O'More in 1970. Classes were held in her Victorian home in Franklin where she taught each of the interior design courses. In 1979, the college moved to its present location into the heart of Historic Downtown Franklin. Her vision was for a four-year, not-for-profit institution of higher education that prepared students to become innovative designers, with the capacity to create authentic beauty that positively impacts the world. Her vision continues to be upheld to this day as the school became a college in the '80s. As I wandered around the school I noticed that the class sizes were quite small and the teaching very intimate. The small class size and that the instructors are part of the design industries adds to the high percentage of job placement. Graphic design and advertising, interactive design, interior design, fashion design and merchandising are all part of the offerings as well as core studies of liberal arts and fine arts. Recently they have added a book design course for students interested in the publishing business as a career. I found students and faculty to be quite welcoming as I explored the grounds with several buildings that included classrooms, the resource room and gallery. For more information: omorecollege.edu.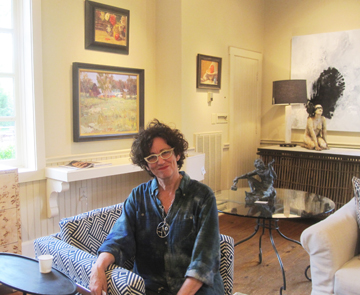 It was a pleasure to meet Lisa Fox, artist and owner of Leiper's Creek Gallery (leiperscreekgallery.com). She features a wide range of art from representational paintings to abstract expressionism and sculpture. Her artists are already established nationally and/or internationally. Every year, Leiper's Creek Gallery plays host to exhibitions, workshops, concerts, and special events. Lisa and I sat, I having my first taste of Moonshine, and spoke about Leiper's Fork, its development as a destination for live music at Puckett's (many well known musicians live in the surrounding area) and for the art at her gallery, David Arms and at the Copper Fox. The 3 galleries often collaborate, holding exhibitions like the 3 x 3 show that was opening the evening of my visit. David Arms, artist and designer, has a gallery (davidarms.com) where his products and original artwork can be seen. David is a designer of high profile corporate and social events. The Copper Fox is, as they say, a gallery of Art of the American hand and fine craft (thecopperfoxgallery.com). Beautiful ceramics, textiles, wood, glass and metal, basket weaving, furniture, and other unique handmade originals fill the gallery showcasing fine craftsmanship.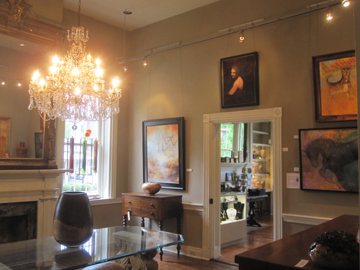 In Franklin I visited the Gallery 202 (gallery202art.com) and met Kelly Harwood, co-owner of the gallery. The gallery is housed in Clouston Hall, a Federal Style home built in 1821 as a second home for entertaining. Primarily used for parties and political gatherings, it is believed to have hosted at least three US Presidents that lived in Tennessee (none having been born there) Andrew Jackson, James K. Polk and Andrew Johnson. During the Civil War the home was used as a hospital for the Missouri Regiment during the Battle of Franklin. There are 2 rooms upstairs and 2 rooms on the main floor exhibiting excellent work. Another room has Kelly's studio and it is here that I was offered my 2nd taste of moonshine. Strong and good and was glad I was not the driver!! There are original paintings, sculptures, art glass, hand-made jewelry, pottery, wood and metal and as well as photography. The artists (currently 16 gallery artists) are local, regional and national and work in a variety of artistic styles and mediums. Each month one or two artists are featured. Each First Friday, according to the brochure, 33 different studios and galleries (many part of stores or restaurants) participate. There is a trolley that goes around the route. Kelly told me that there have been up to 1,000 visitors during a First Friday Art Crawl.
I didn't go to any galleries in Nashville but learned that ArtGalleriesNashville is an alliance of the city's commercial fine art galleries that works to promote the visual arts. Artgalleriesnashville.com. Nashville has a monthly art crawl as do most arts communities across the country
There is an annual Gallery Guide published by Nashville Arts Magazine whose publisher is St. Claire Media Group. The monthly magazine, beautifully done and in full color, has articles about all the arts, as well as regular columns and features. NashvilleArts.com. The region has an abundance of dance, opera and theater companies. The Tennessee Craft Fair has been running for over 50 years, The Cherry Blossom Festival and Film Festivals are just a few more cultural activities in this rich region. Pilgrimage, a music and cultural festival in Franklin, will be held Sept 26 & 27 and has a line up of musicians that includes Willie Nelson, Sheryl Crow, Dr. John and many more.
My time in Nashville was filled with music, art, history and I am very appreciative for the opportunity to visit and to tell you about it. Lots of resources for accommodations can be found online and tnvacation.com is the site to begin your explorations. The Music American Triangle has stuck in my mind and one day I'll explore it as have the Ryman, The Grand Ole Opry, the people I met and country music.
My next trip will be a Road Trip along the Western Coastline of the US from LA to Seattle. I'll be travelling with my childhood friend Heidi and will be reporting along the way on facebook, twitter, YouTube and in my blog (a link to the blog will be on the arttimes homepage. See you on the Road!!!