Travel and Culture: Another Road Trip with Heidi: The Berkshires, MA
By Cornelia Seckel
arttimes online August 2016
The Berkshires in Southwestern Massachusettes has, for more than 150 years, inspired writers and artists, who took up residence here because land was cheap and the vistas were exquisite According to Carole Owens, author of The "Berkshire Cottages"—a survey of the palatial summer retreats constructed by millionaires in the post-Civil War Gilded Age—the influx of literary and artistic luminaries "gave the Berkshires a panache that attracted wealthy New Yorkers and Bostonians looking for more than just sylvan beauty." The Berkshires became then "Inland Newport".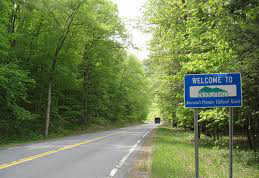 There were Theater productions since1903 when Colonial Theatre was founded in Pittsfield and more public music was available in August 1934, when a group of music-loving Berkshire summer residents arranged for members of the New York Philharmonic to perform concerts at Interlocken. Subsequently Serge Koussevitzky and the Boston Symphony Orchestra were invited and on August 13, 1936, the BSO gave its first concert in the Berkshires, at Holmwood. The three-concert series was given under a large tent for an audience of nearly 15,000. Mrs. Gorham Brooks and Miss Mary Aspinwall Tappan offered Tanglewood, the Tappan family estate, with its buildings and 210 acres of lawns and meadows, as a gift to Koussevitzky and the orchestra. The offer was gratefully accepted, and on August 5, 1937, the festival's largest crowd so far assembled under a tent for the first Tanglewood concert, an all-Beethoven program. Today Tanglewood continues to flourish with concerts, talks, exhibits and of course the Tanglewood Music Center where, according to recent estimates, 20 percent of the members of American symphony orchestras, and 30 percent of all first-chair players, studied at the TMC. For more information see bso.org/ tanglewood
| | | |
| --- | --- | --- |
| | | |
After my big birthday celebration at the end of June, Heidi Robertson (childhood friend and road trip buddy- LA to Seattle) and I took off for the Berkshires. Heidi lives in California and could not get enough of the lush green foliage. We began our journey with the Thomas Cole House in Catskill, NY. Thomas Cole (1801-1848) was founder of the Hudson River School of Painting. He spent part of his time at Cedar Grove when not in his NYC studio. Recently opened, in the footprint of his original studio, is a state-of-the-art exhibition space for displaying changing exhibitions and provides a flexible space for lectures and educational programming. While we were there we saw the exhibit Artist as Architect curated by noted scholar Annette Blaugrund and associate curator at the Cole site Kate Menconeri. The exhibit, on view thru Oct 30, 2016, includes 26 paintings and drawings, as well as a scale model, two of the artist's books about architecture, and primary source documents. The central work of the exhibition is Cole's 1840 painting "The Architect's Dream," depicting the artist overlooking a panorama of architectural styles. More at thomascole.org
| | | |
| --- | --- | --- |
| | | |
We enjoyed a picnic on the grounds before we headed across the Hudson river to Olana, home of Frederic Church when not in his NYC studio. Olana is a unique mixture of Victorian architectural elements and Middle-Eastern decorative motifs. Church (1826-1900) was able to support building this gorgeous estate with funds from the sale of his paintings. In 1845, while a student of Thomas Cole, Church first sketched on the property he would subsequently purchase in 1860 that would be Olana. Architecture and landscape were also very important to Church and every window in the house was designed to give glorious views. What has been a recent focus at Olana is preserving the viewshed — what was seen during the time Church lived at Olana. The grounds are artwork unto themselves and thousands of artists come and paint on the property. I was at a gallery years ago that had a group show of paintings of the view from Olana— perhaps one of the more famous vistas for artists to paint in the Hudson Valley. Olana was inherited by Church's youngest son who died in 1943; his daughter-in-law Sally lived there until her death in 1963. The furniture and furnishings are original to the house, quite unique in historic homes where replicas have replaced the original content. The house went into decline after Sally's death and was put up for sale by her heirs. Fortunately for the art world and the preservation of an important milestone in American art, the art historian David Huntington and James Biddle worked tirelessly to raise funds to purchase the property until Governor Nelson Rockefeller signed a bill making Olana a state historic site on June 27, 1966- 50 years ago. We had an excellent tour guide, Daniel Bigler, who has been with Olana for nearly 15 years. For more about Church, programs, tours and the history of Olana Olana.org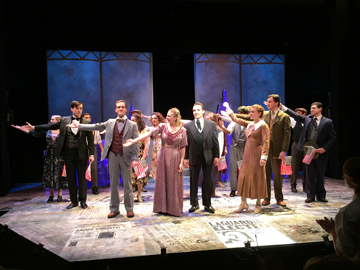 On to our accommodations in Lee, MA for the night: dinner and then to the Unicorn Theater in Stockbridge for a terrific performance of Fiorello. The Berkshire Theatre Group (BTG) has 3 theaters: the Unicorn and Fitzpatrick in Stockbridge and the Colonial Theatre and Garage in Pittsfield. BTG was created in 2010 by the merger of two of Berkshire County's oldest cultural organizations, Berkshire Theatre Festival founded in 1928 in Stockbridge and The Colonial Theatre build in 1903 in Pittsfield. With minimal sets, great acting, period costumes and strong voices the cast gave us an outstanding show about Fiorello LaGuardia and his rise as a politician. I had seen Fiorello when it first opened in the late 1950's on Broadway: I loved it then and totally loved it now — amazed at how much of the music I remembered and could, very quietly, sing along. We met up and chatted with some of the cast in the parking lot— mostly from New York and seemed to be in their early 20's with potential for fine careers in the theater.
The next day we headed over to The Mount, home of Edith Wharton (1862-1937), a National Historic Landmark and cultural center that celebrates her intellectual, artistic and humanitarian legacy. In 1902 Edith Wharton designed and built The Mount as a country retreat where she wrote both Ethan Frome and The House of Mirth.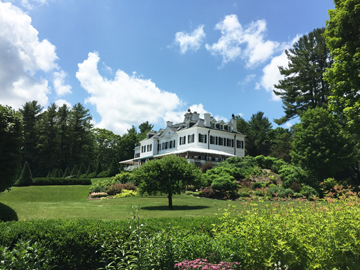 Edith Wharton wrote 40 books over 40 years including novels, works on architecture, gardens, interior design and travel. In 1897, while living in Newport, RI, Wharton co-authored with Ogden Codman, Jr. her first major book, The Decoration of Houses (1897), a successful non-fiction work on design and architecture. She considered gardening and writing to be the most fulfilling activities in her life. She is quoted as saying: "Decidedly I am a better landscape gardener than novelist and this place, every line of which is my own work, far surpasses the House of Mirth." Quite a thing to say for the first woman awarded (in 1927) the Pulitzer Prize for Fiction and an honorary Doctorate of Letters from Yale University. She also received full membership in the American Academy of Arts and Letters. It was heartening to know that in 2005 her books (2600 of them found in France) were brought to her library at The Mount. We toured the house and the gardens and what I hadn't known was her great humanitarian work. She left The Mount and her husband (a very unsatisfying relationship) and moved to France in 1911 where she had previously spent much time and could live a "realer" life.
When World War I broke out she was in Paris and she plunged into relief work, opening a room for skilled women of the quarter where she lived who were thrown out of employment by the closing of workrooms. She also fed and housed 600 Belgian refugee orphans. In recognition France awarded her the Cross of the Legion of Honor and Belgium made her a Chevalier of the Order of Leopold.
After she left, The Mount became a private residence, then in 1942 the Foxhollow School for Girls and after it closed the mansion was vacant for several years until1978 when Shakespeare & Company used it as a dormitory and performance space (today they have a large campus with several stages and do extensive programming - shakespeare.org). Today the gardens and grounds have been restored, the house is in good shape and there are numerous Theater, Music, Lectures and Art programs for adults, teens and families throughout their season.
Relatively new, is a site-specific sculpture exhibit installed by Sculpture Now a Berkshire based organization; through exhibits, presentations and free workshops in public schools expands the experience and knowledge of art in general and sculpture in particular to the Berkshires. Learn more about the vast programs, Edith Wharton and The Mount at edithwharton.org
(L) Gazebo and game box on the grounds of Cranwell Spa and Golf Resort, Lenox MA
(R) Cornelia Seckel (l) and Heidi Robertson on the Rose Terrace overlooking part of the golf course at Cranwell
On to our accommodations for the next 2 days: Cranwell Spa and Golf course (cranwell.com) in Lenox. What a luxurious place. We took full advantage of the extensive spa (I had a wonderful massage) enjoyed their good breakfasts and lovely room. Somehow the concierge knew it was my birthday and sent up a box of scrumptious chocolates. There is an indoor and outdoor swimming pool, tennis courts, steam and sauna rooms and a great Jacuzzi. On the grounds was a large box filled with games including badminton, soccer ball, frisbee, and croquet.
We gave up the evening's plan in order to hang out at Cranwell and have a fine dinner at a local restaurant. A good choice. The following day was our Spa day and then late afternoon found us at Jacob's Pillow.
Modern dance pioneer Ted Shawn bought the Jacob's Pillow farm in Becket, MA. in 1931. Shawn had long harbored a dream of legitimizing dance in America as an honorable career for men, and in 1933, he recruited eight men for a new dance company. In July 1933, Ted Shawn and His Men Dancers started offering "Tea Lecture Demonstrations" in their barn studio (now known as the Bakalar Studio) to promote their work— Ted would lecture about dance and choreography while the men performed. This established roots for what was to evolve into Jacob's Pillow Dance Festival.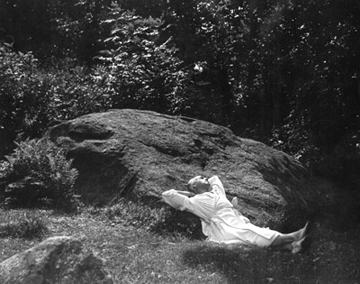 "The Pillow" is a 220-acre National Historic Landmark, a recipient of the prestigious National Medal of Arts, and home to America's longest-running international dance festival. Thousands of people from across the U.S. and around the world come to experience the Festival with more than 50 dance companies and 200 free performances, talks, and events; explore the Pillow's rare and extensive dance archives. The School at Jacob's Pillow is one of the most prestigious professional dance training centers in the US. I've been to The Pillow several times and a new addition was the fine dining experience at Haven at the Pillow. We had an excellent meal then walked the grounds checking out the rock/ pillow that gave this wonderful place its name, the gallery, the store, the outdoor performance space: Inside/Out, the dance studios, and the 2 theaters. We came across several summer interns (from across the US and Europe) and many of them are dancers, others in public relations and learning about dance history, performances, events, and management. "It's just like summer camp" several of the interns recounted.
We saw a performance in the Ted Shawn Theatre of the all-male Argentinean dance company Che Malambo. I am excited just thinking about this stirring, exciting, breathtaking ,percussive dance and music spectacle that we saw. I can't describe it so click here for a video and I will reprint some text from their website at chemalambolive.com
"Malambo, a dynamic blend of precision footwork, rhythmic stomping, drumming and song, is at the heart of the gaucho (South American cowboy) tradition and led by founder and choreographer Gilles Brinas. Malambo began in the 17th century as competitive duels that tested skills of agility, strength and dexterity among the gaucho. It soon evolved to include its hallmark, zapeteo, the fast-paced footwork inspired by the rhythm of galloping horses. In addition to Zapateo, Malambo features the drumming of traditional Argentine bombos and whirling boleadoras , a throwing weapon made up of intertwined cords and weighted with stones."
One other thing, in exploring The Pillow's website I took a look at their archives, where visitors can view the print collection of over 2500 books and periodicals, watch the award-winning Pillow documentary Never Stand Still, have immediate access to over 6000 performance and other Pillow related video documentation. Full versions of nearly every performance from the past 35 years are available for viewing, along with talks, rehearsals, classes, interviews, and films dating from the earliest days of the Pillow. archives.jacobspillow.org
The festival continues through the end of August so if you are anywhere around the Berkshires go to Becket and enjoy.
Coming up soon is my next Travel and Culture report on Roanoke Virginia and then it is off to Alaska at the end of August. Such a rough life……