By Laurie Spiegel
ART TIMES March 2008
Art is important in Alaska. Important enough that like most states and municipalities, the state legislature passed a "1% for Art" law requiring that any new construction using public funds dedicate 1% of the budget for art works. In addition to public support for the Arts, Alaska also serves as an inspiration for many artists. As I traveled around Alaska, there were art galleries not only in large cities but small, remote villages as well. I asked artists wherever I went if their art was influenced by being in Alaska and universally they said "yes". It affects the colors they use. One artist said her colors were brighter, another that he got into the grays and muted colors since coming to Alaska. Some artists are influenced by native culture and style while others talk about the environment. A jeweler, Rika Mouw, said that her work had become radicalized. She said it used to be design-oriented and now she uses jewelry to send a message about the preciousness of the environment. I arrived in Homer on the Kenai Peninsula in time for a "First Friday" opening at the Bunnell Street Gallery. The opening was for Sandy Gillespie, an abstract artist. When I asked her about the influence of Alaska on her work, Gillespie said that the vastness of the interior influenced her to use big canvases and the extremes of weather and light affected her use of color and contrast. Asia Freeman, the director of the Bunnell Street Gallery and herself an artist said that she thought Alaska attracted risk-takers. She believes that talent and creativity previously channeled into the pioneer experience is now channeled into endeavors such as art. Whether it is the long winter or the inspirational environment, there are a lot of very good artists in Alaska.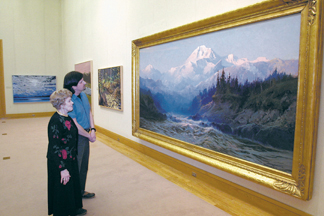 Visitors to the Alaska landscapes gallery, Anchorage Museum. Painting: Mt. McKinley by Sydney Laurence from the collection of the Alaska Airlines Foundation. (Photo by Chris Arend)
My first view of Art in Alaska was at the Anchorage Museum of Art. I started with the permanent collection and was struck by the fact that it consisted mostly of landscapes. One exception was Eustace Ziegler who did do the usual mix of portraits, still lifes, street scenes, landscapes, etc. The landscapes by Sydney Laurence are compared to the Hudson River School Painters. Another gallery documented a 1937 WPA project planned to promote Alaska to the American people. The tour of the resulting paintings never happened, but the experience of being in Alaska left a lasting impression on the artists. Merlin Pollock wrote "Even in my later years long after WWII and my university work, the influence of the Alaskan experience emerges again in some of my work." Ken Fortress wrote "It is very hard to look at something with your mouth open and at the same time try to think in technical terms: how do you control this image, how do you present it?"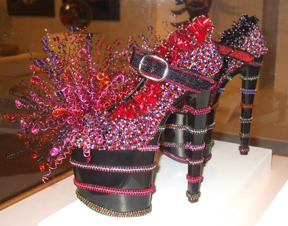 "Not Your Mama's Mary Jane's" 2003.
artist: Paula Rasmus Dede Glass Beads,wire,
aluminum, commercially manufactured shoes covered in patent leather and fabric. Collection of Anchorage Museum of History and Art (Photo by Author)
The traveling exhibit at the Anchorage Museum of Art was "Changing Hands: Art Without Reservation 2." This is the second of three in the series of collections of innovative contemporary Native American art that was curated by the Museum of Arts and Design in New York City and shown in NYC in the fall of 2005. The first exhibition of the series explored art from Native Americans from the Southwest, the second from the Northwest including Alaska, and the third planned for 2010 will include Native artists from the east coasts of the U.S. and Canada. I later had the opportunity to meet Rebecca Lyon, one of the artists represented in the exhibit. She explained why the exhibit was groundbreaking. Mainstream museums usually classify native artists by tribe, detracting from the individuality of the artists. This exhibition however, identified the artists by where they currently live and by place of birth, never identifying them by tribe
This collection and another, Tradition, Inspiration, Innovation: New Work from Alutiq Artists at the Pratt Museum in Homer, both represent the evolution of the Alaskan Native art form. There are contemporary ideas, often executed in traditional materials like wood, ivory, fur and dyes, and traditional ideas and motifs executed in more contemporary materials like metal, plastic and glass. Lyon is an activist artist. She uses her work to bring attention to issues such as abuse of natural resources and the environment. Writing about "Our Lady of Amchitka" she says; "The half woman, half fish figure represents the spirit of the island of Amchitka and the natural world, her crucifixion on a rusty iron cross represents the crimes we as a nation have committed against her in our arrogance with the underground nuclear bomb testing, that took place during 1965, 1967 and culminating with the five megaton Cannikin blast in 1971." Amchitka is an island in the Alaskan Aleutian Chain.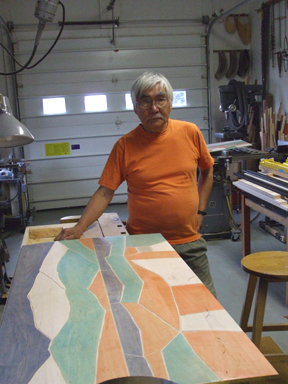 While doing research for this story before I left New York City, I had been advised to find Ron Senungetuk. I was told that he is truly the "father" of contemporary Alaska Native art. I met Ron's wife Turid, an accomplished metal artist (jeweler) in Homer, where they live. They invited me to visit their home and studios and Ron shared his story with me. Ron was born in Wales, Alaska on the western tip of the Seward Peninsula where all the boys learned to make ivory carvings for the tourist trade. He said that the stone carvings, often thought of as a traditional part of the native culture, started as a form of commercial art when the Russians arrived and wanted to bring souvenirs home. Prior to that, traditional art had always been related to function, decorations on clothing or bowls, or ornaments on hunting weapons used to please the gods and attract animals. Ron's talent was recognized and he was sent to a Bureau of Indian Affairs high school in far away Sitka and then to the school for American Craftsmen at Rochester Institute of Technology in Rochester NY and to Norway on a Fulbright scholarship. He studied woodworking and metalsmithing and returned to Alaska with degrees and Turid. While at the University of Alaska Fairbanks, Ron became a role model for Native American students, but he realized that to compete in the contemporary art world, Native American students needed more that a mentor. They needed the formal training (BFA and MFA degrees) that the rest of the current generation of artists was getting. Ron founded and directed the university's Native Arts Center (1965-1986) and was head of the Art Department from 1977 until his retirement in 1986. During that time he actively recruited talented students who might not have otherwise attended college. A quote from Ron that appears in the "Changing Hands" catalogue says: "In order for traditions to remain traditional they must always change and adapt to present ways. Otherwise they become part of dead cultures". Now Ron says he and other native artists are conflicted about identifying with the "Native Art movement" versus just identifying oneself as an artist.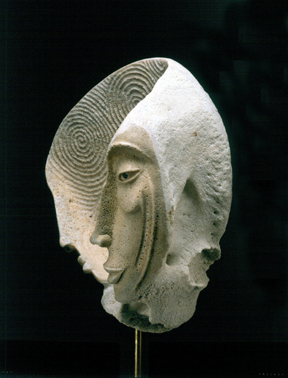 Looking Inside Myself, 2002 artist: Susie Silook Carved whalebone 13 x 13 x 6" Collection of Thomas G. Fowler (Photo: Maggie Nimkin)
How does one get to see the fabulous landscape everyone talks about? Here are a few ideas:
•You can rent bikes from Pablo's Bicycles in Anchorage and ride out along the coastal trail to see beautiful views across the Cook Inlet. It is not unusual to see Moose on the trail.
•You can fly into a wilderness lodge and stay where the nearest neighbor is a two-day hike away, but, frankly, there is enough wilderness you can drive to. We saw a Moose in someone's back yard in Homer on the Kenai Peninsula.
•You can do a "fly in" fishing trip, out of Soldotna on the Kenai Peninsula, with High Adventure Air. We flew across the Cook Inlet and went salmon fishing. While we fished nearby there were brown bear romping at the stream head feasting on the salmon we missed. I got so distracted watching the bear and the salmon jumping up out of the water that I let many a hooked salmon get away for lack of my attention.
•You can stay at a fishing camp like Krog's Kamp on the Kenai River. There are individual cabins of varying sizes, each well appointed with full kitchens and pretty bedspreads. Here people stroll out of their cabins and cast their lines in the river while watching the bald eagles. This place is a good example of a sense of wilderness just 15 minutes from the local strip malls.
•You can get out on the water. Lots of people come to Alaska on a cruise. For what I assume will be the first of many trips to Alaska we decided to forgo the towns of the inside passage and concentrate on the glaciers and marine wildlife. We flew into Anchorage and then embarked on a four-day cruise of Prince William Sound with Cruise West, a small ship cruise line. The ship carried 78 passengers and a crew of 21. The size of the small ship allowed the captain to alter course at will to take advantage of wildlife sightings and narrow fjords and passages. For example, one day we were in front of a glacier looking at a ridge that seemed about to crack and fall off. The captain cut the engine and we waited. Everyone was on deck wrapped in parkas, hats, scarves and gloves just waiting and listening to cracks that sounded like thunder. We waited in that spot about two hours, reluctant to take a coffee or bathroom break. We had no schedule to keep, and no other agendas but to be there. The waiting paid off. We saw a spectacular calving (breaking off of a large chunk of ice) of the glacier, and then we moved on. Another day the onboard naturalist wanted to show us something about the foliage on shore so the captain pulled close enough for one of the crew to lean out and cut a small branch. The Cruise West experience met all our expectations; a casual cruise focused on the destination — not the amenities of a big ship. The food was excellent, the crew knowledgeable, helpful and accommodating and there were like-minded companions. Writing about art and travel, I have been appreciating anew the universal presence of art in all cultures. I believe that, placed in any community on earth, I would find a story about art. I can therefore look forward to sharing another Cruise West adventure with Art Times readers.