Travel and Culture:
Alaska, Not just about Wildlife and Glaciers! Part 1
By Cornelia Seckel
arttimesonline February 15, 2017
This was a fabulous trip and I've a lot to write about including: Juneau history, arts and peoples, ArtWalk and Artists in Juneau, Native Alaskans, Artists in Haines, Arts and Culture in Haines accompanied by some gorgeous videos and pictures. So come back to read this continuing travelogue.
Going to Alaska was surely on my Bucket list and when the opportunity presented itself I jumped on it.
In the Fall of 2014 I met Donna Catotti (www.donnacatotti.com/ ), a fine and excellent artist currently working in oils, pastel, serigraphy, and sculpture, at the Catharine Lorillard Wolff Art Club 118th Annual exhibition in NYC. Donna is the Portrait Society of America's Alaskan Ambassador and annually hosts workshops in Haines, Alaska and serves as a resource for members and interested artists, providing information about the Portrait Society, educational workshops and classes, mentors, museum exhibitions and all things related to the discipline of portraiture within their state. We began chatting, as I often do with total strangers, and when she said she was from Alaska I said that's a place I'd like to go and she suggested I visit Haines located in SE Alaska with a substantial number of craftspeople and artists given the small population. And in January 2015 we reconnected and thus began a series of emails that resulted in my creating a press trip that began at the end of August 2016 till mid September. Not hard to do as I've been on numerous trips with destination marketing companies.
The best time for me to leave my home and business was the end of August and I figured I could be away a little more than 2 weeks. I would get a flight to Seattle and visit Muriel Bressler, a family friend I'd seen just the year before when childhood friend Heidi Robertson and I took a road trip from LA to Seattle (see http://2l56VKB ) and then fly to Juneau.
After a short, yet wonderful visit with Muriel I got to the Seattle airport and returned a very luxurious car that I got from e-z rental for a steal.

Flying into Juneau over Admiralty Island, Angoon
The flight to Juneau, Alaska was under 2 hours and the views from the plane were magnificent — I couldn't stop taking pictures. The woman next to me (turns out was a ranger at one of Alaska's National Parks) pointed out the glaciers and that there were 3 different kinds of mountains in Alaska: from volcanos, upheavels and glaciers.
I'd made arrangements with Juneau's Convention and Visitors Bureau for a hotel room— just a mile walk to the center of town. Got to my hotel, the Driftwood Inn, and did a shop. Having a kitchenette makes being here for a week comfortable and manageable.
Juneau Background
Juneau, population approx. 32,000, is the only state capital in the US that you can't get to by driving. It is only accessible by plane or boat. Daily cargo barges deliver goods and subsequently prices are about 1/3 more than what I pay at my local market. The Alaska Marine Highway System sails from Bellingham, Washington to Juneau- a trip up to three days, sailing from Juneau to Ketchikan is 18 hours and the trip I took from Juneau to Haines and Skagway was less than six hours. Cars are accommodated on board, there are several restaurants, people camp on the outdoor deck or you can get a cabin. The scenery is gorgeous, people are friendly and the boat is large enough that seasickness isn't an issue.
For the most part, the vast spruce covered mountains and waterways along Gastineau Channel in Southeastern Alaska were untouched until the mid 1800s, although a few well-known explorers had come before: such as George Vancouver and John Muir. After I returned home from my time in Alaska I was so pleased to find Samuel Hall Young's book "Alaska Days with John Muir" published in 1915. What a wonderful way to revisit the area I had just explored that was written about 100 years earlier.
The Tlingit, original people of the Pacific Northwest Coast living in southeastern Alaska, British Columbia and the Yukon in Canada, have fished, hunted, trapped and traded in the Juneau area for thousands of years. A human jaw-bone, recovered from a cave in Alaska's Tongass National Forest (about 160 miles from Juneau) was radiocarbon dated approximately 9,730 years before present. I was pleased to meet several Tlingit people and explore their culture at the various sites and museums I visited. (More about the Tlingit as I continue my report).
Harrisburg, later renamed Juneau was founded in 1880 by gold seekers Joe Juneau and Richard Harris. I learned that it was the Tlingit Chief Kowee that first pointed Harris and Juneau in the direction of Gold! Gold wasn't important to the Tlingit, the metal was too soft to work with copper being more valuable. Their vast wealth lay in the abundance of natural resources creating a lifestyle that supported art and a rich culture.
During the prime 60 years of gold mining in the area Juneau was home to three of the world's largest gold mines: The Alaska Juneau, and the Alaska Gastineau mine, on the Juneau side of the Channel and the Treadwell mine on the Douglas island side. The three produced $158 million worth of gold at a time when gold was priced between $20.00 and $35.00 an ounce. The last of these mines closed in 1922.
Tourism is a major industry in Alaska and began in the last decades of the nineteenth century with tourists mingling with explorers, traders, U.S. Army personnel, missionaries and gold seekers. Tours were independently organized, and William Seward's trip to Alaska in 1869 might be considered the first tourist excursion mixing business with pleasure. In 1881, the Pacific Coast Steamship Co. of San Francisco launched monthly voyages to Southeast Alaska and so it began…
The recently released Alaska Visitor Statistics Program VI Interim Visitor Volume Report Summer 2015 shows that the state welcomed 1.78 million out-of-state visitors between May and September 2015. This visitor volume is the highest on record since AVSP tracking began in 1985.
Alaska's visitor industry is a vital component of the state's economy, with an economic impact of $3.9 billion annually. Tourism also generates $179 million for state and local governments and employs 46,000 people during peak season. I spoke with numerous seasonal workers while in Juneau and they were schoolteachers, students and others that wanted to spend a summer in Alaska; many of the 1,500 came from the Pacific Northwest. While I was in Juneau, up to 10,000 people a day (56% of the total visitors to Juneau a total of 900,000 people) came off the cruise ships; sometimes there were 6 or more ships in port. The average cruise ship passenger spends $197 on their Juneau stop alone. The tourism industry employs over 2,700 people in Juneau and gives career entry opportunities for many. Juneau is the most visited city in Alaska with visitors contributing 25% of Juneau's annual sales tax. The government employs nearly half of the working population; Tourism is the largest private-sector employer. Kennecott Greens Creek Mine produces gold, silver, lead, and zinc, and is one of the largest silver mines in North America; commercial fishing and fish processing is another important part of the local economy.
| | | | | |
| --- | --- | --- | --- | --- |
| | | | | foliage and trees on top of Mt. Roberts |
Since it was such a gorgeous day (and it had been rainy) I decided to take the Mt Roberts Tramway to enjoy the Panoramic views taking in the stunning vistas of sea and mountains, over to the Chilkat Mountains to the north, the Gastineau Channel, Douglas Island and Silver Bow Basin. This gave me an overview of the city I'd be exploring for the next week. I expected the weather to be rainy but had gorgeous blue skies all but one day while in Juneau (of course, the day I went on a Whale Watch). After disembarking from the Tramway (one of the most vertical tramways in the world and 1800 feet from the base) I took some of the hiking trails and enjoyed the views, the foliage and saw some Mountain Goats, wildlife we don't see in the Hudson Valley. The walk back to my hotel led me past stores and galleries that I knew I'd visit in subsequent days.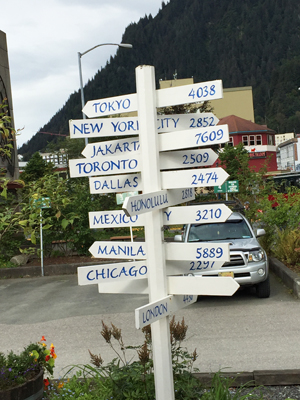 Signposts in downtown Juneau

The next morning I met with Christy Ciambor at the Juneau Convention and Visitors Bureau (traveljuneau.com). Turns out Christy's mother lived across the street from the Jr. HS I attended in Queens. Talk about a small world. This, as Alaskans refer to "2 degrees of separation" continued throughout my time in Alaska. We spoke about the industries that support Juneau, the population, the history and the vast number of cultural events including 3 opera companies, a community symphony orchestra, theater companies, museums and art galleries. Apparently when the last Cruise Ship leaves in late September and before the state legislature goes into session in January the town goes Artsy and school starts. Christy was able to obtain press passes for me to museums, theater and music events, all of which I am very thankful for. I deliberated on what to bring as a thank you gift for Donna and for Christy. What is unique to the Hudson Valley and something not produced in Alaska? Maple Syrup. I practically put myself over the weight limit by bringing several containers of maple syrup produced within a few miles of my home.
I headed downtown to meet up with representatives from Juneau Tour and a whale watch trip. Whale watching is one of many trips that they offer in Juneau: along with helicopter rides over the glacier, fishing trips, bus rides to a glacier, visit to gold mine, rafting, bear viewing, dog sledding, walking story telling tour and more.
Keith, our bus driver took us to the Auke Bay to get onboard the whale watching boat. He was quite knowledgeable and I learned several things. There is 18 hours of sunlight in June and 5 hours in the winter. Quite a difference. There are Black Bears and they are not aggressive. They get anywhere from 4-50 feet of snow each winter. The main road in Juneau is just 40 miles end to end.
Whale Watching The boat ride was choppy and it was raining as we headed out into Auke Bay. It was the first and last day of rain while I was in Juneau. By the time it registered that we were seeing a whale breach I missed the photograph. It was still an exciting trip and we were given a talk by the captain about the North Pacific Humpback whale that grows to be about 52 feet long, weighing 30-50 tons. The females are slightly larger. These are baleen whales and will eat 4,400-5,500 pounds of plankton, krill and small, schooling fish each day during the feeding season and have a life span of up to 60 years. There are 130 glaciers around Juneau and the melting gives up nutrients that end up in Auke Bay where we were searching out the Humpback Whales. As the weather becomes colder, the food becomes scarce; whales migrate to warmer water swimming practically non-stop for nearly 6 to 8 weeks before reaching their Hawaiian winter home, where they mate, give birth, and nurture their calves. Since, in Hawaii, there isn't the same degree of zooplankton and marine organisms that humpback whales feed on adults go for months without eating, losing up to one-third of their body weight.
Their annual migration of up to 6,000 miles is one of the longest of any mammal. And then during the warm season, whales migrate to cold waters where food is abundant.
Each week you will find another installment about my Travels to Alaska here on the website and on my blog CulturallySpeakingJournal.