Summer Exploring: Switzerland & The Loire
By Cornelia Seckel
ART TIMES September 2006
This was the first time in 23 years that we didn't have an issue to prepare for publication during July. It was time for us to do some summer exploring and our friends from Europe were most helpful. Over the past years we have traveled with Jacky Sparkowsky and Jörg Iwan (the last trip was to Budapest and to Vienna in Jan '05) and had talked with Heinz & Christiane Jarczyk about the men painting and the women hiking in the Alps in Switzerland. Finally we were able to recognize those dreams and, of course, do some arts & culture exploring.
Jacky & Jörg picked us up at the Geneva Airport and we headed west into France. I only knew that we were going to explore the Loire Valley and had hardly needed to make any arrangements other than our travel to and from Geneva. Many of the places that we went to they had visited many years ago, and so there was a sense of familiarity for them and a newness as they shared it with us. Our first day and we headed towards Dijon and spent 2 nights in Beaune so we could explore the area. I love open markets and we were fortunate to be in Beaune for the Saturday Market. Here I met up with Marc & Virgnie Drillien selling their sculpture, jewelry and pottery. We spoke a bit about the life of craftspeople and they told me that they like living in their small village in the country and traveling to different craft events and open markets to sell their work. They also have their work at several stores. Virgnie makes the jewelry of ceramic forms and beads and does some sculpting; Marc sculpts and makes much of the pottery. They are members of a small crafts organization and life for the craftsperson doesn't seem to be so different from here in the States. Beaune has an International Baroque Opera Festival over 5 weekends in July held at the Hospices de Beaune. In 1440 Nicolas Rolin, Chancelor of the Duke of Bourgogne Philippe le Bon, and his wife Giugone de Salins decided to create a pious foundation to address the poverty and illness that followed the Hundred Year's War. They endowed it with an annual income from saltworks and vineyards that still supports the Hospices de Beaune. This hospital continued to function in this place until 1971 when the medical activities were transferred to a modern hospital. A retirement home remained. >
At this point in my narrative I must say that my relating of historical information is coming from several sources, all of them tourist-related and so I would ask that you forgive any errors and accept that I am just giving a sense of the times and places in this report. Radical errors I would appreciate knowing about so I can correct my own thinking and this report which also goes online.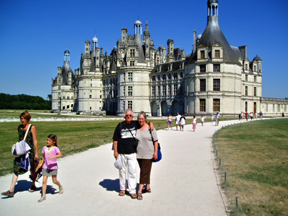 On our way to Montrichard (a small city along the Cher River) there were fields and fields of sunflowers and wheat and then fields of grapes and more sunflowers. We stayed 3 nights at Chateau de la Menaudière and from this Chateau, originally owned by the king's tax collector with history dating from the early 1500's, we explored the Loire Valley known for beautiful Chateaux, fertile soil, good climate, rich culture, and history. Each of the castles we visited offered another lesson in the history of France and Europe. In Amboise, which was the principal settlement of the Celtic Turones tribe (around 50 BCE), we visited Chateau d'Amboise, a privately owned Chateau belonging to a direct descendant of France's royal line. It was here that Italian tastes were first introduced into the Loire Valley as Leonardo da Vinci had been invited to join the French court at Amboise in 1516. He spent his time drawing and teaching, concentrating on architecture and urban planning including some of the designs for Chambord. In 1519 he died and was buried (as he wished) at the Chateau. On the grounds of the Chateau there is a model of his tank and a model of the solar system as he knew it. The Chateau du Clos-Lucé was the manor house where Leonardo da Vinci lived, and most of the rooms are open to visitors. Also on display are several models made from his drawings. The next day we went to Chambord, a designated historic monument with, depending on the source, 426-450 rooms, 77 staircases and 282 fireplaces that was begun as a hunting lodge by François I in 1519 and finished in 1685 by Louis XIV. The skyline has massive round towers with conical tops, and it seems like over 100 chimneys, pinnacles and turrets. Included in these chateaux are rooms showing how people lived and what the interiors might have looked like from different times. We each chose a room that we would like to stay in for a piece of time. What a life, what intrigue, luxury, and hardships.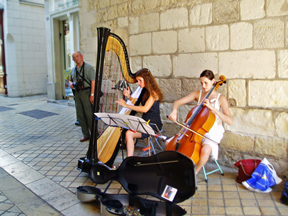 We ended the day in Amboise drinking the wines from Touraine (the region we were in) and eating our usual salads — temperatures for most of our time in France were about 100¾ and salads were the perfect meals. I found an internet café to send emails to family and friends and enroute passed 2 women musicians, Clémence Ralincourt (violin cello) and Aliénor Mancip (harp). The music was delightful and they were both excellent musicians. Like in many countries, music students making some money, practicing and popularizing themselves.
Chenonceau was our next chateau and it was here that we saw an exhibition of Claudio Bravo in the grand gallery. Raymond was particularly pleased to see this exhibit since he had only had second-hand knowledge of Bravo's work when, in 1997, Abbeville Press sent him the catalogue Claudio Bravo: Paintings and Drawings by Paul Bowles and Mario Vargas Llosa. Very much impressed with Bravo's particular skill within the realistic style, visiting this exhibit gave him the first opportunity to see his paintings first hand and not in reproduction. It is not uncommon for there to be an show in a chateau. (We saw this in Switzerland as well, where an exhibition from The Metropolitan Museum of Art was featured). In the afternoon we headed to Blois and the Chateau, which has 4 distinct architectural styles dating from the 13th century through the Gothic and Renaissance periods.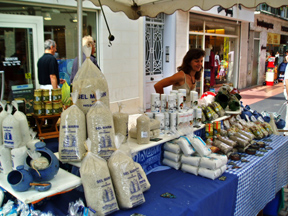 The following day found us packing up and heading further West. We stopped at Villandry, also a privately owned historic chateau, and skipping the chateau went to the kitchen and herb gardens that were reconstructed from XVI century gardens. A Crafts Show was on in one of the farm buildings with 20 craftspeoples' work on display with a person overseeing and selling. It seemed as if they were part of a guild. The work was excellent and included fabric, jewelry, wood sculpture, and pottery. Art shows, craft shows, take place in all different venues.
On to Saumur, where we settled into the Loire Hotel in a room that faced the Saumur Chateau and overlooked the Loire River. Saumur is in the Anjou region that produces some of France's finest fruits (Anjou pears) and vegetables. What a great view to wake up to each morning, and to hear the lapping of the water on the shore. The bridge crossing the Loire was first documented in 1162, and was the only crossing point of the Loire between Angers and Tours (approximately 70 miles) and made Saumur an important center for trade. The river was a vital part of people's lives up until the railroad took over transporting people and goods. Today the river is often too shallow for boats to pass. Jacky and I explored the town and the men went to the Tank Museum and to the National Riding School, est. 1814 and known for the Cadre Noir horses which have a distinctive style of dressage. I was again fortunate to be there during the Saturday Market and met Christine, a harvester of grey salt. Grey Salt is a "moist" unrefined sea salt usually found on the coastal areas of France. Its light grey, almost light purple color, comes from the clay found in the salt flats. The salt is collected by hand using traditional Celtic methods. So of course this became my souvenir for friends and family, and I went home with several kilos of salt! I also spoke with a woman who was selling crafts made by teenagers that were part of some social service program. This was a way for them to make some money and add to their sense of self-worth.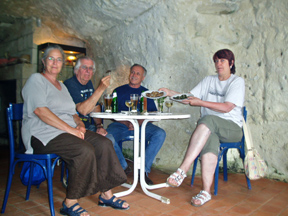 Limestone, or Tufa, surrounds the area and this creamy colored substance was used to build the chateaux of Anjou. The quarrying created hundreds of caves, many used for growing mushrooms, as working wineries, and others were transformed into troglodyte dwellings. These dwellings, some from the 12th century, have become popular 2nd homes for wealthy Parisians. While we didn't get to the homes, we did visit several of the wine cellars, a mushroom factory (75% of French cultivated mushrooms come from Anjou), and one (there were several) of the caves with artist's carvings. After touring the mushroom cave and seeing hundreds of mushrooms growing and looking like intricate sculptures, we visited Pierre et Lumière, a mini >ature park (touted as the first such park in the world) comprised of 20 churches, villages, and castles carved by Philippe Cormand of Brittany. Some of these architectural sculptures took as long as 6 months to complete with over 100 tons of stone carved and sculpted into the minutest detail. A bas-relief of the city of Saumur is 42 feet long! What an undertaking and what excellent work. Exploring these caves with a temperature of 45¾ was the perfect activity for a day when temperatures were over 100¾. Later that day we visited The Ways of the Rose, a landscape park in Doué la Fontaine (www.cheminsdelarose.com) of 10 acres with approximately 1200 varieties of rose trees (more than 10,000 rose trees) as well as other trees, shrubs, hardy perennials, clematis and its famous lotuses. Peacocks and swans freely stroll the grounds and there were sculptures (different artists are invited each year) placed among the plantings. They have music and theater performances during their season (May — Sept) as well as an extensive seminar schedule. It was a delightful experience and my only regret is that the heat and lack of rain didn't show off the park to what I could tell is a glorious place.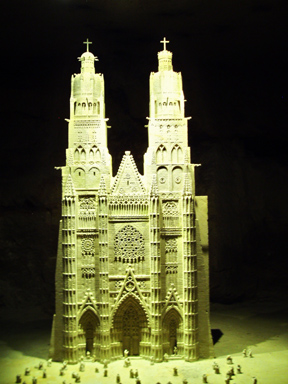 We said our goodbyes to the Loire Valley and headed to Switzerland trying to get away from the Tour de France crowds and barely succeeding. We again passed fields and fields of sunflowers, wheat, and grapes before reaching Geneva and beginning our trip around the southern shore of the lake. The houses were gorgeous, sailboats and marinas in every city, small beaches to fish, swim or take out a boat. We stopped at an excellent hotel in Evian (I did get a bottle of water when we left), swam in the lake, walked along the shore, and had an excellent meal, which included the best crème brulée I ever had. I can still recall the taste.
Our time with Jacky and Jörg was coming to an end, for now. Traveling with them is always a pleasure as they introduce us to worlds we didn't know existed and when they are here we try to do the same for them. They drove us to Switzerland— no more stopping at borders and stamping of passports and the views of the mountains were breathtaking. It was hard to stop looking out the windows at one spectacular vista after another and back again, and after a while our necks were sore and heads dizzy from so many sudden movements. We drove through Sierre and then up to Montana and then Crans before making the final trip up to Aminona (nearly 1600 meters up) where we met with Heinz & Christiane Jarczyk and Christiane's sister Ursula and husband Charles Esslinger and had a welcoming lunch. What a different atmosphere with snow-capped mountains in every direction. The air of course was cooler and drier and after such heat in the Loire Valley this was a welcomed relief. Tears, hugs and Jacky and Jörg headed back to Berlin, a good 10-hour drive. >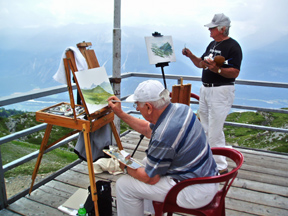 Aminona, in the region of The Valais, as well as Crans-Montana (www.crans-montana.ch) the two nearby towns, offers hiking, golf (home of the Omega European Masters), mountain biking, tennis, watersports on the lakes, and of course skiing. It was in Aminona that the first downhill ski competitions took place in the 1920's. There are concerts, theatre performances, nearby museum exhibitions (The Fondation Gianadda in Martigny had an exhibit, History of European Painting, covering a period of five centuries), galleries, and a weekly market with crafts to round out the extensive offerings of this idyllic place. Or, as our men did, one can sit and watch the mountains change from moment to moment and attempt to capture some of its essence on canvas. I had been thinking of hiking in the Alps for a long time and was so pleased to be able to walk with Ursula and Christiane, both born in Switzerland and as children hiked the mountains with their school classes every week. Ursula and Charles have an apartment in Residences Kandahar, 3 tall buildings with varying sized apartments, often available for rent. We chose a studio with a view rather than a 1 bedroom and no view —that didn't really seem to be a tough decision. It was hard to stop looking out of our window that faced South directly into the Val d'Anniviers with its snow-capped mountain range. We were next door to Heinz & Christiane and that was just great as we shared our evening meals. Walking those mountains each day, eating alpine strawberries and raspberries, seeing flowers, waterfalls, and the piping system that brought milk down from the upper regions to the towns was relaxing and enlightening. It was wonderful to see the different flowers, some so similar to plants we have, others that I had never even seen the construction of.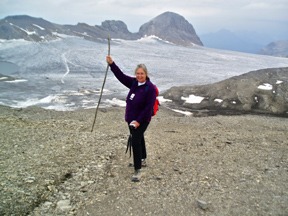 The cows with their huge bells wandered the meadows, and we stopped and bought cheese from one of the farms we passed. Ursula knew these mountain paths well having skied and hiked there for 30 years, and so it was again a delight to be led and have someone else decide which paths to take. In my usual work and life I am the one that makes the decisions and what a pleasure to leave it to Ursula! We hiked between 3 & 5 hours each day (as Heinz and Raymond painted each day, desperately trying to capture the illusive light as it played over mountains and valleys) and at one point, having taken the funicular up, we hiked down from le plain mort, a glacier that is at 9000 feet and the temperature of 45¾. We tried to walk to the glacier, but the ground was soft and the way too steep. Global warming has affected this glacier, as it has everything else — several years ago people were cross-country skiing on it in the summer! My favorite hike was up to La Tieche, across an alpine field that was quite untouched by skis and machinery and on to a waterfall. Our last night was spent in Ursula & Charles apartment and we had Raclette, a meal of raclette cheese melted and poured over potatoes and served with pickles. This traditional meal — along with a bottles of Fendant wine (of Valais) — was a perfect way to end our time in the Alps. It was with sadness that we left Aminona, our friends, and mountains to head down to Sierre and on to Geneva.
The train ride around the northern part of Lake Geneva was easy and quite enjoyable. The transportation system in Europe is always efficient and quite manageable. We headed to our hotel (between downtown Geneva and the airport) and rested up before beginning our explorations of the city. We spent the most of two days in Geneva, and during that time we walked around the old city, saw many of the 187 banks, visited a museum, a synagogue, the League of Nations buildings, and met some very interesting people. Geneva is truly an international city. I couldn't see a majority of any one people, just lots and lots of people of different colors, sizes, and shapes, wearing native clothing and speaking languages I couldn't begin to guess. As with any big city there are, according to a booklet I got from the tourism office, 46 museums, 110 art galleries, 33 theaters and 100 bookstores. The museum we visited, Musées d'Art et d'Histoire, had an exhibition of Charles –Édouard Jeanneret (better known as Le Corbusier), the influential Swiss architect who, as a painter and sculptor, was the founder (along with Ozenfant) of Purism. Entitled "Le Corbusier ou la Synthèse des arts", this comprehensive exhibition reveals just how much he had contributed to the modernist movement.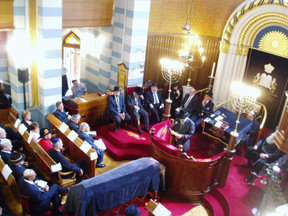 Probably the most outstanding experience of our time in Geneva was a service we attended at the Sephardic Synagogue Beth Yaacov. On Saturday afternoon when we first arrived, we went to see the Synagogue noted in our tourist information and fortunately we met a family, who after our acknowledging that we were Jews, told me a bit about the Synagogue and Jewish life in Geneva. We told him that we were sorry to have missed the Sabbath services earlier that day. This building appeared Moorish to us, and we learned that it was built in the 1700's in the outskirts of the town as Jews were not welcome in the center — now, of course, this area is encompassed by the city. There are 15,000 Jews in Switzerland, 10,000 in Geneva according to Mr. Kaplan, the gentleman who had shared information about the Synagogue. He then invited us to attend the service the following morning for the head Rabbi of Geneva who just died at the age of 94. On our first trip to Europe some 15 years ago we had been to a service conducted in German and Hebrew in Bern, Switzerland, and now we heard a service in French and Hebrew. What a wonderful experience. First, that we were able to see the exquisite interior of the synagogue with its Lion motif repeated in abstract form along the interior, to see the beautiful stained glass, and mostly to be part of the moving ceremony that acknowledged Dr. Alexandre Safran, apparently from the gathering of dignitaries, an important and greatly revered teacher for the Jewish community and the city of Geneva. As well as the memorial liturgy there were nine speakers, including the head Rabbi of France, Marc Raphaël Guedj, the founder of the Roots and Sources Foundation in France, Mr. Abraham Y. Schlesinger Chief Rabbi of The Orthodox Community Machsike Hadass, and representatives from the city of Geneva, the University, and other Jewish organizations in Geneva. Security around the synagogue was intense and all bags were checked, identification looked at before we were allowed to enter the synagogue. Attending this service was the perfect cap for an altogether informative and pleasurable sojourn in Europe.
Traveling is a wonderful way to explore other people, other ways of life, and to get a much better understanding of ones' own life. We were so fortunate to have this time, and to be able to share it with you, my readers.