Travel and Culture: San Antonio
By Cornelia Seckel
ART TIMES online April 2012 and revised April 2013
My time in San Antonio, courtesy of the San Antonio Convention & Vistiors Bureau via Geiger & Associates (destination marketing pr firm), was filled with a few old (my memory is that I was at the Alamo with my familiy when we took a cross country trip the year I was a Junior in HS -nearly 50 years ago!! YIKES!!)- and lots of new experiences. A dozen or so Journalists from across the country stayed at the Hotel Havana located on the North Riverwalk known as the Museum Reach. This is a small historic boutique hotel (built in 1914 by a successful local grocer as a residence hotel for his buyers) and they offered us very elegant accommodations in the heart of San Antonio. It was truly a pleasure to be in this historic place and to be just a few feet away from the San Antonio river where I walked each day.
As in many communities, warehouses and industrial complexes have been adapted for use by arts organizations. Blue Star Contemporary Art Center, artspace and the Pearl Farmers Market are just a few such organizations. There are hundreds of festivals during the year including Luminaria, a festival with over 600 artists participating— all the work having to do with light.
Depending on our editorial needs the journalists broke into different groups and I met with artists, visited museums and art spaces, heard all about the hundreds of festivals that take place each year and the tremendous support from the city (2nd largest City in Texas) and residents.
For our first evening we were introduced to many of the dignitaries, including the Mayor and our hosts the Convention and Visitors Bureau. We had a chance to speak with the principals from Luminaria, several artists and various hosts. Of course we were treated to Southwestern foods and drink — just the beginning of a gastronomic feast.
Early the next morning we met with Franco Mondini-Ruiz a successful lawyer for 10 years before he began his life as a painter and collage sculptor. His work and house is his work: the contents, the arrangement, the lighting etc. The work he shows is not only his own but the work of outsider artists from San Antonio. His vision is to promote the indigenous artists of San Antonio and specifically the artists of Mexican decent. He often has unique ways of showing his work and has shows at upscale department stores, has a one-day event at his home where he sells work and entertains.
Next we went to the McNay Art Museum which features an extensive collection of Southwest art, 19th - 20th century European and American art and Rennaisance art. Founded by Marion McNay (1883-1950) and opened to the public in 1954 as Texas' first museum of modern art. The latest addition was built in 2008. When Marion was just 17 she enrolled in the fine arts school at the University of Kansas— 120 miles from her parent's home. She continued taking classes at the School of the Art Institue of Chicago and began doing medical illustrations. When the family inheritance came to her disposal she began to collect an extensive art collection. In her later years, living in San Antonio, she shared her art collection with students and decided to create a museum with her work. The museum began with 700 works and now has over 20,000 including a collection of Theater Art (costumes, stage maquettes, drawings). There was a lot of very impressive work on view, much of it reflecting McNay's preference for bold, vivid work where the hand of the artist was visible. Coming up this Summer (June 5-Sept 1) is Norman Rockwell: Behind the Camera organized by the Norman Rockwell Museum in Stockbridge, Massachusetts.
Over lunch Anne Keever Cannon, pr for Fiesta® San Anonio Commission spoke with us about Fiesta (this year April 18-28) with 100 events over 11 days and 300,000 viewing and attending. Its events are produced entirely by local nonprofit organizations. Referred to as "San Antonio's Party With a Purpose" because the income generated by Fiesta ® events goes back into the community through scholarships, grants, health services, education, ministries and more. Fiesta® began in April 1891 when San Antonio women staged a Battle of Flowers in front of the Alamo to commemorate the battles of the Alamo and San Jacinto. The event soon became an annual tradition. Anne told us about numerous other festivals and the great support given by the community and surrounding region. Some additional Festivals include: Cinco De Mayo, Tejano Conjunto Festival, Soul Food Festival, A Wine and Culinary Arts Festival, Texas Folklife Festival, and the Fall Art Festival. For more festival dates and events visit visitsanantonio.com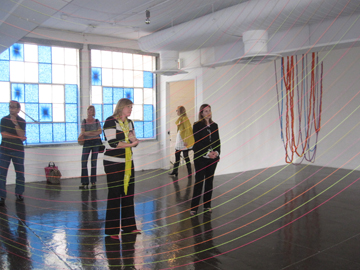 Artpace was founded by artist, collector, and businesswoman Linda Pace (1945-2007) to serve as a laboratory of dreams, providing artists from all over the world with an environment that would encourage experimentation and growth. Housed in an 18,000 square foot facility, it is a residency program as well as a site of exchange and serves as an advocate for contemporary art and a catalyst for production, doing this primarily through its International Artist-in-Residence Program which annually invites nine artists to live and work in San Antonio for two months to conceive and create pivotal art projects. For each residency a guest curator invites three artists-one from Texas, one from elsewhere in the United States, and one from abroad-to live and work in the Artpace studios. The residency results in an eight-week exhibition, accompanied by a full-color brochure, which is shared with the San Antonio public and the broader art world. In addition to these nine annual residency exhibitions, Artpace presents four exhibitions each year in its Hudson (Show) Room with more than 20,000 children and families visiting. There is an extensive archive on all artists that have been in residence. artpace.org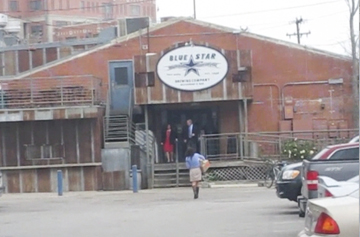 Blue Star Contemporary Art Museum (est. 1986) is the first and longest-running venue for contemporary art in San Antonio. A group of artists were looking for a space to have a show. 3,000 people attended their first opening reception and I understand the popularity of their openings and exhibits just keeps growing. Old Warehouses were donated and galleries were established. In surrounding warehouses are galleries, an art school, a black box theatre and artists' lofts. Blue Star continues to be an incubator for contemporary art in San Antonio, and has over 30 exhibits a year within its four on-site galleries and multiple offsite locations in the community featuring both emerging and world-renowned artists who hail both from the Alamo City and across the globe. Cultural Exchange (ICE) is part of Blue Star Contemporary Art Museum's International Initiatives, created to reach out to artists worldwide in an ongoing effort to develop unique cultural relationships. The development of Blue Star's exhibitions and educational programming has resulted in the social and economic revitalization of the surrounding King William and South Town neighborhoods and the event that started it all in the summer of 1986, has developed into Contemporary Art Month, an event that now includes over fifty collaborating organizations, cultural centers, museums, and alternative spaces.
The San Antonio Museum of Art is located in the former home of the Lone Star Brewery. The Lone Star Brewery, built in 1884, was the first large, mechanized brewery in Texas. Adolphus Busch, of Anheuser-Busch, founded it along with a group of San Antonio businessmen. Lone Star beer was the company's main brand and was marketed as "The National Beer of Texas." Production of Lone Star is currently contracted out to non-Pabst owned breweries (e.g. Miller Brewing Company in Fort Worth). In 1981, the old brewhouse re-opened as the San Antonio Museum of Art and this Encyclopedic museum has a fabulous antiquities collection, Latin American work, American Art, Contemporary Art, Asian Art and a 30,000 square-foot Nelson A. Rockefeller Center for Latin American Art—the largest repository of its kind. The Educational programs are quite extensive. Learn more: samuseum.org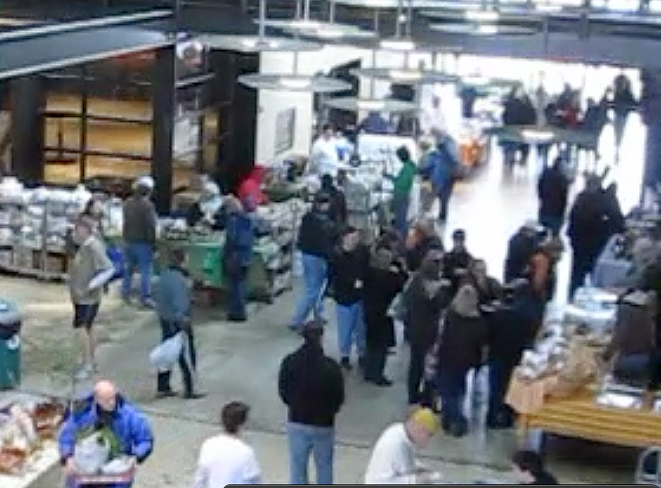 Pearl Brewing company, former brewery of Pearl Beer est. 1881 in San Antonio (same recipe as Beck German Brewer), one of the largest Breweries in the country, remained a brewery until 2006 and has in their massive complex numerous shops (many incubator spaces for new businesses), the Culinary Institute of America's San Antonio campus and in the courtyard a wonderful green market which is also site of the Paella Festival. The space is quite green: reusing many of the things found in the old brewery warehouse, gathering rainwater for use and solar panels for electricity. There is an ampitheatre where music and theatre productions and festivals take place. There are also live/work spaces for artists and the entire sense of the campus is preserving culture and creating community.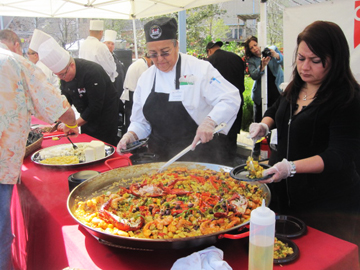 In 2012 I was there for the 3rd Annual Corona Paella Challenge hosted by Chef Johnny Hernandez. The Festival is a benefit for the Culinary Institute of America San Antonio and Educational Foundation of the San Antonio Hispanic Chamber of Commerce. The CIA opened the San Antonio campus in the historic Pearl Brewery complex just two miles north of downtown, The goal of this campus is to bring the cuisines of Latin America to their rightful place on the world stage. Nine Celebrity chefs and high school teams go head-to-head to create the most impressive paella imaginable. Live entertainment, wines from Spain, and sangria added to this very festive and delicious event. Entrance ticket gave unlimited plates of the paella, beer and wines. In 2012 the competing Chefs included Dale Miller from Sperry's Restaurant in Saratoga Springs, NY. For a complete list and more about this annual competition: www.paellachallenge.com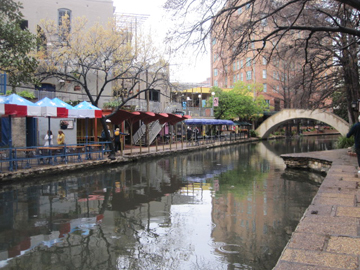 River Walk is a public park where over 20 events take place every year. Twenty feet below street level and steps from The Alamo, is the Paseo del Rio, better known as the River Walk. Designed in1939 by Robert H.H. Hugman, this pathway along the San Antonio River now features towering cypresses, flagstone paths, unique footbridges and is lined with prominent hotels, restaurants, shops, clubs and more. The San Antonio River Walk has had so much success that an improvement project to lengthen the walk to 15 miles, stretching to the four preserved 18th Century Spanish colonial missions to the south and the museums to the north is in construction and will be completed in 2013. In addition to increasing recreation opportunities on the river (including hiking, biking, paddling and more) this project reintroduces native plants, enhances aquatic habitat, and connects cultural and historical features of the river. For more: River Walk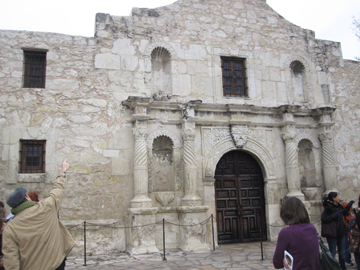 Originally named Mission San Antonio de Valero, The Alamo was established in 1718 as the city's first mission. The Battle of the Alamo (Feb. 23 – Mar. 6, 1836) was a pivotal event in the Texas Revolution. Following a 13-day siege, President General Antonio López de Santa Anna launched an assault on the Alamo Mission. Among the 189 Texan heroes were Jim Bowie, David Crockett and the commander William B. Travis. There were at least 18 women and children that survived and most of them were found in the church after the battle. The women were given a blanket and two pesos and they went on to spread the news as to what had happened. We were fortunate to have a very in-depth tour by the curator Dr Richard Bruce Winders who explained many of the artifacts on display throughout the garrison and showed us the remnants relating to the history from the early Spanish settlers. Three million people a year visit this site with 8,000 per day being slow and twice the number a busy day. People worldwide continue to remember the Alamo as a heroic struggle against impossible odds — a place where men made the ultimate sacrifice for freedom. Remember the Alamo!
We visited a number of artists in their studios (some shared spaces and others where artists worked alone) and had some time to explore a few galleries located in La Villita Historic Arts Village. I met several women from the River Art Group founded in 1947 and perhaps one of the oldest artists' cooperative galleries which now has 350 members. Aside from the gallery in the 1870 Florian House, they have an annual River Art Group Show held along the banks of the San Antonio River during the 1st weekend in October. RiverArtGroup.com
Clogged Caps International Aerosol Arts Festival a three-day event (also held in other cities in the world) usually held in early spring had over 60 participants from across the country. This is not a competition but a showing of talent and there were 8 different venues where painting took place. Numerous sponsors lent support with paint and food. There was lots of Hip Hop as Clogged Caps is one of the biggest Hip Hop festivals in Texas.
Luminaria but the weather was too threatening with lightning and high winds so it was reschedule. Luminaria's name is San Antonio's adaptation of "White Nights", originally conceived in Paris, France in 2002, as an attempt to bring contemporary art to the masses in public spaces. "White Nights" is a 12‐hour event with a goal of making contemporary art accessible to large audiences, while inspiring dialogue and engaging the public to examine its significance and impact on public space. It is a free event that encourages celebration and community engagement. For one night, spaces are transformed into temporary exhibitions. This event model has spread to other cities, both in Europe and North America, each offering its own version of the all night art extravaganza. In San Antonio the event began in 2008 and attracts hundreds of thousands of people and takes place over 100 acres. There are performances, art exhibits, all based on the vision "to seek, to re-imagine downtown San Antonio as a canvas for enlightened, innovative, edgy, surprising, and interactive contemporary artwork from all artistic disciplines. "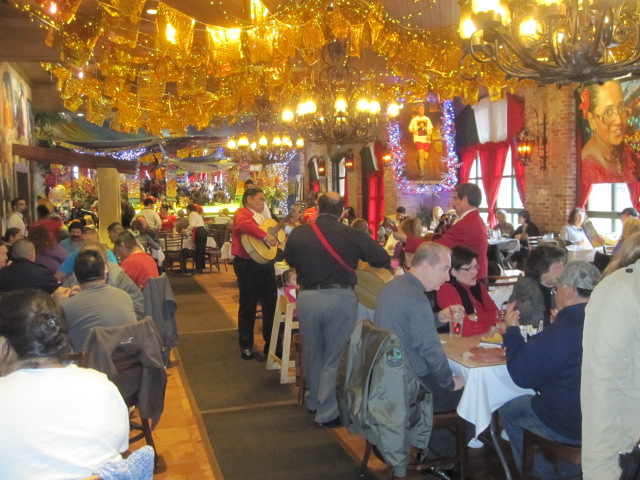 We had lunch at Mi Tierra and in some ways it reminded me of Katz's Delicatessen on E. Houston Street in NYC. Both "eateries" continue to be run by Children and grandchildren of the founders and they have both become institutions for their ethnic groups. In 1941 Pete and Cruz Cortez opened a little three-table cafe for early-rising farmers and workers at San Antonio's Mercado. Yoday, Mi Tierra has 3 restaurants and feeds 2.5 million people a year and never closes. We had fabulous authentic Tex-Mex fare topped off with strolling Musicians entertaining us. Next door, the Mercado (Market) has grown to be the largest Mexican market outside of Mexico and has 100's of shops. The atmosphere was Mexico and so many of the items were the same as what I saw when I was in Mexico over 50 years ago.
We learned about S.M.A.R.T. (Supporting Multiple Arts Resources Together), a nonprofit group that seems to be an anchor for the San Antonio art community. Each day they mentor, teach and nurture professional and aspiring artists, students, community and the public. They serve as an incubator for the arts and raise awareness of the impact of the arts in San Antonio. Over 6,000 people participate annually through partnerships with over 30 learning institutions that engage students from elementary to graduate level. S.M.A.R.T. holds competitions, mentors students, presents guest speakers and has an organic space with 6-8 exhibits presented annually. Between shows they host artists from San Antonio and the world, including musicians, actors, performance artists, films, book signings, and dance. There is a residency program and the artists must use the residency to push their artistic boundaries —utilizing their time for true experimentation. Assistance is provided for the artist with a weekly stipend and on-site apartment. S.M.A.R.T. hosts a formal exhibition and schedules education outreach (lectures, class, performance) programs. I particularly like their motto: united we art
San Antonio has many more offerings for their residents and visitors including: universities & colleges, historic sites, museums including two Smithsonian affiliates and the National Center for Latino arts, parks & recreation areas, restaurants, markets, theaters, Southwest School of Art, performances, music. It is the seventh-largest and third-fastest growing city in the U.S and hosts over 25 million visitors a year and has the largest collection of Spanish colonial architecture in North America, including five 18th century missions and the oldest cathedral sanctuary in the U.S.