Travel and Culture: Puerto Rico
By Cornelia Seckel
ART TIMES January/ February 2011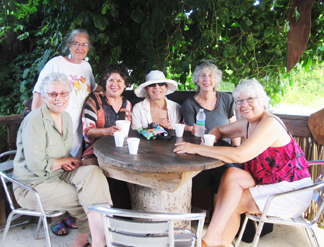 THE MEMBERS OF the Woodstock Arts Fair's workers and volunteers were invited by one of our members to join her in Puerto Rico after the Fair. There were 6 of us and it was wonderful. Christopher Columbus landed on the island of Puerto Rico in 1493 on his second voyage of discovery, and originally named it San Juan Bautista in honor of Saint John the Baptist. The name of the island's present day capital, San Juan, honors the name Columbus first gave the island. In 1508, it was settled by explorer Ponce de Leon and the island stayed under Spanish possession for over four centuries until 1898 when it became a commonwealth of the United States. Today there is a blending of cultures including the ancient Taíno people that were exploited/ eradicated (although with DNA testing many Puerto Ricans are reconnecting with their roots), the Africans who were brought there as slaves, and peoples from Spain, France, Cuba, Lebanese and Dominican. Puerto Rico is a combination of all these cultures and has a distinct Latin temperament. Often when I would question something my friend would tell me "this is Puerto Rico, there is a different time sense here". We stayed in Isabela, located in the north-western region of the island where the annual precipitation is around 62.8 inches, and average temperature is 84.7°F. (ask me if I'm ready to return). For most of our time we walked the beach, ate typical Puerto Rican food, did some shopping and exploring. One day several of the women happened upon Aguadilla and we understood that it was a catholic holiday (beginning of Advent perhaps) and festivities included Santa coming to town and a truck that had a snow making machine shooting snow out amongst the thousands of people that lined the streets. They had a great time and were treated to local culture.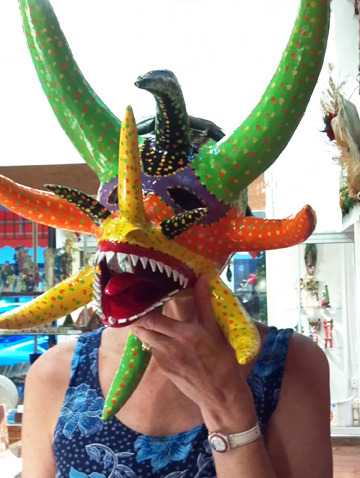 Though there are numerous galleries throughout the island, I visited just a few. The Gaba Gallery in Aguarda is owned by artist Nayda Bonet. She has many paintings, sculptures and jewelry from local artists. Myra, our hostess in Puerto Rico and my co-chair of the Woodstock Arts Fair, is a sculptor and painter. She brought one of her paintings "Las Brisas del Secreto" to have framed and Nayda asked if she could have it to sell at the gallery. Nayda has a small coffee bar and Thursday evenings she has Jazz musicians performing. Myra's friend Deborah's apartment is a gallery unto itself. She had several paintings by Wichie Torres whose landscapes and cityscapes and portraits of indigenous people are powerful with bold colors and strong brush strokes. Another painter whom we all seemed to like is Movra whose work is reminiscent of the social realists here in the states. Other predominant artwork includes masks (many worn at certain festivals), santos (usually a carving of a saint on wood also used for religious purposes), prints, and jewelry.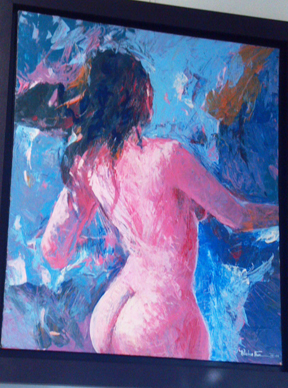 An important art museum in Puerto Rico is the National Gallery, located in San Juan in an old Dominican Convent that was built in the 16th century and contains a gallery of paintings from Puerto Rican masters such as Jose Campeche y Francisco Oller. Additionally there are a number of rooms of paintings and other works of art (paintings and decorative) from Puerto Rican artisans of the 18th – 20th centuries. As I understand it, serious students of Puerto Rican art go to the Institute of Puerto Rican Culture in the Dominican Convent in Old San Juan. It's the best source of information on the island about Puerto Rican arts and crafts.

Also in San Juan is the Museum of the Americas housing a number of exhibits, some permanent, and some temporary all with the focus to bring about understanding of the history and culture of the Americas. It covers art from the pre-Columbian era to the present and a variety of artists from Latin America, the United States and Puerto Rico are showcased at the Museum.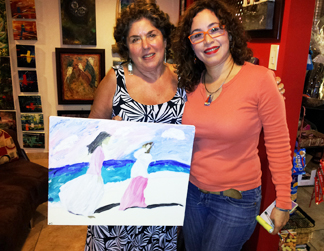 The Museo de Arte de Ponce opened its doors on January 3, 1959, in a colonial house in the heart of Ponce, the second largest city in Puerto Rico. The first works in the museum's collection were acquired in 1957, when Luis A. Ferré, a successful businessman, philanthropist, and future governor of Puerto Rico, purchased 24 paintings at auction in Sotheby's in New York City. Thirteen of these are still part of the museum's collection that now has over 4,500 works of art from many cultures dating from the 9th century to the present. Nineteenth-century English painting and seventeenth-century Baroque painting are the 2 strongest collections in the museum. The Anton J. Konrad Conservation Center, founded in 1979 by Anton J. Konrad is part of the museum complex. It was the first laboratory for the conservation of art works to be established in Puerto Rico, and its dual mission has been to conserve and protect the collections of the Museo de Arte de Ponce and to offer professional services to museums, historical societies, cultural institutions, private collectors, and local and international artists.
I expect to travel again to Puerto Rico, and this time to visit with individual artists.