Québec and Montréal
By CORNELIA SECKEL
ART TIMES Sept/ Oct 2009
Raymond and I had been thinking about going to Montréal and Québec City for several years and with all the other traveling and working for ART TIMES a "vacation" wasn't top of the list. So when we got a call from Montréal Tourism about a visit to the Montréal Museum of Fine Arts, I jumped at the chance not only to see Montréal but also to visit Québec City. According to my mother I had been to Montréal as a 3-year-old and for about three minutes I cried in frustration at not being able to understand the other children then quickly adjusted and began communicating as all children do through play.
So off to Canada, stopping in Glens Falls for a visit to The Hyde Collection and the Shirt Factory. Raymond has a review of the exhibit at the Hyde collection, "Degas and Music", so I will only make a few comments. As the exhibit is about Degas and his relationship with music there was a small area blocked off where a slide show with images of the painting and the information about the musicians that influenced the painting were projected on a screen while the music could be heard. This was a delightful audiovisual component to the exhibit. Music programs will take place in the surrounding five counties throughout the course of the exhibition, thus engaging an even larger population to come and view the show.

I have been speaking with Bev Saunders of bjsartworks Framing Gallery Studio at the Shirt Factory in Glens Falls for over a year and it was a pleasure to meet and see her excellent pastels as well as the work of the four other artists in her gallery/ frame shop before she gave me a tour of the 'factory'. We visited several of the over 40 studios that house artists, craftspeople, photographers, filmmakers, dance studios, the Adirondack Pastel Society (Bev was the co-founder), a co-op gallery and other art-related businesses. Classes are offered here for dance, pottery, music, and art. Speaking with a few of the tenants, they spoke highly of the atmosphere of working while having other creative people around to socialize with. I was able to meet Dave Francis, PSA, and see his excellent pastels; Russell Serrianne and his intricate sculptures made of wild grape tendrils; Kirs Moss's very different fabric art; and Adela Tavares' large portrait paintings. This was a working shirt factory from the early 1900's though the 1980's with four floors and large windows just perfect for an arts community. There is an attempt to have some artists' organization but from what I can tell it is limited to an open studio tour of work — this year, work inspired by the Hyde Collection's Summer of Degas and Music and takes place August 1st & 2nd — not unusual for a group of creative people. For more information: www.shirtfactorygf.com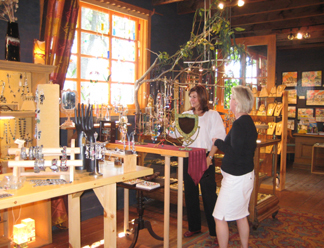 We arrived in Québec City and stayed at the delightful Hôtel Le Priori www.hotellepriori.com, just blocks from the St Lawrence River. Outside of our window we could see the watermarks (in rippled design dark brick) of the St Lawrence tidewater from 1600, 1700 and then 1800. Our first evening we explored the area around our hotel where many galleries, fine shops, restaurants and hotels were located. Nearby were souvenir shops, more restaurants, and many other stores with the work of local artists and craftspeople. As we were within the walled city (Old Québec) there were many historic murals, plaques and stories in the area. The St. Lawrence River played a fundamental role in the history of Canada and Québec. From the 17th century, the establishment of the fur trade marked a turning point in North America's history. In 1603 Samuel de Champlain took part in the first expedition to go up the St. Lawrence; and then thought of establishing the future colony in Trois-Rivières (south of Québec City). Finally, during a new mission for the purpose of establishing a residential base along the river, Champlain chose the detroit of Kebec (Québec) where he built his first house in July 1608. The St-Lawrence River is one of the most important rivers in North America. Its source is the Great Lakes leading out to a vast estuary and the Gulf of St. Lawrence to finally empty itself into the Atlantic. It is approximately 1000 kilometers long. The river serves as the frontier between Canada and the USA for approximately 200 kilometers. In Canada, the navigation route runs along its entire length, forming the famous St. Lawrence Seaway that allows the Great Lakes to have an opening for ships of commerce and pleasure. In fact I remember my Dad talking about canoeing and going through the many locks of the St. Lawrence. I can't possibly relate the history of Canada's rulers and the wars with France, England and the US, so go online and you'll find lots of history links.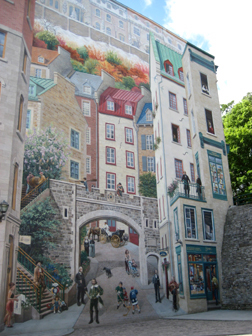 At breakfast we were greeted warmly by Richard Séguin of the Québec City Tourism office. We learned about the Summer Festival, Canada's biggest outdoor artistic event that had more than 300 performances ranging from the traditional to the cutting edge of music: opera, rock, blues, electric Reggae, acrobats, comedy, theater — all in 11 days at four main locations as well as many street venues. Last year there were nearly 500,000 attendees and it generated over sixty million Canadian dollars — quite a boost to the Québec City economy. We missed Placido Domingo but I wasn't sorry to miss Sting and Indochine. Richard also gave us a tough choice between seeing some street performances by Cirque du Soleil or The Image Mill before introducing us to Sharon Frenette, our guide for an overview of Québec.

Sharon, a native of the Upper Peninsula of Michigan, relocated to Canada over 30 years ago and gave us an excellent overview. 96% of the people in Québec City use French as their first language and nearly everyone understands English as it is taught in school and now as early as the 1st grade. We learned that UNESCO proclaimed Québec City a World Heritage site, the only such city in North America and named so because it is a Walled City (which still remains) and that it is the heart of French Culture in North America. It is the 3rd oldest city in North America: St. Augustine, Florida — the oldest, and Santa Fe, NM are both older by just a few years. As Sharon drove us through the three major parts of the city, each with a distinct character, she elaborated on what we were seeing. Abraham's Field, the site of the Battle between the English and French, is now Soccer Field and a place where many concerts are held. The general attitude in Québec City is to re-use, so rather than taking down an abandoned church it becomes a library or concert hall; battlefields become soccer fields. There were many street musicians and apparently they need to audition to get a permit and then they can only play for 2 hours in the same place. They have a system amongst themselves for rotating to different locations.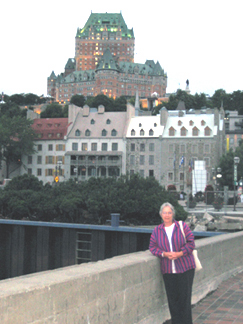 No matter where you are in Québec City you can see Le Chateau Frontenac built in 1893 and along the boardwalk just outside the hotel were many street musicians. On over to the Parliament where we saw Québec's best 400th birthday gift: the Tourny Fountain from La Maison Simons (a family-owned department store, est. 1840 with 7 stores in Québec). It was restored and imported from France where it had been in the Bordeaux's allees de tourney and named after Aubert Tourny, a man remembered for his contributions to beautify Bordeaux. Now it beautifies Québec City.

There are window boxes overflowing with flowers from most every window. Sharon said that after winters of 10 feet (on the average) of snow, everyone loves flowers. The feeling of the city is so very European and Québec City was like Paris and (I said) "but without the attitude". Now, however, with the friendliness training and kiosks in Paris, that stereotype might finally be put to rest. There is a lot of civic pride and strong sense of history even outside of the old (walled) environ. A number of years ago the revitalization of the Port area rejuvenated the neighborhood, bringing jobs, restoring housing, and building new museums.

Before returning us to the hotel, Sharon took us out of the city to the Montmorency Falls (2 ½ times taller than Niagara Falls but not as wide) where we rode the funicular to the top. Pictures of the falls in winter are breathtaking and it is a destination for ice climbers. We headed across to L'île d'Orléans, an island about the size of Manhattan but covered with trees, farmland and rolling hills. Much of the produce for restaurants and the markets in Québec City comes from their fields and orchards. Here we stopped at two different artisans' shops and saw paintings, jewelry, sculpture, and crafts by area artists and artisans.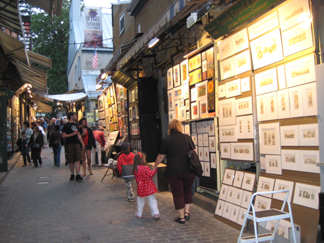 There were many more suggestions of museums, historic sites, walking tours, than we could ever do in 2 days — therefore we will just have to return. We did get to some, including a walk down Artisans Street (rue du Trésor) where artists and craftspeople sell, and sometimes demonstrate their work; a ferry ride across the St. Lawrence gave us a beautiful view of the city skyline; a ride up the funicular brought us to the Chateau and another view across the river; a trip to the market where we could taste the local fruits, cheeses and wines; and just wandering the old streets looking at the varied architecture was a delight.

In the evening we went to The Image Mill, a forty-minute visual and audio production projected onto the Bunge grain silo "projection screen" which is over 600 meters wide and 30 meters tall. Robert Lepage and Ex Machina —the creators of the Québec City Project through the use of cutting-edge technology — transported us through four centuries of Québec City history in four movements: waterways (recounting the days of Québec's discovery and exploration), road building (the period in which the land was cleared, then developed), rail expansion (the years of industrialization and railway construction), and air travel (the era of balloons, airplanes, and communications). We just stood along with tens of thousands of people and watched the phenomena with our mouths open as images crossed over the silos taking us through the history of Québec City.
After two days we drove south to Montréal, and arriving in late afternoon, we had a light dinner and stayed at our most luxurious Hotel Sofitel (www.sofitelMontréal.com). Montréal is an island located in the Saint Lawrence River. Approximately 31 miles long, 10 miles in width, with a 230-meter mountain occupying its center, it was originally inhabited by the Iroquois who had lived in Québec for thousands of years. In 1535, an explorer from France, Jacques Cartier, was among the first Europeans to set foot on the island. He and his men climbed up the mountain to place a cross and claim the land in the name of France. Cartier named the mountain "Mont-Royal". Despite being conquered by the British, French Montrealers continued to flourish and exist as the majority living on the island over the subsequent decades. English, Scots and Irish settlers intermarried with the French. The focus of the French was religion and conversion; the English to develop business.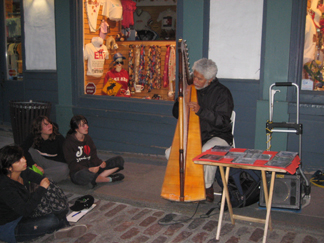 In the morning we were met by Regina Larose, our tour guide for an overview of Montréal. Regina drove us through the city, the old part with cobbled stone streets, the park designed by Frederick Law Olmsted (designer of Central Park, NYC), and as she pointed out the highlights she delighted us with stories about who stayed at different hotels and movies that were filmed here. Montréal is a city of 1.5 million in a country with 33 million people— less than the state of California — with many different peoples and therefore broken into different areas including: Chinese, Greek, Jewish, Italian, Spanish, and Portuguese. In much earlier times, people who arrived by boat through the St Lawrence Seaway couldn't go much further than Montréal because of the rapids. As of 1876, the train was the way they could go West (other than by boat). Montréal boasts the 2nd largest Botanical Garden in the world (first is Kew Gardens in England). Montréal (Mount Real) has two mountains and they can be seen from every point (as no building can be taller than the Royal Mountain) where hiking trails and picnic areas are in abundance. We saw many joggers in this area and the most elegant of homes for embassy personnel, actors, and politicians. As we continued the tour we passed the Hotel Dieu, a hospital still in operation founded in 1642 by Jeanne Mance.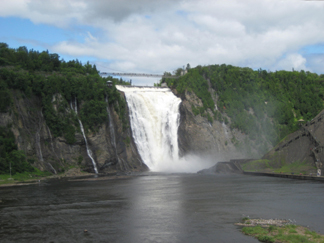 At lunch, Tanya Churchmuch, from Montréal Tourism, spoke with us about Montréal and how this city is very much an incubator for the arts as well as for technology. CGI is a large company doing visual effects for film; there are also many young bands, architects, designers, and film technicians. There are two cultures in Québec: the French-speaking Québecois and the English-speaking, each with theatre, music, literature, films and, according to the tourism folks, Montréal is the creative capital of the country. Montréal is a city of festivals: Jazz, Comedy, Electronic, Gay, Reggae and, of course, Cirque du Soleil: Cirque 2009. It seems as if there is one festival right after another throughout the year. The World's Fair of 1967 made Montréal an International City. There is an excellent support system in place for grants to creative organizations from the local province and from the national support for the individual. Cirque du Soleil is a prime example. Guy Laliberté, founder and CEO of Cirque du Soleil, left home at age 18 to hitchhike across Europe, working as a street performer and met many other sidewalk showmen along major tourist attractions. He lived hand-to-mouth, and learned the art of fire-breathing and stilt-walking, working for small change to pay basic supplies. Laliberté became interested with the lifestyle and he perceived it as a perfect art form. Upon his return to Montréal, he began organizing parties and street festivals and in 1984, at age 24, he landed a contract from the Québec government to stage a street show for Québec's 375th Anniversary Celebration. Laliberté's vision was to create a circus with neither a ring nor animals, believing that the lack of both of these things draws the audience more into the performance. Montréal is a city of young people as there are four universities (two French, two English) and McGill has over 30,000 students — many there for the outstanding programs in medicine research and law. Concordia University is the best fine arts school in Canada, offering degrees in performance arts, dance, textile, theatre, photography, and journalism. The low tuition and the fine programs offered, make it particularly attractive for US students.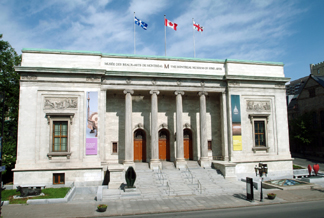 In Canada there are many small breweries and a few wineries. Molson Beer came from England and has been brewed since 1786. Strawberries, raspberries, blueberries were all in season and delicious. A visit to the Atwater Market and I was in heaven — I tasted many different foods and bought some things for our return drive back to NY.

Bike systems seems to be an excellent way to limit town traffic. Everyone likes it but the cab drivers. You get a 24-hour permit and pick up a bike, ride it to your destination, leave the bike till you are ready to go somewhere else, get a different bike and go on your way. Cost is very inexpensive. Seems like an excellent idea. Streets have bike lanes.

Later that afternoon while Raymond was looking at the exhibit "Expanding Horizons" at The Montréal Museum of Fine Arts (see review at www.arttimesjournal.com), I got a tour of the rest of the museum with Sylvie Deslauriers the head of PR at the museum and a delightful, bright and engaging person. As we toured the museum's galleries we spoke about publicity, the need to bring in new audiences and how much of that is done through extensive educational programming for all ages, and of course the many paintings, sculptures and objets d'art that drew our attention. This is a private museum and has some of everything and much of it excellent. Known for their universal collection, they have an extensive compilation of works of Decorative Arts and Design, Ancient Cultures, European Art, Canadian Art, Mediterranean Archaeology, Contemporary Art, totaling over 33,000 objects. Take a look online www.mmfa.qc.ca to learn more about this museum.

Montréal is a large city with many museums, galleries, art centers and ethnic neighborhoods. Certainly two days was not enough time to get more than an overview. It is an easy drive — remember to bring your passport and don't try and bring back fruits, plants or vegetables. It is with appreciation to Montréal Tourism www.tourisme-Montréal.org and with Québec City Tourism www.Québecregion.com for making our trip such a pleasure.