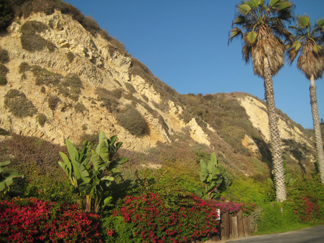 Near the Beach, Malibu, CA
By CORNELIA SECKEL
ART TIMES October 2008
CALIFORNIA. IT HAS been nearly 15 years since I was in LA, and 30 years since I spent more than a few days in California. In 1994 I went to LA to visit Joe Price and to see his collection of Edo-Art at the Los Angeles County Museumand to see how successful he was in getting his collection on CD, something that was just being explored by some museums and collectors at that time. 30 years ago I spent 7 months living and traveling in the SF area doing — well, that's another story from a different lifetime.
I have been in contact with two childhood friends, both now living in LA. We have visited here in NY with the invite always for me to come for a visit. Leta, I've known since we were infants; Heidi, my friend since we were 10. Once I got past 60 and some other of my dear friends were gone, the sense of "do it now", "what are you waiting for?" got louder and louder.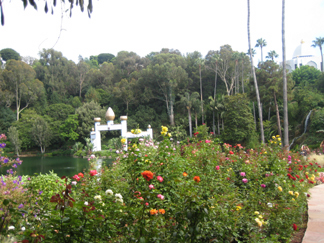 Self Realization Fellowship Lake Shrine
on Sunset Blvd. in Pacific Palisades.
So off I went during the last part of July and before I began work on the September issue.
It is always exciting for me to fly and to see the land from the air. As we crossed the country, the landscape (when there were no clouds covering my view) changed from ocean to rolling hills to farmland to more farmland then to mountains, canyons and desert with fabulous patterns on the earth's surface. Before reaching water, cultivated landscapes came into view and then we were in LA. I rented a car, could hardly believe I was in LA, and drove to Heidi's home, not very far from the Bob Hope Airport (the first commercial airport in CA).
Leta was going on a sailing trip later in the week and so my first day I headed south over the hills and then west to the coast and had my first experience with LA freeways and traffic which, being very comfortable driving in Manhattan, didn't faze me. Since I made a left instead of a right when I got off the Freeway at Sunset Blvd., I ended up in West Hollywood, passing "Maps to Stars' homes" for sale on numerous corners. I don't mind the scenic tour when I'm in a new place and surely enjoyed the grand homes and landscaping. Leta and I decided on lunch first before a visit to the Self Realization Fellowship Lake Shrine on Sunset Blvd. in Pacific Palisades. What gorgeous gardens surround the lake. Dedicated in 1950 by Paramahansa Yogananda, I can understand why so many thousands of visitors come each year to enjoy the scenic beauty and serenity of this spiritual sanctuary. The ten-acre site includes a Court of Religions honoring the five principal religions of the world; the Mahatma Gandhi World Peace Memorial, where a portion of Gandhi's ashes is enshrined; and a small museum and gift shop.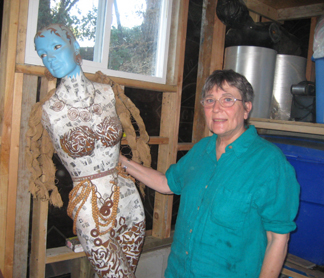 Rebecca Andrews of Topango Canyon
and one of her artworks
We decided to go up into Topanga Canyon, one of many canyons that lead from the coast through the Santa Monica Mountains to the San Fernando Valley. What gorgeous views as we winded up and deeper into the hills. In the 1920s, Topanga Canyon became a weekend getaway for Hollywood stars and during the 1960s, Topanga Canyon became known as a bohemian enclave attracting many artists and musicians. Numerous music festivals have been organized in the canyon, including the Topanga Days Festival and Topanga Earth Day. We stopped to visit Rebecca Andrews, an old friend of Leta's who lived near the mountain ridge, and it was clear to me why artists chose to live in these Mountains — privacy, privacy, and more privacy, along with clear, clean air and exquisite views. As with many artists she has joined a co-op and has the opportunity for selling her work and an association of other artists to mingle with or not. She has been in the canyon for over 35 years, beginning with a tile business to support herself and her family, as well as her artwork. Now she is able to devote herself to her art, exploring many different mediums for expression.
We headed back down the canyon and along the pacific coastline to Leta's home and dinner withher husband, Leonard. With old friends one never runs out of things to talk about and as the evening wore on we decided to continue our visit and have a "sleep-over."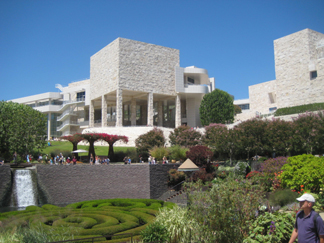 The Getty Center as seen from the Gardens
I had expected Heidi to work in the mornings and then be available for "playtime" in the afternoon and so had brought work to do and several books to read which I was pleased to abandon. For soon after I arrived back at Heidi's from Leta's home, Heidi returned from work and announced that she was "Done for the Week" and it was time for doing the things she doesn't get a chance to do. Beginning with a pedicure (new for me) we went from the beach to the Getty Museum, to the beach, to the Getty Villa, to the beach, to Oxnard and a Salsa Festival, to explore Laguna and see the Festival of Arts Pageant of the Masters, and, of course, back to the beach. This was a work/play excursion, one I was very ready for.
We headed to the Getty Center where I had made arrangements for our visit with their very helpful Press office. The Center has just celebrated their 10th year and is a very large (750 acres) complex of 5 Exhibition Pavilions, a Research Institute dedicated to furthering knowledge and advancing understanding of the visual arts, Auditorium, Sculpture Terrace and extensive Gardens. Not wanting to miss any of it, we took the suggested route beginning with the gorgeous gardens, a delightful contrast to the stunning buildings of travertine, concrete and steel designed by architect Richard Meier.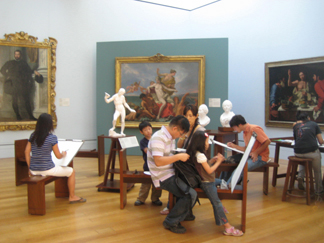 The Sketching Gallery at The Getty Center
We went into each of the exhibition pavilions and saw a great variety of work. Some of the highlights of their collection are: "Arii Matamoe (The Royal End)" by Paul Gauguin; "Irises" by Vincent Van Gogh; "Portrait of a Halberdier" by Pontormo; and a copy of "Portrait of Louis XIV", by the workshop of Hyacinthe Rigaud. I was particularly interested to see the exhibit "Maria Sibylla Merian & Daughters: Women of Art and Science". I first came across her work when Raymond wrote about "Drawn and Colored by a Lady" at Arader Galleries, NYC, in March 2007. The show at The Getty is an excellent and important tribute to a woman (1647-1717) who not only documented insects, birds and plants elevating the science of entomology, but also scientific illustration with her extraordinary drawings. The exhibit explores her hand-colored publications of flowers and insects, her success as a specimen-supplier for collectors and naturalists, and the scientific discoveries that resulted from her journey to Suriname. More about the exhibit can be found at the Getty website. Also, Raymond has reviewed the catalogue in our New Art Book Column.
The Getty has a Family Room, a place for parents and children to draw, build, and explore art—encouraging a new generation of museum supporters. As with most museums, there is an extensive list of events each day of tours, films and education programs. On view through October 26, 2008 is Bernini and the Birth of Baroque Portrait Sculpture. See the website for additional upcoming and current exhibitions and programs. www.getty.org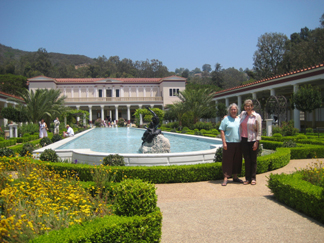 CS & Heidi Robertson in The Getty Villa Gardens
The next day we headed to Malibu to the Getty Villa modeled after the Villa dei Papiri, a Roman country house in Herculaneum buried by the eruption of Mt. Vesuvius in AD 79. The beautiful gardens have been reconstructed so that they appear much as they would have in an ancient Roman home. Originally, the Getty Ranch was a sixty-four acre piece of property that J. Paul Getty, an American industrialist and founder of the Getty Oil Company, bought in 1943, then opened in 1954 as a small museum. Getty was an avid collector of Roman, Greek, and Etruscan antiquities as well as European art and once the collection outgrew the Ranch in 1974, The Getty Villa was built (now housing over 1,200 works of art from the Getty permanent collection). In 1997 The Villa was closed for renovation and all but the antiquities were moved to the new Getty Center. On the grounds of the Villa are the UCLA/Getty Master's Program on the Conservation of Ethnographic and Archaeological Material, the antiquities curatorial offices, meeting rooms, and the 20,000-volume Research Library. There is also a large amphitheater and auditorium for their extensive programs of concerts, performances, lectures and symposia.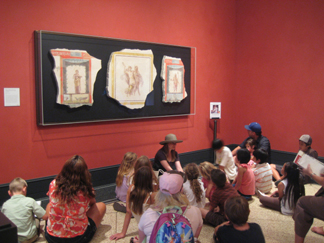 A class visits The Getty Villa and has a lesson with a docent
Entering the museum is like going into an archeological dig. We walked down a ramp and then through a tunnel coming out onto this reconstructed villa. Exploring the museum is an extensive course of study in the cultures of the Ancient Mediterranean World. I can only imagine the excitement of scholars who have come to the Villa to study, or students who are exposed so comfortably to a possible new area of interest. Brilliantly designed and laid out with the viewer in mind, we saw jewelry, portraits, luxury items, sculptures, paintings and reliefs of Gods, Goddesses and mythological heroes, all presented with clear and concise wall notes.
As we toured the galleries taking in as much as we could, we found ourselves talking with other visitors, often asking them to take our picture and then taking theirs in return. We met people from France, Canada, Italy, Michigan, Australia, and Hungary.
It was time for lunch, relaxing on the beach, and a dip into the surprisingly cold Pacific before returning home.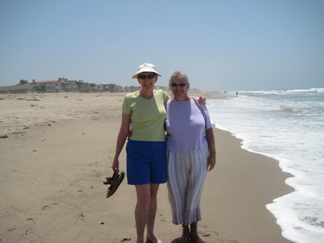 Heidi & CS on the Beach in Oxnard, CA
Oxnard is a small town with a multicultural population about 40 miles North of LA on the Pacific Ocean. Heidi and I were heading there for a Salsa Festival, one of several festivals that celebrate the rich diversity of its residents. Well over 150 vendors, including community organizations, all kinds of food, hand-crafted jewelry, pottery, clothing, garden art, children's boutique items, gourmet salsa, and handicrafts from Africa, Central and South America were among the hundreds of items in the Festival Marketplace. This 16th annual event also featured excellent entertainment by Salsa and Latin bands, dancers and musicians. One danced from booth to booth rather than walk. Another highlight is the salsa tasting tent where we were able to try hot, sweet, green, red, salsa from purveyors and restaurants.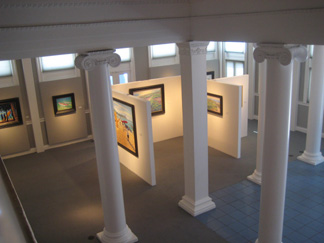 Carnegie Museum, Oxnard, CA
Andrew Carnegie donated monies for the construction of 144 Libraries in California, and between 1891 and 1920 there were 1,678 buildings funded throughout the US. The Oxnard Library, opened in 1907 and designed by Franklin P. Burnham, is now, after many different uses, the Carnegie Art Museum. The collection, begun in 1924, found this home in 1978 and now includes over 1600 works. It was delightful to see this small museum that presents temporary exhibitions changing quarterly and periodically displays selected portions of its permanent collection.
I came across ArtScene, www.artscenecal.com, a monthly digest of art in Southern California and found a comprehensive listing of exhibitions as well as some previews about exhibits. I also saw Local Arts, Guide to the Arts, www.localarts.com, a directory for openings, galleries, museums, theaters and cultural venues in Orange County, CA. Both are in print and online and seem to be excellent sources for patrons and participants of the arts.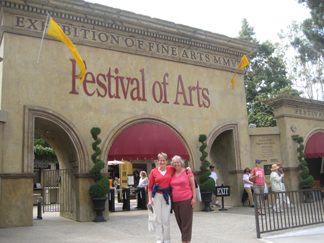 Heidi & CS at the Festival of Arts, Laguna Beach, CA
I have been hearing about the Pageant of the Masters for several years, their PR contacting me each year and I, hoping to get to CA, encouraged them to keep me informed. Well this was the year and Heidi and I headed down to Laguna Beach for the Festival of the Arts & Pageant as well as 2 other art shows (Sawdust and Art A-Fair) that are on during the Pageant's season (July — August).
Any discussion has to start with the Artists and the Laguna Art Association.
I think I've finally gotten it. Why artists choose to paint in a certain area — it's the light, the scenery and the living conditions, but mostly it is the light. And that is why in 1903, Norman St. Claire, a San Francisco artist, abandoned his "cramped fog-laden studio in Northern California" to become a permanent resident of Laguna Beach. Other artists came to visit and more and more settled there to paint in the open air.
In the summer of 1918, the Laguna Art Museum opened with the town's very first Art exhibition. According to the association's information, "More than 300 visitors crammed the modest building in order to view nearly 100 paintings on display in both oil and watercolor, as well as several pieces of sculpture. There were 25 participating artists, and by the end of its three-week run nearly 2,000 people had signed the guest register. That August, the 150-charter member Laguna Beach Art Association was founded, and the following year the association became a chapter of the American Federation of Arts. By the end of the 1920s, the band of Laguna Beach artists were being lauded at galleries across the nation as their works of California's rugged coastlines, verdant hills, vibrant flora and other environmental elements were well received."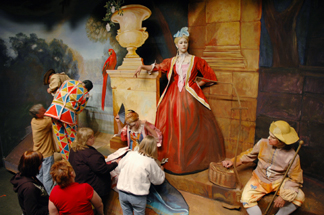 Pageant workers constructing a "Painting."
In 1932, in the midst the Great Depression, the idea of a summer art festival took hold as a fundraising for the association. Apparently the entire community took part, transforming Laguna Beach into one continuous art gallery and it was hoped that visitors to the Los Angeles Olympic Games would travel South to Laguna Beach. The highlight of the event was the Living Pictures Show, the brainchild of artist and vaudevillian Lolita Perine, who dressed residents in costumes and seated them behind makeshift frames. In 1935 the idea was expanded into its present-day format by local construction worker, realtor and amateur artist, Roy Ropp. For the next several years the pageant moved from venue to venue until it found a permanently home in 1941 in Laguna Canyon.
Not long after the Laguna Beach Art Association formed, the Laguna Playhouse was founded in 1920. It began with a group of thespian citizens who assembled in a living room to establish a theater, initially offering readings and performances in private homes and storefronts. Laguna Beach begins to look like Woodstock, NY of the 1920's – 30's with the Maverick and their festivals and concerts, The Playhouse, Byrdcliffe, and the Woodstock Art Association — the coming together of creative people to live in a community and to support one another's efforts.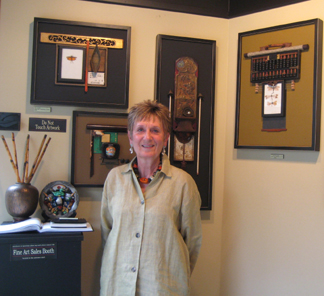 Carolyn Machado and her assemblages at the Festival
of Arts, Laguna Beach, CA
Heidi and I got to the Festival early enough to be able to tour the fine art show before the Pageant began and to visit the other Art Shows "down the road" — the Sawdust & Art-a-Fair which are not juried and therefore some of the art and fine craft exhibited are more professional than others. Demonstrations and children's art areas are always a plus at these shows.
The Festival of Arts, held within the pageant grounds, has over 145 artists that are part of this juried exhibit. Of all the artists, each year only a third are juried in new, the other two-thirds are invited back, some returning for as long as their 40th year. I spoke with many of the artists who were quite pleased to be part of the Fair, many earning enough in the 2 months to support them the rest of the year. It is a great idea. The Festival is open for several hours before and after the Pageant. People can picnic on the grounds while listening to excellent music that brought a very positive energy to the patrons. A good restaurant, demonstrations, and a children's hands-on area as well as other special events hold the visitors' attention for a number of hours, during which time they can explore the work on sale. A ticket to the Pageant allows the holder to get into the Art Festival as frequently as they like (so you can go back and buy that piece of art you've been thinking about since you left the grounds).
The Pageant has a different theme each year; this year it was "All the World's a Stage." I could hardly believe my eyes as the lights went up and a large framed picture appeared on the stage. The 20 different "living pictures" and sculptures, all well-known and classical works, were presented with real people as part of the painting. It was mostly impossible to tell what was a person and what was the painting. A live orchestra, some narrative, sophisticated lighting and costuming made this an unforgettable experience. At one time they showed us how it was done, but I can't reconstruct it in my mind. According to the encyclopedia: "Tableau vivant, French for "living picture," describes a striking group of suitably costumed actors or artist's models, carefully posed and often theatrically lit. Throughout the duration of the display, the people shown do not speak or move. The approach thus marries the art forms of the stage with those of painting/photography. The phrase and the practice probably began in medieval liturgical dramas."
The Festival of Arts draws 250,000 visitors a year from across the country and world. The Festival — with its premier attraction, the Pageant of the Masters, shares it success by awarding millions of dollars over the years in the form of scholarships to art students and grants to art and cultural organizations, as well as hosting cultural events on the grounds throughout the year. For more information www.foapom.com
Heidi & I left amazed, dazed and happy.
The next day we stopped at the Laguna Art Museum and learned about the organization. I knew that a show of California Impressionist Paintings was to be at the Katonah Museum back in New York (reviewed by Raymond in the September Issue and still online at our website: www.arttimesjournal.com) and thought that perhaps they had loaned paintings for the exhibit —which they did not, but were pleased to hear about it. On view in the Museum were works from their permanent collection (a treat to see) and In the Land of Retinal Delights, The work of 150 artists. Paintings and sculptures tricked our eye, turned our heads around and generally intrigued us. The work was well done and I am sorry that it will not travel. Curated by Meg Linton and organized by the Laguna Art Museum, the show explores the idea of the "Juxtapoz Factor" and the possibility of a new art movement. The Museum has an extensive education and exhibition program. You can learn more about them and see some of the images from the current show at www.lagunaArtMuseum.org
Well, that's how I spent part of my summer vacation. Thanks to my friends for making my "working" playtime in California just perfect.