Culturally Speaking/ Road Trip: Los Angeles to Seattle
part 1
By Cornelia Seckel
ART TIMES Winter 2015
The kind of "newsy" things I've written about in this Culturally Speaking column can now be found on my blog as it will much more timely reporting on what's going on as I'm out and about. I'll also be including my thoughts about any number of things relevant to the practical side of being a Creative. I expect to have a new post every week. Facebook and Instagram are other ways to get some of the "newsy" things, so sign up to receive notices of
•blog posts (culturallyspeakingjournal.wordpress.com),
•sign into instagram (instagram.com/cornelia.seckel_art_times/)
•and follow ART TIMES on facebook (facebook.com/ArtTimesJournal).
For many years I've been thinking about going to LA to visit friends, to San Francisco to see my niece, and then on to Seattle to visit a dear family friend. How I would do this took several forms. Fly from one city to the next? Drive? On my last birthday I realized that my friend in Seattle was going to be 97 and WHAT WAS I WAITING FOR?
Heidi Robertson , my friend from elementary school (5th grade— we were 10) recently retired and she and I began our plan for the Road Trip. For several months we emailed and skyped exploring possibilities. This is what we came up with and it was one of the very best 2 weeks I've spent.
I flew into LA and was met by another childhood friend, Leta Lyons (I was 3 she was 2 and our parents remained friends all their lives). We spent the next day visiting and I had a chance to meet up with Norman Kolpas who has been writing for us (see the Summer '15 issue for his latest article). Norman is very involved with the Wolfgang Puck enterprises and I learned a lot about that and ended the day eating at Chinois in Santa Monica. In 1983, when the doors to Chinois opened, Wolfgang Puck created the first example of America's fusion cuisine with his menu of Asian dishes created with California's fresh, accessible products combined with French culinary techniques.
| | |
| --- | --- |
| | |
The next day I met up with Cary Greif, a woman who interned with us in 1989 when she was at Vassar College in Poughkeepsie, NY. We spent the day walking the Venice beach exploring who we were now, how things were then and I was heart-warmed to hear how impactful her time with us had been. It was Raymond's (Steiner my partner) support that she pursued her passion of writing. "If it wasn't for Ray I would never be writing today". That evening she and I joined Leta at the Mark Taper Forum where we saw the play Appropriate, a play that puts relationships and actions into question. The Mark Taper Forum is part of the Performing Arts Center of Los Angeles County which has four venues:Walt Disney Concert Hall designed by Frank Gehry (and is quite magnificent), Dorothy Chandler Pavilion, Ahmanson Theatre and Mark Taper Forum. The complex was reminiscent of Lincoln Center in NYC.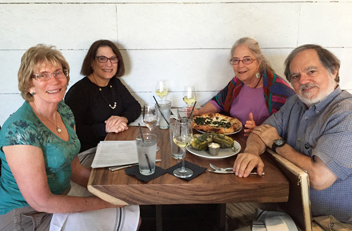 The following morning Leta and I drove to Malibu to meet up with Heidi, who lives just North of LA, and Sam Pryor, yet another friend from Jr. HS whom I hadn't seen in 50 years. We had a delightful lunch with a lot of good food, conversation and reminiscing. After lunch Heidi and I headed onto the Pacific Coast Highway on the first leg of our journey.
We spent the night with Heidi's friends the Vernons in Solvang (sunny field), a Danish Village of Solvang in the Santa Ynez Valley. This area has many vineyards producing very nice wine. Between 1850 and 1930, a considerable number of Danes left Denmark, because of the poor economic prospects and emigrated to the United States. Our time with the Vernons was delightful. They were generous hosts and our accommodations in their home quite luxurious.
Leaving Solvang we headed up the coast and to Pismo State Beach where we had our morning walk along the beach then for some clam chowder. In Pismo, formerly known for its clams before they were over-harvested, we stopped at the one and only gallery— The Seaside Gallery (theseasidegallery.com). They had a great variety of work. I particularly liked their small alcoves and viewing areas. The work was quite good and Sherie Burgher, VP of Gallery Operation, was very helpful and knowledgeable.
We had an excellent dinner at Centrally Grown Restaurant. The farm-to-table movement is embedded in this company whose motto is Less is More: "In everything we grow and harvest, in everything we package (or unpackage), in everything we source and build, we strive to do more good through less harm to our food, bodies and land".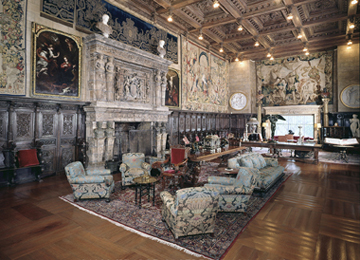 In Cambria we stayed at the Sea Otter Inn on Moonstone Beach near San Simeon and the Hearst's Castle. In 1865, George Hearst, purchased 40,000 acres of ranchland along the California Coast just south of Big Sur. In 1919, William Randolph Hearst, an American newspaper publisher who built the nation's largest newspaper chain inherited what had grown to more than 250,000 acres, and transformed it into a retreat he called La Cuesta Encantada—Spanish for "Enchanted Hill." By 1947, Hearst and architect Julia Morgan had created Hearst Castle: 165 rooms and 127 acres of gardens, terraces, pools and walkways—all built to house Hearst's specifications and to showcase his art collection. It is a living museum and his legendary superb European and Mediterranean art is visible throughout this historic California castle.
We had an excellent dinner at Centrally Grown Restaurant. The farm-to-table movement is embedded in this company whose motto is Less is More: "In everything we grow and harvest, in everything we package (or unpackage), in everything we source and build, we strive to do more good through less harm to our food, bodies and land".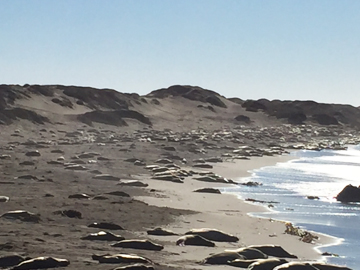 The next day: We were stopping very frequently to see the glorious scenes along the coast, traveling about 10 miles at most to the next gorgeous views. We stopped at Elephant Beach to see the Northern Elephant Seal, Mirounga angustirostris, an extraordinary marine mammal. It spends eight to ten months a year in the open ocean, diving 1000 to 5800 feet deep for periods of fifteen minutes to two hours, and migrating thousands of miles, twice a year, to its land-based rookery for birthing, breeding, molting and rest. While we were there we saw the juveniles and yearlings spending their month on the beach. It is a time when the "kid" seals are gaining experience with fasting, strengthening the muscle sets used on land which also promotes bone growth. We saw many of the juvenile males jousting with one another. The Piedras Blancas rookery, on Highway 101 seven miles north of San Simeon on the California Central Coast, is home to about 23,000 seals, never all there at the same time. Over the course of the year, along the 6-mile rookery, seals come and go: the males do battle for breeding rights, the females arrive and give birth to the pups, the breeding season commences, pups are weaned and head out to the ocean. If you want more information go to the website (elephantseal.org) where you can view the amazing e-sealcam and watch the activity in real time.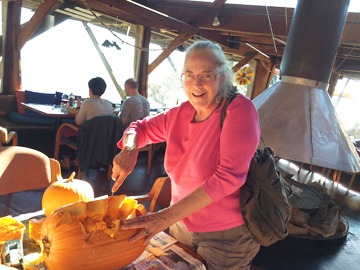 The drive up the coast had one gorgeous view after another — I think I've said this and surely will again!. We had Lunch in Big Sur at Nepenthe, a restaurant about 800 feet above the ocean that has fabulous views and was designed by a student of Frank Lloyd Wright. Food was excellent and we had the famous Ambrosia burger. I helped the wait staff with their pumpkin carving and they were quite appreciative.
We crossed the very beautiful Bixby Bridge, passed by Esslan where I had stopped about 40 years ago on a very different trip along the coast and then to Carmel, which had been quite an artist community. We walked around town and the many very substantial galleries along with fine restaurants, jewelry and clothing stores spoke of a much more monied place than I remember. We did stop at several of the galleries including the Classic Art Gallery featuring the gorgeous American landscapes by Michael Wheeler. There are well over 50 galleries with works ranging from marine, classic, modern, California Impressionism, sculpture, glass many other mediums. Coming up is The 23rd Annual Carmel Art Festival May 13 - 15, 2016. The website CarmelArtGalleries.com has extensive information about galleries and artists represented in Carmel. On their site they claim that they were the 1st online gallery guide and was created in 1999.
| | | |
| --- | --- | --- |
| | | |
After more beach walking and being mesmerized by the gorgeous coast we finally got to San Francisco and met up with Heidi's son Matt Miller and my niece Elliana Spiegel. Brunch is a big deal in San Francisco (as it is in Manhattan as well as other big cities) and we walked quite a bit up and down hills eventually getting to Alamo Square Park atop a hill with a gorgeous view of San Francisco and 4 painted Ladies –a grouping of beautifully painted Victorian homes. We went to an outdoor market, which I always enjoy, before finding an interesting restaurant to have our meal.
Our first day in San Francisco and we woke up to rain. We thought to go to the de Young Museum but as it was Monday it was closed as are most Museums. As we slowly began to pull it together and the rain eased off we decided to take a ferry ride and go to Sausalito.
While waiting for the ferry we found the Musée Mécanique (museemecaniquesf.com) at Pier 45 founded by Edward Galland Zelinsky (1922-2004) and now run by his son Dan. The museum has over 200 working coin-operated mechanical musical instruments and antique arcade machines from the 1800s through the present day video games. What an interesting place. Just put in the coin and you could get your tarot reading, palm read, watch puppets dance, and so much more. The monies accumulated from the machines go a long way in supporting the Museum.
The ferry ride took us past Alcatraz and then we had great views of the Golden Gate Bridge and the Oakland Bridge. On to Sausalito, a charming City with a huge marina, luxury shops, galleries and restaurants. There were sailboats in the water, the sun was shining and the Golden Gate Bridge right before us. We walked around, had an excellent lunch and met a delightful couple visiting from Taiwan before taking the ferry back to SF.
Then it was off to the Ferry Building to meet up with Ellie. The Ferry Building, located at the foot of Market Street, houses numerous food shops that offer artisan cheeses, meats, breads, coffee, oil and vinegar, candy/ fudge, local fish and more. There are restaurants and cafés serving a wide variety of foods. There are offices on the upper floors.
Opening in 1898, the Ferry Building became the transportation point for anyone arriving by train from the East. From the Gold Rush until the 1930s, arrival by ferryboat became the only way travelers and commuters—except those coming from the Peninsula—could reach the city. At its peak, as many as 50,000 people a day commuted by ferry.
In 1892, a bond issue to build a new Ferry Building was passed and a young architect named A. Page Brown drew up plans for a large, steel-framed building. Brown's foundation—which has supported the entire steel-framed structure held strong through two earthquakes (1906 and 1989), became the largest such foundation for a building over water anywhere in the world. The need and therefore use of ferries decreased with the opening of the Bay Bridge in 1936, and the Golden Gate Bridge in 1937 and by the 1950's, the Ferry Building was used very little. Today, after a major renovation, ferry terminals operate at Larkspur, Sausalito, Vallejo, and Alameda with plans for continuing network improvements and expansion. The Tower of the Ferry Building, a 245-foot tall clock tower with four clock dials, each 22 feet in diameter, can be seen from Market Street, a main thoroughfare of the city. The ferry Building was like Grand Central Station in many ways; a central point for commuters to get to their destination. Trains are still a critical part of the transportation system in NYC and I hope will remain so.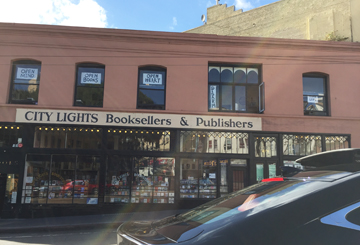 The next day we bid goodbye to Elliana and headed to the de Young Museum. Enroute in an Uber Car (my first experience and a very good one) we passed the City Lights Bookstore and Publishers (citylights.com). City Lights is a landmark independent bookstore and publisher that specializes in world literature, the arts, and progressive politics. We just didn't have time to go into the bookstore and from what I'm learning on their website, it would have been hard to leave in time to get to the museum.
Founded in 1953 by poet (and also painter) Lawrence Ferlinghetti and Peter D. Martin, City Lights is one of the few truly great independent bookstores in the United States, a place where booklovers from across the country and around the world go to browse, read, and soak in the atmosphere of the Beat's legacy of anti-authoritarian politics and insurgent thinking which continues to be a strong influence in the store.
This was the nation's first all-paperback bookstore. City Lights has expanded several times over the years and now offers three floors of both new-release hardcovers and quality paperbacks from all of the major publishing houses, along with an impressive range of titles from smaller, harder-to-find, specialty publishers. The store features an extensive and in-depth selection of poetry, fiction, translations, politics, history, philosophy, music, spirituality, and more.
The City Lights masthead says A Literary Meetingplace since 1953, and this concept includes publishing books as well as selling them. The bookstore has served for half-a-century as a meeting place for writers, artists, and intellectuals. In 1955, Ferlinghetti launched City Lights Publishers with the now-famous Pocket Poets Series; since then the press has gone on to publish a wide range of titles, both poetry and prose, fiction and nonfiction, international and local authors. It was with the Pocket Poets Series, that Ferlinghetti aimed to create an international, dissident ferment and his publication of Allen Ginsberg's Howl & Other Poems in 1956 led to his arrest on obscenity charges, and the trial that followed drew national attention to the San Francisco Renaissance and Beat movement writers. (He was overwhelmingly supported by prestigious literary and academic figures, and was acquitted.) This landmark First Amendment case established a legal precedent for the publication of controversial work with redeeming social importance. Today, City Lights has well over two hundred titles in print, with a dozen new titles being published each year. The press is known and respected for its commitment to innovative and progressive ideas, and its resistance to forces of conservatism and censorship.
Visiting this bookstore is surely on the top of my list for the next visit.
San Francisco's Fine Arts Museum, comprising the de Young Museum in Golden Gate Park and the Legion of Honor in Lincoln Park, is the largest public arts institution in the City of San Francisco and one of the largest art museums in the United State. The de Young Museum features over 1,000 paintings by American artists; collections from South America, Africa, and Oceanic countries; 13,000 pieces of textile art; and American and European photography. The de Young includes lower level galleries for special exhibitions; two floors of permanent exhibition galleries; and a 144-foot high tower with an observation deck.
When I asked what the museum was best known for, I was told its architecture, The Hudson River School/landscapes, the modern paintings and that much of the collection came from John D Rockefeller 3rd.
We were fortunate to be at the museum for a major exhibition that marked the centennial of the Panama-Pacific International Exposition (PPIE), the San Francisco World's Fair that celebrated the opening of the Panama Canal and the city's reconstruction following the great earthquake of 1906. The grand exposition covered 76 city blocks and boasted national and international pavilions showcasing innovation, industry, and the arts.
At the heart of the PPIE was one of the most ambitious art exhibitions ever presented in the United States, encompassing more than 11,000 paintings, sculptures, prints, and photographs, in addition to a significant array of public murals and monuments. Jewel City: Art from San Francisco's Panama-Pacific International Exposition is on view until January 10, 2016. The show was reminiscent of the Armory Show held at the New York Historical Society 2 years ago (Oct 2013-Feb 2014).
There are many other museums and of course performing arts centers, galleries and theaters throughout San Francisco but we were there for just 2 days. One of the things we had hoped to get to was the Asian Art Museum and see the exhibition Looking East: How Japan Inspired Monet, Van Gogh, and Other Western Artists thru Feb 7, 2016. Oh well…