Culturally Speaking
By Cornelia Seckel
ART TIMES Summer 2015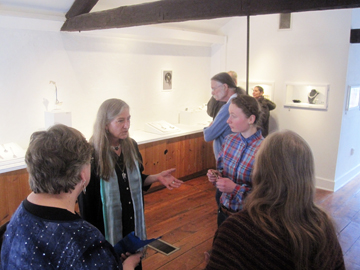 I've known about Peters Valley since 1991 when they first advertised with us for their Annual Peters Valley Craft Show. This event draws craftspeople to participate from across the country and visitors from across the Northeast. A new friend of mine Raychel Wengenroth (raychelwengenroth.com) has been teaching at Peters Valley as well as privately and at other schools and facilities for the past 27 years and it was a pleasure to go with her to the exhibition of her fine silver work, "The Spark That Still Ignites". The show was a retrospective of her earliest work as a student of Kurt Matzdorf at SUNY New Paltz and included much of her more recent works of jewelry, tableware functional and decorative silver work. There is a store filled with the work of craftspeople who have been connected to Peters Valley and nearly 40 years ago this is where Raychel's life's work as a silversmith began with a birthday gift of a silver bracelet given to her by her parents who had a summer home in the area. The following year Raychel asked to take a workshop and the rest is history. Raychel's work is exquisite, her craftsmanship flawless with much of her work functional. Many people attending the opening knew her while much of this work was made. The opening was not only a retrospective of her work but of her personal and professional relationships over the past 40 years. Peters Valley School of Craft (petersvalley.org), founded in 1970 in partnership with the National Park Service to promote and encourage education and excellence in craft, is located in the Delaware Water Gap National Recreation Area. Facilities include dorms, dining hall, studios (30 buildings in all) and are surrounded by fields, forests and streams of the Delaware Water Gap National Recreation Area. Dutchman Peter Van Nest, the 1st Sandyston Surveyor of Highways settled there around 1767 therefore Peters Valley. The buildings of the town were abandoned around 1950 and through adaptive reuse, these buildings now serve as a thriving community of artists and environmentalists, thinkers and changers of the world. Peters Valley's programs include adult summer workshops, youth programs, opportunities for artists, special studio programs, public exhibitions, demonstrations, and outreach. Peters Valley maintains studios in 8 disciplines: Blacksmithing, Ceramics, Fiber Surface Design, Fiber Structure, Fine Metals, Photography, Special Topics and Woodworking and between May and September they offer over 125 intensive 2-5 day workshops. Today Peters Valley is an internationally renowned center of Fine Craft. Coming up on September 26 & 27 is the 45th Annual Fine Craft Fair at the Sussex County Fairgrounds and features 150 exhibiting artists from across the country, demonstrations, live music and more.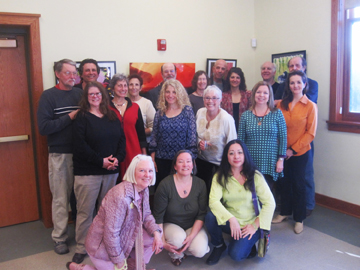 There have been and will be numerous open studio events not only throughout our region but across the country as well. This is a fine opportunity to see the work, visit the studios and purchase some art from a vast number of artists. It's always a fun weekend whether in Gardner, Peekskill, Saugerties, Margaretville/Andes/ Roxbury, NW CT, Warwick, Woodstock, Cold Spring, NE Dutchess County, Garnerville, New Rochelle, Port Chester, Glens Falls, Brooklyn, Pawling, Manhattan, Yonkers, Beacon, South Newfane, VT and other numerous other communities throughout our region and across the country, some having as few as a dozen others over 600 artists' studios on the tour. There is usually a reception and group exhibition of participating artists. This is a great way to decide what studios you want to visit, pick up a map and make a plan. The Studio Tours bring you into the working space of artists and there you can really get to know the artist and their art. Check out the ART TIMES calendar and your local newspapers for studio tours near and far.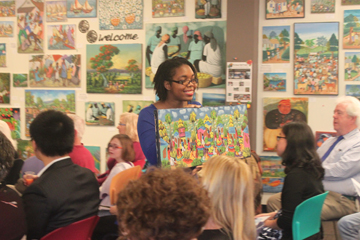 Andrew Meade, Assistant Dean of the College for Campus Life and Director of International Services at Vassar College in Poughkeepsie, NY is the coordinator for The Vassar Haitian Project. This year marked the 14th Annual auction and sale. The live auction, with hundreds of students, parents, and members of the community participating, featured 32 pieces of Haitian art, and raised about $6,000. The remaining 300+ paintings, iron sculpture, silk scarves, and thousands of handcrafted items brought in an additional $39,000. The auctioneer, Christine Tyson, a family friend of Andrew, flew in from Austin, TX just for the event. A team of 50 volunteers set up and ran the weekend's activities. Most of the volunteers are students, many of whom hold leadership roles within Vassar Haiti Project. This community event is quite a successful friends, family, and students affair with the important outcome of helping to support Haitian artists.
I had the pleasure to go to the Culinary Institute of America for a delightful meal and to their fairly new theaterMarriott Pavilion for a production of The Fantasticks directed by Michael Schiralli. Founded in 2006,Half Moon Theatre is a year-round professional theatre company that includes a resident company of professional actors, a Writer's Group, and a School of the Arts.
The first time I saw The Fantasticks (Music by Harvey Schmidt with book and lyrics by Tom Jones) was in the late 60's at the Sullivan Street Playhouse in Greenwich Village, NYC. This very small theater with 153 seats may have somewhat accounted for the long run (42 years and 17,162 performances) but truly the huge success of the play was how it spoke to the human condition and left the audience filled with compassion. It is a sweet play of love, human frailties, young love, parental concern and manipulation, comic relief with a dark turn and then redemption, forgiveness and a very happy ending. The music is delightful and Try to Remember, Soon It's Gonna Rain, They Were You— absolute classics. People went to see it for the story and the music and went again and then brought their children and grandchildren each time leaving the theater happy and renewed.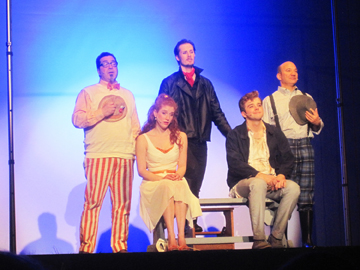 This particular production by Half Moon Theater was quite excellent. I particularly enjoyed the comic performance byRoger Hendricks Simon (Henry) and the interplay and strong energy between the two fathers Paul Kassel andDavid Simpatico. The rest of the cast, Deborah Coconis, Michael Padgett, Emily Wexler, Andrew J. Martin and Wayne Pyle had fine voices and acting skills. The musicians were Nick DeGregorio and Joy Plaisted.
It was thought that Off Broadway's longest running musical would close early this May but Producers of The Fantasticks, Catherine Russell and Al Parinello announced that two donors (longtime fans of the show who have asked to remain anonymous) stepped in and pledged to keep the production running, thus making what would have been the 55th Anniversary Celebration of the opening of the show in 1960 – not a farewell but renewal. The Fantasticks is currently at the The Snapple Theater Center, an off-Broadway complex in the heart of Times Square, NYC.
Coming up next for Half Moon Theater is the 5th Annual 10-Minute Play Festival. All You Can Eat is set in local eateries and hot spots in the Hudson Valley. Ten nationally recognized playwrights were chosen and given guidelines for their site specific plays which was the theme (all you can eat), and one common element to include in their plays was a chef's hat, or toque. The results, according to Director Michael Schiralli, have been "love letters to the Hudson Valley and a foodie smorgasbord of delights". Half Moon Theatre's company of professional actors and invited artists will participate in this staged reading which will run June 12 & 13. Several of the restaurants at The Culinary Institute of America will prepare meals paired to the Play Festival but make your reservations soon. Contact halfmoontheatre.org for tickets and for information about their upcoming season.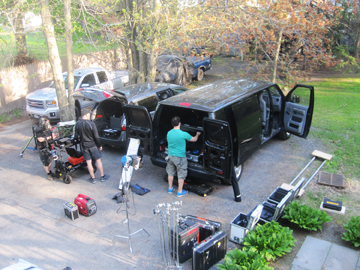 I got a call from a friend who has a friend that is a producer at abc who was looking for someone to play a role in an upcoming re-enactment show by the same people who did Boston Med and NY Med. It was an interesting experience but took way too long. I got to the location, not too far from my home, at 5:30 and didn't leave till after 1:30am. I did feel like a prop and in fact that is what we (the re-enactment actors) were. Not a feeling I liked but was ok with it for this time. It will be aired on abc either this Summer or the Fall. Not a show I'd watch and in fact not a fan of the idea of TV sensationalism but an interesting and learning experience.
That's it for now, check out arttimesjournal.com for new essays, videos, calendar and opportunity listings as we are updating the site regularly. Also, follow and like the arttimes facebook page (facebook.com/ArtTimesJournal) and follow our tweets (twitter.com/ARTTIMESjournal).