Culturally Speaking
By Cornelia Seckel
ART TIMES Summer 2014
We were so sorry to hear about the passing of Francine L. Trevens, one of our dance writers who had been with us for the past 10 years. Francine was a theater/dance critic, theatrical press agent, stage director, freelance writer, poet and short story writer, co-founder of the Greater New York Independent Publishers Association (GNYIPA) I had the pleasure to interact with her via phone, email and an evening on the town. She was kind, considerate and absolutely a professional in all aspects of her work. Her last contribution to ART TIMES was a year ago in the Summer 2013 issue where she wrote about extraordinary talents in Dance's future. You can read the essays Francine contributed to ART TIMES at: arttimesjournal.com/dance/dancearchive.htm
Her memory is a blessing and I an honored to have known her and published 54 of her fine essays about dance.
It has been a busy time for Raymond this past Spring. He had a very well-received exhibition at the Schoolhouse Theater Gallery, Croton Falls, NY. There is a short video of the work in the exhibit at www.youtu.be/hvs9XpTdCcE. In the exhibition invitation the gallery wrote: "For many years Raymond J. Steiner has cultivated his love of nature with canvases expressing its magic and his philosophical quest." The Schoolhouse Gallery said that they were privileged to exhibit these paintings. Opening on June 7th (thru July) Raymond will be participating along with Patrick D. Milbourn and William P. Duffy in a show "Deeply Rooted: Expressions of Three Artists" at the M Gallery 350 Main Street in Catskill, NY (www.mgallery-online.com). The opening reception will be June 7th from 6-8pm. According to the Gallery, the show will focus on the interpretive process and individual expression that becomes a work of art. William P. Duffy is both a painter and a marine painter. He is a grandmaster of the elements of painting using the authenticity of different effects of light and atmosphere and deft, expressive brushwork. Patrick Milbourn's sense of moodiness is felt by his expression of coloration and muted sensibilities. He coaxes his subjects – whether figures or landscapes – only to that point where he feels they are "complete". Raymond J. Steiner composes his landscapes alla prima – wet on wet – to capture a spontaneous impression. He wields a palette knife for most of his work, allowing a strong sense of physical interaction with the paint. Raymond is pleased to be showing with such fine painters as Patrick and William.
In August, Raymond will again take part in the Saugerties Art Tour on August 8, 9 & 10. A map of the open studios can be found at www.saugertiesarttour.com. Come and spend a delightful time in the Hudson Valley with excellent artists.
I was pleased to be asked by Lifespring, an adult learning community that offers a broad range of noncredit educational activities for retired, semi-retired and other adult participants, to speak about how ART TIMES began. I brought our very first issue, the mock up of what I thought the paper would look like and lots of stories of how we began. You can read about our beginnings online. I was happy to share this story with the group and they reported that they appreciated my talk.
National Association of Women Artists, Inc. (N.A. W.A.) held their 125th year celebratory luncheon with guest speaker Gail Levin at the Manhattan Penthouse in NYC. N.A.W.A. has been empowering, promoting, supporting and encouraging women artists, since 1889. It is the oldest women's fine art organization in the country, a vibrant community of professional women artists that strives to support its members and women artists at large through exhibitions, programs and education. I am very pleased to be an honorary VP and board member. I think the work they do and have done is important — women artists form a community that supports and helps one another in a field that has gotten short shrift compared to male artists. The history of the organization as noted on N.A.W.A.' s website (thenawa.org) says "…is a testament to the strength and resilience of a group of strong women who would not accept being shut out of the art salons, galleries and art exhibitions open to male artists during the 19th century. In 1889 their founding of the organization that subsequently became the National Association of Women Artists, Inc. proves that, despite adversity and discrimination – which many feel extends to this day — women are an integral and valuable part of the arts community."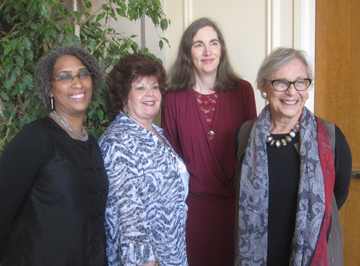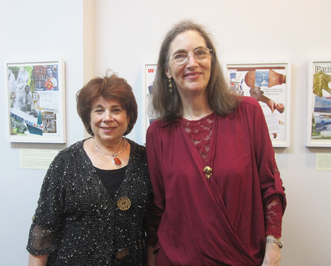 (l to r) Susan Phillips (Chair of NA.W.A. Gallery) and Gail Levin (Guest Speaker)
at Gail's exhibit at the NA.W.A. gallery, NYC.

Susan G. Hammond, Executive Director, greeted us and introduced outgoing President Sonia Stark who gave a roundup of the year report before introducing the incoming President Marie Hines Cowan. Lunch was served and Gail Levin, honored guest, was introduced. After thanking N.A.W.A for being such a wonderful organization she spoke about her artwork. Gail is Distinguished Professor of Art History, American Studies, and Women's Studies at the Graduate Center and Baruch College of the City University of New York. She continues to teach, lecture and write (we published a number of essays, critiques and reviews in the early issues of ART TIMES). Gail is also a photographer and has been working on a series of collages called "On NOT Becoming an Artist: A Retro' Spective." Gail is best known as the biographer of Lee Krasner,Judy Chicago and Edward (& Jo) Hopper. Most recently she edited Theresa Bernstein: A Century in Art (University of Nebraska Press) and includes thematic essays by Gail and others. During her talk at the luncheon, Gail spoke about her collages which are of different stages in her life: family, school, travel, artists she met, etc. She said that it takes great courage to be an artist. Gail is an excellent speaker — although thwarted with laryngitis, she spoke humbly about her work and accomplishments. She seems to focus mostly on women artist whose stories she feels are important to relay. After the luncheon there was an opening reception for her exhibition in the N.A.W.A. gallery at 80 Fifth Avenue. Each of the collages has commentary about the collage. One day, she hopes, it will become a book. There will be a video of Gail's show on the arttimes YouTube channel.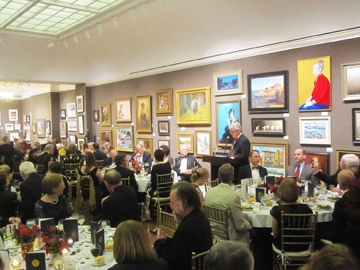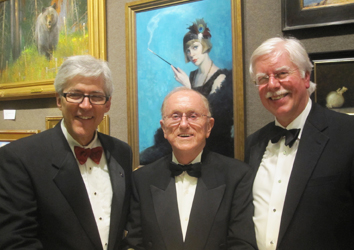 The Salmagundi Club originated in 1871 as a sketch class in Johnathan Scott Hartley's studio and purchased the mid-nineteenth century brownstone house at 47 Fifth Avenue in 1917 as its second home. After several years of careful planning and collaboration with members, architect, and design team, in mid-June, 2013, the Salmagundi Club began the long awaited and needed structural upgrade and renovation of the Grand Gallery. (The lower gallery is next in line for renovation). These improvements include entirely new physical surroundings (floor, walls, and HVAC system), new lighting, and a state-of-the-art hanging system. Spearheaded by architect Lisa Easton of Easton Associates, the work was completed for the hanging of the American Watercolor Show and the President's Dinner. The contractor was Preserv Building Restoration; the heating system gifted by the Manton Foundation. The project budget was approximately 1.5M. Fundraising, successfully initiated by the American Masters Exhibition, continued with major gifts from the Manton Foundation and Salmagundian Sylvia Maria Glesmann and a matching grant from the New York State Dormitory Authority. I was at the Presidents' Dinner and members and guests, seeing the gallery for the first time, were rightfully impressed. The gallery is elegant and user friendly. Grey carpeting on the walls allows for nail holes to easily disappear. The lighting system is a dream forr artists who want their work to be well lit. Tim Newton, Chairman of the Board, spoke about the renovations. He first remarked that we were there to celebrate Art and as heirs of the founders of the Club we are all the beneficiaries. Tim acknowledged Lisa Easton for her tireless work as the architect, saying that he hardly recognized her all dressed up for the dinner since during the renovations she showed up with baseball cap and jeans. Lisa said that she was honored to be part of the project. This is an artists' club and the camaraderie and support for one another is very apparent. I was so pleased to see artists that I've known over our 30+ years of publishing and saw that the age-old tradition of having artists sign the program was still in place. The Honoree John Stobart was introduced byDon Demers, a marine artist and VP of Plein Air Painters of America. The award was presented by Robert W, Pillsbury, President of the Club. John said that he was quite overwhelmed and humbled. He could not have gotten to this point without help and that fate kept putting him in the right spot at the right time. His marine paintings are just wonderful; one can feel the wind and smell the ocean. He said that the "culture of art is at stake, it is important to restore painting from nature which is the essence of painting". In July 28-Aug 8 the annual open Non-member Painting & Sculpture Show will be presented. Several organizations are having their annual shows at the Salmagundi: Catharine Lorillard Wolfe Art Club members' show thru June 6; National Society of Painters in Casein & Acrylic from June 9-20 and the COGAP (Coast Guard Art Program) from June 22-July 5. Take a look at the ART TIMES calendar for their summer schedule or go to www.salmagundi.org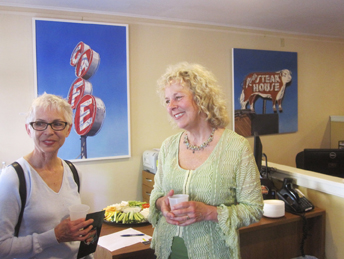 Wired Gallery (wiredgallery.com) is at their new location 11 Mohonk Rd, High Falls, NY. The gallery's 8th group show was of 12 foreign-born artists from 10 countries who now live and work in the Hudson Valley. Each artist had several pieces included in the show that will run through July 13. The gallery has an excellent following and several hundred people came thru exploring the different rooms filled with artwork. Nearby and presented by Wired Gallery was a show of Mary Anne Erickson's roadside culture. Her large and well-done paintings are nostalgia for the 50's: a car, gas station, fast food places, motel signs. Mary Anne has been traveling and documenting this rapidly disappearing imagery of Americana.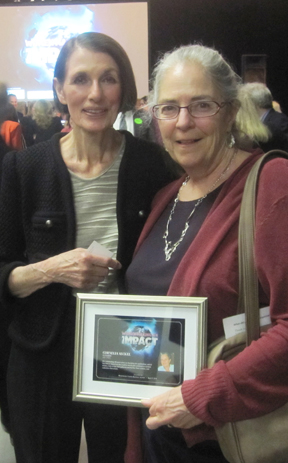 I was one of the "Reader's Choice" honorees at the first annual Women Making an Impact Awards event sponsored by the Westchester County Business Journal. On Thursday, April 3rd the honorees and hundreds of their supporters met and after "bites and spirits" during which time one could meet and network, the program began. Dee DelBello, chief executive officer and owner of Westfair Communications Inc. (Westfair), a publishing firm headquartered in White Plains, NY and publisher of the company's publications Westchester County Business Journal, Fairfield County Business Journal, HV Biz and WAG magazine, opened the program with a welcome and then introduced keynote speaker Nancy Armstrong, the producer of the award-winning website and documentary series, MAKERS- Women Who Make America (www.makers.com). In accepting the award, I spoke about the decision I made last year that most impacted my business: "Last year I adjusted our printing schedule so that we would be printing quarterly and publishing online monthly. The challenge has been and continues to be to bring attention to our website and to attract advertisers, our only means of support, for arttimesjournal.com. Therefore: not only do I attend a webmasters users group each month, I have a tutor to help me with my website, a tutor for social media, I attend a digital meet-up group, a mac users group and read posts by social media experts." I ended my remarks by saying: "Life and work just keep getting more complex and challenging. Frankly I wouldn't have it any other way." Holly DeBartolo, Events Manager for WestFair, said "We are pleased to have the opportunity to recognize such inspirational women and their passionate commitment to work and community".
I've just learned from Justin Kolb, chairman of the "Phoenicia International Festival of the Voice" (www.phoeniciavoicefest.org and coming up July 30 – Aug 3) about The Catskill Academy of Performing Arts, the latest program of the Phoenicia Festival of The Voice Foundation. It represents the educational department of the Phoenicia Festival of The Voice Foundation. Imagination, flexibility, passion, and critical thinking skills are all essential musicians' tools, and they're also what musical training, delivered with care and empathy, can develop in the individual. Their goal at CAPA is to impart all of this in order to help students find their way to the joy of a Carnegie Hall experience—if not as skilled performers, then certainly as fulfilled listeners. Either way, the result should be the special enjoyment and fellowship that music can bring. For those CAPA artists pursuing a professional career, they offer special training in the business of making music. It's a tough business, and to succeed in it, today's performing artist needs an understanding of entrepreneurism and of the need for community engagement and self-promotion. Phoenicia International Festival of the Voice has been one of the highlights of the summer in the Region. This year they have added a 5th day in celebration of the 5th year and the theme is Celebrating Spain. There will be 23 events in 7 venues over 5 days. Beginning the festival is the opening gala Flamenco "El amor Brujo" by Manuel De Falla with full orchestra under the baton of Elizabeth Scott, soloist, Flamenco dancers and musicians. Workshops, concerts, plays, lectures, fill out the rest of the festival with the "The Barber of Seville" (opera buffa in 2 acts by G. Rossini) — referred to as the centerpiece of the festival— performed on Saturday night. The gorgeous festival tents insure a comfortable experience rain or shine. Tickets are very reasonable and available at www.phoeniciavoicefest.org/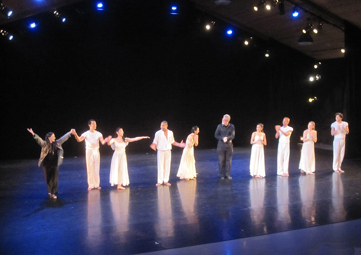 Buglisi Dance Theatre (www.buglisi-foreman.org) performed at Kaatsbaan and what an exciting evening it was. Jacqulyn Buglisi, artistic director, dancer and choreographer has been a supporter of Kaatsbaan since the founding in 1990 and performed at the galas to raise money to proceed with the project. Kaatsbaan is a permanent international dance center dedicated to the growth, advancement and preservation of professional dance. Kaatsbaan provides a creative residence for dance-related artists from all disciplines and ethnic backgrounds. The Residency Program is designed to provide a productive and creative working environment for national and international dance companies, choreographers, dancers, composers, dance photographers, journalists, historians and scenic and costume designers. Emerging, mid-career and established dance companies and professionals apply or are invited to be in residence at the center for a weekend to a month. Housing and studios are provided on site. Coming up at Kaatsbaan isBallet Next on June 7 & 8; New York Theatre Ballet on June 21 & 22 and the Extreme Ballet Showcases July 12, August 2 & 23. www.kaatsbaan.org
Art in Residence is an innovative gallery space devoted to showcasing works by established and emerging artists in a friendly, accessible environment. Art shows will be presented monthly in the home of Rosemary and Robert Rau, 12 Lake Road in Newtown, CT. The couple, with a lifelong appreciation of art and backgrounds in design and business, is realizing a dream by creating an atmosphere where art can be viewed in comfort. Shows will feature works in all mediums (oil, acrylic, watercolor, pastel, mixed media, and sculpture) representing a variety of schools including Realism, Abstract, Modern and Impressionism. By foregoing the traditional gallery white walls and institutional lighting, visitors will be better able to imagine the art in their own homes or business settings. Thus the creation of Art in Residence. The Raus are planning to host informal socials such as teas or Sunday Suppers in order to provide a congenial place for artists and art lovers to meet. Additionally, they will offer in-home or office consultations through the use of what they call a Traveling iPad Portfolio.