Culturally Speaking
By Cornelia Seckel
ART TIMES Spring 2015
I went to Annapolis to visit my sister-in-law Rosemary and had a great tour of many of the galleries, the Naval Academy and several restaurants and shops.
In 1649, a settlement in the Province of Maryland named "Providence" was founded in the area of what is now Annapolis and incorporated as a city in 1708. It was little more than a small village but grew rapidly for most of the 18th century until the American Revolutionary War as a political and administrative capital, a port of entry, and a major center of the Atlantic slave trade. Additionally water trades such as oyster-packing, boatbuilding and sail making became the city's chief industries. For a very brief time, 1783 - 1784, Annapolis became the temporary capital of the United States.
Nieces, Barbara and Anne, both residents of Annapolis gave Diane (also a niece who accompanied me from NY) an excellent tour. We only had an afternoon but we sure fit a lot in. First to the old section of Annapolis with brick roads and sidewalks and many
18th-century houses and street names: King George's, Prince George's, Hanover, and Duke of Gloucester, etc., date from colonial days. At the marina is a The Kunta Kinte-Alex Haley Memorial, which sits next to the Market House, a former slave market, and is located at the head of the City Dock. Visited by some one million people a year, it is the only monument of its kind in the United States that commemorates the actual name and place of arrival of an enslaved African. There is a row of granite-framed markers along the City Seawall with ten sculpted bronze plaques. Each plaque shares a message designed to encourage reconciliation and healing from a legacy of slavery, ethic hatred, and oppression.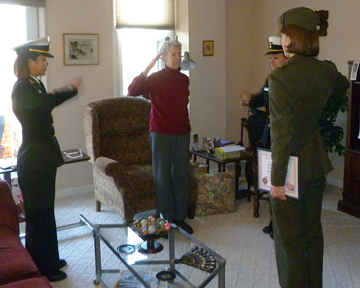 High on our list to visit was the United States Naval Academy (also known as USNA, Annapolis, or Navy), a four-year coeducational federal service academy that is the second oldest of the United States' five service academies and educates officers for commissioning into the United States Navy and United States Marine Corps. The other service are: USMA in West Point NY (1802), USCGA in New London CT (1876) USMMA in Kings Point, NY (1943) and the USAF in Colorado Springs, Colorado (1954). While there I couldn't name all 5 but as it turns out I've been to all of them! We had a tour of the Visitors Center and I watched a very moving and informative film (to be on the Academy's YouTube channel sometime soon) about the Academy showing the life of a midshipman from their 1st days through their graduation. A delightful retired Naval officer who volunteers at the visitors center told me that Marines continue their training/ education for 16 weeks of "eating bugs, roots and learning the art of warfare." I learned that it was in 1976 (131 years after the founding in 1845) that Women were accepted and now 23% of the midshipmen are women. 17,000 people apply and only 1200 are chosen and of the 1200, 10% can't handle the physical and intellectual demands and leave after a few months.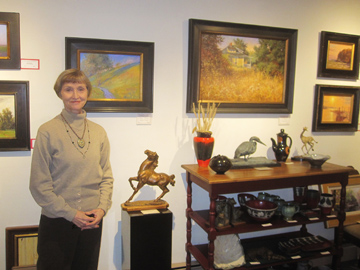 We went into a number of shops and galleries and what a surprise to see work by Leonard Weber at the Annapolis Marine Art Gallery (annapolismarineart.com). Weber has been painting cities, town, villages, and historic sites for over 22 years. In 1993 he was made an honorary citizen of the State of Maryland and this gallery has an excellent townscape of Annapolis. In 1993 Raymond J. Steiner wrote about Weber's show at the Spencertown Academy in Spencertown NY. I'm thrilled to have a cityscape he did of Stockbridge. Another familiar name at this gallery was Al Barker, a long-time artist member of theSalmagundi Club, NYC whose work I've been enjoying for many years. John Stobart, the recipient of the 2014 Salmagundi Art Club Medal of Honor is represented in several of the galleries and I wrote of that in the Summer 2014 issue of ART TIMES. It's like seeing an old friend when I come across such familiar artists so far from home. Although, (given that this is Annapolis and a seaport) a lot of Marine art is seen on gallery walls, there is a good showing of other styles and mediums. Chris Doucette of Nautical North (nnchart.com), a shop with charts, maps, stadiums and waterways all made with inlaid wood was very interesting. There is a video on their site showing the process and I agree with Chris when he calls the work not fine art but artful. Margaret A. Lee, Artist/ Owner of the Main Street Gallery (mainstreetfineart.com) recently had a 6x6 show of invited artists and some of that work was still on display. The gallery was filled with high quality work and Margaret filled me in on the arts community, the Arts Walk, the Arts Alliance and Maryland Art Federation. She urged me to stop at the McBride Gallery (mcbridegallery.com) and meet Cynthia McBride who has owned and run galleries since 1978 including this current one in Annapolis and the Benfield Gallery in Saverna Park . It was a delight to spend time with Cynthia, her art knowledge is vast and we chatted about many nationally known artists I know and she represented over the years. Cynthia manages the Art Walk sponsored by the Annapolis Gallery Association and in 1997 she was selected as one of Maryland's top 100 Women. She organizes a plein air event- Paint Annapolis- each year sponsored by the Maryland Federation of Art (mdfedart.com) and this past Fall she presented a show of "100 Plein Air Painters of the Mid Atlantic" and published a book signed by each of the participating artists. McBride is a very comfortable gallery with 8 rooms filled with mostly realistic work— paintings and sculpture. Cynthia is always looking at new work from mid-career and younger artists although her walls are filled. When I asked why she felt she was so successful her answer was that she is focused on giving the artist and her collectors what they need.
Unfortunately our time ran out and we didn't get to visit St John's College established in 1696 and a school that remains focused on classics. Students refine their ability to think, write, and speak across all disciplines. Sounds like what an education should be!
This historic and very interesting city has a wealth of culture and, of course, many boating, music and sporting events.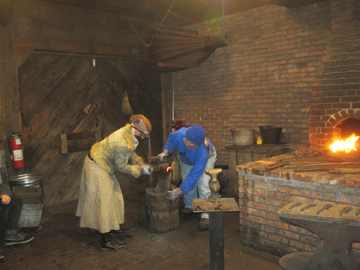 In the ART TIMES February online issue I wrote about the Winter Hoot at the Ashokan Center (ashokancenter.org) but wanted to take additional space to write about this Hudson Valley treasure. In the early '80s Molly Mason & Jay Unger started offering Ashokan Fiddle & Dance Camps, which has become a world-renowned destination for enthusiasts of American music and dance traditions. Located in Olivebridge, NY on 374 acres of Catskill forest, streams and farmland in 1967 The Ashokan Center, was the first environmental and outdoor education program in New York State and run by the State University at New Paltz, NY. SUNY put the center up for sale, and in 2008, an historic and forward-looking partnership was established between the Open Space Institute, NYC Department of Environmental Protection and the Ashokan Foundation that transferred the Ashokan Field Campus, its programs and its facilities, from SUNY New Paltz to the Ashokan Foundation, a New York State 501 (c) 3 not-for-profit. As part of this transaction, the Ashokan Foundation launched an effort to replace the creekside campus buildings with new sustainably designed facilities. This $7.25 million endeavor concluded in late 2012 with the opening of a 200-seat performance hall, classroom spaces, dining room for 200 people and semi-private and shared residential lodges for 150 guests.
The majority of the funding came from Jay Unger and was a direct benefit from his song Ashokan Farewell written after one of the Ashokan Fiddle & Dance Camps had come to an end for the season. 1983, Jay & Molly's band,Fiddle Fever recorded the song and filmmaker Ken Burns heard the album in 1984 and was immediately taken by Ashokan Farewell. Burns soon asked to use it in his PBS series The Civil War. The rest is history. At the Winter Hoot, I understand all the concerts at the Center, Jay & Molly perform Ashokan Farewell acknowledging that it was Center that gave the inspiration for the music and, in fact, saved the Center.
The Center's mission is to teach, inspire and build community through shared experiences in nature, history, and the arts. 18th and 19th Century buildings and working craft shops: Winchell's Inn (c. 1780), the 1817 Schoolhouse, the Ashokan Barn and Barnyard, Blacksmith Shop, Print Shop, Pewter Shop, and Tin & Broom shops create the Ashokan Village where thousands of children, teens and adults come year-round for a variety of educational programs. There are School programs, summer music and dance camps and restoration projects. Coming up is the Maple Fest on March 7, Scottish Fiddle & Cello Camp on May 1-3; Swing and Shine, a dinner dance on May 16 that supports the Ashokan Scholarship Fund and the renovation and preservation of one of the Woodstock School of Arts' historic working studios; and the Uke Fest from May 22-25. Coming up in the summer is the 3rd annual Summer Hoot from Aug 21-23.
What a treasure. The Ashokan Center is available for weddings, conferences, outings and volunteer opportunities.
That's it for this round up. See you as I get out and about when the snow melts.