Culturally Speaking
By Cornelia Seckel
ART TIMES Spring 2014
It has been a full year of our printing quarterly and online monthly. We are appreciative of the support as we made the change and one of the very positive things is that ads can be put online at any time. For example many artists and business rarely have "it together" to submit publicity or an ad 2-3 months prior to their event. I am pleased to be able to accommodate them with our inexpensive banner ads online. Speaking of online, we have been working at getting an easier navigation system on arttimesjournal.com. I do hope by the time you are reading this that the final touches will have been made. Each month the site will have new calendar & opportunity listings as well as new essays and videos. Help us to be more visible in cyberspace by visiting arttimesjournal.com, telling your friends about arttimesonline and by following us on YouTube, Twitter and Facebook.
Some news closer to home: Raymond Steiner, editor and co-founder of ART TIMES, was asked to lend some of his paintings for the set of the film I Dream Too Much currently being filmed (Richard Linklater, Executive Producer) in Saugerties, NY. A recent note form set designer James Boxer: "Ray's paintings looked amazing on set!! They really were such a wonderful addition and made a world of difference. We will keep you informed about the film when production is complete."
Additional exciting news: Lee Pope of Schoolhouse Theater and Gallery in Croton, NY asked if Raymond would have a showing of his paintings in their gallery from March 13 through April 20. The reception will be on March 29 from 3-5. Theater & Gallery are at 3 Owens Road Croton Falls, NY. Lee expects to take close to 30 of Ray's paintings for the exhibit titled Revealing Nature. I hope you can join us for this exciting reception and get a chance to see the play that will be running (March 13-April 6) at the Schoolhouse Theater- The Seafarer by Conor McPherson. Influenced by Celtic folklore and set on Christmas Eve in a coastal town north of Dublin, it is a bold, magical tale of hope and despair. McPherson's sparkling, witty dialogue and brilliant creation of four raffish hard drinking Irishmen enters Faustian territory when they play a game of poker for the highest possible stakes with an uninvited mysterious guest. Lee said that she believes that the quality of Ray's paintings will soothe their audiences.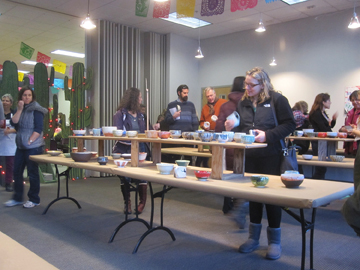 The 17th Annual Chili Bowl Fiesta, a fundraising event for the Clay program for the Women's Studio Workshop is always excellent and lots of fun. This year nearly 850 bowls were available for sale (made by over 50 volunteers with 1/2 sold in little more than the first hour). Ruth McKinney Burket heads up the Ceramics program and she was filling me in on how those 850 bowls are made. Some are made during Community Bowl Days with members of the community coming to the WSW to make and paint bowls, others are made by interns, ceramic students at SUNY New Paltz, and the weekly Throwing Night, when Chili Bowl volunteers, interns, former interns, and friends gather in the studio to build, throw and glaze. During the Fiesta great dancing music by Dogs on Fleas filled the Rosendale Recreation Center and over 800 people of all ages (and lots of children) bought bowls, which included a choice of donated chili from over 20 restaurants. It is a great way to spend a mid-winter day, a wonderful community event and terrific fundraiser for this a visual arts organization with specialized studios in printmaking, hand papermaking, ceramics, letterpress printing, photography, and book arts. Artists are invited to work at WSW as a part of their Fellowship Program,Artists' Books Grants, Residencies, Internships, or to learn new skills in the Summer Arts Institute and community workshop series.
While I was in Rosendale, where the Chili Bowl Fiesta was held I went to Roos Arts owned and run by Heig Kim. They were featuring ceramics from the Women's Studio Workshop. This delightful gallery with tin covered ceilings hold exhibition every few months. They also have a shop with local artisans' work. Take a look at roosarts.com
Sylvia Weinberg has her oil paintings at Mezzaluna Latin Bistro and Gallery and the work will be on view through April. Sylvia has been known for her exquisite floral watercolors and she has moved into a new medium and genre. Her oil landscapes show a mood and depth that I don't think one often gets with watercolor. She is subtle with her grays and we see details that would be lost without careful viewing. The opening, on a very wintery day, was lively with many friends of Mezzaluna and Sylvia joining in to celebrate this new direction and this excellent artist.
I came across this organization and find myself very impressed with the success and scope of their achievements. Much of the following comes from their publicity: Creative Capital was born in 1999, under the leadership of Ruby Lerner, embarking on a mission to reinvent cultural philanthropy and to support innovative artists pursuing adventurous projects in all disciplines. Creative Capital began as an experiment to see how artists could benefit from the kind of opportunities afforded to entrepreneurs in other sectors. This pioneering system of supporting artists is inspired by the venture capital principles of building a long-term relationship with a project, providing funding at strategic moments, and surrounding the project with critical resources, counsel and advisory services. The open application process attracts a range of diverse artistic visions and practices, and their 529 grantees create exceptional projects that challenge cultural and aesthetic conventions and push boundaries in a range of disciplines. Creative Capital artists have premiered their Creative Capital-supported projects at the Sundance Film Festival, the Solomon R. Guggenheim Museum, The Museum of Modern Art, the Walker Art Center; they have presented their work at the Kennedy Center for the Arts, Tate Modern, the Venice Biennale, the Public Theater and on Broadway; and their literary works have been published by Knopf, Henry Holt and Co . and University of California Press, among many others. Since its start in 1999 Creative Capital has committed $29 million in financial and advisory support to 418 projects. Developed by artists for artists, the Professional Development Program provides career, community and confidence building tools to help all artists become successful artists. They have worked with more than 5,500 artists in 150 communities during their first 10 years. For application and more information see creative-capital.org.
The following came across my desk: The New York Art Resources Consortium (NYARC), consisting of the libraries and archives ofThe Frick Collection (Frick Art Reference Library), the Brooklyn Museum, and The Museum of Modern Art, has been awarded a grant of $340,000 from The Andrew W. Mellon Foundation to initiate a program of web archiving for specialist art historical resources. The two-year program followed a 2012 pilot study, Reframing Collections for the Digital Age that demonstrated that the types of materials the NYARC libraries had been collecting in printed form were increasingly migrating to online versions available exclusively on the web. It concluded that there was an urgent need to document the dynamic web-based versions of auction catalogues, catalogues raisonnés, and scholarly research projects, as well as artist, gallery, and museum websites, because otherwise there is a real and imminent danger of a "digital black hole" in the art historical record. In the Nov/Dec 2010 issue of ART TIMES I reported on the formation of the Hudson Valley Visual Art Collections Consortium. As we know, the Hudson Valley was home to the Hudson River School painters, the first recognized school of American art. Over the past 100 yearsWoodstock Byrdcliffe Guild (Est. 1902) brought significant numbers of artists to Woodstock as did The Woodstock Artists Association and Museum developed to showcase and, eventually, to collect the work of regional artists. Women's Studio Workshop (Est. 1974) has become the country's largest publisher of artist hand-printed books. The Center for Photography at Woodstock (est. 1977) was one of the first organizations to recognize, support and collect photography as fine art. The Samuel Dorsky Museum of Art (Est. 2001)—the museum of the State University of New York at New Paltz—was created to support the academic programs at the college and to serve as a center for Hudson Valley arts and culture. The website provides access to over 200 images of art from the permanent collections of each of these five organizations and represents a broad cross-section of art—from furniture, to drawings, photographs, paintings, sculpture and multi-media work—made in or about the Hudson Valley from the mid-19th century to the present day. www.hrvh.org/hvvacc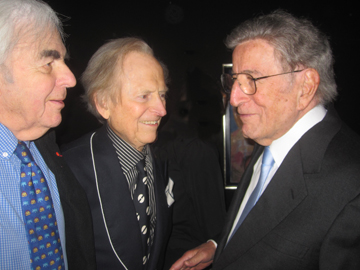 The foundation Montedomini, is a non-profit organization in Tuscany, Italy that provides assistance to people in need. Biagio Civale, a Yonkers resident and native of Florence, Italy, donated art work from his collection, as did other artists for an auction to raise much needed funds to finance the "Let's get back in the game", a project that supports disadvantaged women to get into the workplace. Seventy-eight works were purchased during the first evening of the auction and the auction will continue through the Spring.
Everett Raymond Kinstler's exhibition Hollywood: Paintings and Drawings was at the National Arts Club, NYC and will be opening at the Mountainsong Galleries in Carmel-by-the-Sea, California on June 7 running through July 7. The opening reception was packed with friends and students and collectors. It was also delightful to see so many people that I've known over the years. Ray, as I call him (he refers to himself as "the other Ray in my life") is an old friend and someone we have profiled, reviewed and spoken about in ART TIMES for well over 20 years. The new work: film series, is, as Kinstler writes in the catalog "based on images new and old, real and imagined, invented and reinvented. Color and scale, text and context, are part of my attempt to pay tribute to "movies". " See the video (http://youtu.be/xkLEjwq2Qfs) I made of the opening reception and Kinstler's remarks
Artwater Art Gallery in Rhinebeck New York is just upstairs from Rhinebeck Artist's Shop, both owned and run by artist Douglas Shippee. The plan is to show eclectic and very high quality artwork from the Hudson Valley and beyond. The group show I was able to get to had nearly 50 works from about 25 artists. Currently on view until March 20 is the 2014 Photo Invitational which includes work by seven photographers.
Cross River Artists held their most recent show of member's works at Montgomery Row in Rhinebeck, NY. The watercolors of Cross River Fine Art is an artists' guild and includes eighteen watercolorists who have joined together to display their diverse, painting styles. The artists live and work in the Hudson River Valley and many of their paintings, whether they be still-lifes, botanicals or landscapes, reflect the beauty and sensibility of the region. These artists are all students of Betsy Jacaruso at her Studio and Gallery in Rhinebeck, New York.
On February 1st organizations across the globe hosted simultaneous Art and Feminism meet-ups to make sweeping corrections within Wikipedia. This event is aimed at editing Wikipedia for omissions and inaccuracies and will focus on the achievements of both historic and contemporary women artists. Activities ranged from creating new articles, to editing existing content, adding new citations, and correcting broken links. I attended the meet up organized by the Women's Studio Workshop, Rosendale, NY at Café East in Kingston, NY. Owner Deena Rae Turner welcomed all the "editors" with coffee and also available were delicious, easy to eat lunches (didn't want to spill food onto our laptops). We were shown how to edit and create Wikipedia entries. I met delightful new people and, as a person who works solo, I enjoyed working along side of so many interesting and talented women and men.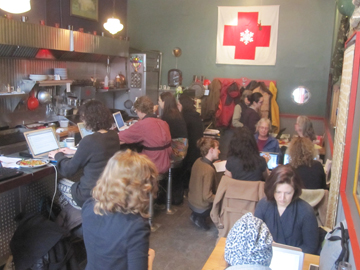 From the meet-up page: "Wikipedia's content and community skews male, creating significant gaps in an increasingly important repository of shared knowledge. We invite you to address this absence in an all-day, communal updating of Wikipedia's entries on contemporary art and feminism. There were tutorials for the beginner Wikipedian, digital and print materials to reference, childcare in many locations for the little ones, and light refreshments provided. Attendees are encouraged to edit any entry of interest related to art, feminism, gender studies, and LGBTQ issues. All were welcome. Meet-ups took place in: Adelaide, Australia - Amsterdam, The Netherlands - Austin, TX - Boston, MA - Brooklyn, NY - Calgary, Canada - Chicago, IL - East Lansing, MI - Halifax, Canada - Hong Kong, China - Iowa City, IA - Kingston, NY - Los Angeles, CA - Madison, WI - Montreal, Canada." Organized by Eyebeam, (eyebeam.org) an art and technology center that provides a context and state-of-the-art tools for digital research and experimentation. Looking at their website I see that it is a lively incubator of creativity and thought, where artists and technologists actively engage with culture, addressing the issues and concerns of our time. Eyebeam challenges convention, celebrates the hack, educates the next generation, encourages collaboration, freely offers its contributions to the community, and invites the public to share in a spirit of openness: open source, open content and open distribution.