Culturally Speaking
By Cornelia Seckel
ART TIMES Sept/ Oct 2011
The Summer seems to have disappeared. I did manage to accomplish many of my "get to see/ do" list but as usual, I didn't make it to everywhere.

At the beginning of the Summer, The New York Conservancy for the Arts held their gala opening at the historic Woodstock Playhouse in Woodstock, NY. Within 6 months' time after purchasing the Playhouse, the Theatre was completely renovated and is now fully enclosed. Air conditioning and heating allow the Playhouse to be a year-round venue for Music, Theatre and Dance. Originally built in 1928, there have been several owners, fires and rebuilding. During the summer the Resident Company performed "Chorus Line", "Anything Goes" and "Hair". Coming up this Fall: Saturday, September 10 at 8pm, NYCA Song & Dance Performance: An evening of song and dance from the advanced students of the New York Conservatory for the Arts; Sunday, September 18 at 3pm, Woodstock Chamber Orchestra; September 21-25, Woodstock Film Festival; Saturday, October 1 at 10am-4pm, Woodstock British Car Show, a benefit for the Woodstock Playhouse. At the gala opening people were excited about the renovations and thrilled to be in the Playhouse, a very historic and important landmark for Woodstockers. Learn more at: WoodstockPlayhouse.org

I went to Maplewood, NJ and while I was there the MapleWoodstock (more at: MaplewoodOnline.com), a 2-day Free event, was being held. 22 groups performed, local food and art vendors and community organizations had booths. I made a short video of the event which can be seen on the ART TIMES YouTube channel and ART TIMES website (see videos or Culturally Speaking August online).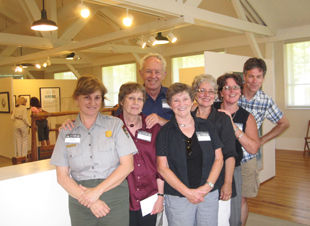 "A New Deal for Youth: Eleanor Roosevelt, Val-Kill Industries and the Woodstock Resident Work Center" is an exhibition at the Woodstock School of Art (WSA), Woodstock, NY thru November 5, 2011. (Quoting from the WSA website) "In 1926, Eleanor Roosevelt and her friends Nancy Cook and Marion Dickerman built a larger building near Stone Cottage at Hyde Park and the following year Val-Kill Industries began selling colonial-style furniture reproductions produced by Hyde Park workers and designed by Cook. Later, they would expand the business to include pewter (Val-Kill Forge) and weavings. They hoped the factory, a nonprofit entity, would not only provide jobs for rural workers who were unemployed or underemployed, but would also provide rural youth training for new kinds of work. Val-Kill Industries (in operation from 1927 through 1936) was created as an experiment dedicated to labor reform, social justice, and above all, promoting the economic and social welfare of American youth. The National Youth Administration, under whose auspices the Woodstock Resident Work Center was developed, was an initiative of the Works Progress Administration (WPA) that was founded in 1935 by FDR to provide work for unemployed artists, craftsmen, and members of the trades. Woodstock was chosen to be the site of an NYA training facility because of the community's reputation as a center for arts and crafts in America. The exhibition has many photographs, tools and products from the time of the Work Center but the buildings themselves are the major attraction. Designed by local craftsmen, they were built in part by the young students themselves. Original iron hinges, made in the school's forge and metalworking shop (today's graphic and printmaking studio) grace cabinets in the office. The buildings' unique, rustic styles were consciously designed in accordance with the local vernacular "arts and crafts" influence. The buildings housing the offices and gallery, studios 1 and 2, and studios 3 and 4, are listed on New York State and National Registers of Historic Places." What an interesting exhibition and slice of not only Woodstock history, but also National history. I made a short video of this exhibit that is also available on the ART TIMES YouTube channel and from www.arttimesjournal.com (see videos).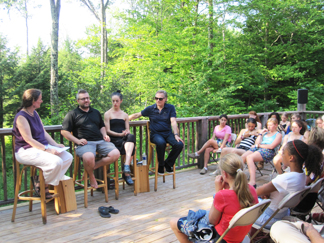 Jacob's Pillow, celebrating their 79 Anniversary is now a National Historic Landmark and home to America's longest running International dance festival. In 1931, modern dance pioneer Ted Shawn bought the farm as a retreat. At the time of the purchase, Shawn and his wife, Ruth St. Denis, led the Denishawn Company. One of Shawn's goals was to legitimize dance as a career for American men and in 1933 formed a company of male dancers, intent on challenging the image of men in dance forging a new, muscular style. There is a school, intern program, Archives that chronicle more than 80 years of dance, a year-round Community Program, Art Gallery, Residencies and several performance spaces. In March 2011, Jacob's Pillow was honored by President Obama with a National Medal of Arts. During my visit to the Pillow, The Lar Lubovitch Dance Company performed. They are lyrical in their movements, strong, fluid, powerful with exquisite form and control. The dancers and the choreography were a great pleasure to experience. An informal discussion before the performance, held on the back porch with Choreographers Lar Lubovitch, Zoe Scofield and Juniper Shuey moderated by Pillow Scholar-in-Residence Maura Keefe, was very interesting and informative. They were all in strong agreement that each audience "feeds" the performers and changes the quality of the production. On view in one of the galleries was the exhibit Annie Leibovitz: Dance. She has photographed many dancers over the years and is best known for her portraiture, especially of the human body. Another exhibit was of photographs by Barbara Morgan who created unforgettable images of Martha Graham and other pioneering modern dancers from the generation that followed Pillow founder Ted Shawn. When Ernestine Stodelle, Teacher and Dancer (partner of José Límon among others) was our dance writer she wrote about many of theses pioneering modern dancers and we ran Barbara Morgan's photographs to accompany the articles. I remember fond conversations with Morgan's son Lloyd about the logistics of getting the images here by deadline, as there was no internet to email them. Memorabilia from Trisha Brown's 40th Anniversary, Photos from past Pillow seasons and The National Medal of Arts presented by President Barack Obama and the signed presidential proclamation are on display along with some of the other awards received by the Pillow and its founder, Ted Shawn, including the Capezio Award, the Commonwealth Award, Shawn's medal from the King of Denmark, and other treasures. Learn more about Jacob's Pillow at: jacobspillow.org. What a fabulous place to be. I felt like I was visiting camp on a day where campers where showing what they had learned during the summer (of course these are, for the most part, professional dancers). One would have to spend the entire summer in residence to begin to grasp the richness that is offered.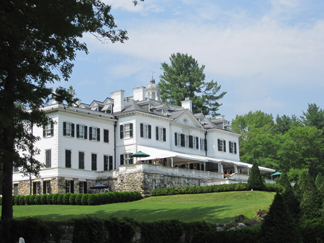 The Mount, in Lenox, MA. was the home of Edith Wharton who designed the house and the gardens outlined in her influential book, The Decoration of Houses (1897) and lived there for many years until relocating to France where she lived till her death in 1937. Edith Wharton wrote over 40 books and was the first woman awarded the Pulitzer Prize for Fiction, the first woman to receive an honorary doctorate from Yale and the first woman elevated to full membership in the American Academy of Arts and Letters. While I was there, the gardens were in full bloom, although according to our guide each week there are new blooms to see, and there is a great variety of bushes, trees, and flowers. Programming at The Mount reflects Wharton's interests in the literary arts, interior design and decoration, garden and landscape design, and the art of living. Annual exhibits explore themes from Wharton's life and work. In the summer of 2010, The Mount launched Berkshire WordFest, a vibrant gathering of writers and readers. The Wharton Salon performs the stories of Edith Wharton and her contemporaries in adaptation in a setting that offers a unique intimacy between author, actor and audience. The plays are performed in site-specific locations allowing audiences to experience Wharton's world through words, architecture and nature. In 2001 I was on a tour of the Berkshires and I visited The Mount. We saw the beginnings of the house renovations and heard about and saw plans for the Garden renovations and programs that would be held in the house. It was exciting, 10 years later, to see a finished interior, the gardens beautifully restored and so much programming in place. See my video with highlights on YouTube or the ART TIMES website (see Videos) Learn more about Edith Wharton and The Mount at: EdithWharton.org

I was supposed to go over to Shakespeare & Company while in Lenox but had injured my hand and a raging infection was brewing that sent me home for some serious doses of antibiotics. Therefore, I was pleased to see the 2011-2012 Fall/Winter Season brochure reminding me that Shakespeare & Company offers year-round performances and programs beginning with "War of the Worlds" from Sept 9-Nov 6. See Shakespeare.org for their full schedule.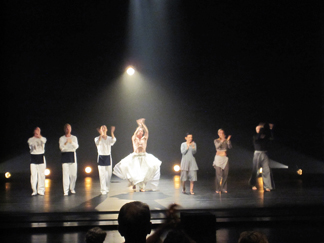 Bard SummerScape had a full program of Opera, Dance, Theatre, Music, Film, Music & Cabaret all presented on the Bard Campus in the Richard B. Fisher Performing Arts Center, the Spiegeltent and in The Bard Music Festival Tent where the 22nd Bard Music Festival (Aug 12-21) that featured Sibelius and his World took place. For the first time in many years I was able to get to a dance performance, theatre and opera. Tero Saarinen Company Triple Bill at Bard SummerScape was an intense, powerful dance program that kept my attention throughout. Die Liebe der Danae (The Love of Danae, 1940), by Richard Strauss, starring soprano Meagan Miller was done in modern times and that didn't always work well for me as the juxtaposition was too ludicrous. The music, staging, sets, voices and acting were all excellent. "The Wild Duck" by Henrik Ibsen had excellent acting, staging, inventive stagework and sets. Ibsen is dark and difficult and so it is hard to say I liked the play. I surely liked, appreciated and admired the production. It was surely fine theatre. For information about next year's Bard Summer Scape: bard.edu/fishercenter.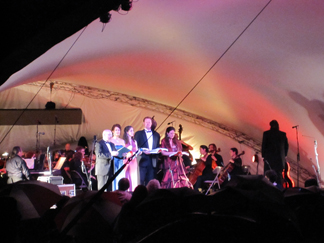 This year's Phoenicia Festival of the Voice was another huge success and a wonderful happening for the town of Phoenicia (economically), Ulster County, and a great addition to the arts and culture offered in the region. This year there was an additional day for the Festival and more than twice as many events as there were last year. I could only get to Don Giovanni, by Mozart. This year the singers had a full orchestra, The Woodstock Chamber Orchestra conducted by Steven White, who also works for the Metropolitan Opera. The voices were exquisite, delicious, smooth, and strong. The newly-built stage allowed for more "acting" and in fact protected the musicians from the rainy night. Two large tents were set up (when news of the rain became a sure thing) and thousands of people brought their chairs, umbrellas and picnics. What a fabulous treat to hear these world-class musicians so close to home. Don't miss out on it next year. There were children's programs, films, lectures and all sorts of musical offerings over the 4 days. Thank you to founders Maria Todaro, Louis Otey and Kerry Henderson for bringing us this festival and we will see you next year.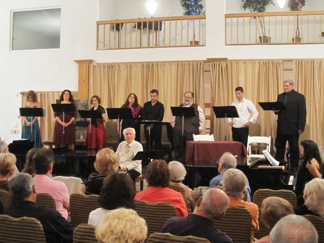 Inter-Cities, founded in 1970 by Carmela and Leonard Altamura in Union City, New Jersey, began as an urban arts educational enterprise offering scholarships to promising musicians. They discover and support the finest young talent, provide first-rate programs for both them and the communities in which they live, and make available resources that otherwise would not exist. The 2011 Altamura/Caruso International Voice Competition continues to accept applications. Auditions were held last April in Recanati, Italy and coming up Sept 25 & 26 in Sainte-Thérèse, Québec, Canada and in New York City, auditions will take place on October 27, 28 and 30. For more information www.altocanto.org. Carmela told me that "We have a long and proud history in which our winners have gone on to sing title roles at the Metropolitan Opera, La Scala, and many other major opera houses of the world." Over the past several years I have been up to Round Top for the summer programs. The Cappuccino Society Concerts present competition winners, dancers, choral groups, orchestras, chamber and jazz ensembles, theater groups, individual instrumentalists, painters and sculptors from around the world. This year there was a Murder Mystery Theatre "A Shot in the Dark" — apparently a play will be offered each summer. The event I attended was the Celebration of Italy's 150th Anniversary of its Unification and a "Survey of Opera" performed by Met Opera Tenor Francisco Casanova and the Winners of the Altamura/Caruso International Voice Competition. Maestro Anton Coppola gave the audience brief overviews of the evolution of opera with examples given by the musicians, both voice and piano. I found the afternoon very enjoyable and I learned quite a bit about opera, operetta and the Broadway Musical. The voices were excellent, most causing my shoulders to rise in that oooh feeling—I felt as if I'd been listening to music of the spheres. Competition winner Lawrence Harris (a former offensive linebacker for the Houston Oilers), Giovanni Formisano and Francisco Casanova and Anna Tormela had me swooning. The programs at the center take place in a very intimate room where perhaps 100 people can sit comfortably. I applaud the work that Carmela does and continues to do bringing peace and harmony to our world through music.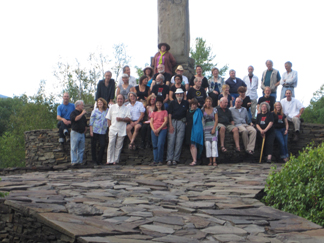 The particiants of the Saugerties Artists Tour at the Monolith at Opus, 40, in Saugerties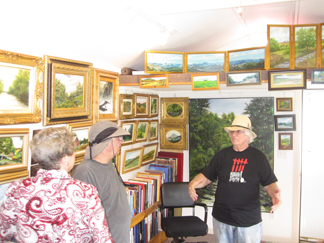 Raymond J. Steiner (R) & visitors to his gallery during the Saugerties Artists Tour
My partner, Raymond J. Steiner, took part in this year's 9th Annual Saugerties Artists' Studio Tour held in Mid-August. Although it was quite rainy on the second day (Sunday) we had upwards of 150 people over the two-day event. Village and Town Artist's Studio Tours are becoming increasingly popular events throughout the Hudson Valley, giving both residents and tourists a first-hand "behind-the-scenes" look into local artist's "sanctum sanctorums" — a boon for visitors and a chance for artists to both show and sell their work to new audiences. See Raymond's blog on the event at rjsteiner.wordpress.com

The 4th Annual Woodstock Art Fair cosponsored by ART TIMES and the Woodstock Jewish Congregation will be held again this year on Sunday, November 27. For artists and craftspeople it is an inexpensive ($45 and no commissions taken) way to show and sell work. For the rest of the population it is an excellent way to see a lot of excellent work, meet the artists/ craftsperson all in time for Holiday Gift buying. Applications are still being accepted until September 15. Download the application at wjcshul.org.
That's all for this round-up. The art season begins this month in NYC and we can look forward to the national shows of the Catharine Lorillard Wolf Art Club, The Pastel Society of America, The American Artists Professional League, Allied Artist, Audubon Artists held at the National Arts Club and the Salmagundi Club. Take a look at the calendar for the dates and locations. See you there………