Culturally Speaking
By Cornelia Seckel
ART TIMES online November 2014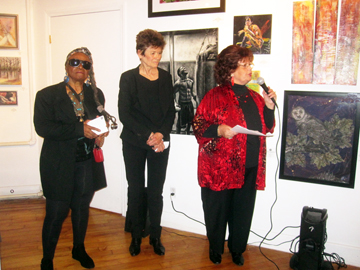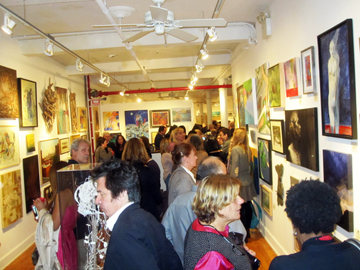 The National Association of Women Artists' 125th Annual exhibition: 125 Years: Women of Vision featured the work of over 290 member artists in a wide range of media. Over thirty awards, determined by women professionals in the visual arts, were presented, including about $10,000 in prizes. The ART TIMES award went to Patricia Search for her digital print Eternal Spirit. 125 years is a great milestone and this organization has been working hard over all these years to do the very best for their member artists. There are seminars, workshops, lectures, exhibitions in New York and throughout the country.
I was at the opening reception held at the Sylvia Wald and Po Kim Art Gallery in NYC. It was packed with artists, their friends and family all celebrating 125 years of this remarkable organization that has been empowering, promoting, supporting and encouraging women artists, since 1889. There was a special champagne reception honoring Faith Ringgold and Ursula von Rydingsvard for their dedication and contributions to women in the arts. Take a look at the nawa.org for membership application and programs. The Fall 2014 jurying results are in, and the National Association of Women Artists, Inc. will welcome 37 new members (plus the 41 new members juried in the Spring) into the Association at a reception on November 13. A new members exhibition will be at the N.A.W.A. Gallery, 80 Fifth Avenue (14th St.), NYC opening November 5 - December 2, with a artists' reception November 13, 3pm - 5pm. Soon will be a video of the reception posted on the arttimesyoutube page and our video page at arttimesjournal.com
The 15th annual Woodstock Film Festival in Woodstock, NY, had about 15,000 people attend and the numbers have increased each year. Held over 5 days in mid October films are screened and events held in Woodstock, Rhinebeck, Kingston, Rosendale and Saugerties, NY with independent films, panels, concerts and special events. Their mission is to present an annual program and year-round schedule of film, music and art-related activities that promote artists, culture, inspired learning and diversity. This year's Best Narrative Feature: Patrick's Day Directed by Terry McMahon and the Best Documentary Feature: Red Lines Directed by Andrea Kalin and Oliver Lukacs.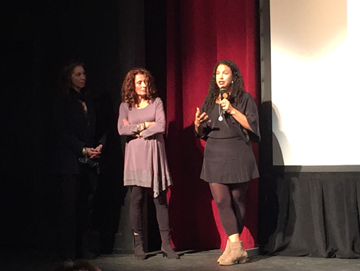 Of course my first choice was Little White Lie a film about Lacey Schwartz (director, producer and screenwriter with Mehret Mandelfro) and her learning and unveiling the truth of her heritage. Lacey believed she was a white Jewish girl raised by her biological parents. Truth was that she is of bi-racial heritage, her mother Peggy having had an affair with an afro-American man before and during her marriage. Little White Lie, a feature documentary produced by Truth Aid in association with ITVS, tells Lacey Schwartz's story of growing up in a typical upper-middle-class Jewish household in Woodstock, NY, with loving parents and a strong sense of her Jewish identity. "What defines our identity — our family of origin or the family that raises us? How do we come to terms with the sins and mistakes of our parents? Lacey discovers that answering those questions means understanding her parents' own stories as well as her own. She pieces together her family history and the story of her dual identity using home videos, archival footage, interviews, and episodes from her own life. Little White Lie is a personal documentary about the legacy of family secrets, denial, and redemption". I know Peggy and Lacey and felt that the film was a great act of courage. The lie had to come out and once it was, no one was very surprised. Family members and friends didn't really buy the story that she looked like an Uncle born in a different country from the rest of the family.
One of the very important aspects of the film is the Interactive Project About Family Secrets & Facing the Truth. This project is an opportunity for people to share anonymously their own little white lies and you can do that on the website. The film, by its nature, supports people to confront those lies and speak openly. littlewhiteliethefilm.com gives much more details of where the film will be shown over the next few months beginning the week of November 21 at the AMC Empire 25 on 42nd St.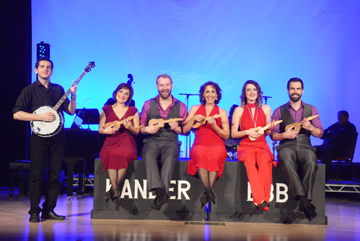 The Culinary Institute of America and Half Moon Theatre, the Hudson Valley's leading year-round professional theatre company, are now in a partnership that is bringing New York-style theatrical performances to Hyde Park, NY. Other CIA campuses in the past several years includeSan Antonio, Texas; St Helena, CA. and Singapore). The CIA's new 800-seat, state-of-the-art Ecolab Auditorium in the Marriott Pavilion is a beautiful theater, comfortable, well lit with good acoustics. A prix-fixed meal at The Bocuse, American Bounty, or Caterina de' Medici restaurants on the CIA campus is paired with the performance.
The Culinary Institute of America's Hyde Park campus was founded in 1946 as an independent, not-for-profit college offering associate and bachelor's degrees with majors in culinary arts, baking and pastry arts, culinary science, as well as certificate programs.
Founded in 2006, Half Moon Theatre is the Hudson Valley's premier year round professional theatre company. Under the direction of Molly Renfroe Katz, Kristy Grimes and Patty Wineapple, Half Moon Theatre now has a resident company of professional actors, a Writer's Group, and a School of the Arts. Most of the artists have had successful careers on Broadway, regional theatre and film—and now call the Hudson Valley home. The focus of their offerings is on telling an authentic story as it relates to the human spirit and to casting as many actors who are members of Actors' Equity, the professional actors union, as possible– thus, ensuring the highest quality theatre experience possible for our audience.
The Dinner I had at the American Bounty Restaurant was excellent and the show we saw was a revue of the music of songwriters Kander andEbb The World Goes 'Round. Christopher Deprophetis, Melissa Marye Lehman, Kenneth Kyle Martinez and Lisa Sabin were all excellent as they performed solo, as a troup, as duets, all voices beautifully blended. Clearly these were professional actors. The next production is It's a Wonderful Life. This will be a radio play featuring live sound effects and audience participation and will run from December 5 through 20. After that, running Jan 16-25, is Fully Committed a comedy about an actor who mans a reservation line at a top restaurant. These both look good and promise a delightful evening of theater.
I highly recommend this new Dinner Theater combination. You can see the connection between the CIA and Half Moon with the choice of plays and the prix fixed dinners. Make sure when you make a reservation that you are attending the theater/ you may otherwise be told that there is a several month wait for reservations.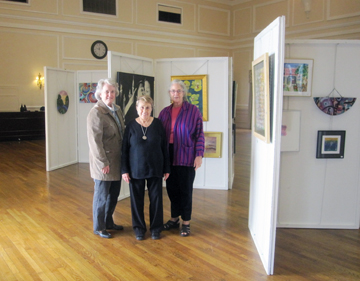 I was asked by the Woman's Club of White Plains to judge their annual art show, something I had done many years ago. Penelope W. Ventura and Olga Topping, both artists and teachers, judged the show with me. The cream insists on rising to the top and that was true with the work in this show. We were judging within categories and we quickly came to agreement as we all noted the top ones in each category. Woman's clubs of Westchester will hold an Finale exhibition July 5-31, 2015 at the Bronxville Women's Club of the first prize winners in each category from the 4 participating clubs.
Pastel Society of America's 42nd Annual Enduring Brillance exhibition was held at the National Arts Club, NYC and again an exquisite showing of 180 pastels submitted from the US, Canada, China, Japan and Spain. The top award from the Flora B. Giffuni Foundation of $5000 went to Brian Bailey for his painting Unity; Diane Rosen received $3000 from the Art Spirit Foundation for her painting Pivot; the ART TIMES award went to Esther Engelman for her painting New England Veterans. Rae Smith, a long time member and board member of PSA as well as an inspirational teacher was the 2014 Hall of Fame Honoree. Rae's advice to artists is to find a teacher and other artists whose work you are drawn to and work with them. She said that "one must paint, paint, paint and that it is the entire composition and design that must be considered first and is the most important element of a successful painting." Check out PSA website (pastelsocietyofamerica.org) to see the work in the annual and for the very well respected workshops and classes offered throughout the year. From December 21 through February 23 selected works from this exhibit will be on view in the Giffuni (Flora Giffuni was the founder of PSA) gallery.
The Allied Artists of America (alliedartistsofamerica.org) held their 101st Annual Exhibition at the Salmagundi Club, NYC with over 180 artists having been juried into the show. This prestigious group is focused on furthering the cause of contemporary American Artists thru the annual exhibition, demonstrations, lectures and the very informative newsletter. The Gold medal winners were: Paul McCormack for his oil painting Karen in Black (Death of a Muse); Tim Saternow for his watercolor Park West 24th St.; andJohn Balsamo for his sculpture Female Nude. The ART TIMES award for Graphics went to Eleanor Adam for Though Much is Taken, Much Abides. Congratulations to all these fine artists.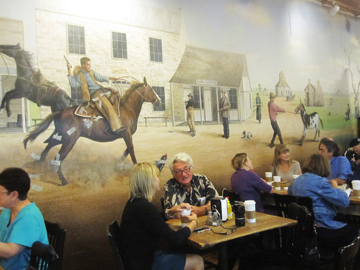 Fredericksburg, Texas: I had the pleasure to visit Fredericksburg Texas and explore the many wineries, galleries, art studios, restaurants and the Lyndon B. Johnson National Historical Park (nps.gov/lyjo) and to visit the "Texas White House". Expect a full report in the upcoming Winter issue out by December 1.
Neuberger Museum of Art, Katonah, NY, is exhibiting Becoming Disfarmer and includes restored and unrestored vintage prints as well as audio clips, historical journals, newspapers and other ephemera. Mike Disfarmer's photographs depict everyday people in rural America from 1915-1959. The exhibition opens on November 9 and runs thru March 22, 2015. Also at the Neuberger Museum of Art is an exhibition of Kuba Textiles: Geometry in form, Space, and Time and includes two of the earliest collections of Kuba Textiles. A tremendous amount of work goes into mounting an exhibition. Curators spend years researching, visiting the work, preparing the exhibition and the educational components for visitors. Becoming Disfarmer was curated by Chelsea Spengemann an independent scholar and alum of Purchase College MA Program in Art History, Criticism, and Theory. Kuba Textiles was curated by Marie-Therese Brincard a consultant curator for the African Collection.