Culturally Speaking
By Cornelia Seckel
ART TIMES online May 2014
Click onto the photo to the right and Susan will be responding to my question "How do you choose who or what you will be writing about?"

Susan Vreeland is the author of, among other things, art related fiction/ historical fiction including Girl in Hyacinth Blue, Clara and Mr. Tiffany, Passion of Artemisia, the Forest Lover and soon to be released Lisette's List. I met Susan through a mutual friend and we spent several hours at the Salmagundi Club talking about art, her work and my work. I will have an extensive discussion of my time with Susan but wanted to present this short video in which she speaks about how she comes to decide on what she will write about.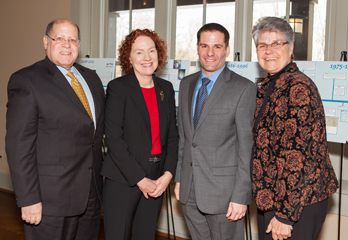 The Dutchess County Arts Council is celebrating its 50th anniversary and its new name, Arts Mid-Hudson, with a 50-week tour that includes visits to 50 locations across Dutchess, Ulster and Orange counties. It is estimated that currently more than $30 million is added annually to the local economy through Arts Mid-Hudson grants and other arts and cultural programs that foster jobs and arts-related spending. "Arts also provide quality-of-life benefits that are important in attracting new businesses to a community and their employees," said Marston-Reid. "With increased attention on the arts through our expanded focus and efforts, that annual sum should grow." A complete schedule for the 50 events will be available at www.artsmidhudson.com.
Now in its ninth year of national competition, Poetry Out Loud is a partnership between the National Endowment for the Arts and the Poetry Foundation. The program encourages the study of great poetry by offering educational materials and a dynamic recitation competition to high school students across the country. The Poetry Out Loud National Finals are the culmination of a yearlong poetry educational program involving some 365,000 students at more than 2,300 schools across the country. High school teachers who want to learn how to get involved in next year's program can visit www.poetryoutloud.org. Students and schools received $50,000 in awards and school stipends at the National Finals, including $20,000 for the Poetry Out Loud National Champion, and $10,000 and $5,000 for the second- and third-place finalists. The fourth-to ninth-place finalists each received $1,000. The schools of the top nine finalists received $500 for the purchase of poetry books. Anita Norman, 17, a junior at Arlington High School in Arlington, Tennessee won the title of 2014 Poetry Out Loud National Champion.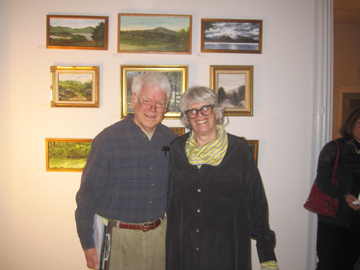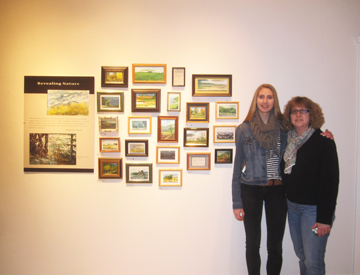 James is the new Executive Director of the Schoolhouse and according to Lee, "James Shearwood was founder of Arts on the Lake in Carmel and had been its Executive Director for a number of years. We are very fortunate that he is joining us. He and Pam Moller Kareman, our Artistic Director, will be keeping the bar high for theater productions, introducing new theater connected programs, cultivating younger audiences and challenging all of our hardy friends to stand by us and continue their interest in new additional programming. The Art Galleries will be alive and well. We look forward to a film series and a Summer camp program and lots more. The next show at the Schoolhouse Theater (www.schoolhousetheater.org ) is "Luv" and will be running from May 29 thru June 22.
Raymond J. Steiner exhibition at the Schoolhouse Theater Gallery. Click here for a short video of the work in the exhibit. In the Exhibition invitation the gallery wrote: "For many years Raymond J. Steiner has cultivated his love of nature with canvases expressing its magic and his philosophical quest." The Schoolhouse Gallery said that they were privileged to exhibit these paintings. Coming up on June 7th Raymond will be participating along with Patrick Milbourn and William P. Duffy in a show "Deeply Rooted" at the M Gallery 350 Main Street in Catskill, NY (www.mgallery-online.com). The opening reception will be June 7th from 6-8pm. The show will focus on the interpretive process and individual expression that becomes a work of art. William P. Duffy is both a painter and a marine painter. He is a grandmaster of the elements of painting using the authenticity of different effects of light and atmosphere and deft, expressive brushwork. Patrick Milbourn's sense of moodiness is felt by his expression of coloration and muted sensibilities. He coaxes his subjects – whether figures or landscapes – only to that point where he feels they are "complete". Raymond J. Steiner composes his landscapes alla prima – wet on wet – to capture a spontaneous impression. He wields a palette knife for most of his work, allowing a strong sense of physical interaction with the paint.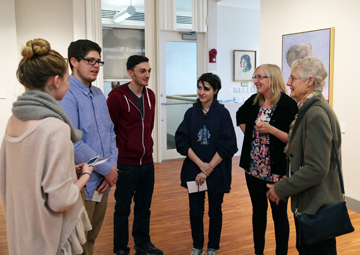 Eva van Rijn's A Painters Safari, at the Mildred I. Washington Art Gallery at Dutchess Community College, will run thru May 16. Eva has been on numerous Safaris and in this exhibit are paintings of many of the animals that she encountered. The paintings are large and engaging and I felt that I was right there on the Safari with Eva looking at elephants, heyenas, birds, lions, zebras, wildebeests, giraffes, and many other animals I didn't know. Next to each painting Eva had field notes —a description of the animal, her experience and thoughts seeing them while on the safari. Eva is talking about publishing a book of these paintings along with the field notes. I hope she does and will publicize it in ART TIMES. According to the director Margaret Craig who was very pleased to have Eva's work, the gallery shows some traveling shows, some solo exhibits all with the idea of enhancing the experience for students. Click here for a short video of the work in the show.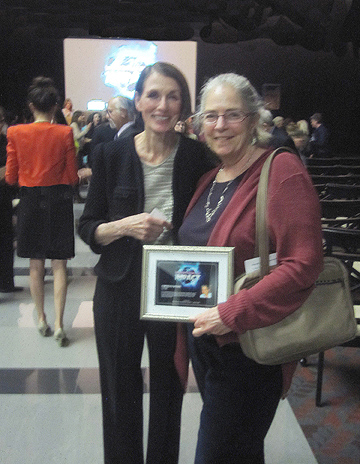 (L to R) Dee DelBello, CEO of Westfair Communications Inc, and Cornelia Seckel, publisher of ART TIMES
Cornelia Seckel, publisher of ART TIMES was one of the "Reader's Choice" honorees at the first annual Women Making an Impact Awards event sponsored by the Westchester County Business Journal. On Thursday, April 3rd the honorees and hundreds of their supporters met and after "bites and spirits" during which time one could meet and network, the program began. Dee DelBello, Chief executive officer and owner of Westfair Communications Inc. (Westfair), a publishing firm headquartered in White Plains and publisher of the company's publications Westchester County Business Journal, Fairfield County Business Journal, HV Biz and WAG magazine, opened the program with a welcome and then introduced keynote speaker Nancy Armstrong, the producer of the award-winning website and documentary series, MAKERS- Women Who Make America (www.makers.com). In accepting the award Cornelia spoke about the decision she made last year that most impacted her business. "Last year I adjusted our printing schedule so that we would be printing quarterly and publishing online monthly. The challenge has been and continues to be to bring attention to our website and to attract advertisers, our only means of support, for arttimesjournal.com. Therefore: not only do I attend a webmasters users group each month, I have a tutor to help me with my website, a tutor for social media, I attend a digital meet-up group, a mac users group and read posts by social media experts." She ended by saying: "Life and work just keep getting more complex and challenging. Frankly I wouldn't have it any other way." Holly DeBartolo, Events Manager for WestFair, said "We are pleased to have the opportunity to recognize such inspirational women and their passionate commitment to work and community".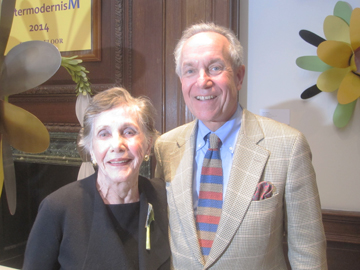 Currently at the Nassau County Museum of Art in Roslyn is Garden Party an exhibition that will be on view to July 6, 2014. Organized by guest curators: Franklin Hill Perrell, the museum's former senior curator, and JoAnne Olian, curator emeritus at the Museum of the City of New York, Garden Party explores the imagery of outdoor entertainments and garden parties through paintings, sculpture, costume, fabrics and decorative arts and designs. Works by artists from many different traditions are on view, including Nell Blaine, Charles Burchfield, Marc Chagall, George Deem, Janet Fish, Jane Freilicher, Martin Johnson Heade, David Hockney, Robert Mapplethorpe, Georgia O'Keeffe, Maurice Prendergast, Larry Rivers, James Rosenquist and Louis Comfort Tiffany. Floral imagery in costume design is demonstrated with dresses designed by de la Renta, Mainbocher, and Traina-Norell, as well as in the motifs of exquisite Judith Leiber evening bags. More at www. nassaumuseum.org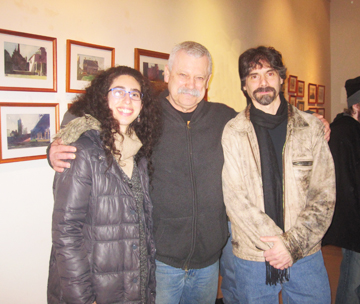 Staats Fasoldt (artist and teacher) exhibition at the LGBTQ Community Center in Kingston, NY. The Hudson Valley LGTBQ Community Center (www.lgbtqcenter.org) according to their website: "provides services, professional resources, and programs that unite the lesbian, gay, bisexual, transgender, and queer community across lines of age, race, gender, and economics." Their purpose is to strengthen, support, and celebrate LGBTQ individuals, families, and groups in their efforts to achieve their fullest potential. There are numerous programs each week and art shows every few months.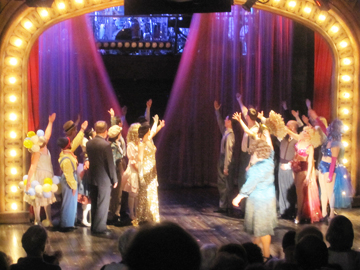 Gypsy at Capital Rep starring Mary Callanan was excellent- voices, dancing, acting, staging and the innovative set. The house was packed and loved the show. I had seen the original Gypsy on Broadway with Ethel Merman and then the film when it first came out with Rosalind Russell and Natalie Wood. Gypsy's music by Jule Styne, lyrics by Stephen Sondheim, and a book by Arthur Laurents is the story based on the memoirs of Gypsy Rose Lee the famous striptease artist, and focuses on her mother, Rose, the ultimate show business mother. It follows the dreams and efforts of Rose to raise two daughters to perform onstage during the years of Vaudeville and Burlesque. Every song was familiar, most were great hits including "Everything's Coming up Roses", "Together (Wherever We Go)", "Small World", "Some People", "Let Me Entertain You", "All I Need Is the Girl", and "Rose's Turn". Gypsy had four Broadway revivals, the last being in 2008 with Patti LuPone and closed in 2011 after winning numerous awards. Capital Rep, in Albany NY presents outstanding professional productions. The 2014-15 Season will open with Smokey Joe's Café on July 11 and run thru Aug 10. More information and tickets at www.capitalrep.org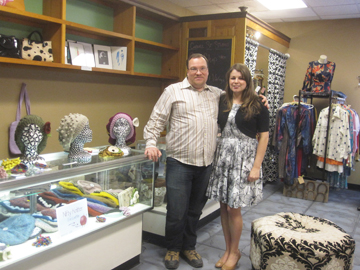 I was invited, as was the business and arts communities of Kingston and other members of the press, to a "Paint Can Opening" of the Lace Curtain Factory (est 1903) in Kingston NY. The press/ informational meeting was held at Cornell Street Studios, established by Ken Darmstadt in 2007 on the 2nd floor of his building. His dream was to create a multi media space for the arts that could host a variety of events. In December 2008, his daughter Renee joined the team to collaborate with her father on their Art filled endeavor which continues to host art shows, craft fairs, fitness classes, car shows, fashion shows and more! This former factory will have 55 artist live/ work units and large community areas for a gallery and presentations. RUPCO (Rural Ulster Preservation Company) is a private, not-for-profit housing organization that creates housing opportunities for people with low and moderate incomes. The project is working in conjunction with Kingston's Business, Education, Arts and Technology initiative and contributing greatly to the renaissance that is occurring in Kingston. The idea is to spur economic development to mid-Kingston and to connect uptown and downtown. I think this will be a success given the general energy in the room and the commitment of Mayor Shayne Gallo, the support of 6 different banks, the arts community and other political and community figures. My concern is always how will the project continue after it is up and running. Too often I've seen cooperative ventures at the start up and then the daily nitty-gritty is left to the artists, people who generally want to be in their studios, not managing a complex. The project is utilizing various community groups to work in the construction of the building including school interns.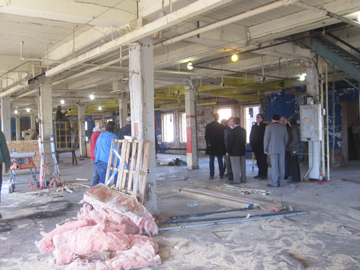 The phenomena of using existing buildings for a variety of projects, (mostly I see studio space, work / live space and office space for arts related businesses), has been growing around the world. I first encountered it in 1990 in New Rochelle where Judith Weber had Media Lofts, a renovated factory in which she created studio spaces for artists. Judith led the battle, working to have zoning laws changed so that these old renovated buildings could be used as living spaces as well as studio spaces. I've seen it in Singapore, China, Bermuda and countless other places across the country. In Kingston, The Shirt Factory and the Pajama Factory and the Brush Factory have been renovated by developer Mike Piazza as mixed-use spaces: apartments, studios, small business, performance space and a gallery. The Lace Factory is one more reason Kingston NY is continuing to be a popular place for creative people, Undoubtedly, the arts community has contributed greatly to the renaissance that is occurring in Kingston. The press/ informational meeting was held at Cornell Street Studios, established by Ken Darmstadt in 2007 on the 2nd floor of his building. His dream was to create a multi media space for the arts that could host a variety of events. In December 2008, his daughter Renee joined the team to collaborate with her father on their Art filled endeavor which continues to host art shows, craft fairs, fitness classes, car shows, fashion shows and more!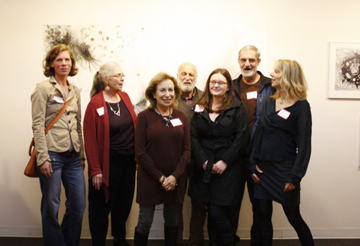 I was pleased to be asked to jury expo 33 for the bj spoke gallery in Huntington NY. For this annual national show I chose 20 out of 181 artists who each submitted 4-8 works. After, narrowing the artists to 20 I had to choose work that made a cohesive show and a show with a variety of mediums. It is very hard to judge work via an image on the computer and it is always a surprise and relief to see that the work I chose was as good as I thought it was. It was delightful to attend the opening where many of the artists were present and thrilled to be part of the show (so much better than judging a show and choosing the top 3 and everyone else wondering why you didn't choose them!). Selected artists were from MA, FL, CA, VA, PA, SD, IN and NY with several traveling the long distances to attend the opening. bj spoke is a member owned and run cooperative art gallery exhibiting many fine artists from Long Island.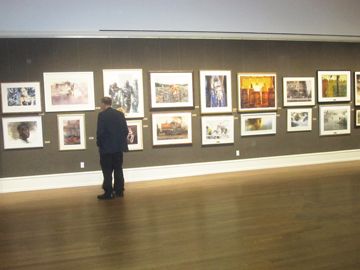 In 1866, the first meeting, consisted of eleven artists founded the American Society of Painters in Water Colors. The purpose of the organization was singular: to promote the art of watercolor painting in America. This was intended as a way of combating the feeling of many artists, as well as non-artists, who viewed watercolor only as a sketching medium. One of the first actions taken by the American Society of Painters in Water Color was to plan their first exhibition for 1867. It was held at The National Academy in conjunction with the Academy's own winter exhibition of 1867-68 and there were 2 women listed as members — a rarity. Early on the group changed the name to the American Watercolor Socitey. The 147th annual exhibit recently took place at the newly renovated Salmagundi Club (more about the renovations in the Summer issue). The show, always outstanding, points out the many styles of the watercolor painter. Artists travel in busloads from the tri state area to see the show with over 1000 visiting and viewing each month. Congratulations to: AWS Gold Medal of Honor went to Stephen Quiller, AWS for "Transparency of Shadows"; the AWS Silver Medal of Honor went to George James, AWS for "A Cubist Lunch"; AWS Bronze Medal Of Honor went to Woon Lam Ng, AWS for "A Sunlit Morning, Companions". 147th Annual Exhibition of the American Watercolor Society's Travel Show is on the road for the next year. Many of the Award winners, including Gold, Bronze and Silver will be on display. The show travels and is now at the Eastern Shore Art Center in Fairhope Alaska until June 29. Afterwards the show goes to the Abraham Arts Gallery in Plainview, Texas. A full schedule can be found on the AWS website: www.americanwatercolorsociety.org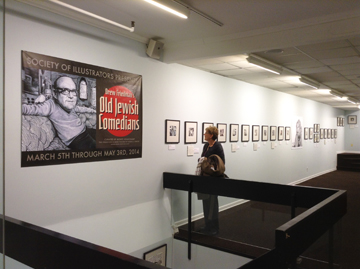 Society of Illustrators began in 1901 when a group of nine artists and one advertising businessman founded the Society with the idea that they shall promote generally the art of illustration and to hold exhibitions from time to time. First monthly dinners were attended by Howard Pyle, Maxfield Parrish, N.C. Wyeth, Frederick Remington, James Montgomery Flaggg among others. In the 1920's the society was incorporated and women became full members. My childhood friend Heidi was visiting NYC and we decided to see the Drew Friedman exhibit of Old Jewish Comedians at the Society of Illustrators located at 128 East 63rd Street, an 1875 carriage house. The portraits, of these comedians were filled with life. It was certainly a trip down memory lane. Upstairs in the dining room was an exhibition of Jeffrey Catherine Jones described as an odd amalgam of illustrator, cartoonist, and painter; a philosopher, a sly comedian, and a nerd. This vibrant club for illustrators offers, sketch classes, films, lectures, workshops, educational programs, scholarships, and exhibitions from both the permanent collection and traveling shows. Comic and Cartoon Art Annual Long Form and Comic Strip Categories opens on May 28 and will run through June 21. This is a juried competition showcasing outstanding works. For more information: www.societyillustrators.org