CULTURALLY SPEAKING

By Cornelia Seckel




ART TIMES July August 2008

Here it is. The July/August issue which begins our 25th year of publishing ART TIMES. I thought that it would be a good time to tell the story of how we began and I've taken the usual Speak Out space on page 3 to do that. Let me also remind you that this issue is for both July and August and if there are opportunity listings, calendar listings or advertisements you had hoped to get into this issue, we can accommodate you and place these items on our website. Call or email the office and we will get back to you within a day or two.

It has been quite a month filled with the usual getting out and about and with book readings and signings for The Mountain. Raymond will be reading and signing books at the Kingston Library, Catskill Mountain Foundation Book Store, Woodstock Art Association Museum, and in Andes. See the ad (also on our website) for The Mountain, which has addresses and times for all scheduled readings. If you would like to set up a reading/book signing, send an email or call 845-246-6944.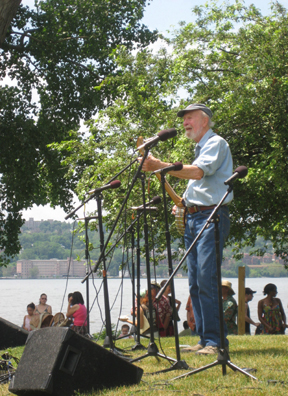 Pete Seeger performs at the Beacon Sloop club's Strawberry Festival
A number of months ago Raymond and I were asked to jury and judge the 73rd National Juried Exhibition at Cooperstown Art Association. The exhibit runs from July 19 through August 22 with a preview party and awards presentation from 5-7pm on July 18. With great prejudice I am sure the show will be excellent. There were nearly 500 entries by 250 artists submitted from across the country. We will be traveling to Cooperstown to award prizes and, while there, see "Kiss me Kate" at Glimmerglass Opera and visit The Smithy Gallery and Fenimore Art Museum. Most likely we will do additional exploring. Jurying a show is tough. We tried to be fair, to give each slide or image from a cd a good look. Interestingly enough the decisions were very clear as we each independently made our choices.
Earlier this month I accompanied Raymond when he went to Allentown, PA to interview Michael and Barbara Bassano. While he was with them I decided to explore what Allentown has to offer the culturally minded. Lehigh Valley Arts Council has an extensive listing of performances, classes, films, lectures and exhibitions in a brochure that is available at the welcome center (and I'm sure many other places) as one enters Pennsylvania. The Banana Factory in Bethlehem caught my attention. This is a community art center and gallery opened in 1998 that has 63,000 square feet of space for 2 galleries, 5 large classrooms and over 20 artists' studios. It is an excellent place to visit, to watch artists work, and to be inspired to do your own creative work. The Allentown Art Museum, Civic Theatre of Allentown, Zoellner Arts Center all offer a great variety of cultural events.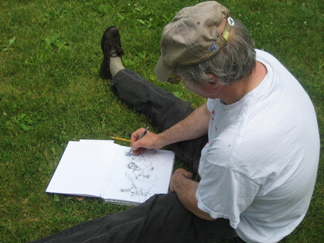 Artist Ted Berkowitz sketches Pete Seeger
at the Beacon Sloop Club's Annual Strawberry Festival
Each year the Beacon Sloop Club presents a Strawberry Festival and this year Raymond & I were asked to bring copies of The Mountain to add to the offerings Merritt Bookstore had at their booth. While Raymond was at the booth I wandered the Festival and was so pleased to hear Pete Seeger in the entertainment area. He, along with the audience, sang old favorites including "If I had a Hammer" and "Turn Turn Turn". For the past 30 years and 5 nights a week The Beacon Sloop Club has taken guests out onto the river in The Woody Guthrie, a replica of the popular gaff-rigged Hudson River sloop that Pete Seeger had built to help support the mission of the larger Hudson River sloop replica, the Clearwater. The purpose is to get people onto the river and promote and encourage interest in sound ecological practices that affect the Hudson River and its environment. For more information: www.beaconsloop.org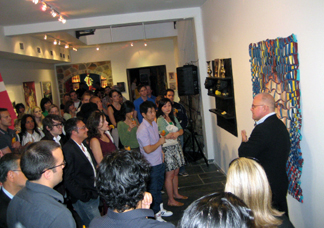 Simon Watson leads a walk-through for Guggenheim Museum's Young collectors Group at House of Campari exhibit in NYC
The Campari Contemporary Art Program has several programs that support emerging contemporary art through exhibits, commissions and programs. Since 1860 when they began to produce Campari, there has been an ongoing relationship with art and culture. The House of Campari Program includes visual arts exhibitions in New York; new Campari Commissions, a unique program designed to showcase a commissioned work by House of Campari alumni in New York; and partnerships with leading arts organizations Artists Space in New York, LAXART in Los Angeles, The Moore Space in Miami and Yerba Buena Center for the Arts in San Francisco. I was invited to House of Campari's gallery walk-through of "Defining a Moment: 25 New York Artists", the third annual group exhibition House of Campari has presented in New York. The show is a cross-section of up-and-coming artists from some of the city's most visionary galleries. The walk-through was for a group of young professionals who were part of the Guggenheim Museum's Young Collectors Group. The exhibition was curated by Scenic, an arts consulting, curatorial services and cultural event planning company, and the walk-through was conducted by Scenic co-founder, Simon Watson.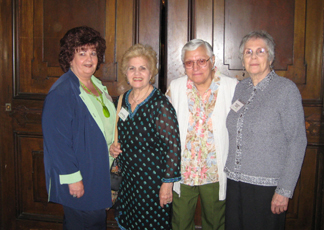 (L to R) Susan G. Hammond, incoming President Mildred Kaye, award recipient, Gloria Spevacek award recipient, and Judith Cantor, outgoing President at the National Association of Women Artists/ annual meeting and luncheon.
The National Association of Women Artists (NAWA), founded in 1889, is the oldest professional women's fine arts organization in the United States, continually providing a forum for women artists to share ideas and exhibit their work. The organization has been promoting and nurturing the work of professional women artists, sponsoring local and national exhibitions, offering merit prizes, lectures and special events for its 850+ membership, and hosting ongoing exhibitions at its headquarters address in NYC. I was invited to the annual meeting and luncheon where Margaret Krug, Senior Lecturer at the Whitney Museum of American Art, spoke about Teaching Materials and the process of writing her recent book, An Artist's Handbook (reviewed in ART TIMES Jan/Feb '08 issue). Judith Cantor, outgoing president, spoke about the many activities of the previous year and then introduced the recipients of the Volunteer Awards: Gloria Spevacek. Susan G. Hammond was introduced as the new President and she spoke about the needs of the organization, her hopes for the upcoming year. It was an excellent introduction to her term of office — a "state of what's to be" speech. After the luncheon we were all invited back to the NAWA office and Gallery for the reception of the members' group exhibit "Spring into Summer". For more information about the organization and membership information: www.nawanet.org

Award presentation for the 183rd Annual Exhibit at The National Academy Museum & School of Fine Arts, NYC
Founded in 1825, The National Academy Museum & School of Fine Arts is an honorary association of professional artists, a museum, and a school of fine arts. From the beginning, the primary purpose of the Academy was to foster the appreciation of American art through yearly exhibitions of contemporary paintings, sculpture, and works on paper, and to teach aspiring artists their trade. The 183rd Annual: "An Invitational Exhibition of Contemporary American Art" (through Sept 7) is on view in their galleries at 1083 Fifth Avenue, NYC. The museum was crowded with well over 1000 people viewing work in this biennial non-member invitational exhibition that had over 125 works from artists across the country. Top prize-winners in Sculpture: Soo Sunny Park, Lisha Bai; Watercolor: Lee Marshall; Painting: Jeffrey Lewis, Becky Brown, Erica Wastrom, Ben LaRocco, Graphic: Celia Gerard.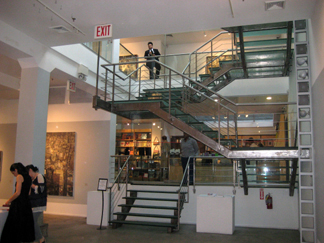 Chelsea Art Museum interior, Chelsea, NY
The Chelsea Art Museum, located on West 22nd Street in Chelsea, NY, is the home of the Miotte Foundation and a museum committed to exploring "art within a context." Each exhibition has an accompanying series of cultural events and educational programs. The Chelsea Art Museum mission is to present important, but relatively unexplored dimensions of 20th and 21st century art, particularly focusing on artists that have been less exposed in the US than in their home countries. The museum, a 30,000 sq foot renovated historic building, is located opposite the piers which served as entry for the arrival and assimilation of foreign cultures into New York. According to the CAM website "This location provides a powerful symbol of the museum's mission: to be a meeting point, a destination for exhibitions and works from Europe, the Americas, and Asia and returning CAM generated exhibitions to those partners both overseas and within the United States." For more information: www.chelseaartmuseum.org
Some excellent news for Hudson Valley Filmmakers: The Hudson Valley Film Commission and Ulster County Development Corporation jointly announced that TechCity (a 27 building campus located in Kingston, NY which at one time housed IBM's world headquarters) has officially been granted certification as a qualified film studio by the NYS Governors Office of Motion Picture and Television Development. This important development will allow potential film productions to use facilities at TechCity to meet the requirements set forth by the recent NYS Film Credit. The Hudson Valley Film Commission (HVFC) is a conduit for preproduction, production, and postproduction for filmmaking in the Hudson Valley/Catskill region. Support is provided throughout the year to studio features, independent features, print, new media, short films, student projects, and TV ads. The commission offers technical, location, and talent guidance, referrals, networking opportunities, email blasts, and promotion through press opportunities including the monthly e-newsletter. In order to make information fully accessible, a free online production directory for local film professionals is provided and maintained online. Most recent regional projects have included The Human Footprint (which rented soundstage and administrative offices at TechCity in 2007), The Cake Eaters (directed by Mary Stuart Masterson) The Night Listener (starring Robin Williams), The White Countess (extras ADR, directed by James Ivory), War of the Worlds (directed by Steven Spielberg and starring Tom Cruise), Before It Had a Name (starring Willem Dafoe), and many others. For more info: www.techcityny.com.
That's it for this issue. There are so many Summer Festivals to enjoy and participate in. Contact us if you need to place any ads or listings online. The next issue is September and the deadline for calendar and opportunity listings is August 12; advertising is August 21.