CULTURALLY SPEAKING


By Cornelia Seckel




ART TIMES January/ February 2008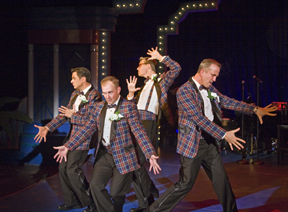 From the performance of "Plaid Tidings: A Special Holiday Edition of Forever Plaid" at the Capital Repertory Company, Albany, NY.
This issue covers both January and February. It allows us time to explore, to catch up on all of the things that are neglected when we are at a month-to-month deadline and it gives us time for rest and relaxation. Although we will be responding to emails and phone calls for a few more days, the office will be closed until February 4th. If you missed getting your ad or event included in this issue we may be able to accommodate you with a listing or banner ad on our website: www.arttimesjournal.com.
Raymond's lecture, "The Artist as Seer", at the Salmagundi Club was very well received and generated a lively discussion. Several lectures that he has given are available to read online at the ART TIMES website.
For the most part, galleries had holiday group shows with the hope that people would buy art for their friends and family. There were numerous Nutcracker and Christmas Carol performances as well as concerts offering holiday favorites.
Earlier this month, I went to Albany to see Plaid Tidings: A Special Holiday Edition of Forever Plaid, written by Stuart Ross with musical direction by Randy Glass. Basically the story line is that the Plaids, a Doo-wop quartet of High School friends are killed in a car accident on their way to their first big concert. They are able to return to earth for a second time to complete unfinished business: their never-performed Holiday Show. This is a thin story filled with familiar music, silliness and fun. Excellent acting by Mark Perkins, Ric Ryder, Dale Sandish (who also directed the production) and Christopher Youngsman, all with superb voices that blended delightfully. The songs were mostly from the 50's and included some Christmas songs. There were several "skits", one particularly hilarious was a rendition of the Ed Sullivan show with Senor Wences, The Beatles, The Rockettes, The Chipmunks, The Vienna Boys Choir, and others. I could not stop laughing to take careful notes! Capital Rep began as the League of Theatre Artists, Inc. in 1976, then as the Lexington Conservatory Theatre in Greene County, NY. As word of their success spread to the Capital District they were encouraged to move to Albany and begin the Capital Repertory Company. This is the 27th Season of producing professional theater, including many regional premieres. Coming up after Plaid Tidings… will be M. Butterfly, The Taming of the Shrew, Hank Williams: Lost Highway and then Doubt. For dates and times: www.capitalrep.org.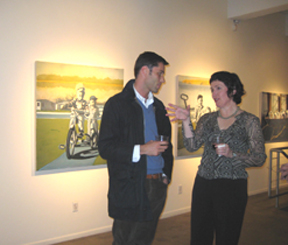 Debra Goertz (R) discussing her work at her opening
at the Stricoff Gallery, Chelsea, NY
On route to NYC to deliver the December issue I stopped at the Renaissance Gallery in Orangeburg, NY to see Jeanie Elizabeth Neyer's Human-Kind Exhibition curated by Audrey Leeds. Drawings, paintings, pastels and collages make up this exhibition portraying various aspects of the Holocaust. The Titles were poignant: Arrival, Exposed, Hidden Children, Will I be Next? Last Stop, the work very accomplished. Jeanie has shown her Holocaust paintings at various museums in this country and at the Holocaust Education Center in Japan. She has written "A Holocaust Portfolio" which is available at the gallery. According to Ana Bonsanti, owner and gallery director, Renaissance has been at the Orangeburg location for the past 6 years offering framing along with an extensive gift shop boutique and monthly exhibitions. No web site but call them at 845-365-6008
I stopped to see the Allied Artists of America 94th Exhibit at the National Arts Club, NYC and what a fine exhibition it was. There were 237 paintings and for the most part well done and engaging. Congratulations to Gold Medal winners: Gary T. Erbe for his oil "Arrangement in Brown and White"; Rhoda Yanow for her pastel "Street Scene"; and Dan Ostermiller for his sculpture "Chester in Repose".
• The 54th Annual National Society of Painters in Casein & Acrylic was at the Salmagundi Club and the quality of work was also outstanding. What an excellent opportunity to see so many of today's top artists. Sorry to say I didn't get their award winners in time to include in this issue • While in NYC I also saw an exhibition of new paintings by Debra Goertz at Stricoff Gallery in Chelsea. The paintings were done during a 2-month residency in Newfoundland and contain combinations of that landscape with family photographs from her childhood. Debra is teaching at Parsons New School for Design, Lyme Academy College of fine Art and the New York Academy of Art.

Shoppers at the 5x7 show at the Woodstock Guild, Woodstock, NY
I visited the Art Society of Kingston (ASK), now in their 12th year as an organization with nearly 600 members. They present not only monthly exhibitions, but offer classes and workshops in songwriting, literary arts, drumming, swing dance, and acting. ASK is housed in the former Kingston Police Training Academy on lower Broadway and the spaciousness of the building is allowing for all kinds of activities including a monthly pot luck so that artists and supporters of the arts can meet, network, or have a social evening. Just past the entryway is a gift shop with a variety of items as well as information, and from there 2 large rooms follow where Holiday Cheers, the Open Members Show of small works were hung. Sharon Vairamides won the Sheila Bloodgood Memorial Award for her watercolor Forelle Pear & Lady Apple. Congratulations Sharon! The work was varied, affordably priced (12 paintings were sold by the 2nd week of the show) and generally quite good. Currently there is one paid position, that of Vindora Wixom, Executive Director. ASK has obtained a NYSCA grant and additional donations are coming to the organization for programs, building repairs and renovations. They are hoping to expand the staff with 2 part-time people: one to take care of the building, another for communications. After telling me about the current activities, Vindora took me upstairs where a 99 seat auditorium is being built. Also upstairs will be bathrooms and a room for classes and workshops. What a great job they are doing. The hard working and dedicated board, along with Vindora, have brought this group to a fully functioning members organization that continues to grow, to prosper and support the arts of the Hudson Valley. Each month they create (with the publishing support of Kingston's daily newspaper the, Daily Freeman) ArtWorks, a small newspaper that has some member news, show announcements and most importantly, a map and guide for galleries and art venues in Kingston. A great help during first Saturday gallery stroll. For more information go online at www.ASKforArts.org or call them at 845-338-0331. Their next exhibition opening January 5 is Engrams curated by Barbara L. Bachner with work by Martha Ellen Hughes, Renée S. Englander, Carol Pepper-Cooper and Elizabeth Winchester. Jennifer Axinn-Weiss will have work in the lounge gallery.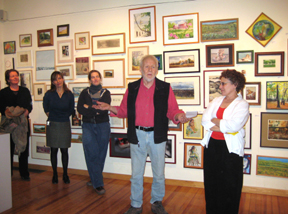 Bruce Ackerman (center) recipient of the Lifetime Achievement award from the Woodstock Artists Assn Museum, Woodstock, NY (R) Leslie Rolnick, Directror
Enjoy the Winter as it is an excellent time to gather resources and prepare for regeneration and Spring.