Culturally Speaking
By Cornelia Seckel
ART TIMES February 2015 online
I realize it has been awhile since writing this column. I had so much to say about Fredericksburg in the Winter issue I just skipped the Culturally Speaking column. Here it is the end of January and looking over my notes I see several things to write about.
First off the Catharine Lorillard Wolf Art Club's 118th Annual Exhibition in December has been held at the National Arts Club for the past 60 years; the Members' Exhibit coming up in June at the Salmagundi Club. The dedication of the Board members of so many of the arts clubs is inspiring. There were well over 200 paintings and sculptures in the show with the ART TIMES award going to Elizabeth Derderian for her acrylic "Before the Curtain Rises". Congratulations Elizabeth and to the top award winners: Nicole Moné, Marcia Rieff, Holly Bedrosian and Olga Nielsen. I was at theBenefit Reception and the proceeds go to the Metropolitan Museum of Art Travel and Research Fund of the Department of American Art for supporting travel for curators. You can see the show online at clwac.org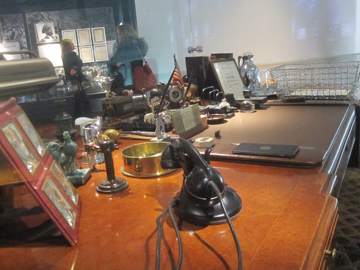 We had visitors from Annapolis, Ray's nieces Anne Kurek and Barbara Waits, and they wanted to seeFDR's home (Springwood) and library in Hyde Park, a National Historic Site. It was particularly interesting as I had been toLyndon Johnson's home just a few months before. The Roosevelts had a long history in the Hudson Valley andEleanor had lived with her grandparents in Tivoli where Kaatsbaan International Dance Center and Tangent Theater (both often talked about in my columns) are located. The house belonged to Sarah Roosevelt, Franklin's mother, and everything in the FDR house was original. There is a very substantial art collection in the house and one thing I found particularly interesting was the lift (very much a dumb-waiter) that allowed Franklin to get to the 2nd floor after he had polio. The library is a lesson in history and one could spend days exploring. There are many programs held at the library and just passed was FDR's birthday celebration on January 30 and coming up on Saturday, February 14, 2015 are numerous President's Day Weekend Events. Managed by theNational Park Service this historic site is a major attraction to tourist. This past year was a 75-year commemoration of the Royal Visit and hot dog picnic. I remember a re-enactment of the Royal visit to Hyde Park — people dressed up in clothing of 1939 and I recall finding a hat and pocketbook in my mother's attic. Old cars lined up the drive and it was great fun.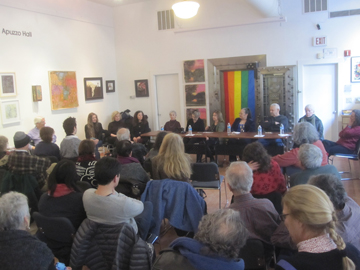 LongReach Arts (formerly SummerGroup) began in Poughkeepsie in the spring of 1982, when a group of professional visual artists working in a variety of mediums and styles met to explore the idea of forming a cooperative gallery. According to their website (longreacharts.com) "Mutual respect for each other's works and recognition of the benefits in sharing ideas and experience brought them together." I first met up with this group when we began ART TIMES in 1984. Since that time many of their members have come and gone but what has remained is the high quality of the work and the respect and support for one another. Early in January (and running through March 31) they had a show at the Hudson Valley LGBTQ Center in Kingston. A Panel Discussion was scheduled and 10 artists spoke about themselves and their work to an audience of well over 60 people. Susan Fowler-Gallagher, a long time member, said "Our work is better because we are interacting with one another and learning from one another". The LGBTQ Center (lgbtqcenter.org) "provides a safe, supportive environment, and provides services, professional resources, and programs that unite the lesbian, gay, bisexual, transgender, and queer community across lines of age, race, gender, and economics. Their purpose is to strengthen, support, and celebrate LGBTQ individuals, families, and groups in their efforts to achieve their fullest potential."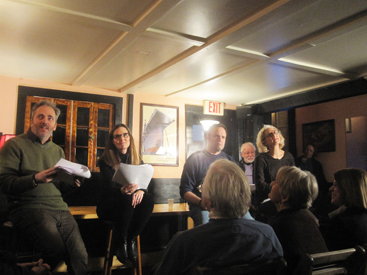 The seeds of Tangent were planted in 1989 when Michael Rhodes joined Keith Teller's Apple Blossom Productions for its staging of Samuel Beckett's Waiting for Godot. Apple Blossom (based in Poughkeepsie, NY) was a talented and very serious minded company - a small band of actors, writers and directors working together in a converted city courthouse as their home base. Over the next several years, the group met nearly every night, exploring different styles of acting instruction, improvisation, writing, scene study - all on the road to becoming an imposing ensemble. They talked and argued and developed a fierce commitment to each other and what they did, working closely in numerous productions. ABP were inspired by the works of Edward Albee, David Mamet, John Cassavetes, Steppenwolf Theatre Company and the character-driven films of the 1970's, and their creative efforts reflected as much. The members of ABP eventually dispersed to Chicago, LA and New York to pursue their careers. Michael and Keith (along with Andrea) wanted to bring the independent spirit they cultivated to New York City, to take creative control of what they wanted to explore with theater and begin producing plays on their own. Tangent was born. "We gained insight and confidence, forged lasting friendships and developed a devoted following. We aimed to find a corner to do the things we really believed in - and we did." Seeing an opportunity to establish that corner in the Hudson Valley, Andrea and Michael relocated in 2006, excited at the prospect of bringing Tangent Theatre Company to Dutchess County where it all began for them nearly 25 years ago. Since resituating to Tivoli, Tangent has grown steadily - with its main stage productions, NEWvember new plays festival and signature pub-readings - to become one of the most respected theater companies in the area.

Thanks to Kim Butwell for the following report: A cold Sunday evening, mid-January and the Traghaven Whiskey Pub in Tivoli, NY was packed with diners, drinkers and theatre enthusiast awaiting the reading of Will Eno's play, "The Realistic Joneses". The reading was presented by Tangent Theatre Company. They have done a series of simple readings of contemporary plays in pubs; an intimate and low cost idea they imported from Ireland. Traghaven cleared some room in the back of the pub for the reading-- four spotlighted stools surrounded by a collection of mismatched chairs and benches for the audience. The four actors remained seated on the stools through the entire performance, starting with their backs to the audience and turning to face the audience when they were part of a scene.
The play is set is an unnamed small town near some mountains and it is summertime. The audience gets a cursory character sketch in the first scene when we are introduces to the first couple, Jennifer and Bob Jones, sitting in their back yard, communicating tensely with each other. The second couple, John and Pony Jones, stroll into the back yard with a bottle of wine, introducing themselves as the new neighbors down the street. John and Pony come off as light-hearted in contrast to the first couple who seem serious and not amused by their new neighbors. As the story unfolds the individuals come into more detail. The play provides an interesting juxtaposition: as the uniqueness of each character is discovered each becomes more universal like players in a Greek tragedy.
It comes to light that one character has a fatal, degenerative illness and the relationships of the four characters weave around the subject. The play draws attention to the different ways people deal with illness and dying. It shines a spotlight on the difficulties of being an invalid and the difficulty of being a caregiver. There are moments that are serious and other moments of levity. The American playwright, Will Eno has won numerous awards for his work including an Oppenheimer award and he was a finalist for the Pulitzer Prize in drama. The play took a serious topic and peppered it with comical exchanges, including an offhanded haiku. The actors were exceptional, building their characters and drawing in their audience without props, scenery or movement. The pub reading was a bit like watching radio and seemed to be enjoyed by all.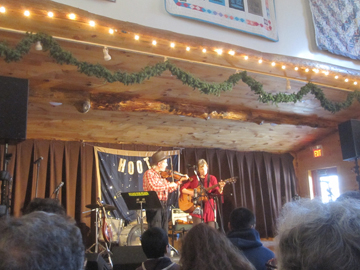 I went to the 3rd Annual Winter Hoot at the Ashokan Center in Olivebridge, NY with musician Emily Mure (one of our music writers) my niece Mady and another of her friends (another Emily). The Center, formerly SUNY New Paltz's environmental field station, is now a non-profit where "community is nurtured through nature, the arts and history". I got there about 1pm and stayed till after 8. It's been a long time since I heard live folk music and spending all that time was delightful. Food (reasonable prices and very good), cds and other items were available for sale. This is a family oriented event (I often felt a thump on my knee as a little one walked into me/ or I, looking ahead not down, bumped into them) with lots of activities for kids including movies, craft events, performances, and a special room set up for fiber flame studio. Here kids could make their own mixed media projects. Take a look at fiberflamestudio.com - there is a studio in Saugerties and in Rhinebeck and opportunities for kids and adults to take part in workshops, events or just to show up and play. The Woodstock School of Art (WSA) was invited to paint a mural and to bring artists to the Hoot to sketch. The WSA will be doing numerous projects with the Center and will be part of the Sing and Shine Dinner Dance event that will support the Ashokan's Scholarship Fund and the renovation and preservation of one of the WSA's historic working studios. Ruthy Ungar and Mike Merenda organize the Hoots. They have been together 16 years touring, raising two kids, running a recording studio and presenting the hoots. Their current band is the Mike and Ruthy Band (your might remember them as The Mammals). Mike and Ruthy invited world class musicians that included Kristin Andreassen, David Wax Museum, Down Hill Strugglers with John Cohen, Elizabeth Mitchell, Josh Ritter, Uncle Rock and Jay Ungar & Molly Mason. Jay and Molly (Ruthy's parents) specializing in 19th and 20th century American folk songs and dance music. Ashokan Farewell written by Jay Unger was the main theme of Ken Burns' landmark PBS documentary The Civil War and resulted in an Emmy nomination for Jay and a Grammy for the soundtrack album. These musicians were all fabulous and truly touched my being. It looked like 400 + people of all ages came, many planning on coming back for the Summer Hoot August 21-23 and other programs (see ashokancenter.org for a full schedule of the many events, school programs additional uses of this very important resource). I sure expect to get to the Maple Fest on March 7. After that, on May 1-3, is the Scottish Fiddle and Cello Camp and then on May 22-25 the Uke Festival. Note that there are lodging facilities available. More about the Ashokan Center in the Spring Issue.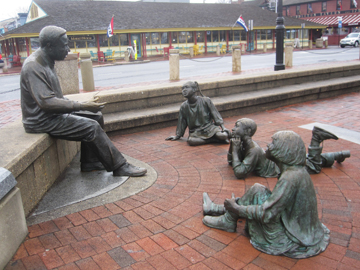 Kunta Kinte-Alex Haley Memorial in Annapolis, MD.
Ed Dwight sculptor
I went to Annapolis to visit my sister-in-law and had a great tour of many of the galleries, the Naval Academy and several restaurants and shops. See the upcoming Spring issue (in print on March 1 and also available online) for a full report.
Looking forward to Spring!