Culturally Speaking
By Cornelia Seckel
ART TIMES Fall 2014
What happened to summer? The more I do it seems like the faster goes the time. I've included several things that I mentioned in my online column for those of you not yet getting the hang of going to our website where new essays, videos, calendar and opportunity listings are added every month. Our guest blog page has some videos that our readers have submitted about their shows and several blogs I feel compelled to pass along. Send me your videos and link to your blogs for consideration.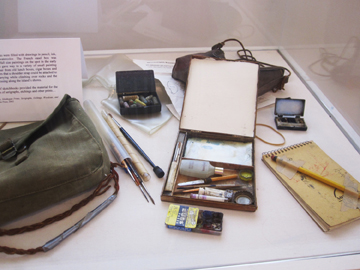 Angeloch Under Glass is a memorial exhibit of works on paper by the founder of the Woodstock School of Art (WSA) Robert Angeloch (1922-2011) and held at the WSA in Woodstock, NY. Dear long-time friends and colleagues Paula Nelson and John Kleinhans were the curators of this immense undertaking. They went through Bob's vast collection of work, identified pieces that best exemplified a period in time, framed, and photographed the work. Many of Bob's former students (he was a sought-after instructor) as well as collectors, friends, colleagues were at the opening. We were treated to his etchings, aquatint, pencil, ink on paper, wood engravings, charcoal, oil, watercolors, woodcuts, serigraphs, lithographs and more. I particularly liked the vitrines: one held his notebooks and the other a sampling of his painting boxes, kits and other painting memorabilia from his time painting away from his studio. There was an excellent video presenting the Bob who went to Monhegan Island, the ping pong player, the husband, the teacher, the friend. Kate McGloughlin, current president of WSA and former monitor in Bob's class more years ago than she is admitting— welcomed attendees to the opening and spoke about how important Bob was to WSA. When Bob had Paradox Gallery in Woodstock, he always printed up small booklets from Phantom Press (his press). It was at that time that Raymond J. Steiner did a critique of Angeloch's work in addition to a profile Steiner did for another publication before we began ART TIMES. It was delightful to see a small booklet in the same style that Bob used with comments from Kate and a discussion of Bob's work by Staats Fasoldt, VP & Instructor at WSA. The show will run thru Sept 6. Curators Paula and John spoke about Bob's working style...their great friendship. Paula talked a bit about his field painting kits, how he made one for each member of his family out of metal lunchboxes which coincidentally fit a 6"x8" painting panel perfectly, so many of his field paintings were that size.
While in Chelsea, I stopped at the New Century Artists Gallery and saw a group exhibition Art in Residency curated by Basha Mayanska, an extensively shown artist from Poland who teaches and occasionally gives workshops. She also curates shows in Chelsea, in Beacon NY and internationally working with many different artists. I like her sensibilities, the paintings she chooses work well, creating an interesting and varied show that flows.
An exploratory mission took me to Hudson, NY where I went in and out of probably 20 different galleries. Art is all over the town, in shops, cafés, performance centers, and galleries that change shows every month or so; other galleries that represent mostly deceased artists and still more that combine antiques and contemporary artists. I was pleased to see Elizabeth Roshkowska at the Roshkowska Galleries (roshkowskagallery.com) having known her when she had her gallery in Windham. Elizabeth has a great variety of artists from the US and Europe. John Davis Gallery (johndavisgallerry.com) was a delightful surprise to me as I didn't realize he had so much artwork: he has work on 2 floors in the main building, a sculpture court and behind that another building with 4 floors each dedicated to a different artist. John has been in the gallery business for over 30 years and in Hudson for 16 years or so. It is quite an undertaking to mount shows in each of those places every 4 weeks. Take a look at johndavisgallery.com. At FRG Objects & Design (frgobjectsanddesign.com) I was struck by the startling visionary collography (work in ink on various papers some of which are mounted on Linen) of Cuban artist Belkis Ayõn. The work is so complex yet beautifully simple. Owner of the gallery is Rick Gillette, hair and make-up artist, fashion photographer and interior designer. In this vast and airy gallery I saw samples of his design work and it is both simple and elegant. The gallery is upstairs and has high ceilings, wonderful natural light and several rooms to show not only Rick's designs but furniture, lamps and art work including large abstract paintings byHudson Valley Artist Joseph Conrad-Ferm, and onyx and travertine lamps and accessories by Hudson artist Kerry MacBrideâ. Give yourself lots of time to explore Hudson with its many galleries, shops and restaurants.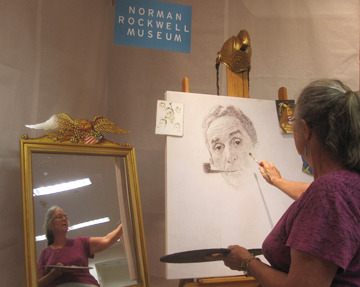 My friend Barbara and I took a ride over to Stockbridge to see the current exhibition at the Norman Rockwell Museum now celebrating 45 years as a museum. The collection, beginning with 125 paintings that Norman Rockwell placed in trust with the Museum, has grown to over 13,000 artworks. On exhibit thru October 26 is The Unknown Hopper: Edward Hopper as Illustrator. The exhibition focuses on a time and style of Hopper's little known to the public. There are more than 50 original drawings and paintings and as part of the exhibition artworks by Hopper's fellow art students and teachers are on view as well as several works by Hopper's wife Josephine. Hopper was encouraged to study illustration by his parents and in 1906 landed a part time job at an advertising agency where he created images for popular magazines of the time. By 1920 he was producing etchings and painting urban and architectural scenes. There is extensive programming about this artist: a trip to his childhood home in Nyack; lectures by historians and curators and an evening with noted Hopper scholar, Gail Levin, Ph.D. When we entered the museum I was struck by the numbers of people of mixed ages enjoying and discussing with one another the Norman Rockwell's paintings and exploring the work of Hopper. As I walked around I felt as if I was visiting old friends as some of the paintings were included in Raymond J. Steiner's reviews over the years: 1994, 2001 & 2007 (available on our website under art reviews). The Norman Rockwell paintings on view were works from private collections and had not been seen at the museum before. As I wandered the gallery I heard a familiar voice: Gail Levin, recently honored by the National Association of Women Artists was discussing Hopper's work as only she is qualified to do. She talked about her research on the artist's life and career, which includes a four-volume catalogue raisonné (1995), as well as the books Edward Hopper: An Intimate Biography (1995), and Edward Hopper as Illustrator (1979). Dr. Levin is Distinguished Professor of Art History, American Studies, and Women's Studies at The Graduate Center and Baruch College of the City University of New York . At one point in the video we heard a quote from Hopper: "I was a rotten illustrator or mediocre anyway…… what I wanted to do was to paint sunlight on the side of a house". His critics and public will not agree with that; his illustrations were exceptional as he is an excellent draftsman. Coming up (Nov. 8-Mar 8, 2015) will be the exhibit Mort Künstler: The Art of the Adventure. Künstler is a prolific illustrator known for his meticulously researched historical paintings. For more about the museum and this exhibition see nrm.org.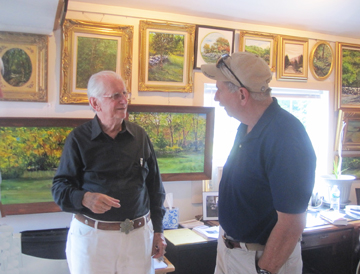 The Saugerties Artists Studio Tour was again a great success with hundreds of visitors. Some came from as far away as Florida. Our editor Raymond J. Steiner was part of the tour and his paintings, done en plein air, were well received by the 125 or so visitors we had over the weekend. If you missed the tour but want to connect with any of the artists take a look at the website: saugertiesarttour.com
I spent a few days visiting my mother's friend Gilda in Annisquam MA and since the fishing boat I was hoping to go out on was under repairs I had even more time to explore the Rocky Neck Art Colony in Gloucester. The Rocky Neck Art Colony is one of the oldest working art colonies in the country, and has been luring artists to its picturesque shores for more than 150 years. Artists will tell you it's all about the light, and among many others seeking that light came Fitz Henry Lane in the 1840s, Emile Gruppe, who made The Neck his home and painted into the 1970s,Childe Hassam, Milton Avery, Maurice Prendergast, Cecilia Beaux, John Sloan, Stuart Davis, Frank Duveneck, Nell Blaine, and Jane Peterson. Writers Louisa May Alcott, Rudyard Kipling, and others frequented The Neck. Today the area is home to many working artists and to galleries showing paintings in all media, as well as batik, photography, jewelry, prints, sculpture, ceramics, and fine gifts. There is a once-a-month "Night on the Neck" schedule with numerous galleries open into the evening sponsored by Rocky Neck Art Colony. This artists' community is a tight one with 20+ artists and galleries (some seasonal and others year-round) in just what might be 4 city blocks at most. Rockyneckartcolony.org
I was in Huntington, NY for a family meeting and took advantage of being there and explored a few of the Art Galleries in town. bj Spoke is one I am very familiar with, having juried several of their juried art shows. b.j. spoke gallery is a member-owned and run cooperative art gallery w/painters, jewelers, and sculptors. Nearly 25 years ago two cooperative galleries, Northport Galleries and B. J. Spoke Gallery merged to form b.j. spoke located in Huntington, NY. They have exhibits of members' work, yearly invitational shows, exchange exhibits with other galleries, an annual national/international juried art competition as well as gallery talks, panel discussions, workshops, and art demonstrations. Take a look online at bjspokegallery.com and stop by when you are in the Huntington area. I also stopped at the Huntington Arts Council now celebrating 50 years serving the arts community of Huntington. There are over 500 members and they have a staff of 6 that manage among many other things: The Huntington Summer Arts Festival, a 49-year tradition with performing artists 6 nights a week until August 10 at the Chapin Rainbow Stage in Heckscher Park. Artists and ensembles include world-class talent in music, dance and theatre from around the globe, as well as the finest performing arts groups from Huntington and Long Island; an exhibition schedule with 12 juried and invitational shows each year; dissemination of several different grants; an extensive art in education program; a summer arts enrichment program serving 200 youth each summer in a half day arts experience at the Huntington High School and provides a head start for beginning orchestra and band students, exploration of new mediums for artists and advanced art and music classes for older students; and Sparkboom™, a program to foster the success of Long Island's emerging creative talent by providing opportunities, programs and event experiences geared to people 18-34 years of age. The charge upon their formation by the Huntington Town Board was to "consider the problems of maintaining an adequate cultural life in the expanding community complex of Huntington." And they surely have.
And then there is the Heckcher Museum with a collection spanning 500 years of Western art with particular emphasis on the nineteenth and twentieth centuries. Established in 1920 with a gift from August Heckscher of 185 works, the collection now numbers more than 2500 pieces by American and European artists. American landscape painting and work by Long Island artists, past and present, are particular strengths, as is American and European modernism. Photography is a growing part of the collection. The current exhibition is Rhythm & Repetition and runs through August 10 focusing on artists (all work part of the museum's permanent collection) who use repeated elements as a method to organize their compositions. The next exhibition is Richard Gachot's America and will run thru November 23. This exhibit celebrates the career of Richard Gachot, the Museum's Celebrate Achievement honoree for 2014, who has created sculptures using direct wood carving and objects found at yard sales, discarded in dumpsters, or long-forgotten in attics and basements. His creations have humor and social commentary. There are extensive education programs for k-12, adults and seniors; lectures, workshops, music performances. Much of the current exhibition can be viewed online at heckscher.org but seeing work in person is, of course, the best.
I've just learned about The KeepSafe Project, an annual fundraiser to support the work of the Cheetah Conservation Fund (CCF) and the Lemur Conservation Foundation, organizations dedicated to the conservation of these endangered species. The "keep safe" boxes, fashioned out of repurposed cigar boxes, will be on exhibit throughout the towns of Rhinebeck, Poughkeepsie and surrounding areas before being auctioned off at theMillbrook School, Millbrook, NY on October 18, 2014. The KeepSafe Project is a joint effort between volunteers and the Trevor Zoo at Millbrook School, a leading conservation organization now in its 78th year of promoting a greater understanding of environmental issues. Visual artists from the Hudson Valley and beyond were personally invited to create and donate boxes with themes of wildlife conservation. I understand that thegallery of completed boxes grows daily, and can be viewed online. There will be a reception and several other events to meet the artists and hear about their work. See the website keepsafeproject.com for specifics and to bid on the boxes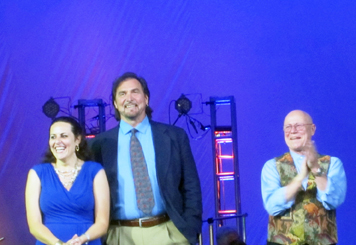 The 2014 Phoenicia International Festival of the Voice (5th year) was a resounding success with over 5,000 people attending 25 events in 87 venues held during the 5-day festival. Beginning with the opening Flamenco Gala on Wednesday evening and continuing on with workshops, a play, lectures, dance, choral music, book readings and the centerpiece of the festival the Barber of Seville featured Artists from around the world. The theme of the festival is aTribute to Spain inspired by this year's crowning of the new Spanish king Felipe VI. Next year will be the American Year featuring American music, Native American, folk, opera, barbershop, gospel, Broadway, film, world premieres and American song with living American composers and the artists for whom they've written. Several of this year's events were sold out so make your reservations early at phoeniciavoicefest.org. At the Flamenco Gala, Assemblymember Kevin A. Cahill, (D – Ulster, Dutchess) welcomed guests to the opening of The Phoenicia Festival of the Voice and announced that the Festival organization will be receiving a $125,000 New York Community Capital Assistance Program Grant. The Festival is generating a good amount of revenue for the county with the thousands of visitors that take hotel rooms, eat and frequent area businesses. Co-Founder and Executive Director Maria Todaro (a fabulous Mezzo-Soprano who played the role of Rosina in the Barber of Seville) spoke about the great appreciation they have for the state's support and for the audience. Louis Otey (world-renowned Barritone), co-founder, expressed his excitement and amazement as he looked around the field and heard the appreciation of the enthralled audience. Justin Kolb, Pianist/ Actor is the Chairman of the Festival and co chair of the new Catskills Academy of Performing Arts (CAPA) for youth. More at phoeniciavoicefest.org
The exhibition N. A.W.A. at Café Mezzaluna in Saugerties, NY was a huge success with about 25 members of the National Association of Women Artists (N.A.W.A.) Members living in the Hudson Valley Region invited to submit work. N.A.W.A. has been empowering, promoting, supporting and encouraging women artists, since 1889. Café Mezzaluna sponsors many art related events including art shows for individual artists and the Saugerties Artists Tour, dinner concerts, and poetry readings. Mery Rosado, owner of the café, was so very pleased to have N.A.W.A. members show their work. A closing reception was held and board members spoke about the value of the organization for women artists. Membership provides an opportunity to show at museums and galleries in NYC and beyond, attend workshops, panel discussions as well as other educational programs. For more information thenawa.org
That's it for now, make sure to check in on arttimesonline for videos, new essays and resources.