Culturally Speaking: a continuous 'Blog'
By Cornelia Seckel
ART TIMES online August 2015
This Culturally Speaking Column will be morfing into an ongoing Blog and will also be posted to facebook and twitter (thanks to my new iphone!) so that my comments and travels are more timely.
Splash, the annual fund raising event that supports the Woodstock Artists Association Museum's Education Program, honored Milton Glaser and Shirley Glaser and Kate McGloughlin. Milton Glaser, a world-renowned graphic designer, and Shirley have been great supporters of the arts. Kate McGloughlin, an excellent artist and teacher is also the President of the Board of Directors at the Woodstock School of Art. It was a very festive event with lots of foods having been donated, an auction and artworks "Little Gems" for sale.
Check with WAAM for next year's Splash and for upcoming exhibitions. www.woodstockart.org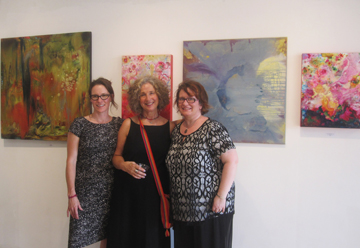 Nina Isabelle is the Gallery director at Star House Gallery in Kingston, NY and one of the 3 painters along with Charlotte Tusch Scherer and Sheri Ponzi that are included in the show "Abstract Mediums". The gallery is located in the Shirt Factory, one of several former factories now housing Creatives and their studios. All 3 of these artists pour their paint onto canvas and the works "spoke" to each other making for an interesting and high quality exhibition. The gallery has performances as well as ongoing exhibits. Opening on August 22nd from 5-8pm is Posthumous Collaborations. Artists Christina Varga and Nina Isabelle will integrate Eugenia Macer-Story, an artist, spiritualist, and writer. It will be an intuitive flow into the dimension of the living by experimenting with their own intuitive mark-making process in conjunction with Macer-Story's original paintings. Learn more about what goes on at: starhousegallery.com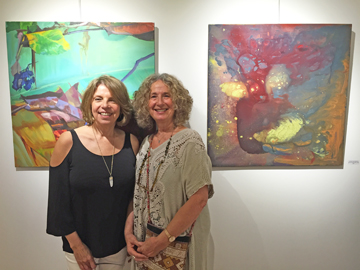 Color and Form new works by Charlotte Tusch Scherer and Maxine Davidowitz are at the ARTBAR Gallery in Kingston, NY thru August 30. Allison Constant, proprietor of The ARTBAR, is following her dream to have a gallery. Charlotte and Maxine's work made for a gorgeous space. Their works are abstract, colorful and clearly by two exceptionally fine professional artists. The 1200 sq. ft. venue holds art exhibitions, corporate events, parties, meetings and other gatherings. Allison exhibits emerging, mid-career and established artists. Stop by, you won't be sorry. artbargallery.com
Raymond J. Steiner wrote a critique (http://bit.ly/1IByFXS) of Kari Feuer's exhibit at The Betsy Jacaruso Gallery & Studio in Rhinebeck NY. It was an excellent show and it is a beautiful gallery that also included works by Betsy Jacaruso & the Cross River Artists. All the work at the gallery captured the essence of the Hudson River Valley. (arttimesjournal.com)
I was so pleased to have Kim Butwell and Charlotte Tusch Scherer join me to judge the 53rd Annual White Plains Outdoor Arts Festival at he end of May. The Festival committee does an excellent job of organizing this event held in Tibbits Park in White Plains. All the proceeds go to the Arts Scholarship fund. This year $14,000 were awarded to 6 White Plains HS seniors. William Finks of Catskill was our top choice with his fabulous whimsical metal designs.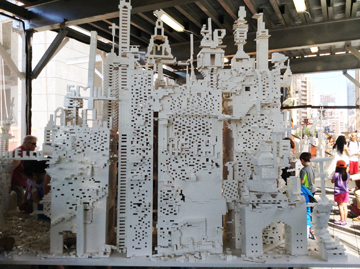 I visited the Highline in NYC, a 1.45-mile-long New York City linear park built on an elevated section of a disused New York Central Railroad spur called the West Side Line. It was inspired by the 3-mile Promenade plantée (tree-lined walkway), a similar project in Paris completed in 1993. It is always delightful to walk the Highline and to introduce it to friends. While there I had the pleasure to see Olafur Eliasson's The collectivity project, an installation of 2 million white LEGO® bricks that features an imaginary cityscape conceived and designed by the public. I and other visitors to the High Line were welcome to play with the installation, building and rebuilding the structures over time; a delightful hands-on project for all ages that will remain until the end of September. Take a look at www.thehighline.org for more activities and exhibitions. Owned by the City of New York, the High Line is a public park maintained, operated, and programmed by Friends of the High Line, in partnership with the New York City Department of Parks & Recreation. Friends of the High Line raises 98% of the High Line's annual budget. If you haven't been yet go and visit. Take a look at a video I made a few years ago and get a brief overview.
A few weeks ago I went to the opening of Wilna Hervey (1894-1979) & Nan Mason (1896-1982), Two Woodstock Originals at the James Cox Gallery in Woodstock, NY. These two women were partners for life, artists, actors, civic leaders and party girls. A companion exhibition, Living Large: Wilna Hervey & Nan Mason is at the Historical Society of Woodstock thru September 6. Both exhibitions include art work, photographs and at the Historical Society a continuous screening of one of Wilna Hervey's silen Toonerville Trolley comedies "The Skipper's Narrow Escape" (1921).

On Friday, July 31, the Cox gallery hosted a Full Moon Costume Party in the style of the old Maverick Parties from the 1920's.
Living Large: Wilna Hervey and Nan Mason
by Joseph P. Eckhardt with book design by Abigail Sturges, is an intriguing book with nearly 200 illustrations of the lives of these two extraordinary women. Published by WoodstockArts (www.woodstockarts.com) in June 2015, the book tells their story: Wilna's work as Katrinka in the Toonervile Trolley comedies of the early 1920's and her meeting Nan Mason, the daughter of her co-star Dan Mason. The two women, both very tall and large women became friends and lovers sharing the next 59 years together. When Wilna's career as an actress in the silent films ended they chose to locate in Woodstock, NY, both were artists and the artists' colony allowed for their lifestyle. Both women had been born and raised in NYC and Wilna had taken numerous art classes as a young girl. The book reveals much about their 59 years together and life in Woodstock from 1924 – 1979. The numerous pictures and the index is a Who's Who of many of Woodstock's notables during the hay day of the colony. Joseph P. Eckhardt was first introduced to Wilna Hervey while doing research on the Toonerville Trolley comedies which were made at the Betzwood studio in the Philadelphia suburbs. He felt "that the story of this loveable and eccentric thespian-turned artist and her life companion was a tale worth telling". Wilna & Nan's great enthusiasm for life is truly a comment on their "Living Large". More information at www.historicalsocietyofwoodstock.org and at www.jamescoxgallery.com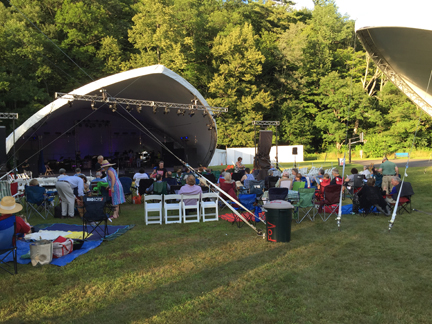 Phoenicia International Festival of the Voice continues thru Sunday, August 2 in Phoenicia, NY. Last night's performance of "A Little Night Music" at the Phoenicia International Festival of The Voice was just fabulous. Beautiful voices, an excellent staging of a really good play. Check out tonight's schedule at www.phoeniciavoicefest.org
Saturday night is the full opera Of Mice and Men by Carlisle Floyd. During the day on Saturday, there will be dancing and music from Native Americans, the Chamber Singers, an a capella ensemble, the world premiere in workshop of Do Not Go Gentle— The Last Days of Dylan and Caitlin from 4-6pm. On Sunday you can hear Gospel Music from 1-2pm; the Voices of Gotham, a non-profit men's chorus whose mission is to celebrate, promote and preserve the American tradition of the barbershop harmony from 5-6:30.
There were many great offerings and next year #7 will be 1616-2016 Celebrating Shakespeare and All Things British.
Take a look www.phoeniciavoicefest.org
That's it for now, keep checking this column and soon I'll have wordpress figured out and it will become a blog.