Culturally Speaking
By Cornelia Seckel
ART TIMES online August 2014
This summer is moving along very quickly and soon the Fall Season will begin. Meanwhile I have been able to explore places I haven't been in a long time and report on award events among other things.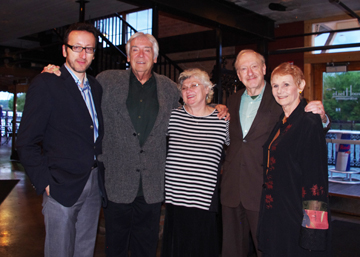 The Arts Society of Kingston (ASK) is a regional center for the arts and presents a diverse range of visual art exhibitions, performances, workshops, classes, and other arts-related programming for the benefit of artists, art-lovers, and the general community of the Hudson Valley. ASK provides opportunities, resources, and education for artists. For more information: ASKforArts.org. Each year ASK honors three outstanding Hudson Valley artists as part of the ASK Annual Gala "A Night at the ASKars." This year's ASKar recipients were musician Warren Bernhardt of Woodstock, actress and director Nicola Sheara of Kingston's TheaterSounds, and Sevan Melikyan, artist and director of the Wired Gallery in High Falls. Held at the Steel House Restaurant in Kingston NY (purchased by Marv Million Steel Products in 1959 and used to fabricate steel until 1997); the evening was a delightful gathering of artists and supporters of the Arts and began with a cocktail hour, extensive silent auction and continued on with dinner, and live music with Rene Bailey, an outstanding artist of rhythm and blues, jazz and gospel aka the reigning queen of blues/gospel/jazz singers. Rene, accompanied by The Sean Gallagher Trio and David Winograd has been a presence in the Hudson Valley music scene and formerly part of the well-loved Red Hot Mamas that performed throughout the region for many years. Lew Gardner, President of ASK, welcomed us to the evening and then introduced the award recipients. Each of the recipients spoke briefly, thanking ASK and each was honored to be among such notables.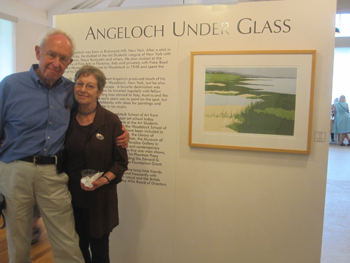 Angeloch Under Glass is a memorial exhibit of works on paper by the founder of the Woodstock School of Art (WSA) Robert Angeloch (1922-2011) and held at the WSA in Woodstock, NY. Dear long-time friends and colleagues Paula Nelson and John Kleinhans were the curators of this immense undertaking. They went through Bob's vast collection of work, identified pieces that best exemplified a period in time, framed, and photographed the work. Many of Bob's former students (he was a sought-after instructor) as well as collectors, friends, colleagues were at the opening. We were treated to his etchings, aquatint, pencil, ink on paper, wood engravings, charcoal, oil, watercolors, woodcuts, serigraphs, lithographs and more. I particularly liked the vitrines: one held his notebooks and the other a sampling of his painting boxes, kits and other painting memorabilia from his time painting away from his studio. There was an excellent video presenting the Bob who went to Monhegan Island, the ping pong player, the husband, the teacher, the friend. Kate McGloughlin, current president of WSA and former monitor in Bob's class more years ago than she is admitting— welcomed attendees to the opening and spoke about how important Bob was to WSA. When Bob had Paradox Gallery in Woodstock, he always printed up small booklets from Phantom Press (his press). It was at that time that Raymond J. Steiner did a critique of Angeloch's work in addition to a profile Steiner did for another publication before we began ART TIMES. It was delightful to see a small booklet in the same style that Bob used with comments from Kate and a discussion of Bob's work by Staats Fasoldt, VP & Instructor at WSA. The show will run thru Sept 6. Curators Paula and John spoke about Bob's working style...their great friendship. Paula talked a bit about his field painting kits, how he made one for each member of his family out of metal lunchboxes which coincidentally fit a 6x8 painting panel perfectly, so many of his field paintings were that size.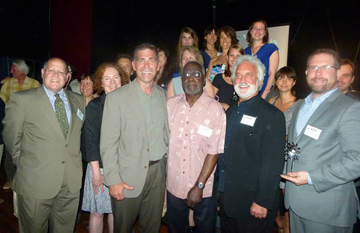 The Ulster County Executive's Arts Awards, a program of arts Mid-Hudson (formerly known as Dutchess County Arts Council) was held at the Saugerties Performing Arts Factory (SPAF), Saugerties, NY. The honorees included the Center for Photography at Woodstock; Arts in Education- Linda Gillette;Business/ Corporate award to Chronogram; Individual Artist- Garry Kvistad; Art in Public Places to 0+ Festival; and a special citation to Benjamin Wigfall. Mike Hein, Ulster County Executive Director gave the awards and said how fortunate we are to have so many wonderful artists in the community and therefore fine galleries, fairs, tours, festivals that all help to promote the Arts in Ulster County. Linda Marston-Reid, Arts Council Executive Director thanked us all for coming, thanked the supporters and gave her appreciation to each of the awardees. It was a pleasure to see so many people turning out to honor these recipients. The arts are important for our well-being and surely adds to the economics of a community.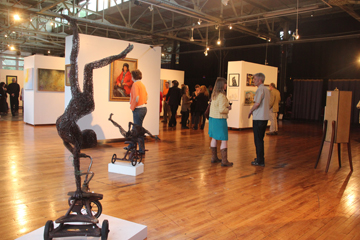 Work by participants in the Art along the Hudson kickoff exhibit were on view in the SPAF gallery during the Executive's Arts Awards. Art Along the Hudson Kicked off its 11th year of art events in the Hudson Valley with this exhibit that showcased over 50 artwork from artists in the 13 participating communities. The group grew from four communities to 11 communities –Beacon, Garrison/Cold Spring, Greater New Paltz, Kingston, Newburgh, Peekskill, Poughkeepsie/Hyde Park, Rhinebeck/Red Hook/Tivoli and Saugerties — plus seven studio tours, 230 art venues, 140 art festivals and community events, plus dance, theater and music performances, and art openings. There was entertainment provided by Malcom Cecil, Mikhail Horowitz and Arm of the Sea Puppet Theater. The place was filled with hundreds of artists and friends of artists that came from the 13 participating communities and beyond. It was clearly a "not to be missed" event.
Coming up on September 4th is the annual Fall for Arts juried art show and sale. This year there was an additional component: a competition among area students and resulted in a show held at theCornell Street Studios in Kingston NY "Emerging Artists of the Hudson Valley". The artists we choose ( Tor Gudmundson, Paul Solis-Cohen and I) will also be on view at the Wiltwyk Country Club during Fall for Art.
While in Chelsea, I stopped at the New Century Artists Gallery and saw a group exhibition Art in Residency curated by Basha Mayanska, an extensively shown artist from Poland who teaches and occasionally gives workshops. She also curates shows in Chelsea, in Beacon NY, nationally and internationally working with many different artists. I like her sensibilities, the paintings she chooses work well creating an interesting and varied show that flows.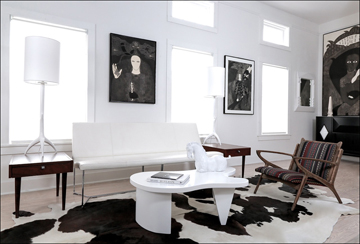 An exploratory mission took me to Hudson, NY where I went in and out of probably 20 different galleries. Art is all over the town, in shops, cafés, performance centers, and galleries that change shows every month or so; other galleries that represent mostly deceased artists and still more that combine antiques and contemporary artists. I was pleased to see Elizabeth Roshkowska at the Roshkowska Galleries (roshkowskagallery.com) having known her when she had her gallery in Windham. Elizabeth has a great variety of artists from the US and Europe. John Davis Gallery (johndavisgallerry.com) was a delightful surprise to me as I didn't realize he had so much artwork: he has work on 2 floors in the main building, a sculpture court and behind that another building with 4 floors each dedicated to a different artist. John has been in the gallery business for over 30 years and in Hudson for 16 or so years. It is quite an undertaking to mount shows in each of those places every 4 weeks. Take a look at johndavisgallery.com. At FRG Objects & Design (frgobjectsanddesign.com) I was struck by the startling visionary collography (work is ink on various papers some of which are mounted on Linen) of Cuban artist Belkis Ayõn. The work is so complex yet beautifully simple. Owner of the gallery is Rick Gillette, hair and make-up artist, fashion photographer and interior designer. In this vast and airy gallery I saw samples of his design work and it is both simple and elegant. The gallery is upstairs and has high ceilings, wonderful natural light and several rooms to show not only Rick's designs but furniture, lamps and art work including large abstract paintings by Hudson Valley Artist Joseph Conrad-Ferm, and onyx and travertine lamps and accessories by Hudson artist Kerry MacBrideâ. Give yourself lots of time to explore Hudson with its many galleries, shops and restaurants.
The Saugerties Artists Studio Tour is coming up August 9, 10, 11 and Raymond J. Steiner will again be part of the tour. The Friday August 8 opening reception is at Opus 40 and there one can see samples of the work of the 34 artists on the tour. I expect it will again be a great success with several hundred people exploring studios.
Raymond J. Steiner had a successful showing of his work at the M Gallery in Catskill, NY. Patrick Milbourn and William P. Duffy also showed their landscapes in the show "Deeply Rooted- Expressions of 3 artists"
In the Fall issue you will hear about my time at the Norman Rockwell Museum and the exhibit (thru October 26) isThe Unknown Hopper: Edward Hopper as Illustrator; my trip to Huntington, NY and thebj spoke galleries, The Heckscher Museum and the Huntington arts Council; my time exploring theRocky Neck Art Colony in Gloucester, MA; The Phoenicia Festival of the Voice; the Saugerties Artists Tour; Fall for Art and much more.
See you out and about………