Culturally Speaking
By Cornelia Seckel
ART TIMES Summer 2013
This issue marks the beginning of 30 years that we are publishing ART TIMES. It has been an awesome undertaking and it is hard to accept that 30 years have passed since Raymond and I decided to start a publication that not only crossed county lines but state and now with our extensive website, country lines and serves to provide literary essays about the arts and resources for a global creative community. I've said it in the past and I'll say it again— "If I died today I will have made a difference in the world to people who are trying to have the results of their creativity seen." Not a lot of people can say they have made a difference and I am proud of what Raymond and I have done and how we have done it. We have supported and presented the work of creative people and the creative spirit. I was told early on that I would never succeed and here ART TIMES still is — 30 years later.
I've written about how we began and believe that this is the time to say it again briefly in another page of this issue (a more detailed version is online "about ART TIMES"). You can read a different take about the early years in the profile that Raymond wrote about me in the Mar/ April 2012 issue of ART TIMES— this profile can be found online, along with early pictures from our beginning at arttimesjournal.com.
Raymond will again be part of the Saugerties Artists Tour scheduled for August 10th and 11th. Check saugertiesarttour.com for the Friday, August 9 reception information, as well as a video of some of the participating artist and a tour map. The tour is free and always a lot of fun with many fine artists to visit. Raymond will also have an exhibit of his Landscapes at Mezzaluna Café (www.cafemezzaluna.com). This Bistro Latino has excellent food, weekly concert brunches, poetry readings and art shows every 6-8 weeks. Raymond's show will open with a reception on June 15 from 4-6pm.
As you probably know, we are printing 4 times a year: Spring: Mar/ Apr/ May; Summer: Jun/ Jul/ Aug; Fall: Sept/ Oct/ Nov; Winter: Dec/ Jan/ Feb. The months we aren't printing, we publish new essays, videos, Calendar and Opportunity listings online. April online we published: Imagine- Association of Performing Arts Presenters by Mark Laiosa; Aesthetics to Athletics by Francine L. Trevens; The Drawing Galaxy by Meredith Rosier; Are Digitals Good? by Henry P. Raleigh; Soul Music: The Ancient Practice of Kirtan by Mary Burruss and in May online: Dance for the Family by Francine L. Trevens; a new Steiner's Peek and Piques!; Film on an iphone by Henry P. Raleigh; Profile of Jessye Norman by Mary Burruss. My Travel and Culture pieces were about San Antonio and about the Fishermen's Festival in Boothbay, ME (arttimesjournal.com/Travel_and_Culture); all of these essays are and will remain available online at arttimesjournal.com.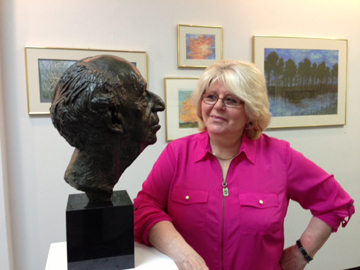 Rhoda Sherbell was the honored Artist and Guest Speaker at the National Association of Women Artists, Inc. annual meeting and luncheon (see essay about Rhoda Sherbell, honoree at arttimesjournal.com). This organization has been Empowering Women Artists since 1889 and promotes culture and education in the Visual Arts through exhibitions of its member's works, lectures, art demonstrations, scholarships, awards and other educational programs. They encourage new emerging artists in many ways. The luncheon was very well attended and after the annual meeting and lunch Rhoda gave a very stimulating presentation about her sculpture and paintings. Rhoda teaches at the Art Students League of NY and at the National Academy and has her work in many of the finest museum collections. She told stories, praised N.A.W.A., passed along good advice and wisdom to artists "Be truthful to yourself and your work will be true." About being a woman artist she said that women should "walk in their own shoes and be strong. It is a tough life for women but we don't cry about it". Her work — excellent pastels and several fine bronze heads were on view at the N.A.W.A. gallery. For more about the organization: thenawa.org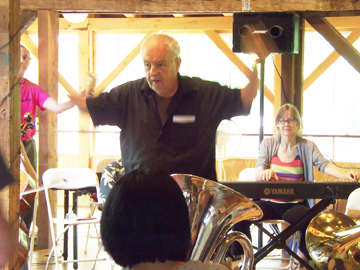 The Creative Music Foundation and its educational program, the Creative Music Studio, were founded in the early 70's by Karl Berger, Ingrid Sertso, and Ornette Coleman. CMS was considered the premier study center for creative music in the 70s and 80s. Over 100 Guiding Artists came to CMS to teach, including: Don Cherry, Dave Holland, Carla Bley, Jack DeJohnette, Steve Gorn, Anthony Braxton, Jimmy Giuffre, Wadada Leo Smith, The Art Ensemble Of Chicago, Pat Metheny, George Lewis, Lee Konitz, Nana Vasconcelos, Trilok Gurtu, Collin Walcott, Oliver Lake, John Cage, Ismet Siral, Ed Blackwell, and Cecil Taylor. Part of what the CMF has/ is undertaking includes: • The Oral History Project, in conjunction with Columbia University's Jazz Studies Program, gathering stories from the Guiding Artists (instructors) and alumni. An archive of recordings of their performances are being digitized • the CMS Archive Project under the guidance of CMS Director Karl Berger, master engineer and musician Ted Orr leads the to transfer and re-master the CMS Archive Collection of tapes. • Karl Berger developed an innovative orchestra comprised of 20 or more professional string, horn, reed and percussionists. The KBIO takes the principles of CMS Orchestra Workshops to a professional level, with astounding results and has been in residence at several locations in NY over the last few years.• Residencies, workshops, seminars, presentations and performances in various formats detailing and employing principles of the unique Creative Music Studio approach to personal development in musical expression and communication. Led by Karl Berger and supported by Ingrid Sertso, these presentations can also give an historical view of the CMS. · CMS NETWORK: a developing program of services for the music community. During this year the Creative Music Foundation / Creative Music Studio is holding anniversary workshop retreats. Sketches of Sound from the Gallery, a performance series, will running monthly at Photosensualis, a gallery and performance space in Woodstock, NY. During the performances, artists are invited to make sketches or art response. This series, initiated by Harvey Sorgen, is curated by Harvey and Karl Berger and supported by CMS. Check out creativemusicfoundation.org for more information and to learn about the additional events offered by this important group.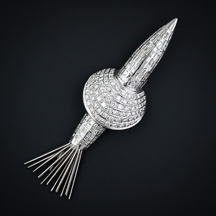 Interested in Jewelry as Art? Our cub reporter Laurie Spiegel filled me in on the fabulous exhibition Out of this World! Jewelry in the Space Age at the Forbes Galleries in NYC. Jewelry has reflected our fascination with space from the ancients until today. Events such as Halley's Comet and the Russian Sputnik inspired specific motifs but the sparkle, color and reflections of the moon and the sun and the stars have inspired all generations. The exhibit was curated by Elyse Zorn Karlin to include not only designs inspired by space but also materials from space, space-age materials and even jewelry flown in space. This exhibition will remain on view until September 7, 2013 at The Forbes Galleries 60 Fifth Avenue at 12th Street, NYC
Phoenicia International Festival of the Voice (phoeniciavoicefest.org) is scheduled for August 1-4 and will have over 20 programs including lectures, workshops, story telling, chamber music and Verdi's Rigoletto, the centerpiece of the festival to be performed on Saturday night Aug 3 at 7:30. I've been to this festival since it's inception and each year it has grown, and each year I'm sure I just want to camp out in Phoenicia for the duration of the festival. Music styles presented include: Jazz, Gospel, Classical, Theatrical, Experimental, and Sacred. Many programs during last years' festival were sold out and thousands of people sat spellbound under tents and in the open field for the performance of Madame Butterfly. Festival founders Maria Todaro, Louis Otey and Kerry Henderson, themselves noted opera singers, represented the festival as it was honored as the cultural business of the year by the Ulster County Chamber of Commerce for developing a cultural institution that has enjoyed instant success, with the potential for significant growth. The website has the full schedule and videos from earlier festivals.
Once again I had the pleasure to see Flamenco Vivo Carlota Santana (it's their 30th Anniversary Season) at Kaatsbaan International Dance Center in Tivoli, NY. The house was filled to capacity with additional seating being set up cabaret style. When introduced by Bently Roton, one of the founders of Kaatsbaan and, along with Greg Carey another co-founder (both Producers), Carlota said that she was so pleased to be at Kaatsbaan again. Martine van Hamel and Kevin McKenzie are also co-founders of this "Playing Field for Dance", a place for dance companies to prepare for tours, to try out new choreography in a gorgeous setting along the Hudson River. It was hard to sit still as these fabulous dancers and musicians filled my ears and eyes with stimulating sounds and movements. Costumes were beautiful, dancers exquisite and it just amazes me how one can have such stamina and convey such emotion with a flick of the wrist. The dancers showed great passion and pleasure as they presented this program of Flamenco dance with a contemporary flavor. As part of their 30th Anniversary the company, in partnership with the NY Public Library for Performing Arts, has created an exhibit "100 Years of Flamenco in NYC" that will run thru Aug 3 at the Vincent Astor Gallery at Lincoln Center, NYC. Coming up this summer at Kaatsbaan is Jennifer Muller, Dances Patrelle: "Gilbert and Sullivan, the Ballet" and Extreme Ballet 2013 Session I Showcase.
The Mamaroneck Artists Guild (MAG) began in the backyard barn of local artist Grace Huntley Pugh in 1953. The initial seven, Ruth Connery, Allen Glicksman, Hugh Gumpel, Grace Carr Gurwitz, Alice Neaman, Grace Huntley Pugh and George Russin, were frustrated that they were unable to find a model and so they contacted the Art Students League in New York where they found models who, for an hourly rate and train fare, would go to Mamaroneck to pose. By 1955, with some 30 members and 100 patrons and the receipts from a Beaux Arts Ball, they were able to rent space (known as the Art Barn) in a building on Prospect Avenue just a few doors off of Mamaroneck Avenue. After a few other moves in the fall of 2008 they moved to the present location on Larchmont Avenue in Larchmont. Present membership includes over 200 artists from Westchester, surrounding communities and from across the country. Each member is eligible to apply for a solo show and to enter group shows and have examples of their work in display bins. They have recently co-sponsored a workshop for immigrants with the Hispanic Resource Center of Larchmont/ Mamaroneck and they host an annual show for high school art students. MAG offers visual presentations, demonstrations, critiques and family and children's' workshops for the public, as well as their members. Lectures at the Gallery or elsewhere in the community are open to the public. Their mission is two-fold, to nurture member artists and to reach out to the community.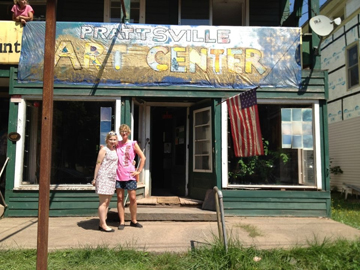 ArtPlace America announced the award of a $200,000 grant to the Town of Prattsville, NY to rebuild an Arts Center and Residency on its Main Street. The Prattsville Art Center was chosen from over 1,200 applications as an exceptional example of creative placemaking. ArtPlace America is a collaboration of leading national and regional foundations, banks and federal agencies committed to accelerating creative placemaking – putting art at the heart of a portfolio of strategies designed to revitalize communities. This is ArtPlace America's third cycle of grant awards. With this round of grants, in total, ArtPlace America has awarded a total of $42.1 million in 134 grants to 124 projects in 90 communities across the U.S. (and a statewide project in the state of Connecticut). Central to its rebuilding efforts following Hurricane Irene, the Town of Prattsville will renew a flood damaged building into a contemporary art center and residency to engage artists-in-residence in town planning and design as well as public exhibitions and events to re-imagine the future of this rural town as it recovers from a natural disaster. Nancy Barton, Director of the Art Center said, "The arts have a history of empowering struggling populations. As Prattsville recovers from devastating floods, the Art Center (at prattsvilleart.org) will bring together rural residents and urban artists, who share an DIY approach to problem solving, to create an inclusive community space - alive with exhibitions, music, films, and visionary ideas for the future". The 54 organizations that received grants were selected from over 1200 applications. Inquiries came from all 50 states as well as the District of Columbia. Grant amounts range from $750,000 to $33,000 with an average grant size of just over $280,000. The complete list of 2013-2014 ArtPlace America awards can be found at artplaceamerica.org and at prattsvilleart.org
"Friend" and "like" ART TIMESon facebook and "follow" us on twitter for connections with thousands of other creative people. Visit us online at arttimesjournal.com for new essays, videos, calendar and opportunity listings.