Culturally Speaking
By Cornelia Seckel
ART TIMES Spring 2013

As we begin this new quarterly print schedule I want to remind you to go online to arttimesjournal.com for new essays, editorials, videos, links to advertisers and the updated calendar and opportunity listings. Follow us on twitter.com/arttimesjournal and facebook.com/arttimesjournal so you don't miss new postings. Soon, readers will be able to email links to blogs and videos for the new arttimesonline blog. Look for that announcement on facebook, twitter or by email (send me your email if you don't think I have it).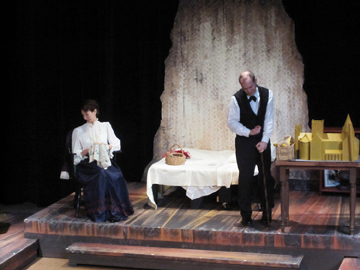 I managed to get around quite a bit and explored places I haven't been to in a while.

I remember going to plays in the 1990s when the earlier version of The Center for Performing Arts in Rhinebeck was still shuffling around different venues for their productions. In 1994 they acquired land and the shows were in a tent until 1997 when the building was finally completed. This barn structure enables year-round productions and the community has benefited from them ever since. As well as full-theatre productions, there are concerts and specialty shows; and a full a range of programs, classes and workshops for all ages and interests. Beginning this coming Fall, The Center will be bringing their shows to schools. I saw a production of "Elephant Man" by Bernard Pomerance, directed by Lisa Lynds. This play is based on the life of Joseph Merrick, who lived during the Victorian era and was known for his extreme deformity. Merrick was excellently performed by Michael J. Frohnhoefer. Coming up is "Spring Awakening", a show about teenage angst, and runs from Mar.1 - 17. More information at:
centerforperformingarts.org/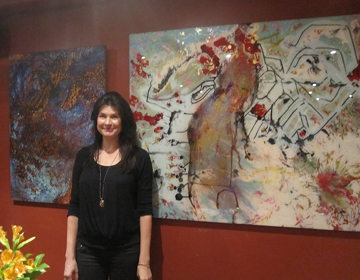 Sara Conca showed her "acrylic on acrylic" paintings (and a few oils) at the Oriole9 gallery in Woodstock, NY. Generally, her work is acrylic and mixed media filled with great movement and color. She often uses 18k gold, liking it particularly because it changes in the light. At Oriole9 she also showed a series of small Plexiglas works. Sara said that she likes working on Plexiglass – painting in reverse and as she doesn't know how it will turn out but knows, like life, that she can't control it. See her work at saraconca.com

I just wanted to remind you that the Albany State Museum is hosting Eugene Ludins: An American Fantasist,which opened Feb 16 and runs through May12. This exhibit, which incidentally includes two prints from the ART TIMES Art Collection, explores the life and work of Eugene Ludins, a noted Woodstock, New York painter of realist and fantastical landscapes, provocative political allegories, and insightful portraits. Raymond J. Steiner, in our March 2012 issue, reviewed this exhibit curated by Susana Leval, when it was at the Samuel Dorsky Museum of Art at SUNY New Paltz —the review is accessible online by searching our site or looking at the art reviews.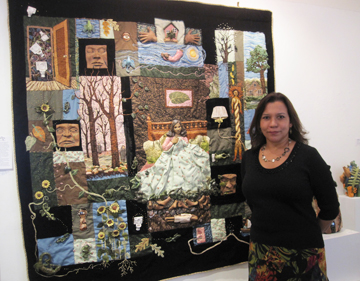 In Peekskill, NY I was very pleased to see Marlene Ferrell Parillo's 7th show of ceramic and mixed media sculptures at the Flat Iron Gallery. Marlene is incorporating fabric in many of her sculptures. The sculptures are fanciful, some functional, colorful and whimsical. Often there are animals or small people worked into the design. Many of the sculptures are narrative and Marlene calls them "story pots" vessels that tell a story often about her life, her feelings and family. She uses various symbols from different cultures to add underlying meanings to her work. For the past few years Marlene has been using sculpture pieces with fabric and included in the show is a large and quite beautiful and engaging wall hanging "Dream City" telling many stories with fabric and her handmade ceramic pieces. This piece was first shown at the Ohio Craft Museum in Columbus, Ohio. Wendie Garber, Director of the Flat Iron Gallery that she began in 1995, has had over 100 artists showing in the 4 exhibit rooms. The artists and fine craftspeople that she represents are excellent, varied and reasonably priced. Make a visit to Peekskill where you can visit numerous galleries and studios (8 other artists are in the same building as the Flat Iron gallery) as well as hear some fine music at the BeanRunner Café, and fine crafts at the Coop. For more about the arts in Peekskill and Marlene's work view: flatiron.qpg.com.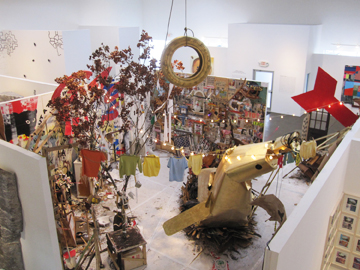 The Hudson Valley Center for Contemporary Art is also in Peekskill and was founded by the Marc and Livia Straus family. The Center is dedicated to the development and presentation of exhibitions and interdisciplinary programs that enrich an understanding of contemporary art, its contexts, and its relationship to social issues. HVCCA operates a 12,000 square-foot exhibition space and is the primary sponsor of the Peekskill Project, an annual, city-wide exhibition of site-specific artwork. In addition to exhibitions, HVCCA has an Artist-in-Residence program, an Education and Public outreach program and presents unique, interdisciplinary projects, events and collaborations. Currently HVCCA main gallery has Peekskill Project V: The New Hudson River School thru July 28th and The Power of Place thru April 28, an exhibit by members of the Peekskill Artist Club. For more about the center: HVCC.org

Barrett House in Poughkeepsie is the home of the Dutchess County Art Association established over 75 years ago with this mission: to foster and perpetuate an appreciation of the visual arts in Dutchess County. This original mission continues to guide the association today. They offer exhibits, art classes, lectures and demonstrations focused on the visual arts. Twice yearly they have national shows, juried by curators from well-known museums. In April there is the annual High School Show with submitted entries from students of all area high schools. The show I saw was "Celebration of Color". There were 62 artists from a wide geographic range —many never having been to the Barrett House. The opening was packed and the work exciting. For more see: barrettartcenter.org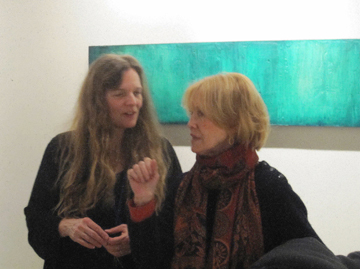 Kingston, NY is a buzzing arts community and I was pleased to see several exhibits. Julie Hedrick is an artist whose work I have been seeing for many years. Mostly I have seen her very large abstract atmospheric paintings often shown at the Nohra Haime Gallery in NYC. The show "Rome" at R&F Encaustic (rfpaints.com — the people who make the very finest encaustic paints) will be up through March 23 and features new work and little frescoes. I am totally engaged when I enter her paintings. At first it doesn't seem like much is going on and then there I am seeing all sorts of images, movements, textures and stories. You can see more of her work at: juliehedrick.com. Joan Monastero's exhibit of Boxes and Other Artifacts was at The Storefront Gallery in Kingston, NY. Joan wrote that her work as an artist is to be curious and amazed. The boxes are part of a group of 40 8" squares of mixed medium while the drawings reflect her visits to the ocean.

The Woodstock School of Art has been offering classes and workshops over their 40+ year history. The WSA holds classes throughout the year, summer and winter, in air-conditioned or radiant heated studios, newly renovated but retaining the rugged country charm of the original stone and timber buildings. An average of more than four hundred students from the United States and countries abroad currently enroll in any given year. The schedule includes daily classes in drawing, painting, composition, sculpture and printmaking, with workshops in specialized techniques under the guidance of experts in their respective fields. The current exhibition, on view until March 16, is Student Exhibition 1 and has over 100 paintings grouped by instructors. It is exciting to see this new work, especially that of established artists who are stretching into new styles. See about signing up for a class at: woodstockschoolofart.org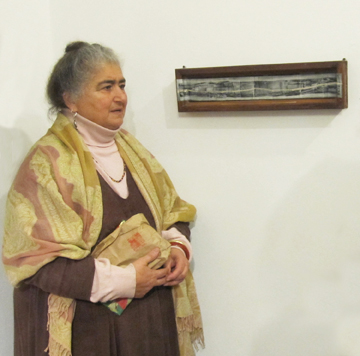 There are 4 shows at the Woodstock Artists Association Museum that opened Feb 9 and run thru March 3 in Woodstock, NY. "The Active Members' Recent Works" was juried by Carrie Haddad. Gertrude Abramson received the Harriet Tannin Award and Ron Denitto received an Honorable Mention. In the Founders Gallery, Betsy Jacaruso juried the "Small Works" exhibit. The Juror's Choice Award went to Nanette Shapiro with Kate McGloughlin, Franz Heigemeir and Reidunn Fraas receiving Honorable Mention. Peter Bynum had the solo exhibit and showed acrylic painting on sheets of tempered glass. The bottom sheet was backlit and each successive sheet with colorful paintings of organic images created a very exciting and, for me, quite unique art. His most previous exhibit was at the Museum of Arts and Design in NY and can still be viewed until April 2013. You can see Peter's work at peterbynum.com. In the Towbin Wing "Embracing the New: Modernism's impact on Woodstock Artist" highlights the influence of Europe's avant-garde on Woodstock artists in the period surrounding the 1913 Armory Show. This will be on view thru May 5. To learn more about this important art institution: woodstockart.org

Imogen Holloway Gallery in Saugerties, NY, hosted Linda Montano and Paul McMahon in a performance piece. Sitting in the window of the gallery, Paul played and sang his fine music and Linda, dressed as Paul, lip-synced his music. Paul McMahon is an accomplished musician who writes love songs specifically designed to heal. Visit: PaulMcMahon.com for more about Paul. Linda Mary Montano is a seminal figure in contemporary feminist performance art. Attempting to dissolve the boundaries between art and life, Montano continues to actively explore her art/ life through shared experience, role adoption, and intricate life altering ceremonies, some of which last for seven or more years. Montano has been performing as others (Persona Practice) since 1975, most recently as Mother Theresa of Calcutta. Her influence is wide ranging - she has been featured at museums including The New Museum in New York, MOCA San Francisco and the ICA in London. This is an important contemporary artist to note. Take a look at her website: lindamontano.com for a greater understanding of her work. Linda's "Chicken" drawings were on view in the gallery as well as landscapes in oil by Bernie Reitmeyer. For more about this gallery ihgallery.com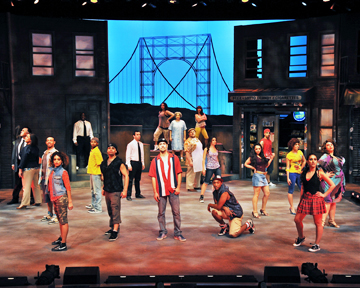 I had the great pleasure to see "in the Heights" at the Westchester Broadway Theatre and it was quite a momentous evening. There was a tribute to Lin-Manuel Miranda who conceived of the play (when he was just 19) and wrote the music and lyrics. Many of the Broadway cast members as well as Lin-Manuel were at the opening night celebration with several of the original cast members in the WBT production. Miranda spoke with the audience before the show and said how excited he was that his play (winner of 2008 Tony Award Best Musical, Best Original Score, Best Choreography and Best Orchestrations and the Grammy for Best Musical Show Album) is now available to be performed off Broadway. In the Heights is a story of a neighborhood, the people who live and work there — their loves, frustrations, heartaches and the influences of the world outside the neighborhood. The music was fabulous: from ballads to rap; the dance ranging from ballet to break dancing. This show will surely be done by thousands of schools and community groups especially as there are so many opportunities for solo performances. The audience, a mixture of age groups had great energy —cheering and whistling after duets and solos. The excitement was palpable at the curtain. What highly talented cast, excellent dancers, actors, fabulous voices and a great story line that resonates beyond the "hood". The book was written by Quiara Alegria Hudes, original choreography reproduced by Morgan Marcell and John Fanelli was the Director/ Producer. Standing Ovation Studios is the Producer.

Don't forget to check arttimesjournal.com for new essays, videos, calendar and opportunity listings. Send me your email so I can let you know directly about the arttimesonline blog that will carry readers' videos, links to blogs and more.