Culturally Speaking
By Cornelia Seckel
ART TIMES September/ October 2012
By Cornelia Seckel
Coming up in September are numerous exhibits by national organizations, some of them well over 100 years old providing an arts club and venue for artists to show their work. Several of these organizations have chosen to do an online exhibit this year; others will hold their annual exhibits at several fine venues in New York City. Make sure to check our calendar listings for these shows. It is an excellent way to see what artists are doing across the country. Some of the organizations having shows this fall include: Pastel Society of America celebrates the 40th year; National Association of Women Artists has their 123rd Annual Exhibit, Catharine Lorillard Wolfe Art Club celebrates 116th Annual Exhibition, The New Rochelle Art Association has their 97th Annual Open Juried Show; and online: 99th Annual Exhibition Allied Artists Of America, 70th Audubon Artists Art Society 84th, American Artists Professional League Exhibit and the 74th Annual Fall Exhibition Open Show of The American Color Print Society.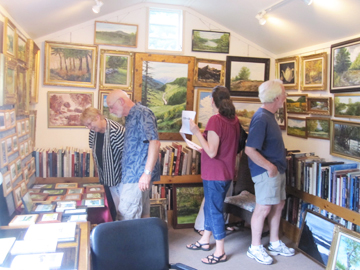 The Saugerties Art Tour has had 10 extremely successful years and Raymond J. Steiner was part of this year's tour. Hundreds of visitors from the region came to visit the 40 artists who opened their studios to visitors. This has become quite a phenomena (see ART TIMES Speak Out Aug online for a comprehensive essay by by Carla Goldberg) and many artists reported sales, commissions and an opportunity to speak with the public. The Saugerties Art Tour has numerous events for their artists throughout the year. Coming up on Sept 1 is an exhibit at Café Mezzaluna Latin Bistro celebrating the 10 years of the tour (SAT). Reception on the 1st from 4-6pm the show runs thru Sept 30. www.cafemezzaluna.com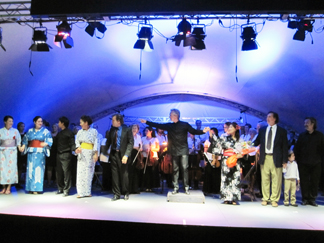 The 3rd Annual Phoenicia International Festival of the Voice was a huge success. Opening night "Diva Unleashed— The Benefit", an operatic comedy featuring mezzo soprano Maria Todaro and soprano Michelle Jennings was a delight and the voices fabulous. There were Lectures, Theatre, Cabaret/ Lounge music, Concerts of: Broadway Hits, Chamber Music, Recitals, Children's programs, A Throat Singer, Vocal Masterclass, Classes and the centerpiece was Madame Butterfly staring Yhunah Lee, Richard Troxell, Nina Yoshida Nelson, Louis Otey, and Brittany Sokolowski. The Woodstock Chamber Orchestra provided music for Madame Butterfly and was conducted by Steven White. Gorgeous voices, a beautiful night, thousands of people enjoyed this relatively new offering to the Hudson Valley. When I spoke with Lisa Robb, Executive Director of the New York State Council on the Arts, she expressed her excitement about this event and the combination of offerings during the festival is the best of what the arts have to offer —arts for everyone. Kerry Henderson, Maria Todaro, and Louis Otey have created a Festival of the voice that promotes the human voice as an instrument of peace, healing and artistic expression through presenting a diverse range of world class vocal performances in Phoenicia, NY and surrounding areas. The Board of Directors, led by Justin Kolb has done phenomenal work in promoting this event and bringing it to world-class level. Learn more at Phoenicia International Festival of the Voice.

Dear Mother Nature, Hudson Valley Artists 2012, curated by Linda Weintraub, will be on display in the Alice and Horace Chandler Gallery and North Gallery at Samuel Dorsky Museum at SUNY New Paltz, NY through November 4. Exhibition curator Linda Weintraub explains, "Visitors to Dear Mother Nature will encounter many offerings to Mother Nature, a compelling metaphor that visualizes the critical condition of the environment today. This metaphor inspired 42 accomplished Hudson Valley artists to create artworks expressing heartfelt apologies, gratitude, prayers, sympathy, consolation, honor, and assistance to Mother Nature, who even receives a reprimand from one artist for being so willful. These diverse sentiments are conveyed in the form of paintings, drawings, photographs, performances, videos, installations, and sculptures made of ceramics, paper, wood, stone, fabric, and plastic," said Weintraub. Additional programming can be seen at: www.newpaltz.edu/museum/programs/public_programs.html. Coming up at The Dorsky Museum on Saturday, September 8, 2012, from 5-7 pm is the opening of 2 new exhibits:
Shinohara Pops! The Avant-Garde Road, Tokyo/New York Curated by Hiroko Ikegami with Reiko Tomii and Russel Wright: The Nature of Design Curated by Donald Albrecht and Dianne Pierce.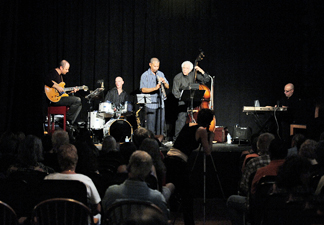 I went to Jazz @ SPAF and heard Malcolm Cecil, Steve Wilson, Peter O'Brien, John Esposito, and Mathew Fink organized by Laura Harman. There were well over 100 people doing as I was: sitting — some in auditorium style, others at cabaret tables cloth-covered with a candle and bowl of pretzels drinking reasonably priced wine (or beer) listening to the fine sounds of the Jazz Musicians. It was hard to focus on being in Saugerties and not a Jazz club in NYC. Just beyond the Listening Room @SPAF is the 15,000 sq ft gallery where there is an excellent art show curated by Richard Hutchings. This is Richard's curatorial debut and his selection of artists and their works represents his goal to exhibit spiritually lighter and more positive artwork in keeping with his philosophy that art has the capacity to lift the human spirit. Richard has been working as an editorial and promotion photographer for over 40 years and has had well over 100,000 photographs published. On September 15 there will be an opening for the next show themed 'BLUE'. I was again impressed with the dynamism and entrepreneurship of Erica Price, co-owner of the space. She had travelled hundreds of miles to pick up tables, bar, copy machine, drapes that she bought at auction online. Here is a woman with a great amount of energy and savvy. This space is perfect for a wedding, Bar Mitzvah, conference reception, and crafts show. Soon there will be a professional kitchen to accommodate any type of event. It wouldn't be difficult to transform this space into a grand ballroom. In September there will be Jazz workshops. The Woodstock Film Festival has already booked an event on October 12. For more details: Saugerties Performing Arts Factory
The Drawing Galaxy, an exhibition of 31 artists, all students of Meredith Rosiér, was held at the Doghouse Gallery in Saugerties, NY. The artists, many highly regarded and established artists reported that studying with Meredith was an excellent experience, one that stretched them as artists and enriched their work. She is strict as well as a gentle and encouraging teacher who gives homework assignments. Several hundred people were at the opening and when I spoke with some of the artists I know they said that they wished they could get into her class as there is a waiting list. The work in the show was very engaging as was the portfolio of assignments done by the students.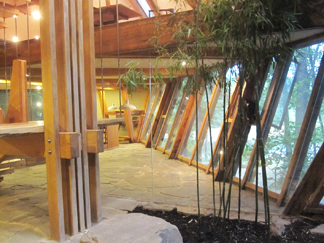 Nancy Copley, architect and watercolor artist has a showing of the Architectural Drawings of her home Forest House, and floral watercolors at the Healing Art Gallery, Ellenville Regional Hospital. Dr. Lucinda Grovenburg, a doctor with a practice in Kerhonkson, NY, is the curator for the gallery and Debbie Briggs is the hospital VP of Human Resources and Gallery Director. The show will run through August 10. There was a model of the house, various original drawings and blueprints, as well as photos of the house showing progression of the construction. Nancy says of her house, "The House is inspired by the natural beauty of the site. I spent many hours absorbing and listening to the land. As an artist, I take inspiration from nature. The site dictated the design of the house." The house was featured in Architectural Digest (2007) and Taschen Books 100 Contemporary Houses (2011). After the exhibit I was invited to the house for a reception. I couldn't stop exploring. It was more elegant than a Frank Lloyd Wright house and more environmentally friendly. Nancy did all the stone-work surrounding the house and made an elegant entrance. See more of the house at www.architectcopley.com.
I spoke with Paul Widerman, Shelley Tran and Diane Boisvert the "producers of the show" as it was their conception and financial backing that conceived the show to honor and celebrate Nancy's life and work with the goal of putting her on the map of history. According to Paul: "We then put our heads together... Shelley accumulated work from the house and worked with Nancy to restore the model. She also put together the book of Nancy's other works on the metal table. Diane curated and mounted the show. I worked with Diane as I had a few specific threads visually to hold together the DNA of the show tying together the work on the tower to the finished home; and also did the writing for the show. I also had DVD footage that was shown, plus more that wasn't. I have been close with Nancy for 20 years and she was peripherally connected to the company I founded (Thinkfit) as "An Artist Associated with the company", I took kids on field trips to her house every year for five years.... and did my best to do PR for her story as I could see it unfolding. I had taken many hours of video footage of Nancy and considered her a very close friend and mentor. I helped her build sections of the house... and was always astounded by her energy as both a person and an artist. Nancy's story has many levels of great importance... from her efforts as a female architect, to the physicality of building the house, the aesthetic and unique forms, her humility... and as I discussed with Nancy recently, especially in this environment, the sheer incredulity of having financed building the home."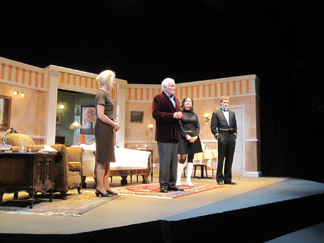 It has been too long since I was at Shadowland Theatre in Ellenville, NY and realized how much I was missing when I saw Noël Coward's A Song at Twilight, directed by James Glossman. Now this is fine theatre. Superb acting by Orson Bean, Alley Mills, Barbara Walsh and Andrew Krug— all equity members (although Andre Krug still a membership candidate) and well acclaimed and award winning actors. This "Drawing Room" play takes place in 1966 in a hotel room in Switzerland. It was a pleasure to see such high quality actors, a beautiful and traditional set, to hear exquisite language and dialogue. At the end of the play Orson Bean addressed the audience and said that it was a great pleasure to be in the presence of such professionals. The audience was quite honored as well. Shadowland Theatre continues to present excellent plays in its own building, which first opened on July 3, 1920, as an art-deco movie and vaudeville house. Substantial renovations in recent years have completely rebuilt the interior of the old theatre, retaining the art-deco features while creating a tiered, 148-seat, semi-thrust stage. There isn't a bad seat in the house with all seats within 25 feet of the stage. Recent improvements include a new inner lobby, restoration of the outer lobby, new lighting grid, all new sound equipment and control booth and refurbished dressing rooms. Coming up is Shout! The Mod Musical runs through Sept 9; and the NY premier of The Dangers of Electric Lighting from September 14-30. For directions and tickets visit Shadowlandtheatre.org

2012 Summerscape at Bard College, Annandale-on-Hudson, NY offers theater, dance, music, opera, film and a Spiegeltent with cabaret performances most evenings. I went to see Emmanuel Chabrier's Opera The King in Spite of Himself an opera that meets the mission of the Fisher Center which is to present operas that are rarely performed by most major companies often requiring large casts, choruses, orchestras and complex scenery and costumes. Leon Botstein led the American Symphony Orchestra; Thaddeus Strassberger directed this comic opera that is rarely produced in its original 1887 version. The house was full on this opening night. Stage sets were in keeping with most of the plays and operas I've seen at Bard— innovative, fun and not what would be expected anywhere's else: a guy watching the play on TV in a large box, a gondola glides across the stage, actors emerge from large boxes and wardrobes. At one point we see through to backstage activity and dressing room encounters. Some costumes modern, others of the 1500's. The voices were excellent, staging creative, fun and different. Learn more at fishercenter.bard.edu.

Altamura Center for the Arts (founded by Leonard and Carmela Altamura) presented Vincenzo Bellini's Bel Canto Opera La Sonnambula and it was fabulous. After Carmela welcomed the audience, Maestro Anton Coppola gave a discussion of Bel Canto —beautiful singing. The Inter-Cities Chamber Orchestra played under the direction of Michel Brousseau, conductor/ artistic director of the New World Philharmonic Orchestra and Choir (Montreal), the Chanteurs de Sainte-Thérèse choir, the Tremblant Choir and the Ottawa Classical Choir, all in Canada. Members of these choruses (perhaps 80 participants) had participated in the Summer Institute Opera Study Master Classes with Carmela Altamura and many made up the cast of La Sonnambula. Rod Nelman, Anne Tormela, Sara Louise Petrocelli, Steeve Michaud, Thadd Shirey, Ania Hejnar gave outstanding performances and their voices were truly beautiful. At the end of the performance Carmela spoke with the audience thanking us all for our support. She said that for artists, each day is a new beginning and the purpose of art is to provide sunshine for those whose lives are missing light. Leonard and Carmela Altamura have truly done a great service and given a great gift to the arts in the Hudson Valley Region. You can see a sampling of last year's program on our video page or arttimes channel on YouTube. Learn more at altocanto.org.

I bumped into Yale Epstein (critique of his exhibit at the ∫ gallery ran in Nov. 2003 issue and is still available on the art times website). He told me that he had been accepted to the American Academy in Rome. See his letter to the Publisher in this issue. What an honor to have had this experience. Congratulations Yale. Raymond and I had an excellent tour and visit to the Academy several years ago and copies of ART TIMES are available in their extensive Library— see my write up online in the Nov 2007 issue of ART TIMES.

I recently learned about the Marleau Gallery in Saugerties, NY and asked them to send me their Mission Statement. Kevin Hinchey, with the help of local artist Richard Gamache, opened Marleau Gallery in April 2012 in the hopes of being a part of the cultural revival that is happening in Saugerties, NY. It is the mission of Marleau Gallery to bring the work of local artists into the community in a way that has not been done before and thereby connecting with the community through art and cultural events. Thus, Hinchey transformed the previous storefront space into a gallery that is both impressive and inspiring where the vast number of local artists can display and sell their work in the heart of town. Marleau Gallery hopes to show that in spite of changing times, art will always have the power to inspire the community to come together and celebrate human creativity.

The Fertile Crescent: Gender, Art and Society is being presented by the Institute For Women and Art At Rutgers in Partnership With Princeton University, Institute For Advanced Study, The Arts Councils Of Princeton and West Windsor, and East Brunswick, New Brunswick and Princeton Public Libraries. About IWA: The mission of the Institute for Women and Art (IWA) at Rutgers is "to transform values, policies, and institutions, and to insure that the intellectual and aesthetic contributions of diverse communities of women in the visual arts are included in the cultural mainstream and acknowledged in the historical record. To accomplish this goal, the Rutgers Institute for Women and Art invents, implements, and conducts live and virtual education, research, documentation, public programs, and exhibitions focused on women artists and feminist art. The IWA strives to establish equality and visibility for all women artists, who are underrepresented and unrecognized in art history, the art market, and the contemporary art world, and to address their professional development needs. The IWA endeavors to serve all women in the visual arts and diverse global, national, regional, state, and university audiences." This is an Unprecedented Program of Exhibitions and Events, with an Accompanying Catalog Featuring Work by Women Artists from the Middle East and the Middle East Diaspora. It will be on View at multiple venues in Princeton and New Brunswick, NJ through December 2012. I will be able to make a more thorough report after attending the Opening symposium in September in my Culturally Speaking Oct column online and in print for the Nov/ Dec issue. For a complete list of all exhibitions and public programming visit: www.fertile-crescent.org
See you out and about, and make sure to say hello