Culturally Speaking
By Cornelia Seckel
ART TIMES online October 2013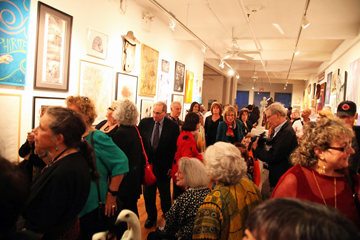 The mission of the National Association of Women Artists (N.A.W.A.) (thenawa.org) is to promote culture and education in the visual arts through exhibitions of its member's works, lectures, art demonstrations, scholarships, awards and other educational programs. Through N.A.W.A.'s exhibitions, programs, events, education programs and archive, the Association fosters awareness of the contribution of women to the history of American culture and art. They have been empowering, promoting, supporting and encouraging women artists, since 1889. The video of the 124th Annual Exhibition's opening reception (click on lilnk for video) gives an excellent flavor of the opening, the fine quality of the work and interviews with award winners. Marie Hines Cowan, exhibition chair, conducts the interviews and the video was the work of her hard-working committee. Next year marks the 125th anniversary and there are many programs and exhibitions scheduled. Keep in touch by checking out the nawa.org and their facebook page. This year over 250 members participated in the Annual Members' Exhibition, representing a diverse range of artistic backgrounds, mediums and processes. Artists self-selected their best work to be presented salon-style in the spacious Sylvia Wald and Po Kim Gallery in NYC. Artists, collectors, and connoisseurs alike showed up to view and enjoy the exhibition. The reception, held on September 19th, was a high point for the exhibition drawing together art enthusiasts both young and old. The awards ceremony also took place during the reception, where $10,000 in awards was bestowed upon selected members' works. Joanna First won the ART TIMES Award for her photography. Juried by prominent artists Nancy Azara, Joyce Pommer and Lydia Viscardi, 38 works received awards, including five Medal of Honor winners, in the categories of Painting, Works on Paper, Photography/ Digital Art/ Printmaking, Mixed Media & Collage, and Sculpture.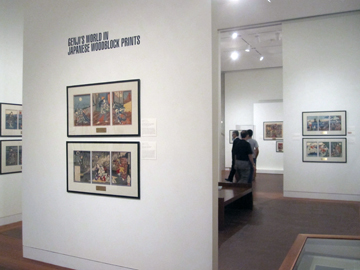 Genji's World in Japanese Woodblock Prints is at The Frances Lehman Loeb Art Center, Vassar College in Poughkeepsie, NY through Dec 15. This is the first exhibition outside Japan focused on prints inspired by Japan's eleventh-century tale The Tale of Genji. Written by Lady-in-Waiting Murasaki Shikibu in the early years of the 11th Century, it is referred to as the first modern novel. The tale focuses on the Emperor's son Genji's romantic life and describes the customs of the aristocratic society of the time (the Heian period). The Tale of Genji continues to influence everything from paintings, prints, short stories, plays, and operas, to movies, symphonies, manga, and video games. Most of the 57 eighteenth- and nineteenth-century Japanese woodblock prints and books on view come from the extensive collection of Paulette and Jack Lantz. This is a rare opportunity to see such a large and important collection. When you go to the Art Center make sure to see the work in the Founding Collection. Vassar's collection began in 1864 with the Hudson River School and in this gallery are gorgeous works by Bierstadt, McEntee, Cropsy, Church, Innis, Morse, Gifford, Durand Kensett, Whittridgeand more. fllac.vassar.edu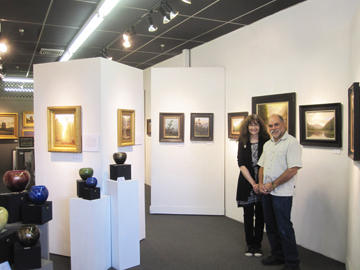 A few days after seeing the work at Vassar, I stopped at the Mark Gruber Gallery in New Paltz NY and was pleased to see The New Hudson River School: Painting in the 19th Century Tradition. The work was excellent and beautiful with many of the painters "old friends" whose work I have admired over the years and some new names and new work. The show will end on October 19 yet Mark always has an excellent sampling of these New Hudson River School painters. Take a look at the artists represented in this gallery that now celebrates 37 years of bringing interesting shows and presenting excellent artists. markgrubergallery.com
Congratulations to Bre Barnett Crowell winner of the ART TIMES Award for Reading Her Poem at the Pastel Society of America's 41st Annual Open Juried Exhibition. The work accepted to the show was gorgeous, great variation in style (truly a survey of how pastels are used) with a lot of new artists participating. There are about 170 to 200 works accepted out of more than 1,000 entries. Prizes amounted to over $25,000 in both cash and pastel materials. The Materials Fair is always valuable with many new things to learn and of course to buy. This year's Hall of Fame Honoree is Dan Slapo, a Master Pastelist who has received over 200 national & international awards. Friend of Pastel Honoree (which I had the pleasure to be in 2001) is Richard Kendall, the Curator-at-Large at the Clark Art Institute, Williamstown, MA and a leading specialist on the art of Edgar Degas.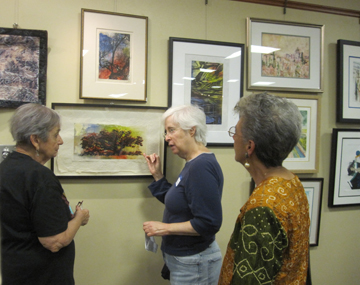 The Manhasset Library (manhassetlibrary.org) in Manhasset, NY has a very large space for concerts, art shows and other events. I was visiting my mother and learned that a friend of ours, Barbara Flamm, was part of a Printmaking exhibition curated by Amy Finkston. Shifting our plans for the day we were off to see the art show. There were over 100 works by 35 artists. The work was interesting and high quality with a variety of mediums (e.g. etching, monoprint, lithographs, engraving, woodcuts, linocuts, screenprinting and digital printing) and styles. Printmakers, as they told me, feel that their work is not often shown as there is such variation that curators don't know how to handle it. There are a limited number of printmaking programs. I am familiar with the Center for Contemporary Printmakers in Ct., The Women's Studio Workshop in Rosendale, NY, The Woodstock School of Art, Woodstock, NY and the Art League of Long Island in Dix Hills, NY. Others can be found online. Every 2 months Amy has a new show and the latest, "Designing Women" has recently opened. It was a great pleasure to see Ann Tanksley whose exhibit Raymond critiqued many years ago and to see Liz Ehrlichman and her work. 30 years later and I surely can't expect to go to an art show and not see artists I know — I like it.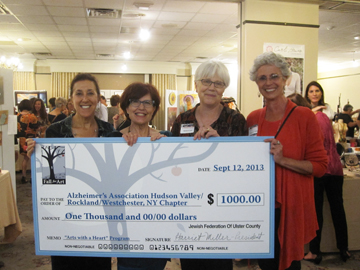 Fall for Art sponsored by Jewish Federation of Ulster County celebrated their 17th year at the always very lovely and well-attended cocktail party show and sale where twenty-eight Hudson Valley artists had their work displayed. Each year a check is donated to an organization and $1000 was presented to the Alzheimer's Association Hudson Valley / Rockland / Westchester Chapter for Arts with a Hear. They will be giving 3 art programs for early-stage Alzheimer's patients and their caregivers to be held October 13 & 27 and November 10 at the Rosendale Recreation Center in Rosendale, NY. Contact the Alzheimer's association http://www.alz.org/hudsonvalley. Each year an artist is chosen, usually by an individual judge but this year rather than a judge, a People's Choice award was given to Susan Basch whose jewelry is fabulous. I did a video a few years ago of the Show and Sale that will give you a flavor of this delightful event. It can be seen at http://youtu.be/w_xCgx68IZA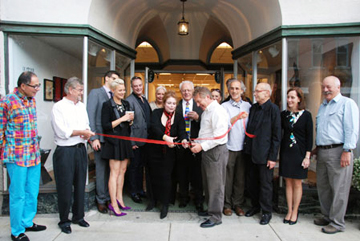 After many years in New Orleans, LA, Libertad M deBoisblanc has brought Renaissance Art & Collectibles — her fine group of artists and her strong sensibilities to Catskill, NY. The Gallery specializes in imported art from Russia, Bulgaria, the Ukraine and Argentina. The grand opening celebration was an elegant affair with featured artists Jorge Sarsale, having travelled from Argentina, and Tom Durham, both available for interviews. Raymond Wiger's mesh sculptures and paintings by Gaston Bettelli were also showcased. I am looking forward to seeing what Libertad has scheduled next. renaissanceartandcollectibles.com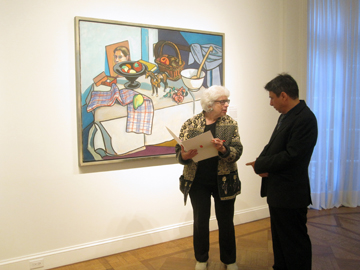 See it Loud, Seven Post-War American Painters is on exhibit through January 26, 2014 at the National Academy in NYC. Artists Leland Bell, Paul Georges, Peter Heinemann, Albert Kresch, Stanley Lewis, Paul Resika and Neil Welliver persevered in their figurative and landscape painting during the time that abstract expressionism was in fashion. The National Academy, was founded in 1825 by Samuel F.B. Morse, Thomas Cole and Asher B Durand as a place to exhibit and teach art. Today, the National Academy continues as a museum, art school and association of artists and architects. Bruce Weber senior curator spoke with the assembled press and an overview of the exhibition is excellently documented in this short video.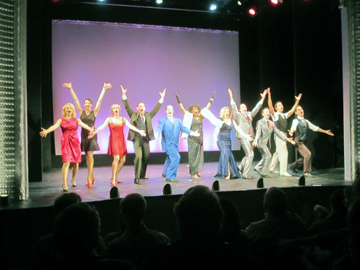 I was so pleased to see Bless You All! a celebration of the Golden Age of the Broadway revue. The excellent, professional and talented actors & dancers had strong voices were terrific with lots of personality. The skits were short, sweet and fun. This is the first time the musical has been performed in over 60 years. Unsung Musical Company (UMC) gathered the original manuscript material from various archival collections and used it to create a fresh take on the classic revue, which features the addition of a never-before-seen comedy sketch written circa 1940 by Arnold Auerbach and Pulitzer Prize winner Herman Wouk. At the post-performance Talkback, we learned about the research involved in gathering these skits, songs and comedy numbers. UnsungMusicalsCo. Inc. is a not-for-profit production company dedicated to the preservation of musical theatre through the restoration and presentation of obscure but artistically sound works. Focusing primarily on overlooked projects from the Golden Age of musical theatre, which UMC more broadly defines as the 40 years between Mr. Florenz Ziegfeld and Mr. Stephen Sondheim's respective Follies (1931-1971). UMC is devoted to researching, assembling and restoring the material from unpublished and out-of-print musical shows. For more information about the next show visit www.UnsungMusicals.org.
Rarely do I have time to explore "spur of the moment" in Manhattan. I've seen the High Line from street level numerous times but always when delivering papers to Chelsea (around 20th Street on the West side)and parking is risky, legal parking very spotty. I took the bus to NY and had 2 days and an evening planned out with a press opening, a play, press luncheon, Spanish food and Wine tasting and then to a Magazine & Publishing Industry Event (Folio Show). When I got to the Folio show I realized I was off a day off and what I wanted to see was over. So there I was with several hours free and the High Line became my first destination.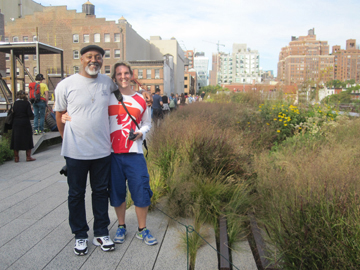 The High Line is a NYC park built on an historic freight rail line elevated above the streets in Manhattan's meatpacking district in Chelsea. CSX Transportation, Inc., a freight rail company, donated the High Line to the City of New York, and the High Line is maintained and operated by Friends of the High Line. Founded in 1999 by community residents, Friends of the High Line fought for the High Line's preservation and transformation at a time when the historic freight rail line was under the threat of demolition. This nonprofit conservancy works with the New York City Department of Parks & Recreation to make sure the High Line is maintained as a public space for all visitors to enjoy. In addition to overseeing maintenance, operations, and public programming for the park, Friends of the High Line work to raise the private funds that supports more than 90 % of the park's annual operating budget. Section 1 of the High Line (Gansevoort Street to West 20th Street) opened in June, 2009. Section 2 (West 20th Street to West 30th Street) opened June 8, 2011 and transformation of the High Line at the Rail Yards, the third and final section of the structure, which runs between West 30th and West 34th Streets will open in 2014.
The High Line was built between 1929 and 1934 as part of a massive infrastructure initiative called the West Side Improvement Project; the initiative transformed Manhattan's West Side by eliminating much of the rail traffic along city streets and introduced a new elevated railway – now called the High Line – to provide freight trains efficient access to the upper-floor loading docks of warehouses, factories, and storage facilities. In the decades following the High Line's opening in 1934, the elevated railway was carrying so many freight trains filled with dairy, fresh produce, and meat that it was marketed as the "Lifeline of New York" by the railway owner, New York Central Railroad Company. Freight trains ran on the High Line beginning in 1934 and the last train, in 1980, carried three carloads of frozen turkeys.
Today, for a mile one can walk along the High Line, enjoy the more than 300 species of perennials, grasses, shrubs, and trees inspired by the self-seeded landscape that grew on the out-of-use elevated rail tracks during the 25 years after trains stopped running. A list of plants, a guide to visiting the High Line, a map and many fabulous pictures of the area before, during and after the high Line, are available on the website thehighline.org. Along the route are sculptures, open play/ picnic/ gathering areas and food vendors. Views of the Hudson River, historic buildings and street activities are visible along the way. It was so exciting, thousands of people of all ages speaking different languages enjoying this walk where more than 4 million people visited last year and on Mother's day there was a record 45,000 visitors. There is a relatively large gathering space that is often rented out for functions— Facebook was thanking their NYC advertisers and I wish I had been invited to the party. There are numerous events including Open Studios (in late Oct), Children's programs, Stargazing, Tours, Social gatherings, Halloween event, dances, concerts and so much more. Events are listed on their website. The High Line is open daily during the Fall from 7am to 10pm.
For many years we have been seeing old abandoned warehouses turned into artists' studios; at Spandau in Berlin the old prison is now an arts center with artists' studios, shops, dance studios and theaters; in Poughkeepsie, NY in 2009 we saw the opening of Walkway Over the Hudson, an old abandoned railroad bridge converted into a NYS pedestrian park and attracts nearly a million people a year; the city of Paris successfully converted a similar rail viaduct into an elevated park called the Promenade Plantée and other projects similar to the High Line are in early stages in St. Louis, Philadelphia, Jersey City, Chicago, and Rotterdam. When I was in Singapore over 10 years ago old warehouses were being converted to artists' studios and this is probably the case in most every community and country. To use old abandoned buildings, land, bridges for parks and places that support creative ventures is fabulous. I am so pleased to see that we are reusing rather than destroying and hope we can all do that within our own environments and lives.