Culturally Speaking
By Cornelia Seckel
ART TIMES November/ December 2012
November/ December ART TIMES marks our 299th issue in print. In 2001 ART TIMES began an online presence that continued to grow dramatically over the past number of years and even more so in the past 5 years with essays and videos archived from the past 11 years. Each month in ARTTIMES online we have included additional essays, videos, calendar listings, opportunity listings and new advertisers and advertising opportunities. In the Spring of 2013 we will begin printing quarterly (Mar/Apr/May; Jun/Jul/Aug; Sep/Oct/Nov; Dec/Jan/Feb) and publishing each month online at arttimesjournal.com. The Jan/ Feb 2013 issue will mark 300 issues that we have printed. Given the economics of printing and distributing, and since we have no intention of folding our tent as so many other publications have done, we feel that this is the best way to proceed. We do hope that our readers will visit us online and continue picking up our quarterly publications.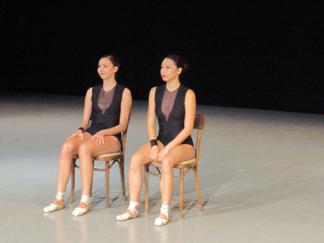 The program that BalletNextpresented at Kaatsbaan International Dance Center in Tivoli, NY was not exactly as planned. The company had just finished a residence at Kaatsbaan in preparation for their performance at the Joyce Theatre in NYC and Michele Wiles, co-founder, co-artistic director and principal dancer (along with Charles Askegard) had an injury and couldn't perform in the original program which was to be all new contemporary dances. The program change had Kaitlyn Gilliland and Kristy Latham partnering with Charles Askegard in The White Swan Pas de Deux and Act III Pas de Deux of Sleeping Beauty. My friend Evelyn Sparkowsky accompanied me and we both enjoyed the combination of traditional and contemporary ballet. We also greatly appreciated the musicians who are part of the Company. The Dancers and the Musicians collaborate in creating new works, and Elad Kabilio, Musical Director, said in his opening remarks that this component is particularly exciting. Kaatsbaan, founded by Gregory Cary, Bentley Roton, Kevin McKenzie and Martine van Hamel, provides a "playing field" for dancers and choreographers, a place to rehearse before a major tour, a place to "try out" new dances. Kaatsbaan offers three premier dance studios, one of which serves as a 160-seat performance theater with a professional performance floor the size of the Metropolitan Opera stage. The first Dancers' Inn can accommodate 36 dancers in quality motel style rooms all with private baths. Additional facilities to be completed this year include two additional studios, the second Dancers' Inn and a lodge and dining room complex. Soon, Kaatsbaan will begin restoration of the historic "Music" Barn designed in the Arts and Crafts style by famed architect Stanford White in the 1890's. On completion it will house reception areas, shops, the lobby for the theater and 10,000 square feet of art and exhibition gallery. Coming up in November is the Buglisi Dance Theatre, a company not to be missed, and in December, Ellen Sinopoli Dance Company will present a new and exciting program. For more take a look at www.kaatsbaan.org.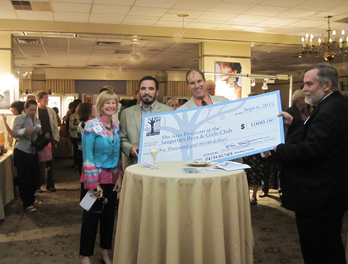 Fall for Art, a juried art show, sale and cocktail party had the 16th Annual Fundraiser for the Jewish Federation of Ulster County. Many years ago I was asked to be a guest speaker and spoke about the importance of buying original art. After several years, having someone speak took away from the festivities and the audience already knew the value of purchasing original work. Each year a portion of the proceeds goes to a deserving organization. This year the Saugerties Boys and Girls Club received a check for their work in providing positive programs to youths 6-18. Roland Carito accepted the check from Ken Salzmann, Director of the Federation and they expressed their appreciation.
The Tivoli Artists Co-op in Tivoli, NY has been around for nearly 20 years and is open for new members to apply. Usually there is a solo or 2-person show interspersed with juried group shows. I was pleased to hear Marie Cole, a long-time member of the co-op, tell me that they sold 8 paintings in the last show and they usually sell work during each exhibition. Open now (and thru Nov 11) is a Three Artist Show: From Fiber Soft to Rock Hard.
I am also hearing from: bj spoke in Huntington, Upstream Gallery in Dobbs Ferry, National Association of Women Artists, New Rochelle Artist Association, Mamaroneck Artists Guild that arts organizations as well as cooperative galleries are looking for new members. Many of these groups jury their new members and expect members to participate in the organization. For those of you who are at the helm, I salute you and know the difficulties involved in managing an organization. I do urge participants in these groups to lend a hand, give back to an organization that is supporting and providing opportunities to further your work. We all have busy lives and are often "totally" overloaded with life — and yet giving up an hour a month should be manageable. Put it in your datebook!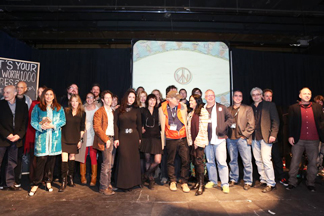 Woodstock, NY was again filled with movie lovers during the 13th Woodstock Film Festival, a festival that celebrates emerging and established independent films, and those who are part of the filmmaking industry. Panels, concerts, parties and films that included features (that had world and east coast premieres), shorts, and documentaries were all part of the Festival. Venues were in Kingston, Saugerties, Woodstock, Rhinebeck and Rosendale and showed nearly 130 films. •Best Narrative Feature: California Solo directed by Marshall Lewy; Best Documentary Feature: Shephard and Dark directed by Treva Wurmfeld; Honorable Mention: Oma & Bella directed Alexa Karolinski. The Honorary Maverick Award was given to director Jonathan Demme for "courageously tackling challenging and controversial subjects". The Meera Gandhi Giving Back Award recipient was the actor, director, singer and playwright Tim Blake Nelson. He will receive $5000 cash award and will donate it to the 52nd Street Project (www.52project.org) in NYC, a project that brings kids from the Hell's Kitchen neighborhood with theater professionals to create original works on stage — what an excellent concept. See woodstockfilmfestival.com for next year's line up.
We are moving through the Fall Season and a time when numerous National Exhibitions are held in NYC and many of them are now online (See Roger Rossi's Speak Out on Online Exhibitions in the Sept/ Oct issue which is available online. Roger is planning on a follow-up article in which he will give some evaluations and make some observations.)
The National Association of Women Artists held their 122nd Annual Exhibit at the Sylvia Wald - Po Kim Gallery in NYC. The organization is gearing up for its 125th Annual in 2014. Founded in 1889, it is the oldest professional women's fine art organization in the United States and provides a forum for women artists to share ideas and to exhibit their work.
We are pleased to give, albeit small, awards at various national exhibits. ART TIMES Award at the 40th Pastels Only exhibit went to Pirkko Mäkelä-Haapalinna, at the 84th American Association of Professional Artists, Jack Garver received the ART TIMES award and Roseann Samuelson received the ART TIMES award at the Catharine Lorillard Wolfe Art Club 116th Open Exhibition. Use the ART TIMES facebook page to post the winners of other organization's exhibitions. Posting your show information, your thoughts about other shows and events you attend, is a perfect use for ART TIMES facebook page and the twitter account.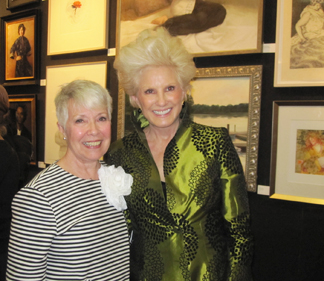 The Catharine Lorillard Wolfe Art Club, founded in 1896 for Women Artists, has published A Chronicle — a chronicling of the history, the recipients of awards, honored and honorary members and presidents of the organization. The book has numerous illustrations including historic pictures and images of work by notable members and made its debut at the 116th Annual Open Exhibition Benefit Reception that supports the Metropolitan Museum of Art travel and research fund. As in past years the show is excellent with 234 works coming from across the US. This year's Honorary Member is Gloria Spevacek, an excellent sculptor and a woman who has worked tirelessly for CLW (and gave me my first Photoshop lesson). Dianne Bernhard, President of the National Arts Club where the annual exhibit has been held over the past 50 years, spoke with the group "as one antique establishment to another". As a woman artist she thanked the organization for supporting women artists and reflected that the exhibition "offers an extraordinary glimpse of the breadth and depth of women's art." Last year, I was one of the judges for painting and it was a hard job; this year's judges had an equally hard job.
The Fertile Crescent: Gender, Art and Society is a showcase of exhibitions, lectures, performances, film screenings and special events focused on women from the Middle East and its Diaspora. It is being held in partnership with Princeton University, Institute for Advanced Study and the Arts Councils of Princeton and West Windsor. There are a multitude of programs that take place in and around New Brunswick and Princeton, New Jersey. I attended the inaugural symposium and reception of 2 of the exhibitions. Several hundred people attended the symposium. Welcoming the audience and special guests were Judith K. Brodsky and Ferris Olin, co-Directors of the Fertile Crescent Project and the Institute for Women and Art at Rutgers. It was from a visit that Ferris made to the Middle East that the idea of such a project was born. Robert L, Barchi, President of Rutgers University praised the project and noted that it was surely to aid to better understanding the people of the Middle East. Isabel Nazario, associate VP for Academic and Public Partnerships in the Arts and Humanities at Rutgers also welcomed the audience. Alison Bernstein, Director of the Institute for Women's Leadership at Rutgers moderated the panel. In her opening remarks she said "Artists have vision to see a better world and that vision reminds us that Art is intimately connected with World Peace." Artists Kelly Baum, Negar Ahkami, Ayana Friedman, Margot Badran, Zeina Barakeh, Fakhri Haghani, and Fatimah Tuggar sat on the panel and each spoke about their work. The events continue thru January 2013. For schedule details and a list of participating artists see fertile-crescent.org
Many of you may have already seen the art hung along overhead construction scaffolding in NYC and coming this Spring you will see Artbridge in Kingston, NY, its first public art installation outside the five boroughs of New York City. Founded in 2008 by artist and designer, Rodney Durso, ArtBridge seeks "to enhance the urban experience by transforming overhead construction scaffolding into temporary art installations. With over a million linear feet currently installed in New York City alone, ArtBridge sees the blank plywood panels as the perfect canvas for Public Art." ArtBridge installs large-scale works by emerging artists directly onto the scaffold's panel surfaces, taking art out of galleries and into the public realm. For ArtBridge: Kingston, ArtBridge will invite Hudson Valley-based artists to submit works to a curatorial panel comprised of local artworld professionals for consideration for a large-scale exhibition to be unveiled in March of 2013 on the bridge overlooking Greenkill Avenue. The call for entries will be open to all emerging Kingston and Hudson Valley-based artists and will open on November 18, 2012. The curatorial panel members will be announced in the coming weeks. See art-bridge.org for more information.
Remember to upload calendar information to the ART TIMES submission form found on our website; upload your events and comment about events to the ART TIMES facebook page and on twitter. The next issue, (our 300th!!) is the Jan/ Feb 2013 issue and will close for advertising reservations on Feb 18. If you missed getting your advertising or announcements into this issue we can accommodate you with an inexpensive banner ad on our website: arttimesjournal.com. See you out and about. Have a joyful, healthy, productive New Year and a delightful holiday season.