Culturally Speaking
By Cornelia Seckel
ART TIMES November/ December 2011
In the October online Culturally Speaking I uploaded photographs with some commentary about several of the events I was able to get to in September. Here are some elaboration of those comments and news about several places I've been to this month

Coming up at the end of November is the 4th Annual Woodstock Arts Fair that ART TIMESco-sponsors with the Woodstock Jewish Congregation. The fair is on November 27 from 10-4pm and held at 1682 Glasco Turnpike in Woodstock, NY. Many fine craftspeople and artists (including our editor Raymond J. Steiner) will be selling their work and Mezzaluna Café & Bistro Latino will have their delicious food available. I hope to see many of you there and those of you interested in an application for next year can email woodstockartsfair@yahoo.com after January 1.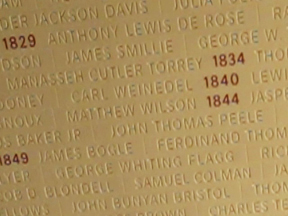 The National Academy Museum and School, NYC, celebrated the reopening of the Museum with newly renovated galleries and foyer. "Will Barnet at 100" was the featured exhibition and the group exhibit (from the permanent collection) included 100 works from 1820-1970 and honored founding member Thomas Cole. Featured was Cole's painting "Autumn in the Catskills" on loan from the Arnot Museum and first shown at the Academy's 3rd Annual Exhibit. Also in the show —hung salon style—were former and current members including Samuel Morse, Asher B. Durand, Jasper Francis Cropsey, Frederic Edwin Church, Albert Bierstadt, and William Merritt Chase. In the foyer of NA, the ceiling, designed by the design firm Pentagram, has a relief with the year and accepted members of the academy beginning with 1826 which included John Vanderlin (of Kingston, NY), Samuel Morse, James Coyle, Rembrandt Peale, Asher Brown Durand, Thomas Cole and others. Learn more at: www.nationalacademy.org

Mitch Goldberg, Upstream Gallery, Dobbs Ferry, NY was kind enough to send me some comments about the opening reception of "Reunion", a group show honoring the work of over 40 artists who have been or are members of this cooperative gallery, the oldest in Westchester. "We had a full house for our reception on Sunday and many original members who have not been part of the group for many years reconnected with us. It was great to hear about the founding of the gallery by artists who yearned for a non-commercial space where they could show the art of their choice under their own control. Original members also spoke to me about how they would spend many hours talking about each other's work, and their efforts to bring the wider community into the gallery. At first, the gallery was located in Hastings, but they lost their lease on that space. For many years, Upstream was a group of artists without a space, showing art wherever they could in public venues. About 10 years ago the space in Dobbs Ferry was obtained, and doubled when the second storefront was added. Several of the founding members told me how delighted they are that the gallery is still going strong after 20 years. We have a few original members who are still part of the cooperative. Many local residents who have followed the gallery for a long time were also in attendance. The gathering had a positive spirit, and was a great celebration of our twentieth anniversary." Thank you Mitch for this report. For more about this gallery and their members see www.upstreamgallery.com

Those of you who have been to an opening, performance or event and would like to share it with the ART TIMES community are welcome to post it on the ART TIMES facebook page.

Nearly 30 artists took part in the 15th Annual Fall for Art presented by the Jewish Federation of Ulster County. This marks the beginning of the Social Calendar for Ulster County and hundreds of people come to this elegant cocktail party that provides a venue for artists and craftspeople as well as a fundraising benefit that supports the work of the Ulster County Jewish Federation and presents a check to an outstanding arts organization in the Hudson Valley. An artists' award is presented each year and Vindora Wixom, of the Art Society of Kingston choose Stacie Flint (Oils), of New Paltz and Kaete Brittin Shaw (Ceramics), of High Falls with $250 gift certificates from R & F Handmade Paints, Kingston, NY. Eve Waltermaurer, president of the Rosendale Theatre Collective board, accepted the $1000 Arts Award on behalf of the theatre. I made a short video of the event and it is available on arttimes YouTube channel and the ART TIMES Video page. For more about Fall for Art and the Federation: www.ucjf.org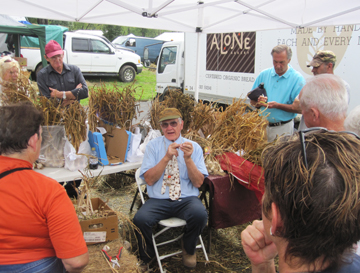 The Garlic Festival is an annual September event sponsored by the Kiwanis Club of Saugerties, NY. Each year over 50,000 people attend this 2-day celebration of "the stinking rose". Nearly a hundred farmers bring over 60 varieties of garlic to taste and to buy (for planting, cooking and display); Vendors with all sorts of food products (garlic pickles, spreads, jams, breads, and spices to name just a few); craftspeople bring their work (much with a garlic theme); and then there is the food (made with lots of garlic including garlic ice cream, soup, & sausages). There are seminars on growing garlic, cooking with garlic, and lots of kid's activities. More than 10 music areas are set up and fine music can be heard throughout the Festival grounds. The money received from the festival goes back to the Saugerties community as Scholarships for students, Donations to non-profit organizations within the Hudson Valley, including programs such as the Boys and Girls Club, Boy Scouts of America, Coats for Kids, Girl Scouts of America, Historical Society, Seamon's Park, Saugerties High School Key Club, Saugerties High School Scholarships, Special Olympics, Kamp Kiwanis, Karing for Kids, Saugerties Library, School Supplies for Kids, Ulster Literacy, Toddler Town, Ulster Crime Victims, Seamon's Park Holiday Celebration and various sports teams. They also give assistance with the purchase of community quality-of-life-enhancing facilities such as an ice skating rink purchased in February of 1998, to better serve the communities' diverse sports and other life interests. This is an extremely well run event by the members and other volunteers of the Kiwanis Club. For more about the festival www.hudsonvalleygarlic.com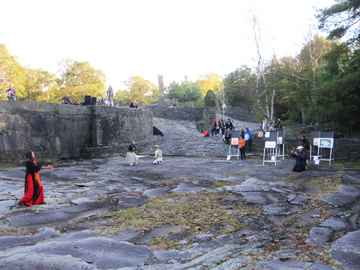 The Vanaver Caravan was established in 1972 by musician/composer Bill Vanaver and dancer/choreographer Livia Drapkin Vanaver. The Vanaver Caravan, situated in the Hudson Valley, NY, is a world touring company of dancers and musicians that present a variety of entertaining and informative programs that synthesize various ethnic and regional styles, ranging from Appalachian clogging to flamenco with a range of modern theatre techniques. The Company has also pioneered in-depth arts-in-education programs throughout the US for both public and private schools. I was able to attend a performance at the Passage to India fundraiser at Opus 40, Saugerties, NY. At this event Susan Zimet of the Ulster County Legislature read a proclamation from the Ulster County Legislature of NYS congratulating the Vanaver Caravan on the launch of the Shakti Dance Academy in Udaipur, Rajasthan and again recognized them as Ambassadors of Peace. Primilla Dixit Nag, Director of Big Medicine Charitable Trust spoke about the Trust and why the Vanaver Caravan has been invited to perform at the Shilpgram Festival in Udaipur India on December 30th (attended by over 200,000 people). Ten members of the Vanaver Caravan will be staying on in India for 3 weeks visiting schools and performing locally and beginning the preliminary planning for an ongoing relationship with the newly formed Shakti Academy for Dance and Healing Arts. This will involve a mentoring and teacher training project in establishing their dance program. For further information and to make a donation to the Caravan to support their contact artistic director Livia Vanaver at livdance@aol.com •or• www.vanavercaravan.org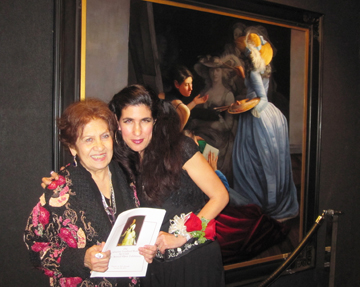 I am fairly often asked to judge art shows and I find it to be a challenging and rewarding experience. I was one of the painting judges for the Catharine Lorillard Wolfe Art Club's 115th Annual Exhibit. The other judges were Stephen Doherty, Christian White, Leslie Kaufman and Thayer Tolles. The Reception, at the newly renovated National Arts Club, NYC, is always a benefit for the Metropolitan Museum of Art Travel and Research fund of the Department of American Arts. I was able to meet many of the artists whose work I already knew from judging the show. Artists I chose were appreciative and the ones I didn't choose were polite. The ART TIMES award went to Carole Dakake for her painting "Woman in White". CLWAC Medal of Honor went to Carolyn Hesse-Low (oil), Arlene Cornell (watercolor), Karen Whitman (graphic), Susan Faith Parker (sculpture). Gabriella Dellosso, first critiqued in the July, 2004 issue of ART TIMES (see arttimesjournal.com/profile/Gabriella_Dellosso_July_04/jul_04_profile.htm) was the 2011 Honored Member and acknowledged as one of the most compelling realist artists of this generation and one Catharine Lorillard Wolfe would be especially be proud of given Gabriela's passion and skill as she continues to celebrate women in her work. The CLW Art Club was formed in 1896 "to provide women artists with a forum in which to exhibit their work, court admiring patrons and develop guiding and supportive relationships among its membership". These purposes remain true today. The annual members' show will take place at the Salmagundi Club, NYC from March 18-March 30, 2012. For more information about this club: www.clwac.org

The Audubon Artists 69th Annual Exhibition, held at the Salmagundi Club, NYC, was again an excellent showing of what artists across America are doing. In 1940 a small group of dedicated artists from the Washington Heights section of New York City assembled for the purpose of art discussion, demonstrations, films and lectures, taking the name Professional Arts Group of Washington Heights. Soon the group began to expand its direction and purpose. Due to an increasing interest by artists from other areas of the city, a need for a less regional name was realized. In a meeting on December 30, 1941 on the site of the homestead of John James Audubon, the shorter name Audubon Artists was suggested. This is an energetic group of artist professionals. They present an annual exhibition every year and hold demonstrations by artist professionals, educational programs and workshops. ART TIMES award went to Masaaki Noda for his painting "Redolence". The Gold Medal of Honor awards went to Michael Redbord (sculpture), Diana De Santis (pastel), Lefu Gu (oil), Steven Walker (graphic), Junko Yamada (Collage & Mixed Media), Natalie Smythe (aquamedia).

The Pastel Society of America's 39th Annual Exhibit, held at the National Arts Club, NYC, was again a fine showing of what the medium of pastel is capable of in the hands of fine artists. Bill Creevy, PSA was the Hall of Fame Honoree; The ART TIMES award went to Jill Stefani Wagner of Ann Arbor Michigan for "Orchid 1". Top prize winners were: Jimmy Wright PSA Founders Award for "Sunflowers Grey"; Bob Palevitz Jack Richeson & Co. Award for "Tram"; Theresa Emmett Allison Art Spirit Foundation for "Tales of Enchantment". Founded in 1972 by Flora B. Giffuni, Pastel Society of America (PSA) - the oldest existing pastel society in America - is largely responsible for the current renaissance of pastels in American art. PSA encourages artistic advancement through prestigious awards distributed during its annual exhibitions. In recent years, PSA has been honored guests in exhibitions in Italy, France, Russia and China. The PSA School for Pastels is located at The National Arts Club and is a unique place for learning and mastering the art of pastel. Supporting and helping pastel artists and pastel societies is an integral part of PSA's mission as well as holding an annual exhibit and offering workshops from January - June of each year. Flora B. Giffuni was directly involved in the creation of more than 30 regional pastel societies in the United States. In 2004 the Flora B. Giffuni Gallery of American Pastels was established at The Butler Institute of American Art in Youngstown Ohio. For more information: www.pastelsocietyofamerica.org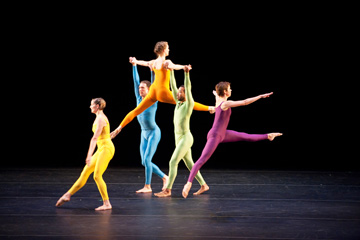 I was able to see Merce Cunningham's Legacy Tour when they came to Bard College's Fisher Center for the Performing Arts in Annandale, NY. Dating from the formation of the Company at Black Mountain Collage in 1953, Merce Cunningham had a radical approach to space, time and technology influencing the dance world and according to the Merce, outlook has redefined the way audiences experience the visual and performing arts. Dawn Lille, one of our dance writers, wrote about Merce Cunningham in the December 2009 ART TIMES online (still accessible by going to the dance archives online at www.arttimesjournal.com). This is the Company's final tour, disbanding at the end of December, and I didn't want to miss it. Hardly a seat was available in the theatre and I saw many former dancers (slim, hair in bun, excellent posture) and spoke with several who wouldn't miss this performance for anything. The Merce dancers displayed gorgeous control and precision as they moved through space. The choreography, the beautiful costumes and scenery (many of the original designed by Robert Rauschenberg) left the audience thrilled. John Cage was the founding music director and wrote 2 of the 3 pieces performed (Antic Meet 1958, Suite for Five (1956-1958 and Sounddance 1975). At the end, the audience was standing and cheering during the dozen curtain calls.

A number of years ago I was in Florida and at the Boca Raton Museum of Art and there was a Marc Chagall exhibition. As I wandered thru the exhibit I saw a photograph of Chagall in High Falls, NY a town not very far from where I live. Several years later I learned that a friend of mine's grandmother lived just up the road from Chagall and more recently an exhibit opened at the Chapel of the D&H Canal Museum in High Falls, NY of Chagall in High Falls. I am always amazed at how the world turns. From 1946 through 1948 Marc Chagall lived on Mohonk Road in High Falls, New York, creating more than 90 paintings, prints and drawings. This story of Chagall in High Falls began with the interest in local history of one High Falls resident, Rik Rydant and blossomed into a collective effort linking the descendants of Marc Chagall and major museums and libraries. Rik Rydant, historian and retired History and English teacher said "My curiosity got the best of me and the more I learned about the artist, the more I realized the impact of High Falls on his work." Gary Ferdman of High Falls coordinated the exhibit with Rik and believes that High Falls was a "source of inspiration, and the place where Chagall regained his balance and productivity after a very difficult period." The opening reception was very well attended and Chagall's granddaughter Bella Meyer thanked the committee for handling her grandfather's work so respectfully and delicately as well as expressing her delight at seeing the house and studio where her grandfather lived and worked. To learn more about Marc Chagall's time in High Falls: www.chagallinhighfalls.com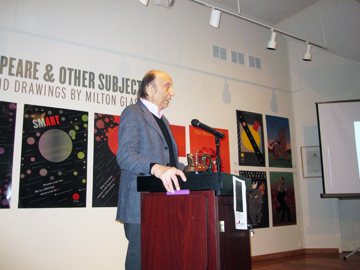 Milton Glaser (first profiled in the October 1985 issue of ART TIMES) gave a gallery talk in conjunction with the opening reception of the exhibit Shakespeare & Other Subjects: Prints and Drawings by Milton Glaser at the Woodstock Artist Association Museum, Woodstock, NY. He spoke about his work, his philosophy, and his life. The Towbin wing was packed with people who wanted to hear from this world-renowned artist who received The National Medal of Arts being for his outstanding achievements and support of the arts. The medal was presented last February by President Barack Obama and First Lady Michelle Obama. He is the first graphic designer to receive the honor. Milton has been associated with the School of Visual Arts for over 50 years and continues teaching as well as doing his design work. He said that design is a plan and there was too much hanging in museums that is not Art. "Art exists to make us understand what is real. Society must have art to survive". When asked about his use of computers he said that "the computer forces you to do things as it likes" and he will first draw something out before going to the computer. He is still having great fun especially taking two unrelated things to see how they may emerge. When asked if he considered himself an artist or designer he said that only the judgment of history could answer that question.

The Salon De Virtuosi, Inc., established by Charlotte White in 1989, is dedicated to the discovery and support of extraordinarily gifted young international emerging musicians. Since they inaugurated the Fellowship Grant Program in 1995, the Salon De Virtuosi has endowed a total of $385,000. This year's winners: Tanya Gabrielian-American Pianist of Armenian & Korean parentage; Hans Kristian Goldstein; Norwegian-American Cellist; Eldar Djangirov, Russian Classical-Jazz Pianist; Elena Urioste, Mexican-Basque Violinist; Conrad Tao, 16 year old Chinese-American Pianist-Composer performed and received their awards at Steinway Hall; Robert Sherman, noted musicologist, was the M.C. for this occasion. (This program will be broadcast at 9pm on the first Wednesday in January 2012 on Bob Sherman's "Young Artists Showcase" over WQXR 105.9). The Series continues through the year with outstanding concerts. See www.sdev.org for details.

Don't forget to say Hi if you see me out and about and don't forget to add your comments about your cultural exploring to the ART TIMES facebook page.