Culturally Speaking
By Cornelia Seckel
ART TIMES May/ June 2012
There is nothing like a family member in crisis to suddenly concentrate the mind. When my Mother (92) was knocked over by a large dog her life changed radically as did her children's lives. Six weeks later with OT, PT, Social Worker, Nurse, Aides all in place I am amazed that I have as much to say as I do. One cannot reach a certain age and be immune to taking care of a parent or spouse. As I went through my life these past 6 weeks the support from friends, colleagues and strangers was heartwarming and healing.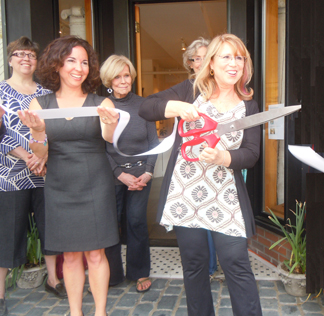 In the not too distant future you will read about my trip to San Antonio, Texas and be directed to a video about San Antonio. This is a city alive with support for the arts. Festivals draw crowds of as many as 20-30,000 people and there are well over 100 festivals during the year. San Antonio is the 7th largest city in the US but as it is very spread out it appears to be a small city. Coming up in a future Travel and Culture Column you will read about Luminaria, the River Walk, Missions, The Alamo, The Museums and Arts Centers, Artists, Music and Theatre Performances, fabulous restaurants, the Paella Competition, Aerosol Arts Festival, the Pearl Farmers Market & the San Antonio Culinary Institute of America. In my Culturally Speaking column online for April, you can see photos and read about several of these events.

Silvermine Arts Center, located in New Canaan, CT, is celebrating their 90th anniversary. What began as an artist colony meeting in an artist's nearby barn has grown to be one of the finest and most complete art centers in New England. Artists have been drawn to Silvermine, since visionary sculptor Solon Borglum moved there in 1908 and established a place for artists to gather. The Silvermine Guild of Artists was founded in 1922 and formally incorporated in 1924 when the School of Art was established. Today, the Silvermine Arts Center, is comprised of a Guild of over 300 professional artists, five galleries presenting new exhibitions every six weeks that sponsor prestigious regional and national competitions; a gift shop; a School of Art providing a wide range of classes for all levels of experience from ages 2 to 102; public programs; and outreach programs in the Norwalk and Stamford schools. There are 4,500 annual enrollments at the School of Art and 12,000 visitors to the galleries. The center provides its artist members, faculty, students and visitors with a common location where they can share ideas, work on projects, teach, explore new areas and grow in their creativity and talents. To honor their history the year will be filled with special events, exhibits and the addition of a new Sculpture Walk. More about Silvermine Arts Center at: silvermineart.org.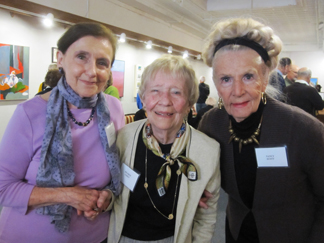 I went to LongReach Arts 30th Anniversary celebration and it was an exciting and heartwarming event as I have been going to their openings since we began ART TIMES in 1984. So many artists that I have known over the past 28 years were there celebrating this group. LongReach, first known as Summergroup, began in the spring of 1982 when a group of professional visual artists, most of whom had been showing at Elayne Seaman's gallery in Poughkeepsie, met to explore the idea of forming a cooperative gallery when Elayne decided to close the gallery. When plans were being discussed for the future, the Mid-Hudson Arts and Science Center (MASC), housed in Poughkeepsie's old City Hall, invited the newly formed cooperative to present its first exhibit in MASC's large gallery for the duration of the summer and they remained there until June 1991. Inspired by the idea of beginning with a "group exhibit in the summer" the name "Summergroup" was unanimously adopted. Since 1991, with the exception of rented gallery space at the Cunneen-Hackett Cultural Center, Poughkeepsie, NY from May 1995 through July 1996, Summergroup's exhibits have been primarily featured in venues throughout the Mid-Hudson Valley and in New York City. Each artist was to prepare work measuring 3' x 3' — always a nice challenge — and the work showed ingenuity, skill and "art". The show was at The Mid-Hudson Heritage Center on Main Street in Poughkeepsie. There are two exhibits scheduled year. One is at the Mill Street Loft Annex at the Scenic Hudson River Center in Beacon during September/October and the other is sometime this summer. longreacharts.com

The Fish Creek-Highwoods (in Ulster County, NY – ½ way between Woodstock and Saugerties) ARTIST'S MILE + includes about a dozen artists whose studios will be "open" to the public year round. Each artist acts independently and chooses when their studio will be open, and will indicate this by hanging a palette out by the road. There are maps at each studio to pass people along to each other. The idea is to keep it simple. Raymond J. Steiner has agreed to be part of this and there will be a link from our website homepage to the map. This was a brilliant idea by Fay Wood who will be showing her sculptures, paintings and prints at her Clove Church Studio.

ArtTable was founded in 1980 by a group of professional women in the visual arts to foster greater support, recognition and opportunities among their peers. As Founding President Lila Harnett explains, "Information was exchanged, and we became a mutually helpful society with a mission to promote the interests of professional women in the arts." Over the years, the organization steadily expanded from an informal group into a professional network (of women in all stages of their careers who exemplify leadership in the administration, business, finance, management, promotion, scholarship and stewardship of the visual arts.) of more than 1,500 women throughout the country with membership centers in Boston, Los Angeles, Houston, New York, San Francisco, Santa Fe, Seattle, and Washington D.C., and growing centers in Chicago, Atlanta, Miami and New Orleans. ArtTable's ongoing outreach programs include: the Summer Mentored Internship for Diversity in the Visual Arts Professions, intended to help young women of diverse backgrounds enter the field of the visual arts; the Career Development Roundtables, developed to mentor students and emerging professionals as they enter the field; the Oral History Project, created to document the significant impact and on-going contributions of professional women in the visual arts; and our public programs, intended to provide a forum for discourse about current topics in the arts relevant to both our members and the art world at-large. Each year ArtTable honors a leader in the field with the Distinguished Service to the Visual Arts Award at the Annual Award Ceremony and Benefit Luncheon in New York City. Past Honorees include: Kitty Carlisle Hart, Agnes Gund, Emily Rauh Pulitzer, Dianne Pilgrim, Joan Mondale, Stephanie French, Lucy Lippard, Marcia Tucker, Paula Cooper, Iris Cantor, Linda Nochlin, Elizabeth Baker, Elizabeth Sackler, Emily Rafferty, Vishakha Desai, Toby Devan Lewis, Yoko Ono and Lila Harnett.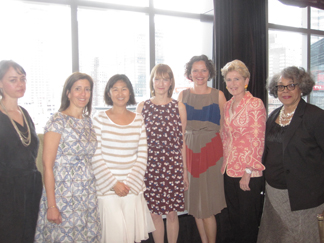 This year's honoree of the 2012 Distinguished Service to the Visual Arts was Patricia E. Harris, first Deputy Mayor of the City of New York whose passion, she says, has always been about arts and culture. Under Mayor Koch she was the Executive Director of the Art Commission (now called the Design Commission) and as First Deputy Mayor under Michael Bloomberg she has brought public art to the five boroughs, promoted smart urban design and supported arts and cultural organizations. Patricia understands clearly that Arts and culture is essential to economic development. NYC is fortunate to have her as part of the governing team.

Cecilia Alemani (an alumni of the Center for Curatorial Studies at Bard College) received the 2012 New Leadership Award recognizing her work as the Donald R. Mullen Jr. Curator and Director of High Line Art. High Line is a program of public art that takes place on and around the High Line in NYC. As an independent curator, Cecilia has organized numerous exhibits in museums, foundations and institutions. The award is to support women who are in their early and mid-careers.

Keynote speaker was artist and architect Maya Lin who was first brought to the attention of the art world in 1981, at age 21 and while still an undergraduate, when she won a public design competition for the Vietnam Veterans Memorial, beating out 1,441 other competition submissions. Maya spoke about the difficulties of creating art for public places and the logistics involved. Her current work and her final memorial, What is Missing?focuses on bringing awareness to the current crisis surrounding biodiversity and habitat loss. This memorial is for what we have lost, to remember the past and to teach us to live in the future. I found Maya a friendly and personable woman who wasn't shy about sharing her thoughts and feelings.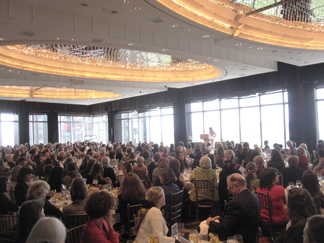 Dena Muller, Executive Director of ArtTable welcomed the 400+ attendees at the 19th Annual Benefit Luncheon at the beautiful Mandarin Oriental NY Hotel. The event was like the organization: extremely well run with strong support for the fundraising event and a networkers dream as we all had name tags and there was a handout of all the attendees with their table location — (a prime purpose of ArtTable is networking). I am proud to be a member of this group. Young women interested in pursuing work in the arts field (not artists but in the business of art) can contact ArtTable and learn more about their outreach programs, which include mentoring and internships. ArtTable.org

I am also a member of Pen and Brush, National Association of Women Artists, Catharine Lorillard Wolf Art Club. All of these organizations do important work for women in the arts and would be happy to have your support.

National Association of Women Artists: was founded in 1889 and is the oldest professional women's fine art organization in the United States. It provides a forum for women artists to share ideas and to exhibit their work. Through its exhibitions, programs, events, education programs and archive N.A.W.A. fosters awareness of the monumental contribution of women to the history of American art. thenawa.org

Pen and Brush: Founded in 1894, The Pen and Brush, Inc. is an international membership organization for women in the visual, literary and performing arts and supporting public members. The Pen and Brush is a vibrant resource for its members, nonmember participants, and a flourishing cultural center for the surrounding community. penandbrush.org

Catharine Lorillard Wolf Art Club was established in 1896. The purpose at the time was to provide aid, counsel and exhibition opportunities to young women artists in New York City. The Club's major event is the Annual Open Juried Exhibition held in the early Fall at National Arts Club. In addition to the Open Juried Exhibition, the Club sponsors the Members Annual Exhibition each spring. Occasional lectures and demonstrations are open to Members, Associates, Donors, Patrons and Benefactors. clwac.org

That wraps up my exploring for now. Make sure to take a look at ART TIMES online for videos, updated calendar and opportunity listings as well as new essays.