CULTURALLY SPEAKING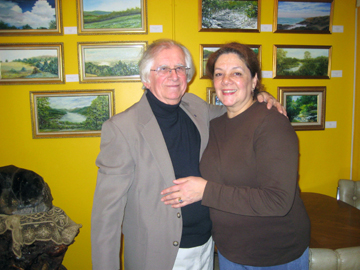 Bistro Latino & Gallery during Steiner's Opening Reception
for "Here and There": Oil Landscapes

By Cornelia Seckel




ART TIMES May 2008

Raymond's opening of his exhibition of landscape paintings at Café Mezzaluna Bistro Latino & Gallery in Saugerties, NY was a huge success with many friends, admirers and collectors enjoying not only the oil paintings of the Hudson Valley and European venues but the fine fare served by Mery Rosado, proprietress and gallery director. Raymond's novel The Mountain is back from the printer and available from CSS Publications, Inc.

I went to Manhattan for the awarding of the Rome Prize Ceremony of the American Academy in Rome. Each year, through a national competition, the Rome Prize is awarded to up to 30 individuals — emerging artists (working in Architecture, Landscape Architecture, Design, Historic Preservation and Conservation, Literature, Musical Composition, or Visual Arts) and scholars (working in Ancient, Medieval, Renaissance and Early Modern, or Modern Italian Studies). Awardees are provided with a stipend, a study or studio, and room and board for a period of 6 months to 2 years. The application deadline is November 1st. www.aarome.org (While Raymond & I were in Rome we visited the Rome Academy and you can read about it online in my November 2007 Culturally Speaking column)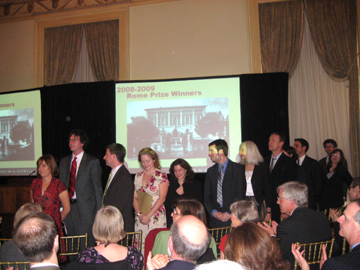 Some of the Awardees at the Rome Prize Ceremony of the
American Academy in Rome, NYC
While in NYC I went to see Eileen Serwer's Pastel Landscapes at the National Association of Women Artists' Gallery at 80 Fifth Avenue, NYC. The images were of France, England, Italy, Ireland, and many US locations. What lovely and well executed landscapes. After viewing I felt as if I had hiked through the countryside. The show will be up through May 15.
I stopped to see the 141st International Exhibition of the American Watercolor Society at the Salmagundi Club, 47 Fifth Avenue, NYC and what a fabulous show. I walked around looking at the 100 + paintings, amazed at how so much variety of style could come from pigment, paper and a brush. This was truly a fabulous show. No wonder busloads of artists from the surrounding states kept arriving to see the work. Studying the paintings certainly is a lesson for anyone working in watercolor. Sheryl Luxenburg from Ottawa, ON won the AWS Gold Medal of Honor for Impermanence; Mark E. Mehaffey of Williamston, MI received the Silver Medal of Honor for Blue Monolith and Oscar R. Dizon of Holbrook, NY received the Bronze Medal of Honor for Late Summer at Zhouz Huang 2006. What tough choices for the judges! The Traveling Exhibition (chosen by the Jury of Awards) will go to Alexandria, Louisiana, Houston, Texas, Middletown Ohio, Tullahoma Tennessee, Laurel Mississippi and Springfield Massachusetts. For more tour information, organization history and images award winners (among a lot of additional information go to www.americanwatercolorsociety.org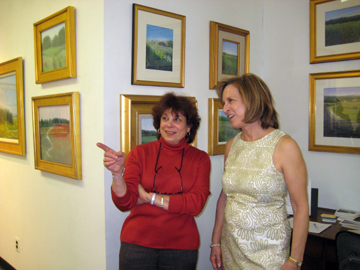 Susan Phillips and Eileen Server at Eileen's Pastel Exhibit
at NAWA Gallery in NYC
I've been wanting to get over to YoHo Artists Studios on Nepperhan Avenue in Yonkers, NY for a long time. Two buildings, managed by Heights Real Estate, have about 40 studios of various sizes rented to (mostly) artists and other people in the creative fields with another 25 studios soon to be available with spaces varying in size and of course price ($400-$1200). I was fortunate to be there when a meeting was in progress about the upcoming 5th Annual Open Studios which will be held on Sat May 17 & Sun May 18 from 12-5pm. The public is welcome to go and meet well over 35 working artists, see demonstrations, and learn about this community. It is clearly a group effort with artists taking various responsibilities. I added my 2 cents when the publicity discussion took place — suggesting ways to approach different members of the press and letting them know first hand what works and doesn't work in getting our attention. From the early 1900's until the 1950's the building was the Alexander Smith Carpet Factory (where over 5000 people worked) and then it was converted into different businesses. For the past 15 years the 5th floor has been an Artist Colony. When I spoke with individual artists, they liked the community of like-minded creative people around them. I felt that energy as I toured the different studios and could see how stimulating it would be for artists. Many said that they felt that their work was enhanced by the support they felt with other artists around. George Huang of the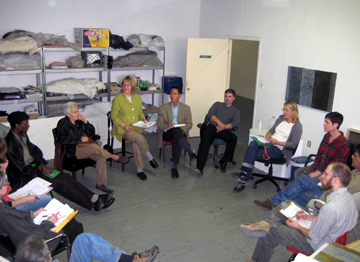 Meeting of artists at YoHo Artists Studios, Yonkers, NY, working
out the logistics for the upcoming Annual Open Studios May 17 & 18
management company said that he loves the arts and is so excited about creating artist studios. He listens to the needs of his tenants and is constantly looking for ways to improve the site. The website (www.yohoartists.com) serves as a clearing house for information for tenants and artists in the buildings can upload their work and change information without the aid of a webmaster. George's plan is to fill the 5th floor with studios and have even more exhibit space in the building's public areas for tenants to show their work. He hopes for a gallery to make their home there and for this to be a true center for Arts. It is rare to find a landlord so committed to the efforts of their tenants and I congratulate HeightsRE and can understand why the artists I spoke with are so pleased to be there.
Upstream Gallery, Westchester's oldest cooperative gallery, was founded in 1991 by a group of artists who wanted a place to show their work. In speaking with several of the members they expressed a strong sense of community, speaking of one another's work freely and supportively and in many instances admiringly. I chanced upon a Photography Exhibit by Ned Harris and Paintings by Cecily A. Spitzer. The work was highly professional, intriguing and stimulating and seemed to be indicative of all of the 21 member's work. The next exhibit will be Paintings and Sculpture by Shirley Glasser and Sculpture by Susan Manley Lopeman. The gallery is on Main Street in Dobbs Ferry www.upstreamgallery.com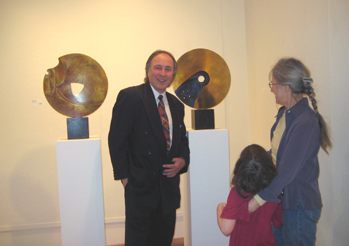 Alex Kveton and admirers at his Opening Reception at the Woodstock Artists Association Museum in Woodstock, NY
The Woodstock Arts Consortium held a week-long Arts Celebration and I was pleased to attend a few of the exhibits (missing out on several concerts, poetry readings, book signings, and wine tastings). Alex Kveton's intricate and curvaceous steel and bronze sculpture will be at the Woodstock Artists Association Museum in Woodstock, NY until May 5th. This is truly fine work, the likes of which you will see at museums and in fine collections. Take a look at his site as I can barely begin to describe the work: www.alexkveton.com • The reopened gallery of Kleinert James Art Center was filled to capacity for opening of the member's show New — 224 works by 103 members and hung by Christina Varga of Varga Gallery. What a fabulous job she did hanging in Salon style from ceiling nearly to the floor — and she made it work! • The Center for Photography had on view Doppelganger, a solo show by Cornelia Hediger and Photography Now 2008 a group show juried by Darren Ching • galerie bmg has a photography exhibit by Jeri Eisenberg that will run through May 19, 2008 • Sweetheart Gallery had Paintings by Lila Bacon and Photographs by Norman Bacon • Varga Gallery had a group show with a great variety. What was so interesting was the great range of work —in one afternoon it was possible to see so many styles and mediums.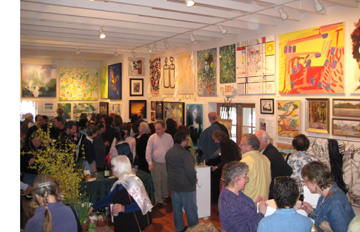 The opening reception at Kleinert James Art Center's members'show, Woodstock, NY
I came across david dew bruner design located on Warren Street in Hudson, NY and asked David what he hoped for the gallery. "I want the gallery to present works of a strong conceptual basis that are well crafted and beautifully present. I am also interested in working with the artist in creating a setting that the art can exist in — not just a white box. I will also be presenting theme shows such as the next show - Corpus - the art of the human form - which will have antiquities to modern art in it. Or down the pike there is planned a show on Egypt and the art of the folded paper." The next show (of David Roth's paintings) will run through May 24th. For more information: daviddewbruner@msn.com
Women in the Arts Foundation, Inc is an organization I hadn't come across until recently and according to their publicity: "Begun in 1971 as a loose-knit group of professional women artists…found the male-dominated art world inhospitable and decided to make changes. The members fought to end discrimination against women artists and now the focus is to networking, career education and exhibitions". Now and Then, a showing of small paintings, prints drawings, photographs and sculptures by 33 members of Women in the Arts is at the James Brown House on Spring Street & Greenwich Street, NYC and will be up through May 16.
That's it for this month, enjoy Spring and I'll see you as I go out and about.