Culturally Speaking
By Cornelia Seckel
ART TIMES March/ April 2011
By CORNELIA SECKEL
In January I often drive down to Florida for serious relaxing. I fish, sit on the beach, walk the beach, hang out with a group of women I fish with and visit family and friends. And then I explore some new cultural events and venues. This year Raymond accompanied me, and his experience is documented in this month's Peek and Piques!

While on the East coast I went to the 22nd Festival of the Arts in Delray Beach (see the video I made on YouTube and on our website). Perhaps 20 years ago I first went to this Arts Festival and was impressed by the support the city gave the artists (even paying musicians who played during the festival). It was my first encounter with the "gallery stroll" concept of galleries being open the same day/ night, stores and restaurants being open and generally a festive event for people to visit galleries and shops. Now I see most towns with even a ½ dozen galleries have such an evening/ day. The idea works and support for the arts has grown with many communities helping to fund arts events knowing that there is a substantial economic return. A number of artists and craftspeople I know do a "southern art fair circuit" thus spending some winter months in a warm climate and selling their work.

On the West Coast, we stayed in Venice with friend Elaine Jaffe. I re-connected with Karen Koop, my guide when I was in Sarasota and attended the Ringling International Arts Festival in October (video of this festival and the John and Mable Ringling Museum is available on our website, YouTube and the ART TIMES facebook page) and we made a date to see the brand new Salvador Dali Museum in St. Petersburg, just north of Sarasota.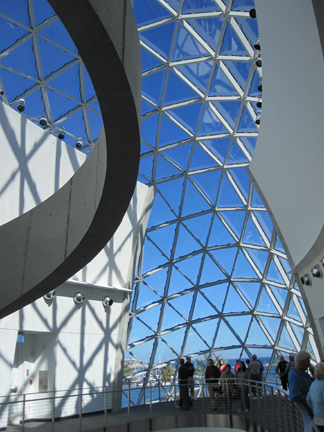 The Salvador Dali Museum (www.thedali.org) opened in St Petersburg Florida in 1982 with the collection of Industrialist A. Reynolds Morse and Eleanor Reese. Yann Weymouth, AIA, Senior Vice President and Design Director for HOK, conceived the museum's architectural design of this museum. The geodesic oculum by Novum Structures who engineered and installed the free-form glass exterior is the only novum glass structure in the Western hemisphere. The museum had been open just 2 weeks and was quite crowded on the weekday of my visit. This is one of just a few museums devoted exclusively to a single artist and has 96 oil paintings, over 100 watercolors and drawings, 1,300 graphics, photographs, sculptures and objets d'art, and an extensive archival library. The work on view will remain for at least a year and then there will be periodic rotations of the collection and special exhibitions. It is the largest collection of Dali's work outside of Spain. It is a beautiful structure with an exquisite view of the Gulf and has a "contemplation room" an alcove to rest ones eyes as they view the very engaging, stimulating and engrossing paintings. In following with Dali as a "showman" the museum is sponsoring "look alike" contests and a myriad of programs for adults and children.

Last year I attended one of the Sarasota Institute of Lifetime Learning (www.sillsarasota.org) lectures hosted by June LeBell. There are 2 series, Music Mondays and Global Issues, both, for the most part, in Sarasota and in Venice. I was there for Michael Lasser's lecture about Fred Astaire and was particularly pleased that he included old movie clips. For the most part, June interviews great performers including Lauren Flanigan, Martina Arroyo, Jacques d'Amboise and composer Robert Ward. I was sorry to miss the Round Table discussion with Robert Sherman, Martin Bookspan and June LeBell, all well-known and respected music radio personalities.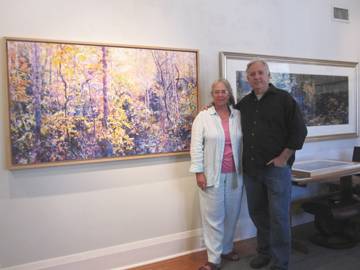 Cornelia Seckel and Jake Fernandez in front of Jake's work at Jake's Studio in Bradenton, FL
A question that often comes up is what value is there with facebook (witness the Mid-East!), linked in and other social networking tools. Jan Wallen, author of Mastering Linkedin in 7 Days or Less writes that by giving 15 minutes a day one can increase business contacts, product sales and become much more efficient at searching for a job. Jake Fernandez contacted me, as do many artists and people involved in the Arts, and wanted to connect on Linked In — a business-oriented social networking tool; facebook being geared to more social connections. Jake invited me to connect and offered an invitation for me to visit his studio. Jake is in Sarasota, Florida where I was heading and I thought, why not? I was in the right place at the right time and had a delightful visit with Jake at his studio and then visited his gallery on Anna Maria Island owned by Rhea Chiles, widow of former US Senator and Florida governor Lawton Chiles. In the studio I saw paintings, pastels, and drawings. Many of the drawings became large paintings composed of wood panels. Jake takes his drawing of a landscape and then by gridding them paints that part of the drawing onto a square. When he is done the painting is very much a mandala. Take a look at www.JakeFernandez.com. Linda Chapman, Jake's wife, also had some of her work on view in Jake's studio. Her oils and watercolors were classics and you can see more of her work at www.LindaChapman.us.

Back in NY having missed 4 major snow-storms I did get to an art show, dance performance and play.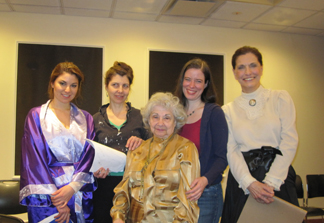 Francine L. Trevens, one of our Dance Writers and a well respected Theatre critic and experimented has worked as a theatre/dance critic, theatre publicist, producer of dinner theatre mysteries, director of other people's plays. She has written fiction, non-fiction, celebrity interviews, plays, novels, short stories, kids stories, dinner theater segments in "Best Plays Annuals" for all the years they ran, the musical theatre section of McGraw Hills' Encyclopedia of World Drama, reviews, interviews, etc. Francine invited me to the stage reading of "Spirit of the House" a one-act ghost play dedicated to Jane Chambers and Beth Allen at the Dramatists Guild in NYC. We were about 40 people in the audience, friends, colleagues and other theatre professional. The purpose of the reading was to give feedback to Francine about the play. I found that I wanted to know more about each of the characters and was not ready for the play to end. This was a consensus in the audience with several people giving thoughtful ideas as to how the play could evolve. Francine's books and plays are available at www.tntclassicbooks.com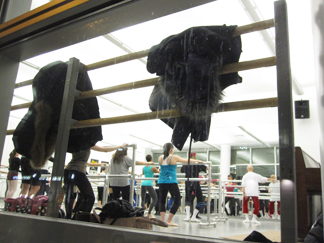 Alvin Ailey American Dance Theater is housed within the Joan Weill Center in New York. The 77,000-square-foot structure completed in 2004 includes two stories below ground and six stories above ground and houses the Alvin Ailey American Dance Theater; Ailey II, the company's junior performing troupe; The Ailey School; and the Foundation, which includes Ailey Arts-in-Education and Community Outreach. There are 12 dance studios, two of which can convert into a 300-seat black box auditorium space for performances. The Alvin Ailey American Dance Theater was founded in 1958 by dancer, choreographer and visionary Alvin Ailey, to bring African-American cultural expression and the American modern dance tradition to the world. Since 1974, Ailey II has been a showcase for rising young dancers and choreographers. The faculty trains 3,500 students annually in the Professional Division and Junior Division programs for aspiring dancers. The Ailey Extension program allows everyone to dance at Ailey with "real classes for real people" classes.. Ailey's community program brings dance to classrooms, communities and people throughout the world. Also in the Joan Weill Center for Dance is The Ailey Citigroup Theater available to dance (and other) companies and it is here that I saw the BalaSole Dance Company's (www.balasoledance.org) program Variations. The company was founded by Roberto Villanueva who is also the Executive and Artistic Director. Before the performance, Roberto spoke to the audience thanking us for coming and told us about the mission of the Company which is to educate the general public about the gaps that exist in the field of concert dance, to create increased visibility for underrepresented dance artists and to mentor dance artists to develop their own unique artistry. Of the 12 dance pieces, 10 were choreographed and performed by the individual dancer. The Company performed and choreographed the first piece.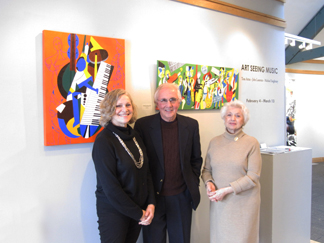 I have been meaning to get to the Rockefeller State Park Preserve in Tarrytown, NY for quite a while. The Park was donated by the Rockefeller family and has over 40 miles of paths to hike. I was there for the art show curated by Audrey Leeds, a woman I've known since the 1990's when she had l'Atelier Gallery in Piermont, NY. The show, Art Seeing Music, came out of an exhibition curated by Carolyn deLisser at the Blue Hill Cultural Center and Audrey felt that much of it would work at the preserve. The three artists' work did very well together. The photographs by Tom Artin of individual musicians, the groups of musicians in bright vivid jazzy colors by John Laurenzi and the individual musicians painted by Michael Singletary blended well and held their own in this small gallery. I've made a short video of the work and it can be seen on our website, YouTube and ART TIMES facebook page.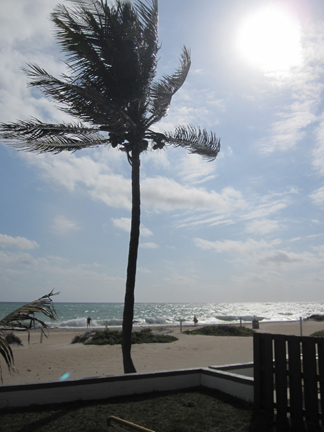 Bar Scott, singer and composer (see video of Bar performing at Photosensualis Art Gallery, Woodstock, NY, May 2010 on ART TIMES website, YouTube and the ART TIMES facebook page) has written The Present Giver, a memoir about her son Forest who died in 2002 after having lived 1266 days. The memoir brings us vividly through the days of Forest's life and the soul wrenching story of his parent's transformation, recognizing the beautiful gift they did receive from his life and the struggle to not get stuck in the wanting more. It is for people who have suffered loss and for the rest who will surely have to face the loss of loved ones. The book is a courageous and important sharing.
I've just learned about Wethersfield Academy for the Arts. It is a newly opened academy that will hold drawing and painting classes and workshops and an Atelier Program offered by Professional artists in a newly renovated historic red barn. Classes are for children, youths and adults of all levels. More than 10 years ago, Virginia Buck had a vision: Students coming to the barns in her backyard to learn about dance and art. "That's when I knew I had to do it," she said and transformed their barns and a carriage house into facilities for the newly formed Wethersfield Academy for the Arts. Sandra Wakeen, President, is excited by the new facility and believes that by bringing world class instructors to the community the will quickly gain national recognition for providing a quality art program. They are offering internships, looking for mentors and holding art competitions. Find out more at www.wethersfieldarts.org
See you out and about and don't be shy about saying hello.