Culturally Speaking
By CORNELIA SECKEL
ART TIMES March, 2005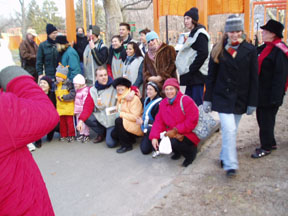 Cornelia Seckel and other visitors with a team that was unravelling The Gates. Central Park, New York City, 1979-2005. Christo and Jeanne-Claude's latest artistic exhibit in Central Park.
I wanted to include this "Culturally Speaking" column as there were some things that crossed my desk and a few places I got to that I wanted to talk about.
First, I was saddened to hear about the death of Arthur Rosenblatt, FAIA, friend, advisor, and great supporter of ART TIMES. It was an honor to know this gentle and kind man who was known to the world through his outstanding work as an architect, primarily of museums, and his leadership roles in the various arts clubs in the city, his 19 years as vice president and vice director of the Metropolitan Museum of Art, NYC (he restored and constructed projects including the Temple of Dendur, the Rockefeller Wing, the Egyptian Galleries, the American Wing), and the founding director of the US Holocaust Museum in Washington, DC. Arthur loved musical theater and he and his wife Ruth co-authored a book about the heyday of the American Musical Theater. Arthur Rosenblatt made a major contribution to our cultural life and heritage — his memory is a blessing.
I did stop at several exhibitions: The Student Show, an annual invitational exhibit presented by the National Arts Club, gives us an excellent idea of the work art students are doing today. 20 art schools were asked to select students to participate in the Exhibit. Asuka Komai from Fashion Institute of Technology won the 1st prize; Lazarus D. Nazario from the National Academy of Design - School of Fine Arts won 2nd prize, and the 3rd prize went to Rebecca Hoffman of Barnard College. Sandwiches and apples replaced the usual reception fare, a thoughtful touch for any group of artists, and there were hundreds of students in attendance supporting their friends. Congratulations to these fine artists who are doing outstanding work that could certainly compete in professional shows and also to Exhibit Chairman, James Cavello • The Salmagundi Club's Annual Combined Members Exhibition was also excellent. It is an opportunity for artists to show their finest, latest work to their fellow club members. Top prize went imes'> and Jeffrey Berman also won top prizes. Congratulations to these artists and to the Salmagundi Club for continuing their 134 year tradition of being a center for American Art and a supporter of artists and their spirit • HongNian Zhang's exhibition at the Fletcher Gallery in Woodstock, NY, was a resounding success with most work (original oils, lithographs, and giclées on canvas) being sold before the evening was over. HongNian, a teacher at the Woodstock School of Art, is again working on history paintings of China for the National Geographic • The Woodstock Artists Association opened their season with a Valentine theme for their Main Gallery show, Our Sensual World; the Permanent Collection exhibit With Affection: Personal Inscriptions and the Art of Giving; and Bruce Ackerman's solo exhibition Various Nudes, which had some very fine oils, watercolors and graphics. A fun touch to these sensuous exhibits was the nude models (lying face down on the serving tables) with sushi served over leaves artfully draped on their bodies. Ah, Woodstock!!!
I was pleased to learn from Director Carol Garbarino that River Glen Fine Arts Gallery, in Sandy Hook, CT, has just opened this past December and will represent a variety of regional and nationally known artists, many from Connecticut. The next exhibit titled "New York Moments" will open April 10th and will feature NYC cityscapes by prominent CT artist Frank Federico.
The Pauline Oliveros Foundation, Inc. of Kingston, NY www.pofinc.org is committed to the support of all aspects of the creative process for a worldwide community of artists and was inspired by Pauline Oliveros' philosophy that "Creativity is the vital spirit of public and personal growth." The Foundation recently released Zanana - Holding Patterns (DL 30-2004) a CD by Zanana, an electro-acoustic chamber music duo featuring Kristin Norderval, (voice) and Monique Buzzarté (trombone); they perform collaboratively composed, improvised music that blends acoustic sound, electronics and live processing. The foundation's home, Deep Listening Space, also in Kingston, regularly has exhibitions, workshops and performances.
I was so glad to be back in time to see The Gates. Central Park, New York City, 1979-2005. Christo and Jeanne-Claude's latest artistic expression — one that New Yorkers won't forget — was unraveled on February 12 and remained on view for only 16 days. (It will take weeks to remove them so you can still experience it for a while after the 28th). With the amount of media coverage, I need not go into the details (pictures, merchandise, information available online at www.the-gates-at-central-park.com about materials used, number of miles, trouble with permission, other projects etc.). At the Press Conference, I was sitting next to the historian for Central Park and one of the things she spoke to me about was that Central Park was an Earthwork and this art was within that genre: Art within Art. She told me that Frederick Law Olmsted (architect of Central Park) wrote of the Park as a work of Art. I'm hoping to have (in the near future) a 'Speak Out' piece from Sara Cedar Miller, author of Central Park, An American Masterpiece and published by Abrams, speaking about Central Park as a work of art. Jeanne-Claude was so happy to finally be doing their work in their hometown (they have lived in NYC for the past 40+ years) and said she will be ecstatic to see the gates unfurled.
What I want to share with you was my excitement and the energy I experienced while walking through the park Saturday morning as teams of 8 unfurled their group of gates (80-120), moving along the paths, interacting with the public, and taking part in this art happening. Thousands (a reported 350,000) visitors came to Central Park on that first day (millions, reported to have been in the park by the end of the first week) to watch the unfurling of the gates. Teams of paid ($6.50/hour) volunteers began releasing the heavy saffron nylon material from stanchions that varied in both height and width. There was great camaraderie as the gates unfurled and cheers went up from the crowd, moans when the wind blew the eyelet from the hooks and workers jumped up or formed pyramids to try and catch the nylon strip that released the materials from their cocoons. People were dressed for the occasion wearing saffron scarves, jackets, hats, leggings and gloves; others had dyed their hair saffron while most people clad in usual winter garb walked through the gates eyes wide open, smiles on their faces, cameras in hand taking pictures of the gates, offering to take pictures of total strangers. Crowds would follow the teams along the pathways, and sometimes the team would stop for a photo, sometimes taking a photo for a visitor. One image that never made it to my camera was of a young family with 2 children. They had picked up the cocoon — the wrapping that held the materials together before being unfurled — and the kids wrapped themselves into the material along with one of the volunteers. Soon enough the parents got wrapped as well and the volunteer took the picture. Strangers shared information about the gates and their feelings about not only The Gates, but the Happening that was taking place. At one point I saw a volunteer who looked quite familiar and then saw her nametag — Ann Richards. I told her that this job must be a breeze compared to running Texas, and she smiled. We spoke a bit but she was really focused on her job pointing out her crew head and then said she was on her way to get coffee for her team and was off.
It was a great holiday feeling, joyful, uplifting jubilant and just a lot of fun. Do I think it is art that rivals Rembrandt? No. Was it a fabulous art experience (as well as economic boost) for a New York City in the dead of winter? Absolutely. Did I have a great day? You bet I did.