CULTURALLY SPEAKING


By Cornelia Seckel




ART TIMES March 2008

Winter is nearly behind us and Spring with the reawakening of land and spirit and our creative juices is before us. A relatively quiet down time with no traveling has prepared us for a year that will mark the beginning of our 25th year of publishing ART TIMES. Where has the time gone? I did get around here and there to see some performances, visit new venues and connect with many people I only speak with on the phone.

Part of my time during January, I worked on preparing The Mountain, a novel by Raymond J. Steiner which will be available later this Spring. The Mountain tells the story of Jake Forscher and his development as a self-taught landscape painter. The story opens with Book One: "1913" — the year Jake attends the International Exhibition of Modern Art at the 69th Street Armory in New York City, a famous art exhibition that, because of its venue, has since become known in the annals of art history as "The Armory Show". His first encounter with "modern art" — indeed his first visit to an art exhibit of any kind — leaves the budding "artist" riddled with confusion, doubt, and anxiety. The uncertainty of what "art" is — or to his mind, what it ought to be — dogs Jake throughout the novel. He is progressively introduced to a changing artworld, one that begins (for him) in the traditionalism of the early 19th century and will end with the growing impact of "multi-culturalism". Conversations with historical figures of the time, e.g.: Hervey White, Birge Harrison, Ralph Radcliffe Whitehead, are rich additions. This factual development of American art is reflected in the description of the Woodstock Art Colony, which serves as a microcosm of the larger artworld of New York City — the seat of American art that soon became the art capital of the world. The evolving changes in attitudes and definitions toward and about "art" — and how such changes affected individual artists — serve, in fact, as the central structure of the book. The novel ends in the year 1979 (Book Seven), ten years after the famous Woodstock Music Festival. Orders are being taken at a special pre-publication price of $14 + shipping (see ad in this issue)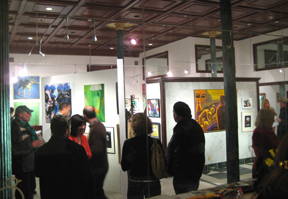 1st Friday at the Albany Center Gallery
I went with artist Faye Wood and her husband Skip to 1st Friday (www.1stfridayalbany.org) up in Albany. Nearly 20 locations have exhibits and included art galleries and museums as well as several stores, a church and an office. We started out at the Albany Center Gallery (www.albanycentergallery.org) to see their 3rd Annual Members Show. In 1977, Leslie Urbach opened the Albany Center Gallery (a non-profit art space) that is dedicated to exhibiting contemporary art of the Mohawk Hudson region. They have at least 7 major exhibits each year, and are building a strong, knowledgeable audience for the visual arts through their education programs, panel discussions, and artist interviews. They participate with performing arts organizations to present an Art in Education Program and are a community-based and community-supported organization with nearly 300 members. Their galleries were crowded, a sense of community and camaraderie that I often find with member shows, the work varied and generally quite good. We were in and out of several exhibition spaces along Lark Street and then came to Upstate Artists Guild (UAG www.upstateartistsguild.org), a not-for-profit volunteer organization whose mission is to promote art education and artistic endeavors throughout the community. At 247 Lark Street they maintain a gallery and hold regular classes and workshops. They are actively working with other organizations in the community to stimulate and support interest in the Arts. There was so much I didn't see that I'll certainly be heading North to Albany and beyond to explore of the Hudson Mohawk Region. Troy Night Out takes place on the last Friday of every month (www.troynightout.org) and Art Night Schenectady takes place on the 3rd Friday of every month. (www.artnightschenectady.com).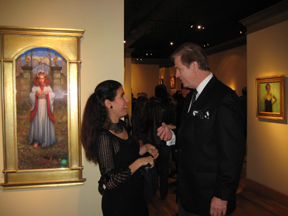 Gabriella Gonzolez Dellosso and James Umphlett, Gallery Director at her exhibit at the Eleanor Ettinger Gallery
I met up with Laurie Spiegel (see her report this issue about the arts in Alaska) and we first went to the Museum of Arts & Design, NYC to see "Pricked: Extreme Embroidery". The work, which stretched the idea of embroidery, included pieces by 48 international artists and consisted of commentaries on life, politics and society and will be up until April 27. From there we went downtown to see Gabriela Gonzalez Dellosso (profiled by Raymond J. Steiner in July 2004 and also available online in profile archive) at the Eleanor Ettinger Gallery on Spring Street in NYC where Gabriella was part of the 11th Annual Figure in American Art Exhibit. What an excellent show. This gallery exhibits representational art and it was a pleasure to see the artwork. I was particularly taken with Gabriella's work and with the paintings of Michael De Brito, a young man who will have a show at the gallery later this year. Michael is a recipient of numerous prestigious awards including Recipient of Pollack-Krasner Grant in 2006, 2005 Allied Artists of America, 92nd Annual Exhibition Gold Medal of Honor and 2004 Audubon Artists Annual Exhibition Best of Show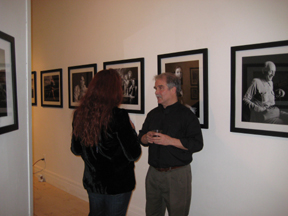 Michael Nelson with a collector of his work at the Michael Nelson Gallery Opening Celebration
From there we went to the Joyce Theater, NYC to see Parsons Dance. What a fabulous company and what a comfortable and attractive theater (see Francine Trevens' piece Happy 25th Anniversary, Joyce Theater Foundation! Thou too Sail on, Oh Ship of Dance from ART TIMESOct. '07 and online in our Dance Archive). Dancers were delightful as they expressed humor and engaging connections through their movement. They seemed to be having a good time and it was contagious in this intimate theater. Most impressive to me was Union seeing dancers entwining, morphing into one another and finally into a larger form. David Parson's signature stroboscopic tour-de-force Caught was breathtaking. This performance showcased the 20-year evolution of a dance company. What a joyful evening.
Family, friends and collectors all converged to celebrate the opening of the Michael Nelson Gallery (www.MichaelDaleNelson.com) in Saugerties, NY. Michael has been photographing in the New York City area for over 30 years, working on assignments across the country. Every prestigious magazine that I could think of was on his client list. Most every one of Michael's portraits was engaging; his landscape familiar and not familiar as the angle of the shot was quite out of the ordinary. At the studio on Partition Street in Saugerties, Michael will do his studio portraits, exhibit photography and hold workshops in Photoshop, Digital Cameras and Printing.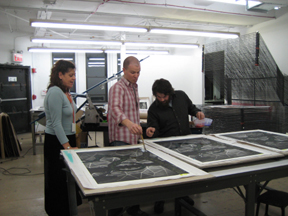 (R to L) Executive Director Dusica Kirjakovic,
Doug Bennett (master printer), and
Matthew Day Jackson (artist)
I've been first speaking to and then emailing Executive Director Dusica Kirjakovic for over 10 years and finally got to meet her and tour the Lower East Side PrintShop's (new since 2005 and 5 times larger than the old space) facility now on 37th Street between 8th & 9th Avenues. I went to the Preview of the 2008 Benefit Auction—the revenue directly supports residencies for artists. Dusica gave me a tour of the working studios, an area that is 5 times larger than the old space they occupied. The Auction is just one of many events including a retrospective exhibit and lecture series that will celebrate their 40th Anniversary. According to their literature, The Lower East Side Printshop, established in 1968, is a New York City based not-for-profit print workshop that promotes excellence in printmaking by offering opportunities for a broad and diverse range of participants to create, learn, and collect prints. The Printshop offers independent and collaborative residencies for artists, free and fee-based, contract printing services for small and large publishers, educational opportunities in all aspects of the print field and at all levels of expertise, and affordable collecting opportunities. It is the only not-for-profit workshop in the city that actively publishes new work. It was founded in 1968 by artist and educator Eleanor Magid who was determined to offer full access to prints and printmaking to all, without physical, financial, and technical barriers. It soon became part of the alternative space movement of the late 1960s, and it continued to be a major resource for printmaking, with its groundbreaking 24-hour studio access and other services. About 60 artists use the facilities each year. What a success story! More information is available at www.printshop.org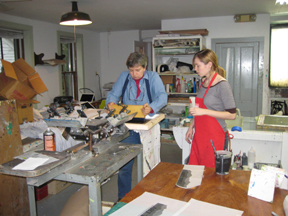 Ann Kalmbach (L) and Caitlin Wheeler (R)
working on the new ART TIMES t-shirts.
What a pleasure to spend the day at the Women's Studio Workshop in Binnewater, NY working along side Executive Director Ann Kalmbach and studio intern Caitlin Wheeler silk-screening the new ART TIMES t-shirts. Women's Studio Workshop is a visual arts organization with specialized studios in printmaking, hand papermaking, ceramics, letterpress printing, photography, and book arts. Artists are invited to work at WSW as a part of their Fellowship Program, Artists' Books Grants, Residencies, Internships>, or to learn new skills in their Summer Arts Institute and community workshop series. Since 1974, they have operated and maintained an artists' workspace that encourages the voice and vision of individual women artists, provides professional opportunities for them, and promotes programs designed to stimulate public involvement, awareness, and support for the visual arts. Take a look at their site for additional information www.wsworkshop.org.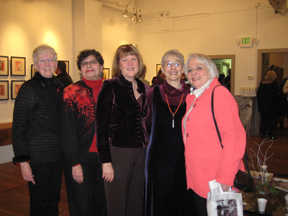 (L to R) Barbara Bachner, Curator, Artists: Elizabeth Winchester, Martha Ellen Hughes, Carol Pepper Cooper and Renee Englander at their exhibit "Engrams" at the Art Society of Kingston gallery, Kingston, NY
According to Barbara Bachner, a group of women came together at her workshop, "Process: Action and Reaction" at the Woodstock School of Art in the summers of 1999 and 2000. Barbara was encouraged by them to form a group and over the past seven years they've met bimonthly during which she would critique their work and discuss theory. The title of the show, "Engrams" curated by Barbara Bachner and exhibited at ASK in Kingston, NY, came out of the work, which developed according to each artist's personal history and identity. The other artists in the show (and group) are Elizabeth Winchester, Martha Ellen Hughes, Carol Pepper Coope and Renee Englander.
Tara Marvel, ART TIMES contributor of the Art Bytes, has recently sent me a copy of Muskrat Stew and Other Tales of a Penobscot Life: The Life Story of Fred Ranco, written by Fred Ranco as told to Tara. The book was published by Occasional Publications of the Maine Folklife Center, University of Maine, Orono, 2007. Tara said that she and Fred have been planning these memoirs for over 20 years. Fred died soon after the book was published. This is a personal story and an ancient story told by this full-blooded Penobscot man who considered himself a modern man who was proud to be part of an ancient tribe, to know and practice the old ways and to share them. I found the telling of his story direct and clear, the content engrossing and enlightening.
Something Unexpected Art Gallery is a new gallery on Main Street in Nyack, NY that features a number of young, but internationally recognized jewelry and textile artists. The current exhibit, Art-To-Wear by Lithuanian artists and designers, will be up through March 14. According to Gallery Director Aurelija Cepulinskaite, the gallery will offer photographic services, framing, exhibitions and an art-leasing program. For additional information: www.something-unexpected.com.
ARTsModerne: A Gallery of Contemporary & Vintage Art opened in January in Housatonic, MA. Located at 151 Front Street, it is situated in an intimate setting measuring 9.5 feet by 11.5 feet and exhibits an eclectic assortment of both contemporary paintings, prints, photography, text-art, box-art, collages as well as a collection of unusual vintage art. On exhibit now are the small oil paintings of Bob Cronin of Falls Village, CT. the abstract drawings of Franco Pellegrino, West Stockbridge MA, the whimsical box-art-new/art of Sherry Steiner, Housatonic MA, and the paintings of Alex Zenger, San Francisco CA. ARTSModerne is also the world headquarters of the Artists & Writers Alliance Internationale which is dedicated to bringing artists of all disciplines together from around the world who are interested in collaborating. For more information: www.artsmoderne.com.
May we all delight in creativity as we enter the new season.